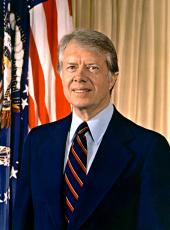 Yugoslavia: Tour of Kalemegdan Park Exchange With Reporters.
REPORTER. Ah, yes, nice.
THE PRESIDENT. You like that, eh?
Q. You could match this with the Coliseum.
Q. Yes. You could make a—[inaudible].
THE PRESIDENT. How'd the Coliseum turn out?
Q. Very good.
Q. It was beautiful.
Q. What'd you talk about in your private meetings, Mr. President?
THE PRESIDENT. Well it's beautiful-[inaudible]—very good. We talked about the results of the Venice conference, and we talked about the bilateral relationship between our countries, the strength of the Government as it continues following President Tito's tragic death, the importance of the nonaligned movement to be truly nonaligned in its character, and how President Tito, who organized the nonaligned movement, had been very influential in this. We talked about economic problems and—[inaudible]—problems-[inaudible]—of the Middle East. We had a general discussion of matters of importance to Yugoslavia. It was very harmonious, very good.
Q. Thank you.
THE PRESIDENT. What one has in Belgrade is the tragedy of war, because the city itself has been damaged and destroyed so much and so many of the population have been killed in the Second World War, the First World War, and down through the centuries. This site first became a fortress 2,000 years ago, right? And since then it's had to have fortifications. But we now see a good opportunity for maintaining world peace through good international relationships and frank discussions of difficult issues. But Belgrade has been given worldwide significance even beyond previous times, because of the great leadership of President Tito, and I think no one could come to Belgrade and see its historical significance without knowing what it means now to the entire world.
Q. Mr. President, does the Yugoslav leadership share your feelings of great concern about the Soviet invasion of Afghanistan?
THE PRESIDENT. I think the comments about that would best come from the Yugoslav leadership.
Q. All right, sir. Thank you, Mr. President.
Note: The exchange began at approximately 5:15 p.m.
Jimmy Carter, Yugoslavia: Tour of Kalemegdan Park Exchange With Reporters. Online by Gerhard Peters and John T. Woolley, The American Presidency Project https://www.presidency.ucsb.edu/node/251320