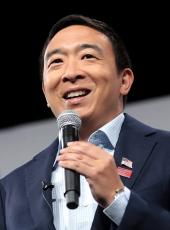 Yang Campaign Press Release - Behind the Yang2020 Merchandise Success
NEW YORK — The first MATH hats went on sale in March. Only 500 were available and they sold out in 22 minutes.
The Yang campaign repeated the formula of offering limited quantities of merchandise. The strategy helped Yang raise a whopping $10 million in the third quarter, outpacing many in the Democratic field. Nearly one-quarter of his funds came from merchandise sales.
"I took inspiration from street fashion, with limited editions, exclusivity, collectibles," said Andrew Frawley, Director of Brand & Merchandise for Yang2020.
The 25-year-old from Alexandria, Virginia, got his start working for startups in San Francisco. Then he met Andrew Yang, who told him he had a big project for Frawley.
"I didn't even know what it was, but I said, 'I'm in,'" Frawley recalled.
Since then, the campaign has sold about 32,000 MATH hats. MATH stands for "Make America Think Harder." MATH hat sales make up about $1.2 million, or 8 percent, of campaign revenue. Nearly half of shoppers in the campaign store buy a MATH hat.
Frawley wants to create merchandise that people will wear and use. "You don't want to go into the workplace or go to a birthday party and be wearing something that's really political."
Other bestsellers include the "Longer than Long Shot" Shot Glass, as well as the "Vintage Yang1992" and "Math. Money. Marijuana" T-Shirts.
The idea for the marijuana T-Shirts came from an analysis of Yang's social media posts, where tweets about marijuana legalization perform well.
"I knew for our base it would be the perfect shirt," said Frawley. "Yang is not a politician, he's a problem solver. We have a candidate who's willing to push for solutions he believes in, which is how we're able to make a shirt that says, 'Math. Money. Marijuana.'"
The campaign has had six-figure days in the merchandise store. For example, the store released a limited edition MATH hat featuring gold font and a message on the interior with Yang's signature line, "Not left, not right, forward." Within 36 hours, the store sold 2,000 of the hats for $75 each.
What's next for the campaign store? The campaign just launched coasters, scarves, beanies and hoodies, just in time for the winter holiday shopping season.
"Put yourselves in the minds of your constituency and make things they would genuinely enjoy," he said.
Contact: Rachel Barnhart rachel@yang2020.com
Andrew Yang, Yang Campaign Press Release - Behind the Yang2020 Merchandise Success Online by Gerhard Peters and John T. Woolley, The American Presidency Project https://www.presidency.ucsb.edu/node/365543