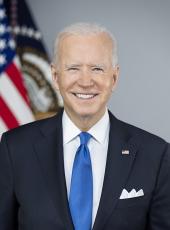 WTAS: President Biden's Bolds Action Will Boost American Clean Energy Manufacturing
Today, President Biden took bold executive action to accelerate building an American-made clean energy future, reduce energy costs for families, and support good-paying jobs.
While President Biden continues pushing Congress to pass the clean energy investments and tax cuts he proposed, he is not waiting to harness his executive authority. President Biden invoked the Defense Production Act (DPA) to make more clean energy technologies in America, leverage federal procurement to stimulate demand for clean energy parts, and ensure domestic solar deployers can build a reliable electric grid for the 21st century.
Under President Biden, America has become a magnet for clean energy manufacturing investments, with private companies investing billions in electric vehicle plants, batteries, offshore wind, solar, and more. Today's announcement builds on this progress and support the President's agenda to drive down energy costs for families, reduce risks to our power grid, and tackle the climate crisis.
Here's what they are saying about today's historic announcement:
Labor Unions
Lonnie Stephenson, President of the International Brotherhood of Electrical Workers (IBEW)
Thanks to the Biden-Harris administration's clean energy and climate agenda, last year marked the largest deployment of solar, wind, and batteries in United States history. Our nation is now a magnet for investment in energy manufacturing for the future. Today's action by the Biden administration will build America's energy arsenal and spur domestic energy manufacturing while reducing energy costs, supporting good-paying union jobs, and strengthening U.S. energy independence. And it will do it while maintaining strong labor standards.
We applaud the Biden-Harris administration's recognition of these challenges and the ability to strike the delicate balance of aggressively restoring domestic solar manufacturing jobs through the invocation of the Defense Production Act, federal procurement policy, and sustaining the construction of solar projects already underway. The outsourcing of critical American goods like solar panels has weakened supply chains and increased reliance on overseas production with limited labor and environmental standards. We have long opposed solar panel dumping in the United States and will continue to do so.
As a union that represents workers in the manufacturing sector, the IBEW has opposed any attempts by the industry to circumvent policies put in place to protect U.S. workers, the economy, and competitiveness. The IBEW once represented hundreds of thousands of members who engineered, built and assembled all forms of electrical equipment, components, and consumer and industrial products, so we are well aware of what past trade practices have done to this crucial domestic sector. The decimation of the domestic manufacturing industry will take years to repair, but these actions are a step in the right direction. The IBEW will always support policies to create the renewable jobs of the future with competitive wages and strong collective bargaining agreements.
The IBEW's 775,000 members urge swift implementation of President Biden's executive actions and look forward to working with the administration to ensure the successful transition of solar panel manufacturing domestically and the continuance of current projects that support family-sustaining union jobs.
Clean Energy Industry Leaders
Abigail Ross Hopper, president and CEO of the Solar Energy Industries Association (SEIA)
We applaud President Biden's thoughtful approach to addressing the current crisis of the paralyzed solar supply chain. The president is providing improved business certainty today while harnessing the power of the Defense Production Act for tomorrow. Today's actions protect existing solar jobs, will lead to increased employment in the solar industry and foster a robust solar manufacturing base here at home. While the Department of Commerce investigation will continue as required by statute, and we remain confident that a review of the facts will result in a negative determination, the president's action is a much-needed reprieve from this industry-crushing probe. During the two-year tariff suspension window, the U.S. solar industry can return to rapid deployment while the Defense Production Act helps grow American solar manufacturing.
Indeed, growing a robust solar supply chain here in the United States is critical to meeting SEIA's goal of having solar account for 30% of all electricity by 2030. Today's announcement is a great step, and enactment of the Solar Energy Manufacturing Act for America will provide an even greater boost. The work our members did to articulate the urgency created by the initiation of this case and to provide data on negative impacts was critical to the effort to raise awareness about the damage being done. President Biden recognized this and has taken the steps needed to both accelerate the deployment of solar energy and invest in America's clean energy future.
Heather Zichal, CEO of the American Clean Power Association
President Biden's proclamation today to use the full power of executive authority to jumpstart the domestic solar industry is a bold act of leadership. It recognizes the immediate need to protect middle-class American jobs, promote U.S. energy independence, protect consumers from rising electricity bills in the face of inflation, and stay true to his climate commitments."
The President's announcement will rejuvenate the construction and domestic manufacturing of solar power by restoring predictability and business certainty that the Department of Commerce's flawed inquiry has disrupted. This action is necessary due to the inconsistent and archaic regulatory process at the Department of Commerce that has frozen the U.S. solar industry. Alongside over 100 Governors and Members of Congress, the American Clean Power Association continues to call on Secretary Raimondo to conclude the inquiry swiftly and to use the Secretary's legal authority to reaffirm a decade of precedent previously set by the Department of Commerce.
The U.S. solar industry is actively making investments to further increase the scale of the domestic manufacturing sector, including recent announcements to expand U.S. module production facilities, create new manufacturing plants for components like steel trackers, and work with allied trading partners to unlock the potential for inputs (like polysilicon) from the United States. As one example, ACP has exclusively learned that a large U.S. developer is pursuing a domestic solar panel manufacturing facility that could have up to 5GW of production. Panel production at this facility would begin by the fall of 2023 and would put 1,000 American workers on the job building America's clean energy future.
The President's actions today make those investments possible, and the policies contained in the reconciliation bill would only hasten the pace of building a more robust domestic solar manufacturing sector.
The American Clean Power Association applauds the President's leadership and stands ready to work with the Administration and Congress to deliver on the President's vision of a clean energy future. It is the only path forward to create hundreds of thousands of new jobs, drastically increase domestic manufacturing, and keep consumers' electricity bills low while avoiding the worst economic and human impacts from climate change. As the country enters yet another summer of record temperatures, the Administration must use every tool it has to enable the domestic production of reliable, clean, and affordable energy.
Dan Shugar, CEO of Nextracker
President Biden's measures will enable us to increase the amount of US steel we procure and jobs we create; adding production shifts as demand increases. 10s of thousands of jobs will be created over the coming months through the solar ecosystem. Nextracker Inc. calls on all participants in the US solar market to support Pres Biden's actions, and invest in US manufacturing capacity as we have. Supply security, energy independence, clean power, and jobs have never been more important than right now.
John Ketchum, President and CEO, NextEra Energy Partners
The Biden administration's announcement of a two-year pause on new solar tariffs is an important step to help the solar industry recover from the uncertainty of the last three months. I want to thank the administration for recognizing the challenges that trade uncertainty presents to our industry and the country and for taking this important action. NextEra Energy has and will continue to use our industry leadership to support more U.S. solar manufacturing. We look forward to working with the administration on this effort and putting hard working Americans back to work in the solar industry.
George Hershman, CEO of SOLV Energy
President Biden's decisive leadership enables companies like mine to move forward on stalled projects and bring solar workers back to our jobsites. This announcement provides much needed clarity in the short-term on trade, and takes action on his promise to deploy more clean energy resources domestically while growing American manufacturing in the long-term.
Andrew Reagan, CEO, Clean Energy for America
President Biden has taken decisive action to reinstate business certainty that will preserve jobs for America's solar workers and build manufacturing for the clean energy jobs of the future. By halting new solar tariffs for 24 months and deploying the Defense Production Act to jump start domestic clean energy manufacturing, he is leaning into the clean energy future he promised. His steps today prove how essential this industry and its workers are to the energy sector and the overall economy. Clean energy must keep growing, must keep cutting costs for families and pollution for communities, must keep creating jobs, must keep defending America's energy security, must keep moving towards the president's commitment to achieving a carbon-free economy. And now, thanks to today's actions, we can.
Members of Congress
Nevada Senator Jacky Rosen
I've been leading the fight in the Senate against the threat of additional job-killing solar tariffs, and I'm glad the Biden Administration is now taking concrete action in response to my efforts with a bipartisan group of colleagues sounding the alarm about this issue. The risk of additional tariffs on imported solar panels would have been devastating for American solar projects, the hundreds of thousands of jobs they support, and our nation's clean energy and climate goals. The Administration's announcement is a positive step that will save American solar jobs and invest in our own long-term domestic solar manufacturing capabilities.
Massachusetts Senator Ed Markey
Good. Using the Defense Production Act to support clean energy will make our country safer and more secure for years to come. This means lower prices, independence from Big Oil, stronger homegrown businesses, and a healthier environment for all.
Maine Senator Angus King
Investments in solar power are key to unlocking our renewable energy future. I applaud @POTUS's action to accelerate solar production, which will support a cleaner environment, lower costs for consumers, and create good American jobs.
Nevada Senator Catherine Cortez Masto
I've always stood up for Nevada's solar industry, which is a vital part of our economy. I'm glad to see the administration has taken steps so that the industry can continue to grow and create good-paying jobs. I'm going to continue pushing for more tax credits and other investments to support Nevada's solar and other renewable industries.
Chairman of the Senate Environment and Public Works Committee, Delaware Senator Tom Carper
After working closely with the Biden Administration on solutions to the challenges facing U.S. clean energy deployment, I'm encouraged by today's announcement. By using his authority under the Defense Production Act, the President will improve certainty for our nation's solar, hydrogen, and other clean energy industries, boosting domestic manufacturing and lowering energy costs for American families as a result. These actions come at a critical time in addressing the climate crisis and reducing emissions across the economy. I welcome the Biden Administration's commitment to supporting our nation's clean energy transition and look forward to working together on building a brighter future for the American people.
Colorado Senator John Hickenlooper
This is great news! Increasing our nation's solar manufacturing capacity is critical to combating climate change and transitioning to a clean energy economy.
Massachusetts Senator Elizabeth Warren
Excellent move by @POTUS to use the Defense Production Act to accelerate America's clean energy manufacturing. I worked with @SenMarkey to urge this action to build solar panels, heat pumps, & combat the climate crisis. More good jobs. Lower energy costs.
New Mexico Senator Martin Heinrich
HUGE NEWS: @POTUS is ramping up heat pump production right here at home with the Defense Production Act. Heat pumps make the air in your home healthier and your monthly energy bills lower. This move will make them cheaper & help cut our reliance on dirty, foreign fossil fuels."
Virginia Senator Tim Kaine
Good news for the environment and also anti-inflationary. Glad the Administration heeded our calls.
Chairwoman of the Select Committee on the Climate Crisis, Florida Congresswoman Kathy Castor
President Biden's executive action will help more families enjoy the cost-saving benefits of our clean energy economy, as we power more homes and businesses with clean energy produced right here in America," said Chair Castor. "By using the Defense Production Act to unleash the economic potential of clean technologies, President Biden is taking an important step to lower energy costs and to protect existing American jobs in the clean energy industry, while helping create new ones in domestic manufacturing and construction projects. He's also working to ensure America's true energy independence and security, which means investing in clean technologies and renewables produced in the USA, while helping more families avoid volatile and expensive fossil fuels.
We must take advantage of the abundant renewable sources of energy across America. That includes the abundant solar energy in the Sunshine State of Florida, which supports tens of thousands of jobs, generates billions of dollars of household income and tax revenue, and has become an increasingly important source of energy savings. I look forward to expanding these benefits across the country as we work with the Biden Administration to implement the new DPA authorities.
Vermont Congressman Peter Welch
This is big. @POTUS's executive action will boost American manufacturing, create good jobs, and protect our environment. That's a winning combination. And there's more to be done. We have to keep working to deliver American-made clean energy.
Virginia Congressman Gerry Connolly
Great news! @POTUS has invoked the Defense Production Act to accelerate domestic production of clean energy technologies, which will:
Increase our energy independence
Lower prices for Americans
Help us reach net zero by 2050.
Illinois Congressman Raja Krishnamoorthi
I'm glad to see President Biden take these major steps to save solar jobs, boost clean energy generation, and spur American solar manufacturing. By delaying the effective date of any new tariffs by 24 months, President Biden will give the U.S. solar industry time to adjust, enabling the continued growth of the industry and the rapid expansion of the clean energy generation while also providing the time and incentives to build out domestic solar manufacturing capacity.
There is no question that we need to reduce our dependence on foreign imports, especially when it comes to our energy security, but it will take time to shift supply chains back to this country, and we cannot afford to hit pause on the clean energy transition. With the President's delay on any new anti-dumping and countervailing duties, we can walk and chew gum at the same time—accelerating the clean energy transition, meeting our Paris Agreement climate goals, and bringing the solar manufacturing supply chain back to America.
California Congressman Scott Peters
Today, President Biden responded to the committed advocacy of federal and state lawmakers, industry representatives, and environmental and labor groups. The Administration's actions will help ensure the U.S. solar industry can thrive, help us reach our climate goals, and create good-paying energy jobs. I thank those who helped sound the alarm since earlier this year and President Biden for recognizing there was too much as stake to not act.
Illinois Congressman Sean Casten
After months fighting alongside @CongressmanRaja, @USRepKCastor, @RepScottPeters to prevent @CommerceGov's probe from jeopardizing solar energy jobs & cost savings while putting our future at risk, I'm thrilled to see @POTUS take meaningful #ClimateAction today!
Clean Energy Advocates
Ari Matusiak, CEO, Rewiring America
We applaud President Biden for his decisive action to advance American energy independence and climate leadership by invoking the Defense Production Act to boost the domestic manufacturing capacity for heat pumps, solar panels and building insulation. This action is directly in line with what Rewiring America called for in our Electrify for Peace Policy Plan. The Biden Administration recognizes that industrial policy is critical to meeting our energy security and climate imperatives. We also wholeheartedly support President Biden's use of his authority to bring certainty to the domestic solar industry through the Tariff Act. This action will support continued deployment of solar panels at the pace and scale that's necessary to take on the climate crisis, preventing an entire industry from being ground to a halt at precisely the time we need to scale its reach and impact.
Matthew Davis, Senior Director of Government Affairs, League of Conservation Voters
This is exactly the kind of bold executive action voters are demanding from their climate president – thank you President Biden. Today's move will immediately turbocharge clean energy manufacturing and production in the United States, create good-paying jobs, and accelerate our transition to the healthier, more equitable, and more affordable clean energy future our children and families deserve. Already, announced expansions in solar manufacturing since the start of the Biden-Harris administration will triple U.S. capacity to crank out the solar panels we need to rapidly achieve true energy independence. We've been calling on the administration to swiftly alleviate uncertainty for the solar industry caused by a Department of Commerce trade inquiry and are pleased with today's announcement.
It's critically important that success begets success, and we urge the Senate to quickly pass the $555 billion investments in climate, jobs and justice in order to lower energy costs for families, improve air quality, and achieve long term clean energy independence.
Matthew Bearzotti, Deputy Legislative Director, Sierra Club
The Sierra Club applauds President Biden for taking the necessary action to support the solar industry, the 230,000 Americans who work in it, and our national climate goals. While this action will provide a measure of desperately needed certainty in the solar supply chain and allay some concerns, today's efforts do not conclude the issue at hand. President Biden was right to take critical action to minimize the effects of the ongoing solar inquiry, which has already resulted in layoffs, stalled construction of new solar projects, and a delay in coal plant retirements. Now, Commerce Secretary Raimondo must prioritize concluding a fact-based inquiry at the earliest possible moment as the administration continues to usher in the clean energy economy.
Sam Ricketts, Co-Founder and Senior Advisor, Evergreen Action
President Biden's decision to invoke the Defense Production Act to kickstart American clean energy production will pay dividends in lower energy costs, greater energy security, and a clearer pathway to meeting our nation's climate goals. America should be leading the world in clean energy manufacturing, and this directive brings us one step closer to the thriving domestic clean energy economy we need to defeat the climate crisis and outperform our competitors abroad. We know that clean energy is the key to both defeating the climate crisis and securing affordable, reliable energy for every household—today, President Biden delivered for Americans on both fronts.
Additionally, Biden's order to pause tariffs on solar imports will give businesses the clarity and stability they need to get America's solar industry back on track and lower energy costs for working families. In just the time since the Commerce Department's probe began in April, hundreds of solar projects have been delayed and 100,000 American jobs have been put at risk. At a time when we need to be rapidly deploying clean energy across the country, we can't afford to plunge the businesses delivering one of the leading renewable technologies into chaos. This pause is a smart and necessary course correction that will allow America's solar industry to continue creating jobs, reducing carbon pollution, and delivering cheap clean energy to the grid.
Martin Hayden, Vice President of Policy and Legislation, Earthjustice
President Biden's action will restore certainty to the solar market and speed our transition to clean energy. We applaud the President's inclusion of heat pumps in the use of the Defense Production Act as a significant leap forward to supply American homes with a cleaner, more affordable source of heating and cooling. Our clean energy transition can't wait. Investments like those in the DPA are critical to spurring our transition to 100% clean energy, lowering energy costs for American families, and reducing ongoing harm to communities overburdened by fossil fuel pollution. President Biden's use of emergency powers today, combined with the inclusion of strong labor conditions, will protect American jobs and help secure our shift away from fossil fuels for years ahead.
Christy Goldfuss, Senior Vice President for Energy and Environment Policy, Center for American Progress
Today's announcement is a historic first. It puts the climate crisis on par with other threats to our nation's well-being and recognizes that we have the tools to tackle it. Invoking the Defense Production Act to bolster U.S. energy security by strengthening our domestic manufacturing base for clean energy here at home is exactly what our country needs now. By investing in home-grown American clean energy, President Biden is creating jobs and turbocharging the renewable energy industry, tripling our current solar capacity by 2024. He's also laying the foundation for clean energy to be a key element of our national security and economic growth. Investing in this economy of the future will reduce our reliance on volatile fossil fuels, which are controlled by foreign dictators and vulnerable to price shocks we're seeing today.
Now, it's time for Congress to follow through with a decade of sustained investment to build our nation's clean energy manufacturing capacity.
Kevin Johnson, Iraq War Veteran, clean energy entrepreneur, and spokesperson for the Clean Energy Freedom campaign
Today President Biden took a historic step to strengthen U.S. national security, lower energy prices, and address the climate emergency by invoking the Defense Production Act to ramp up production of solar panels, heat pumps, and other clean energy technologies to upgrade the U.S. energy grid. We applaud this bold executive action. This is the kind of unilateral action that is needed from the White House to address the energy and climate crises.
The United States' continued reliance on fossil fuels has been identified as a "significant" threat to national security by the U.S. Department of Defense. Americans face dual crises of rising energy prices along with a cascade of climate impacts due to continued fossil fuel emissions. Using the Defense Production Act to rapidly build out U.S. clean energy infrastructure paves the way for the domestic transition to clean energy and away from fossil fuels.
We are greatly encouraged by this monumental step forward by President Biden and his leadership. We look forward to Congress now allocating the funds needed to fully scale domestic clean energy technology production and manufacturing that will create a new workforce with many good-paying jobs.
Jean Su, Energy Justice Director and Senior Attorney, Center for Biological Diversity
@POTUS will use the Defense Production Act to boost solar manufacturing today for our vital transition to just energy. We hope this is the turning point for Biden, who should use all his executive powers to confront the #ClimateEmergency head on. @POTUS 's plan is impressive. It prioritizes solar parts, insulation, & heat pumps. It also encourages strong labor standards & the convening of industry, labor, & environmental justice stakeholders to map out the just energy system we need. @POTUS's #DPAforClimate plan (1) maximizes federal procurement powers; (2) encourages community-based solar energy projects; (3) strong labor standards.
Lori Lodes, Executive Director, Climate Power
This is HUGE huge news from the Biden administration. More heat pumps, more solar, more battery storage. This is how we lower costs, create jobs and take on climate change.
Sunrise Movement
This is a great start from @POTUS. We're one step closer to a #GreenNewDeal, but we need more. Now Biden must follow through and use his executive power to secure funding and ensure every worker can unionize and be paid a living wage.
Greenpeace USA
WIN! This morning, President Biden announced executive action that will help unlock the potential of renewable energy including increasing the domestic production of solar panels and boosting community-based clean energy.
Joseph R. Biden, WTAS: President Biden's Bolds Action Will Boost American Clean Energy Manufacturing Online by Gerhard Peters and John T. Woolley, The American Presidency Project https://www.presidency.ucsb.edu/node/356324