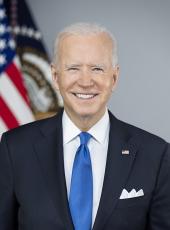 WTAS: Economic Analysts Find That May Jobs Report Hits Right Balance to Transition to Steady and Stable Economic Growth for Working People
Following the release of yesterday's jobs report, which showed that the US economy added 390,000 new jobs, market analysts noted that the release signaled the beginnings of a transition from the historic economic recovery under President Biden to stable and steady economic growth moving forward.
Amidst global challenges like Putin's Price Hike and global supply chain constraints, the strength of the American economy under President Biden led to a "Goldilocks report" that is "close to the ideal scenario for many economists and Wall Street traders."
Read coverage below:
Washington Post: Opinion | We're in the midst of a 'great return to work.' It's worth celebrating.
[Editorial Board, 6/3/22]
The biggest vote of confidence in the U.S. economy is business continuing to hire at a strong rate and Americans continuing to return to work. The United States added back 390,000 jobs in May, once again beating expectations. Nearly every industry saw net employment gains, except for the retail sector. And more and more Americans are looking for jobs again — and getting them.
[…]
It took more than six years to recover from the Great Recession. By comparison, this jobs recovery is on track to take about 2.5 years. That's worth celebrating.
Axios: U.S. adds 390,000 jobs in May as labor market cools
[Neil Irwin, 6/4/22]
The ultra high-pressure U.S. job market may finally be starting to release a little steam.
That's the key takeaway from new job numbers that show an extremely healthy labor market that nonetheless seems to be moving toward a less overheated state.
Politico Playbook PM: Biden's next economic message: Bigger isn't better
[Eli Okun, 6/3/22]
The U.S. jobs market is still looking robust in this morning's May jobs report, which reported 390,000 jobs created last month and a continuing low unemployment rate of 3.6%. That was actually the slowest pace of job growth in the past year, but the ongoing strength of U.S. hiring (beating expectations of about 300,000 jobs) is still helping to shore up the economy, even as the Fed begins raising interest rates to try to tamp down inflation.
POLITICO: Biden's new challenge: Putting a positive spin on a slowing economy
[Ben White and Kate Davidson, 6/4/22]
President Joe Biden and the White House are trying to pull off a very difficult messaging pivot: Warn people the economy is about to slow down and convince them that it's a good thing.
The message is not wrong, economists and Wall Street investors say. Slower job and wage growth could ease rapid inflation and take pressure off the Federal Reserve to jack up interest rates even faster.
Washington Post: Opinion | The Goldilocks economy: Trying to get it 'just right'
[Catherine Rampbell, 6/4/22]
When it comes to hiring, it's a good thing for there to be lots of job opportunities for workers — particularly workers who usually don't have much bargaining power. It's a good thing for employers to be offering higher wages, especially for the lowest-paid, least-desirable jobs. It's a good thing for businesses to be posting tons of job openings, especially when roughly 22 million jobs were destroyed very early in the pandemic.
Lately, as the May jobs report released on Friday shows, we've had these good things in spades.
[…]
The report showed that job growth was strong, but a little bit slower than it was in April. Wages (at least in nominal, pre-inflation terms) are growing, but they're not accelerating — if anything, they have slowed a touch. The report was "good but not gangbusters," as Politico aptly put it.
[…]
A few more Goldilocks reports like May's would certainly be welcome.
Steve Matthews, Bloomberg Business Chair "Fed Chair Powell has called the labor market "tight to an unhealthy level." Nothing in the report will change that assessment -- it's still very tight. But there's no sign the job market is getting tighter. That's got to be reassuring to the Fed. It'll be viewed as progress." [Tweet, 6/4/22]
Marc Goldwein, Head of policy at Committee for Responsible Federal Budget. "This seems OK, which is good. Much stronger job growth could be a sign of further overheating. Much weaker job growth could be sign of weakening output. OK is good now!" [Tweet, 6/3/22]
Scott Paul, President of Alliance for American Manufacturing, " Despite a myriad of challenges, American factories are on a roll. We added a whopping 55,000 new manufacturing jobs in April. Coupled with the latest job openings data — 853,000 in March alone — we can forecast hiring strength as we look ahead." [Statement, 6/4/22]
Jim Cramer, Host of Mad Money, ""It's the beginning of what Jay Powell wants. It's not some sort of really dangerous thing," says @jimcramer on the May jobs report. "I like the number. I think it's perfect." [Tweet, 6/4/22]
Joseph R. Biden, WTAS: Economic Analysts Find That May Jobs Report Hits Right Balance to Transition to Steady and Stable Economic Growth for Working People Online by Gerhard Peters and John T. Woolley, The American Presidency Project https://www.presidency.ucsb.edu/node/356304