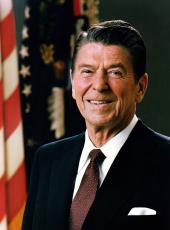 Written Responses to Questions Submitted by Yomiuri Shimbun of Tokyo, Japan
U.S.-Japan Relations
Q. The year 1985 marks the 40th anniversary of the end of World War II. At this date, how do you perceive the present situation of the world, especially in regard to East-West relations?
The President. Those 40 years have seen some remarkable changes in the world. One of the most remarkable has been the reconciliation between former adversaries, including the United States and Japan. Today Japan and the United States are close partners and good friends. We share the common values of freedom and democracy. We are bound by a security treaty. Unfortunately, Japan, the United States, and other democracies continue to be confronted by a system that stands for different values.
U.S.-Soviet Relations
Q. Secretary of State Shultz will meet Soviet Foreign Minister Gromyko on January 7 and 8 in Geneva. Could you tell us something about your expectations of the meeting? What do you hope to agree to at this specific meeting? Six major items on the agenda of the U.S.-Soviet negotiations will be the status of space, strategic, intermediate-range, conventional, and chemical weaponry, as well as certain confidence-building measures. How could these items be interrelated with each other in the framework of an umbrella formula in the negotiations to follow up the Shultz-Gromyko meeting?
The President. I was encouraged that the Soviets agreed to resume a dialog on arms control issues and that we will have the meeting in Geneva to try to get the process moving again.
But we must temper our expectations with realism. A 2-day meeting cannot solve the complicated issues before us. We hope it will be a constructive beginning for further detailed negotiations, but it isn't an easy job. Only time will tell how rapidly the process moves, or in which specific framework.
Meaningful progress on arms control has a high priority in this administration. We have been working long hours to prepare for Secretary Shultz's meeting with Mr. Gromyko. The Secretary will enter those meetings with concrete suggestions on a full range of arms control issues. We hope the Soviets will show a similar constructive spirit.
The fundamental objective of our talks with the Soviets has to be kept in mind. We are not looking for an agreement for its own sake. We are striving to improve stability, reduce the risk of war, and to lower the levels of nuclear arms. That involves hard bargaining on issues of great mutual concern. The U.S. is committed to conduct that process seriously and creatively.
Q. Would you consider a summit meeting with General Secretary Chernenko before the completion of arms control talks? If so, what preconditions are necessary?
The President. As long ago as last June, I said that I was willing to meet at any time. Since then, I've met with Foreign Minister Gromyko, and our discussions were useful. The Soviets say they would want a very carefully prepared agenda for any summit meeting. That makes sense to me. In the past, meetings that there were not carefully prepared often led to great expectations and great disappointments, and I don't think we ought to go into something of that kind.
Q. In what way may the Western allies, including Japan, support successful U.S.-Soviet negotiations? Do you support independent action on the part of the allies for relaxation of tensions with the U.S.S.R. and the Eastern European nations?
The President. The United States is fully committed to reducing the threat of war. At the Williamsburg summit the Western leaders were united in their commitment to arms reductions and continued thorough and intensive consultations. Further, we noted that security is indivisible and must be approached on a global basis. Prime Minister Nakasone was a key participant in the discussions that led up to this united commitment.
Alliance solidarity behind NATO's 1979 dual track decision on INF modernization has prevented the Soviets from unilaterally dictating Western security policy. This solidarity stems from the extensive consultations which the U.S. conducts with its European and Japanese allies on arms control issues. These consultations have assured a consensus among the allies which is essential in dealing with the Soviets on these vital issues.
Q. How do you view the development of current Sino-Soviet relations? What will be the impact of the forthcoming U.S.-Soviet arms control talks on the tripartite relations between the U.S., U.S.S.R., and China?
The President. We welcome recent efforts by the Chinese and the Soviets to put their relations on a more normal footing. Differences between the Soviet Union and China run very deep, however, and center on three major problems: massive Soviet troop deployments along the Chinese border with the Soviet Union and Mongolia; Soviet support for the Vietnamese invasion of Cambodia; and the Soviet invasion of Afghanistan. These are serious impediments, it seems to me. The Chinese are very positive about our forthcoming arms talks with the Soviets. They want these discussions to bring a genuine reduction of nuclear weapons. They don't want the Soviets merely to redeploy their missiles, from west to east. We agree.
U.S.-Japan Relations
Q. As you prepare to receive Prime Minister Nakasone in Los Angeles in early January, we would like to ask about your fundamental assessment of U.S.-Japan relations today. For the promotion of friendly and constructive relations, what do you expect of Japanese policy in economic matters, defense, and foreign affairs?
The President. I'm looking forward to meeting again with my friend and your Prime Minister. We've had excellent meetings before. My visit to your country when he was my host was just wonderful. I think U.S.-Japanese relations are as good as they have ever been. When I meet with the Prime Minister on January 2, I know that we will begin our talks on the basis of our common desire to make the U.S.-Japan relationship even closer. I don't think there's any confusion about what it will take to succeed. Economically, we need to work hard to continue and enhance the progress made after our talks in Tokyo in November 1983. We have made progress in our security relationship, which will continue to develop to the benefit of both sides. But it is in foreign affairs that the real payoff of close U.S.-Japan relations can increasingly be found. As our ability to cooperate and coordinate our policies increases, so does the scope of what we can accomplish together. Our international cooperation will reflect our ability to handle problems in our bilateral relationship, including trade issues. It is my hope that as leading democracies and as the leading free world economies, Japan and America will be able to provide solutions by putting our heads—and our hearts—together in a partnership for the cause of good.
Q. Cooperation between the U.S. and Japan in a Pacific Basin initiative is said to be a leading topic of discussion in the upcoming Los Angeles meeting. Could you elaborate on your ideas about its realization?
The President. Although the United States has long been a two-ocean nation, in the past we focused most of our attention on our Atlantic coast because of our historic relationship with Europe. But during the past decade or so, the growth of democracy and the dynamic economic development of the Pacific region also have earned our admiration and our very close attention. As a result, while Europe certainly remains as vital as ever to us, a new perspective has emerged toward the Pacific. Japan, of course, plays a key role in this new American perspective. Both our countries are prepared to devote our resources and energies to seeking ways to cooperate with our neighbors in the Pacific. But it is important that we not be rushed in our eagerness to get started. Pacific Basin cooperation, in whatever form it eventually emerges, will not be successful and will not last unless it has the full support of all our Pacific neighbors, and unless there is benefit for all. The Pacific Basin will be a topic of conversation between the Prime Minister and myself in Los Angeles, but it is too soon to talk about or expect any specific announcements or agreements.
Q. The United States trade deficit with Japan may reach $35 billion this year. Renewed calls for import surcharges are coming from Capitol Hill and industry circles. Will your present position on free trade change in response to calls for the protection of U.S. industries? And what are your expectations on Japan in light of the current deficit? For instance, as yet there are several unsettled matters concerning trade and the opening of the Japanese market: (1) the expansion of voluntary export restraints on '85 automobiles, (2) reduction of tariff rates on wood products and (3) total liberalization of agricultural products. We would appreciate any thoughts you might give us about specific approaches to settling these and other trade issues.
The President. I believe that free trade is a powerful force for progress and peace. The winds of commerce carry opportunities that help nations grow and bring citizens of the world closer together. Increased trade spells more jobs, higher earnings, better products, less inflation, and more cooperation. The freer the flow of world trade, the wider the benefits of economic progress.
Nowhere is free trade more important than in America's commercial ties with Japan—our largest overseas trading partner. And we are Japan's most important market. This year $85 billion in goods and services is flowing across the Pacific between our two nations. But the potential would be even greater if it were not for some trade barriers Japan still maintains which reduce competitive foreign imports.
We've worked hard to encourage Japan to open its domestic market fully to foreign products. We want American companies to have the same opportunity to sell their goods and services and to invest in Japan that your companies already enjoy in our market. You have responded by reducing some trade barriers and we appreciate these measures. The efforts by the Japanese Government to open capital markets for foreign participation and to liberalize the yen are also important steps in the right direction.
But many U.S. companies still cannot compete in Japan on an equal basis. High tariffs stymie our efforts to sell competitive U.S. exports like processed forest products. While there has been some liberalization of agricultural quotas, these should be eventually eliminated so that Japanese consumers have the chance to buy U.S., beef, citrus, and other farm products in quantities and at prices freely set in the marketplace. And I hope that the transformation of Japan's government telecommunications monopoly into a private company will allow U.S. suppliers of these products a fair shot at your market, just as Japanese companies already have here. Your question also refers to Japan's voluntary export restraints on automobiles which expires at the end of March. I think that it is premature for me to make any comment on this, and, in any case, this is a decision for the Japanese Government to make.
On the trade deficit with Japan—it will approach $35 billion by the end of the year—I realize there is no easy answer to this problem, but the sheer size of the deficit has generated growing protectionist sentiment in this country. Therefore, I urge the Japanese Government and people to move even more quickly to open Japan's market to competitive foreign products. If this is done, our trans-Pacific trade relations can continue to expand and flourish to the mutual benefit of our two countries.
Korean Peninsula
Q. With the Olympic games scheduled in Seoul in 1988, the Korean peninsula may become a focus of international attention. What is your evaluation of the current state of affairs on the peninsula as the date approaches? Do you have any initiatives in mind to maintain peace there? What role do you expect the neighboring nations of China, the U.S.S.R., and Japan to play in order to reduce tension on the peninsula?
The President. There has been considerable tension on the Korean peninsula since the North Korean invasion of the South in 1950. Such tension has at times grown even more serious, as, for example, after the North Korean bombing in Rangoon in October of 1983, which almost killed President Chun and did kill several of his key advisers. However, we have seen welcome signs of tension reduction between the two Korean states recently. Talks on economic cooperation and Red Cross talks on such matters as family unification have taken place, and representatives of both Korean Governments will meet again in January to discuss these topics. I think that peace initiatives or tension reduction measures, like the economic and Red Cross talks, must properly come from the two Korean Governments themselves. They must be the major interlocutors in any inter-Korean dialog, but Japan, China, the U.S.S.R., and the U.S. all have an interest in seeing that peace is preserved and that tension on the peninsula is reduced.
Regional Conflicts
Q. Are you planning any initiatives in your second term for the solution of problems in these specific areas of the world? What contribution do you expect from the allied nations, including Japan, to help solve regional conflicts?
The President. One way to solve regional conflicts is to convince the parties to the conflict that they have more to gain by seeking peace. The United States is committed to the peace process in the Middle East, Central America, southern Africa, and elsewhere.
Another way to deal with regional tensions is to create an environment of political stability and economic development that deals with the source of the problem. Japan has increasingly contributed to this process throughout the world through its growing aid programs. I hope Japan will continue to exercise a positive and increasingly visible diplomatic and economic role in the Asian region and throughout the world.
U.S. Economy
Q. Could you elaborate on your principal ideas about reducing the United States budgetary deficit and the high interest rates which are also matters of concern to your allies? Please comment on your position during the coming term.
The President. As a result of our economic policies, millions of jobs have been created, inflation has been cut sharply, interest rates reduced, and in general the U.S. economy has enjoyed a strong, sustained recovery. In turn, America's economic return has helped the economies of our trading partners, including Japan.
Let's look at the record. The U.S. should enjoy a 4-percent growth rate next year. Consumer incomes are rising at a steady pace and consumer confidence is strong. Robust business spending, spurred by our 1981 tax cuts, helped propel the current expansion, and prospects for continued strength in capital spending remain favorable. Inflation will remain low and under control in 1985. This news is good for the U.S. as well as its trading partners like Japan.
To ensure the strength and durability of economic expansion for the longer term, we need to get the Federal deficit and the growth in Federal outlays under better control. With the help of the Congress, we are determined to do so. My goal is to reduce the deficit to $100 billion by FY 1988.
There has been much criticism of the strength of the dollar by many of our allies. Critics have charged that the dollar is substantially overvalued because of high U.S. interest rates resulting from large budget deficits. They contend that the high dollar threatens the global recovery and the U.S. must "correct" its value.
These arguments are not supported by the facts. While the levels of interest rates have periodically played an important role in determining exchange rates, this has not been generally the case during this administration. The improved U.S. business climate and the sharp drop in our inflation are probably the key to the dollar's performance. I am sympathetic to the view that the value of the dollar is high, but I disagree that it is "overvalued." Such a view implies that we can calculate the "right" rate independent of market forces. I believe that we cannot do so.
Economic Summits
Q. The forthcoming Bonn summit marks the 40th anniversary of the end of World War II. What are your thoughts on the development of this organization as it convenes for the 11th time? What will be your basic position in the forthcoming talks?
The President. The annual economic summits are a very useful opportunity for the leaders of the seven main industrialized countries to explain to each other their perspectives and plans for their own economies and their participation in the world economy. In addition, it is an occasion to review the year ahead. Summits are not and cannot be meetings at which we draw up detailed blueprints for solving the world's problems. Whenever that was tried in the past, it failed. But a summit can and does give each participant a clearer understanding of how others see current problems and the tasks before us, so that we can better determine how we should be moving, both separately and together, to deal most effectively with our common agenda.
It is too early to say what will be the main themes of the Bonn summit. However, we have much unfinished business still before us. We need to reaffirm our determination to promote sustainable noninflationary growth in each of our economies. We need to move rapidly to begin a new round of trade negotiations as the best assurance against resurgent protectionist pressures. We need to continue the policies we outlined at the Williamsburg and London meetings to deal in the longer term with the debt problem and the need to integrate the developing countries more effectively into the open world trade and finance systems. As with previous economic summits, the Bonn summit will provide an opportunity for us to discuss informally the more important international political issues facing all our countries, of which the search for meaningful arms reduction is one of the most pressing. In this search, I'm proud to know that Japan is our ally and friend.
Note: As printed above, the questions and answers follow the White House press release.
Ronald Reagan, Written Responses to Questions Submitted by Yomiuri Shimbun of Tokyo, Japan Online by Gerhard Peters and John T. Woolley, The American Presidency Project https://www.presidency.ucsb.edu/node/261377