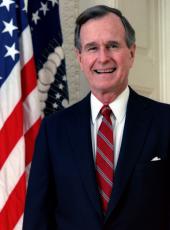 Written Responses to Questions Submitted by the Yonhap News Agency of the Republic of Korea
South Korean Foreign Relations
Q. Would you tell me your views on South Korean efforts to increase economic cooperation and political relations with Socialist countries?
The President. I support these efforts. President Roh's opening to the Soviet Union, Eastern Europe, and China is aimed at fostering world peace and understanding. Today almost every country recognizes South Korea's great economic importance. I am sure more countries in time will move from economic ties to full political and diplomatic ties with the Republic of Korea.
Conference on Korean Reunification
Q. In his address before the U.N. General Assembly in October last year, President Roh proposed a six-party conference, calling for South and North Korea, the United States, Japan, China, and the Soviet Union to discuss a peaceful reunification of the divided Korean Peninsula. What is the U.S. position on the proposal?
The President. President Roh's six-party conference idea is an imaginative, forward-looking proposal. It is another example of the Republic of Korea Government's new approach of reconciliation and accommodation in dealing with peninsular political and security problems. Obviously, such a conference would require careful preparation and a cooperative attitude by all participants.
North Korea-U.S. Relations
Q. While seeking improved relations with China and the Soviet Union, the South Korean Government has asked the United States to open its doors to the isolationist North Korea, hoping that exchanges between Washington and Pyongyang will contribute to reduction of tension on the Korean Peninsula. Have you seen any fruits of progress in U.S. efforts to help North Korea to get rid of its isolationist policy?
The President. We have long supported North-South dialog as the key to peace and reunification of the peninsula. President Roh's initiatives to that purpose in July 1988 and in his October speech at the United Nations were most welcome. In the spirit of these measures, the United States announced last October 31 some new steps to encourage private academic, cultural, and other nongovernmental exchange with North Korea. We also authorized the export of humanitarian goods to North Korea and again authorized substantive exchanges between our diplomats in neutral settings. Since then, the United States and North Korea have had substantive contacts in Beijing on December 6 and January 24. There has been greater academic exchange between the United States and North Korea as well. Several American universities plan to host North Korean scholars this year. I do not know how far these academic and diplomatic contacts will go, but they are useful first steps.
U.S. Forces in South Korea
Q. Radical Korean students with anti-American sentiment are demanding the withdrawal of U.S. troops from South Korea. At the same time, I know that there are some American experts on northeast Asian affairs who speak of a symbolic or gradual reduction of the troops. Do you envision any possibility of the troop withdrawal in the near future in light of the security situation on the Korean Peninsula?
The President. There are no plans to reduce U.S. forces in Korea. Our soldiers, sailors, airmen, and marines are there at the request of the Republic of Korea to deter aggression from the North, and their presence contributes to the peace and stability of northeast Asia. They will remain in the Republic of Korea as long as the Government and the people of South Korea want us to remain and as long as we believe it is in the interest of peace to keep them there. Our two governments periodically review the appropriate strength and composition of U.S. forces stationed in Korea under our mutual defense treaty obligations.
South Korea-U.S. Trade
Q. The United States has continued to ask South Korea to open its markets fully for more U.S. exports. The Korean people have an understanding of U.S. efforts to reduce its large trade deficits, but they think that current U.S. pressure is excessive. I would like to hear your views on trade friction existing between the two countries.
The President. Korea has enjoyed very open access to the American market, especially in cars, consumer electronics, and machinery. This has been crucial to Korea's achievement of the world's highest economic growth rate during the last 3 years. We seek access to all world markets. A free market enhances a country's standard of living. Consumers benefit from lower prices and a wider variety of goods and services. The United States and Korea have prospered together on the strength of a free world trading system. I believe it is in Korea's self-interest to work to preserve this system. Therefore, I do not see U.S. market-opening efforts in Korea or elsewhere as excessive.
President's Trip to China
Q. Your visit to Beijing will be followed by the visit by Soviet leader Mikhail Gorbachev, which is expected in April or May, for the first Sino-Soviet summit talks in three decades. Do you have any special reasons for your decision to go to China after attending the funeral of the late Japanese Emperor? Do your discussions with Chinese leaders include the problem of the Korean Peninsula?
The President. Having represented my country in China, I have fond memories and close ties there. Barbara and I are looking forward in a very personal way to going back to Beijing. We also have important matters to discuss with the Chinese leaders. I am sure our talks will touch on issues affecting the Korean Peninsula.
Note: The questions and answers were released by the Office of the Press Secretary on February 25.
George Bush, Written Responses to Questions Submitted by the Yonhap News Agency of the Republic of Korea Online by Gerhard Peters and John T. Woolley, The American Presidency Project https://www.presidency.ucsb.edu/node/247849