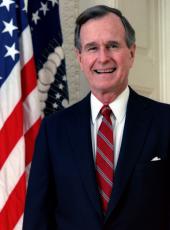 Written Responses to Questions Submitted by the Kyodo News Service of Japan
Japan's International Role
Q. What kind of role will the Bush administration expect Japan to play in the global economic and Western national security spheres?
The President. First of all, a word about the global role of the United States during my administration. Japan and the world can count on America to continue to work for peace, democracy, freedom, and justice around the world. The scope of America's vision is global, and we will continue to shoulder the obligations that belong to a global power.
At the same time, of course, it is important that our allies assume greater responsibility in the cause of global peace and prosperity. It is not for me to prescribe Japan's role in the world. The decision is up to the Government and people of Japan. During Prime Minister Takeshita's recent visit to Washington, he and I agreed that there are many ways Japan can contribute to global peace and prosperity. Our defense cooperation is one of those ways; another is foreign economic assistance.
I welcome Japan's pledge to make further significant increases in overseas development assistance programs. Along these lines, Prime Minister Takeshita and I agreed on the importance of supporting democracy and sustained economic growth and reform in the Philippines. Toward this end, we pledged to make every effort to launch the Multilateral Assistance Initiative for the Philippines this year. I also welcome Japan's decision to take part in peacekeeping operations and your generous offers of financial support for the relief and resettlement in Afghanistan and southern Africa. Those are also ways to contribute.
The United States and Japan, the world's two largest economies, have special responsibilities to sustain free trade. Prime Minister Takeshita reaffirmed in Washington Japan's determination to promote strong domestic growth and structural adjustments. In the area of multilateral cooperation and global economic growth, we agreed that we would continue to coordinate policies through established fora, especially the economic summit. We look forward to the next summit meeting, which will be held in Paris. We also agreed on the importance of a successful Uruguay round [multilateral trade negotiations]. And we agreed on the importance of frequent consultation at all levels on economic issues.
Japan-U.S. Relations
Q. How do you envision U.S.-Japan relations under your administration? Some of your advisers have recommended forming a "new partnership" with Japan. What are your feelings about this recommendation?
The President. We have used the word "partnership" to describe our relationship for a number of years now, and during the course of the Reagan administration, we gave new meaning to that term. Our partnership is bilateral, regional, and global. We consult frequently and cooperate closely on virtually every issue of importance. This is not a "new partnership" but a continuing one that has developed over 40 years of cooperation. I am confident it will continue to develop and acquire new meaning, but rather than a "new partnership," it will be a continually "renewed partnership."
Japan's Defense Role
Q. Defense Secretary-designate Tower said Japan should extend its sealane defense beyond the present 1,000-mile limit. Do you support this view? Would you ask Japan to beef up its defense? If so, how much of its GNP should Japan allocate for defense spending?
The President. We are fully satisfied with the mutually agreed division of defense roles and missions in our security arrangements, under which Japan has primary responsibility for defending its territory, seas and skies, and sea lines of communication. We are also encouraged by Japan's continued and steady progress in improving its defense capability within the framework of those roles and missions, recognizing there is still room for greater improvement, especially in the area of sustainability. Further, we appreciate Japan's increasing contribution to the cost of maintaining U.S. forces in Japan. Rather than engage in a sterile exercise of measuring security in arbitrary terms such as GNP, the United States and Japan are putting our efforts toward a much more productive and important purpose: that of working together to attain defense capabilities which will ensure our mutual security.
Japan-U.S. Trade
Q. Would you support a U.S.-Japan free trade agreement modeled after the U.S.-Canada free trade agreement? The U.S. deficit with Japan has been on the rise again in recent months. Do you favor the yen's further appreciation against the dollar?
The President. The U.S. and Japanese Governments agree on the need to pursue multilateral and bilateral efforts to create a more open international trading system. We will stress the multilateral approach.
We are always open to new ideas. But in our view, the key now is to work hard for the success of the Uruguay round. At the recent G - 7 meeting, the financial authorities of the major countries agreed the global economic situation and outlook remain positive and that no changes in their commitment to cooperation on exchange rate policies were needed.
During our recent meeting, Prime Minister Takeshita and I noted progress that both the United States and Japan have made toward reducing external imbalances, but we also agreed that further policy efforts are needed. The Prime Minister assured me that Japan remained determined to encourage strong domestic growth and structural reform. And I reaffirmed our strong determination to reduce our budget deficit.
Soviet-U.S. Relations
Q. A reduction of conventional arms is said to be the top priority of the Bush administration in the U.S.-Soviet arms negotiations. What is your response to President Gorbachev's announcement to cut 500,000 Soviet troops? Do you foresee a U.S.-Soviet summit by next summer?
The President. It is true that a major priority of my administration is in the area of conventional arms control. Thus we welcome and look forward to the Negotiations on Conventional Armed Forces in Europe (CFE). We, along with our NATO allies, will seek in CFE to enhance stability and security at a lower level of forces. To that end, NATO will seek the elimination of the Warsaw Pact's substantial superiority in Europe. Accordingly, we welcome the announcement of Soviet force reductions as a positive step in the right direction and look forward to the full implementation of the force cuts described by Chairman Gorbachev. Even with these reductions, however, the Warsaw Pact has far to go to correct the conventional forces imbalance in Europe.
Regarding a summit, both sides, of course, want to be well-prepared before engaging in a summit. We are in the process of reviewing elements of our policy toward the Soviet Union and consulting closely with our allies and friends to ensure that we have a sound foundation for long-term progress in East-West relations. Secretary of State Baker and Foreign Minister Shevardnadze will have several opportunities in the months ahead to begin addressing the many issues between our countries. Thus, while I am confident a summit will take place sometime in the future, it is too early to discuss a specific date.
Note: The questions and answers were released by the Office of the Press Secretary on February 22.
George Bush, Written Responses to Questions Submitted by the Kyodo News Service of Japan Online by Gerhard Peters and John T. Woolley, The American Presidency Project https://www.presidency.ucsb.edu/node/247838