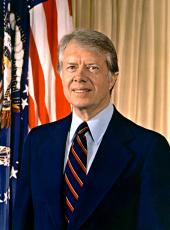 Windsor Locks, Connecticut Informal Exchange With Reporters on Departure From Connecticut.
Q. We hear the hostages are nearly to be released. Is that correct?
THE PRESIDENT. I don't want to comment on it. I don't know of any immediate prospect.
Q. Well, when you say "immediate prospect", sir, are you saying just a few hours or what?
THE PRESIDENT. No, no. We've been trying to get the hostages released ever since they were taken, and we've used every possible means we can to negotiate or to send direct or indirect messages to the Iranians. But I don't have any progress—
Q. No imminent—
THE PRESIDENT. No imminent, no.
Q. Is there a potential in the arrival of the Iranian Foreign Minister here to discuss the hostage issue with the senior Iranians?
THE PRESIDENT. There's always a potential. We have not made any arrangements to meet with Mr. Rajai, but if he should be amenable to a meeting we would certainly continue to follow our practice of meeting with any Iranian official who had a possibility of speaking authoritatively for their Government.
Q. When you say "amenable to a meeting," do you mean yourself or someone else?
THE PRESIDENT. Yes, myself or Ed Muskie or Warren Christopher or whoever would be appropriate.
Q. Has Rajai suggested that he might be amenable?
THE PRESIDENT. I don't think so.
Q. You don't think so, sir?
THE PRESIDENT. No. I don't know whether he has or not. I don't have any information that he has. But we will continue to pursue, in every possible way, the possibility of having the hostages released, as we have for the last 10 or 11 months. But there is no imminent prospect, so far as I know, of the hostages being released.
Q. Would that include assisting Iran in the U.N. vis-a-vis Iraq in their dispute, supporting their position?
THE PRESIDENT. Well, we've made our position clear on the hostilities between Iran and Iraq—that they should be resolved peacefully, through negotiations; their disputes over the border should be settled in that fashion, using international intermediaries if necessary; and that disputes like this should not be settled through aggression or through invasion of another country's territory. That's our position, and I think it ought to be acceptable as our Nation's position in the U.N. Security Council.
Q. So we basically support them?
Q. Could you be meeting Rajai later today in New York?
THE PRESIDENT. No. I don't have the time.
Q. Thank you.
Q. Mr. President, could we have some more questions?
THE PRESIDENT. Thank you.
Note: The exchange began at approximately 1: 30 p.m. at Bradley International Airport. As printed above, the item follows the text of the White House press release.
Jimmy Carter, Windsor Locks, Connecticut Informal Exchange With Reporters on Departure From Connecticut. Online by Gerhard Peters and John T. Woolley, The American Presidency Project https://www.presidency.ucsb.edu/node/251215