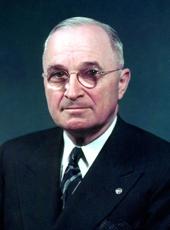 White House Statement Announcing Recognition of the Government of Korea.
ON DECEMBER 12, 1948, the United Nations General Assembly adopted a resolution approving the conclusions of the report of the United Nations Temporary Commission on Korea and declaring in part "that there has been established a lawful government (the Government of the Republic of Korea), having effective control and jurisdiction over that part of Korea where the Temporary Commission was able to observe and consult and in which the great majority of the people of all Korea reside; that this government is based on elections which were a valid expression of the free will of the electorate of that part of Korea and which were observed by the Temporary Commission; and that this is the only such government in Korea." The Resolution of December 12 concluded with the recommendation that member states and other nations take the foregoing facts into consideration in establishing their relations with the Government of Korea.
In the light of this action by the General Assembly, and taking into account the facts set forth in the statement issued by this Government on August 12, 1948, concerning the new Korean Government, the United States Government has decided to extend full recognition to the Government of the Republic of Korea. Incidental to this step it is anticipated that, by agreement with that government, the Mission of the United States Special Representative in Korea will in the near future be raised to embassy rank.
In conformity with the General Assembly Resolution of December 12, the United States Government will endeavor to afford every assistance and facility to the new United Nations Commission on Korea established thereunder in its efforts to help the Korean people and their lawful government to achieve the goal of a free and united Korea.
Note: The statement issued by the United States on August 12, 1948, was released by the Department of State. The text is published in the Department of State Bulletin (vol. 19, p. 242).
Harry S. Truman, White House Statement Announcing Recognition of the Government of Korea. Online by Gerhard Peters and John T. Woolley, The American Presidency Project https://www.presidency.ucsb.edu/node/229390