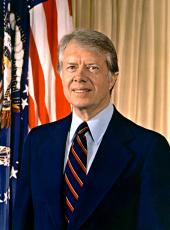 White House Fellows Appointment of 14 Fellows for the 1977-78 Program.
The President today announced the appointments of the 14 1977-78 White House Fellows, the 13th group since the creation of the program.
The Fellows were chosen from among 1334 applicants and were screened by 11 regional panels. The President's Commission interviewed 37 national finalists before recommending the 14 persons to the President. They begin their year of service with the Federal Government on September 1.
The 1977-78 White House Fellows are:

JOSEPH B. ANDERSON, 34, formerly of Topeka, Kans., Major, U.S. Army, attending the U.S. Army Command and General Staff College, Ft. Leavenworth, Kans.;
GREGORY H. CANAVAN, 33, of Falls Church, Va., Lieutenant Colonel, U.S. Air Force, Program Manager for Advanced Laser Research, Advance Research Projects Agency, Arlington;

MARTHA A. DARLING, 32, of Seattle, Wash., executive director, Governor's Select Panel on the Department of Social and Health Services, Olympia;

NELSON A. DIAZ, 30, of Mr. Holly, N.J., executive director, Spanish Merchants Association, Philadelphia, Pa.;

THOMAS M. DOWNS, 33, of Leavenworth, Kans., city manager, city of Leavenworth;

THOMAS E. HARVEY, 35, of New York, N.Y., attorney, Milbank, Tweed, Hadley & McCloy, New York City;

BEVERLY J. HAWKINS, 30, of Los Angeles, Calif., instructor, School of Public Administration, University of Southern California, and policy consultant to Councilman Robert Farrell, city of Los Angeles;

ROBERT O. HEAVNER, 35, of Colorado Springs, Colo., Major, U.S. Air Force, associate professor, U.S. Air Force Academy;

JAMES S. JARDINE, 30, of Salt Lake City, Utah, associate, Ray, Quinney & Nebeker, attorneys, Salt Lake City;

ROBERT R. KING, 34, formerly of Wyoming, assistant director of research, Radio Free Europe, Munich, Federal Republic of Germany;

JACK A. LECUYER, 34, of West Point, N.Y., Major, U.S. Army, instructor in economics and international relations, U.S. Military Academy, West Point;

J. STUART LEMLE, 28, formerly of White Plains, N.Y., Fulbright Fellow, New Delhi, India;

LOUISE L. LLANO, M.D., 27, of Grosse Pointe Park, Mich., division head, division of pediatrics and adolescent medicine, Henry Ford Hospital, Dearborn;

BRYANT L. YOUNG, 28, of San Francisco, Calif., attorney, Dinkelspiel, Pelavin, Steefel & Levitt, San Francisco.
The White House Fellowship program was established in 1964 to provide outstanding young Americans with firsthand experience in the process of governing the Nation. It is open to U.S. citizens from all occupations and professions. (Employees of the Federal Government are not eligible, with the exception of career Armed Forces personnel.)
In addition to their educational assignments with the Vice President, members of the Cabinet, and members of the White House staff, the Fellows participate in an extensive seminar program that typically includes some 300 off-record sessions with top Government officials, scholars, journalists, and leaders from various other segments of private life.
Leadership, intellectual and professional ability, and a commitment to community and Nation are the broad criteria employed in the selection process.
Applications for the 1978-79 program will be available in August 1977. Application forms and additional information on the program can be obtained by sending a postcard to the President's Commission on White House Fellowships, Washington, D.C. 20415, or by calling (202) 653-6263.
Jimmy Carter, White House Fellows Appointment of 14 Fellows for the 1977-78 Program. Online by Gerhard Peters and John T. Woolley, The American Presidency Project https://www.presidency.ucsb.edu/node/243092