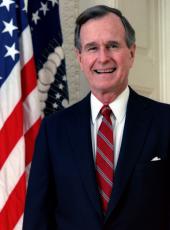 White House Fact Sheet on Trade Initiatives for the Andean Region
I. Bilateral and Regional Initiatives
A. Generalized System of Preferences (GSP):
1. Suggest that the Governments of Venezuela and Ecuador initiate the exchange of letters which would provide those countries with GSP for six categories of handicraft textiles. These categories are USHTS:
5701.10.1300 5702.10.1000 5702.91.2000 5805.00.2000 6304.99.1000 6304.99.4000
2. For Bolivia, Colombia, Peru, and Ecuador: Accelerate implementation of any GSP benefits as a normal part of the 1989 GSP annual review. This includes product petitions now under review as well as product redesignations.
3. For Bolivia, Colombia, Peru, and Ecuador: Offer the opportunity to submit new GSP petitions as soon as is practical and review these on an expedited basis. Petitions would be due January 15, 1990, with results announced July 15 and implemented August 1.
4. Provide GSP technical seminars to assist Andean countries to expand their use of GSP petitions. We would also consider providing technical seminars and technical advice beyond 1990.
B. Technical Assistance to Help the Andean Countries Improve Their Trade Performance: U.S. Government agencies determine what technical assistance could be provided to the countries of the region. We will also encourage the multilateral development banks to undertake the same assistance.
C. Textiles: After consulting with all affected parties, explore possibilities for expanding textiles trade consistent with current U.S. Government policies and programs and the multifiber arrangement.
II. Multilateral Initiatives
A. International Coffee Agreement: Build on the recently achieved multilateral political consensus to negotiate a new international coffee agreement.
B. Accelerated Uruguay Round Tariff Negotiations: Undertake an accelerated negotiation on tariffs and nontariff measures with Andean participants in the Uruguay round.
C. U.S. Consultations with Canada, the EC [European Community], and Japan: Consult with our major trading partners to determine areas in which we can cooperate to assist the Andean countries improve their trade performance. We will be raising this at the upcoming meeting on the Uruguay round of the trade ministers of the quadrilateral countries (U.S., Canada, and Japan) which begins on November 12.
D. Support the Multilateral Development Banks' Efforts to Encourage Meaningful Trade Policy Reforms: Consult with the multilateral development banks to support their efforts to work with the Andean countries to promote meaningful trade policy reforms.
George Bush, White House Fact Sheet on Trade Initiatives for the Andean Region Online by Gerhard Peters and John T. Woolley, The American Presidency Project https://www.presidency.ucsb.edu/node/264442