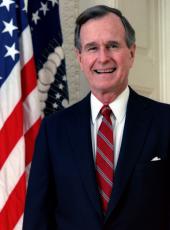 White House Fact Sheet on the Waiver of the Jackson-Vanik Amendment
The President has decided to waive for the Soviet Union application of the freedom of emigration provisions contained in the Jackson-Vanik amendment (section 402) to the 1974 Trade Act. The Jackson-Vanik amendment effectively bars access to official credit and credit guarantee programs to countries which restrict emigration. The President made this decision:
based on the liberalization of Soviet emigration policy in recent years by which an estimated 360,000 people will emigrate in 1990;
after receiving assurances that this policy will continue, and
to make food available to the Soviet Union in the form of up to $1 billion in Commodity Credit Corporation (CCC) credit guarantees for the purchase of U.S. agricultural products.
The President's waiver will be valid until at least July 1991, at which time he will need to determine whether to extend the waiver.
While the President has taken this action on Jackson-Vanik, he does not plan at this time to send the U.S.-Soviet trade agreement, signed during the Washington summit in June 1990, to the Congress. Only when the trade agreement is approved by Congress and takes effect could the Soviet Union receive most-favored-nation trading status.
The immediate effect of the President's action is to make the Soviet Union eligible for export credit guarantees under the CCC General Sales Manager program for the purchase of American agricultural products. This form of food assistance responds to Soviet requests for credit guarantees and will help the Soviet authorities address current food shortages. The waiver will also restore Soviet eligibility for Export-Import Bank credits and credit guarantees. However, the Stevenson amendment to the Ex-Im Bank Act and the Byrd Amendment to the 1974 Trade Act limit credits and guarantees to $300 million, with a subceiling of $40 million and other restrictions on Ex-Im Bank credits or guarantees in support of the fossil fuel industry.
In accordance with the requirements of Jackson-Vanik, before formally executing a waiver the President will report to Congress his determination that a waiver will substantially promote its freedom of emigration objectives in the Soviet Union. This report will also state that he has received the required assurances on Soviet emigration practices.
George Bush, White House Fact Sheet on the Waiver of the Jackson-Vanik Amendment Online by Gerhard Peters and John T. Woolley, The American Presidency Project https://www.presidency.ucsb.edu/node/265364