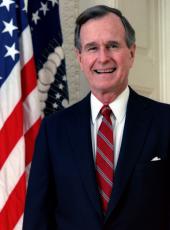 White House Fact Sheet on the Proposal to Reduce Conventional Forces in Europe
On July 13, at the Conventional Forces in Europe (CFE) Negotiations in Vienna, the NATO allies will table the specifics of their conventional force reduction proposal, based on the initiative President Bush put forward at the NATO summit. In formally tabling the President's proposal in Vienna, NATO is advancing the CFE process by providing the Warsaw Pact with details 2 months before the original Western target of September 7. This will allow the East to begin immediate examination of these details and hopefully allow the East to respond formally when the negotiations resume in Vienna in September.
At the May 29 - 30 NATO summit meeting, the alliance agreed on a far-reaching conventional arms control proposal which has now been incorporated into the NATO CFE proposal. It has the following elements:
To lock in Eastern acceptance of the proposed Western limits on tanks (20,000 for each side) and armored troop carriers (28,000 for each side) and artillery pieces (from 16,500 to 24,000 for each side, depending on the resolution of questions about definitions). Equipment reduced would be destroyed. This provision would oblige the East to destroy tens of thousands of weapon systems and eliminate its preponderance in these important components of military strength.
That the West expand its current proposal to extend, for the first time, the concept of conventional arms control to all land-based combat aircraft and helicopters in the Atlantic-to-the-Urals (ATTU) area to a level 15 percent below the current NATO total.
To establish a manpower ceiling of 275,000 each on U.S. and Soviet ground and air forces stationed outside of their respective national territory in the ATTU zone. The United States would take a 20-percent cut in combat manpower in U.S.-stationed forces, with a resulting ceiling in U.S. and Soviet ground and air forces stationed outside of national territory in the Atlantic-to-the-Urals zone of approximately 275,000 each. This manpower ceiling will require the Soviets to reduce their forces in Eastern Europe by about 325,000. The soldiers and air personnel withdrawn on both sides would be demobilized.
The updated NATO proposal to be tabled on July 13 will in addition state that in the case of combat aircraft each side would have no more than 5,700 aircraft. In the case of combat helicopters, each side would have no more than 1,900 helicopters.
NATO is proposing an accelerated timetable for reaching and implementing a CFE agreement along the above lines. The allies would like to reach an agreement within 6 to 12 months and accomplish the reductions by 1992 or 1993. By tabling details of the Western proposal now, the allies demonstrate their commitment to giving greater momentum to the CFE negotiations.
George Bush, White House Fact Sheet on the Proposal to Reduce Conventional Forces in Europe Online by Gerhard Peters and John T. Woolley, The American Presidency Project https://www.presidency.ucsb.edu/node/263869