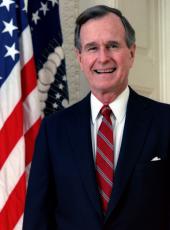 White House Fact Sheet: The President's Welfare Reform Legislation
The President has transmitted to the Congress by letters to the President of the Senate and the Speaker of the House four legislative proposals to implement those parts of his welfare reform strategy requiring legislative changes. The President announced his plans for further welfare reform on July 31, 1992, in Riverside, CA.
The legislative proposals sent to the Congress today are the:
"Welfare Employment and Flexibility Amendments of 1992" that would amend the Aid to Families with Dependent Children (AFDC) statute;
"Food Stamp Employment and Flexibility Amendments of 1992," making similar changes to the Food Stamp Act;
"Housing Assistance Innovation Act of 1992" that would allow innovation in public and assisted housing programs on a basis similar to other welfare programs; and
"Community Opportunity Pilot Project Act of 1992" that would authorize selection of five communities to redesign the delivery of Federal assistance to create increased opportunity in those communities.
The Problem
Flexibility. Federal public assistance programs are structured in fixed, categorical ways. This limits the ability of the State and local agencies administering Federal funds to meet local needs and conditions.
State and local officials seeking a greater role for work in welfare programs face unnecessary obstacles in implementing workfare with significant work requirements. Current law limits the number of hours each month that a recipient can be required to "work off" to the number of hours that results from dividing the amount of the AFDC benefit by the minimum wage ($4.25 nationally). A family household of $170 per month in AFDC would be limited to 10 hours per week. That family, however, may receive food stamps worth $210 per month and Medicaid that provides insurance coverage worth $300 per month, bringing the total value of assistance to $680 per month.
Also, Federal law limits the positions that can be used in workfare programs. Vacant positions in public or nonprofit agencies cannot be given to workfare participants. A public or nonprofit agency must create new positions to take on someone with a workfare obligation, either increasing the work done or dividing work among more workers.
Scope of Innovation. Since the President's State of the Union Address, in which he pledged Federal cooperation with State efforts to reform welfare programs through expeditious consideration of requests for waivers of Federal law or regulations, six waivers have been granted to five States. All relate to AFDC and Medicaid program changes. The degree of flexibility currently available in the AFDC and Medicaid programs does not exist for the food stamp, rental assistance, or public housing programs.
The President's Principles
The President's fundamental goal for welfare reform is to create a system that will enable welfare recipients to leave the system at the earliest possible time, as economically self-sufficient and responsible participants in their community.
The President's Legislative Proposals
The President's four legislative proposals to promote work, personal responsibility, and flexibility sent to the Congress today are:
1. "Welfare Employment and Flexibility Amendments of 1992"
The legislation would:
Relax restrictions on the placement of workfare participants in jobs. For example, a vacant real job could be assigned to a workfare participant; it would not be necessary to create a new position or find new work to be done;
Allow States to determine maximum workfare obligations by aggregating the value of AFDC payments, food stamps, Federal housing assistance, and average Medicaid costs, up to a maximum of 40 hours per week. Current law allows only for inclusion of AFDC payments;
Emphasize job search in welfare-to-work programs operating under the Job Opportunities and Basic Skills (JOBS) training program by removing limits on the period a person can continue to be asked to look for a job;
Allow States to distribute AFDC benefits after work and training assignments have been completed; and
Require that failure to provide promptly all information necessary to determine the father of a child would result in a partial loss of AFDC benefits for uncooperative mothers. AFDC payments are made because a parent, usually the father, is absent. The requirement in current law that a mother cooperate in identifying the father of her child, enforced by the potential for losing part of the welfare check, would be expanded to include all information necessary to determine who the father is.
2. "Food Stamp Employment and Flexibility Amendments of 1992"
The legislation would:
Apply provisions in the "Welfare Employment and Flexibility Amendments of 1992" that remove limitations on work requirements to the food stamp program; and
Expand waiver authority in the Food Stamp Act to make it comparable to that available for AFDC.
3. "Housing Assistance Innovation Act of 1992"
The legislation would:
Provide waiver authority for public housing agencies and resident management corporations so they could try new approaches to self-sufficiency and resident empowerment;
Allow waivers of Davis-Bacon wage requirements for residents of public housing or subsidized housing and the homeless for projects that improve the housing and community in which they live and that increase their ability to get jobs; and
Allow eviction of convicted felons from public housing without an administrative hearing where State eviction processes contain similar due process protections.
4. "Community Opportunity Pilot Project Act of 1992"
The legislation would:
Create broad authority to waive program rules that govern the use of Federal funds to allow break-the-mold approaches to creating opportunity and promoting self-sufficiency;
Provide authority to approve projects in five communities that would be selected after a nationwide competition;
Allow proposals to come from States, local governments, and nonprofit organizations; and
Evaluate the projects to determine their effect and the applicability of the projects' findings.
-- For example, ideas that emerge from the effort to rebuild south central Los Angeles and the Atlanta Project could be implemented, even if they are not consistent with the rules that currently govern Federal funds flowing to those areas.
-- A community could take Federal transportation, community development, food stamp, job training, and drug abuse treatment funds and devise a multiyear project for a group of youth that would provide them with drug treatment, transportation to jobs outside the community, and training for jobs the project would create in the home community. Compared to current law:
The project and all its uses of several categorical funding programs for different purposes could be approved; and
All necessary waivers could be granted in a single action, without application to multiple agencies.
George Bush, White House Fact Sheet: The President's Welfare Reform Legislation Online by Gerhard Peters and John T. Woolley, The American Presidency Project https://www.presidency.ucsb.edu/node/266803