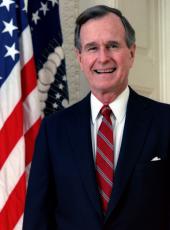 White House Fact Sheet on the Citizens Democracy Corps
The President announced today the creation of a Citizens Democracy Corps. The objective of this major new program is to support democratic change and market-oriented economic reform in Eastern Europe by mobilizing and coordinating American private sector initiatives.
Since the President's historic visits to Poland and Hungary and the revolutions of 1989, private Americans and voluntary organizations have stepped forward with extraordinary generosity with offers to assist the process of democratic change in Eastern Europe. To make best use of the enormous energy and creativity of the American private sector, the President supports the creation of a new center to promote these volunteer initiatives and match them with requests for assistance from Eastern Europe.
The Citizens Democracy Corps will serve as an information clearinghouse for U.S. private volunteer assistance programs for Central and Eastern Europe. It will establish an information base of technical services and equipment available from the United States on a private, volunteer basis. The Democracy Corps will also be a recipient of requests from Central and Eastern Europe for assistance in such areas as constitutional law and parliamentary procedures; English-language training; journalism, broadcasting, and publishing; public health and medical support; market economics, banking, and financial services; business law, commercial practices, and agriculture; and environmental protection.
The Citizens Democracy Corps will be the point of contact for U.S. businesses, voluntary organizations, and educational institutions that want to find out what is now being done and where further efforts are needed. The Democracy Corps could also launch new volunteer initiatives to meet the changing requirements of the region.
The President will ask prominent citizens representing a cross section of the American private sector to form a commission to direct the program and stimulate volunteer groups. The commission and the volunteers mobilized to provide assistance will be called the Citizens Democracy Corps. While the U.S. Government will help provide initial funding, the Democracy Corps will create its own financial base so that it can become, in the full sense of the term, "citizens democracy."
George Bush, White House Fact Sheet on the Citizens Democracy Corps Online by Gerhard Peters and John T. Woolley, The American Presidency Project https://www.presidency.ucsb.edu/node/264799