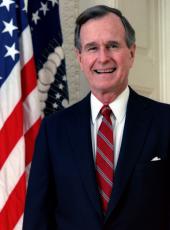 White House Fact Sheet on Proposed Legislation To Increase Federal Senior Executive Salaries
The President submitted to the Congress today legislation providing for higher salaries for a small number of employees in positions requiring specialized and critical skills. The legislation also provides for salary increases ranging from 8 percent to 25 percent for senior executive branch officials. In addition, the bill links receipt of the higher salaries to effective job performance. The bill is the executive branch counterpart to the judicial salary proposal submitted by the President to Congress last April (the Judicial Salary Act of 1989) calling for a 25-percent increase in the pay of Justices and judges.
The pay of senior government officials has eroded significantly in relation to the pay of executives in comparable jobs in the private and not-for-profit sectors of the economy. Over the past 20 years, for example, the pay of Executive Level II (Deputy Cabinet head, such as the Deputy Secretary of Defense) has slipped from 66 percent to 39 percent of the pay of the lower range of private corporation executives. Key scientific, medical, and acquisition jobs remain unfilled due to uncompetitive pay, thus jeopardizing successful fulfillment of priority government tasks. In past years, the Government has been able to attract a number of Nobel laureates to Federal employment, but without adequate incentives, this critical expertise will be lost to the Nation.
The President is taking this action because of his concern over the effect the pay gap is having on the Federal Government's ability to attract and retain the skilled and motivated senior executives necessary to direct the complex, wide-ranging, and critical functions of the Federal Government.
Failure to provide competitive pay is also impeding recruitment and retention of the most qualified persons at the senior levels of government. A number of highly qualified candidates for sub-Cabinet positions in the Bush administration have declined acceptance because of low pay and family sacrifices. Departments and agencies, such as NASA, have lost highly skilled and experienced senior executives, in part because of inadequate and noncompetitive pay. High ranking local government officials in large metropolitan areas, such as school superintendents, now make more than key government leaders such as the Director of the National Institutes of Health, who is responsible for research on cancer and heart disease.
While strongly supportive of pay increases for senior government executives, the President also believes the higher salaries must be accompanied by a strengthened relationship between pay and job performance, and a higher level of accountability. This bill accomplishes those objectives by establishing a process in which senior government executives could continue to hold their positions only if they met a requirement to demonstrate excellent job performance. The bill also provides for due process and Merit Systems Protection Board appeal so as to ensure that the new recertification provisions are not used for political or other proscribed purposes.
Description of Legislative Pay Proposal
The proposed legislation addresses three basic areas:
Higher salaries for specialized positions. Salaries not to exceed the rate for Level I of the Executive Schedule will be paid to not more than 200 critical positions in the executive branch that require unique qualifications and sustained exceptional performance in order to carry out effectively the functions of the position. The number of positions qualifying for the special salary rates would be allocated to the Departments and Agencies by the Office of Management and Budget, in consultation with the Office of Personnel Management, based on demonstrated evidence of need. Beginning in fiscal year 1991, the maximum salary payable would be adjusted annually by the same percentage as that applicable to Executive Schedule salaries.
Salary increases for senior executive branch officials. The following table shows existing rates as well as the rates proposed to be effective on the first day of the first pay period on or after January 1,
(TABLE START)1990:
@h1
@h1Existing
@h1Proposed
Vice President of the United States .... $115,000 .... $143,800
Offices and positions under the Executive Schedule in subchapter II of Chapter 53 of title 5, United States Code:
Positions at level I .... 99,500 .... 124,400
Positions at level II .... 89,500 .... 111,900
Positions at level III .... 82,500 .... 103,100
Positions at level IV .... 80,700 .... 100,900
Positions at level V .... 75,500 .... 94,400
Positions in the Senior Executive Service under subchapter VIII of Chapter 53 of title 5, United States Code. (These new pay levels would also apply to the Senior Foreign Service):
Positions at ES - 6 .... 80,700 .... 100,900
Positions at ES - 5 .... 78,600 .... 93,700
Positions at ES - 4 .... 76,400 .... 87,500
Positions at ES - 3 .... 74,900 .... 82,700
Positions at ES - 2 .... 71,800 .... 78,100
Positions at ES - 1 .... 68,700 .... 74,500
(TABLE END)
Requirement for effective performance. As a condition for the higher salaries provided for in this bill, an employee holding a position under the Executive Schedule or the Senior Executive Service (except for Cabinet officers, agency heads, and those serving in positions in which they can be removed only for cause) will be required to receive every 3 years a certification of acceptable performance from his/her supervisor. Those judged not to be performing in the excellent manner expected of persons occupying senior executive positions would be reduced in pay if a noncareer employee, or reduced to the highest step of grade 15 of the General Schedule and placed in another position if a career employee. Career personnel not certified will have limited appeal rights to the Merit Systems Protection Board to ensure that the action was not a result of political, racial, nationality, gender, disability, or religious bias.
The President will be working with the Congress on passage of this legislation and to achieve a more rational pay structure for senior-level positions in all three branches of government, in conjunction with elimination of honoraria proposed under separate legislation.
George Bush, White House Fact Sheet on Proposed Legislation To Increase Federal Senior Executive Salaries Online by Gerhard Peters and John T. Woolley, The American Presidency Project https://www.presidency.ucsb.edu/node/263687