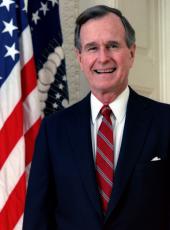 White House Fact Sheet on Proposed Legislation To Eliminate Congressional Honoraria
Today the President submitted to the Congress legislation to ban congressional honoraria. The proposal calls for the elimination of honoraria over 18 months, with a 50-percent reduction in the statutory ceiling on honoraria in calendar year 1990 and a total ban effective January 1, 1991. Enactment of this legislation would result in the next Congress being honoraria-free.
Approximately $19 million in honoraria was paid to Members of Congress over the last 2 years. The most common form of honoraria are fees accepted by Members of Congress from interest groups for speeches and appearances. Hidden honoraria also come in the form of payments for travel, meals, and lodging. Moreover, under current law, honoraria in excess of the amounts allowable may be donated by Members to charities.
By Federal statute, Members of Congress are currently permitted to accept honoraria in any calendar year in an amount equal to 40 percent of their calendar year congressional salary. Members of the House are further subject to House rules which limit their total outside earned income, including honoraria, to 30 percent of their congressional salaries.
The proposal submitted by the President today would limit acceptance of honoraria by all Members of Congress to 20 percent of their congressional salaries effective January 1, 1990, and would institute a flat prohibition on honoraria after January 1, 1991.
Under the legislation being proposed today, as of January 1, 1991, Members of Congress and their staff would become subject to the same honoraria ban that currently applies to the executive branch. This would prohibit Members of Congress from diverting excess honoraria to charities and, absent specific statutory authorization, from accepting payment for travel, meals, and lodging.
The President has previously recommended a 25-percent pay increase for Federal judges, and today he is submitting separate legislation calling for pay increases for certain specialized professionals and other senior officials in the executive branch. The proposal being made today to ban honoraria is linked to the enactment by Congress of a pay increase for its Members. The President will work with Congress toward this end.
George Bush, White House Fact Sheet on Proposed Legislation To Eliminate Congressional Honoraria Online by Gerhard Peters and John T. Woolley, The American Presidency Project https://www.presidency.ucsb.edu/node/263676