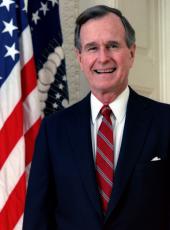 White House Fact Sheet on Proposed Campaign Finance Reform Legislation
Today the President transmitted to Congress comprehensive campaign finance reform legislation designed to lessen the power of special economic interests and restore competition to American congressional elections. This legislative proposal implements the reforms already announced by the President.
While curtailing the influence of special economic interests, the proposal enhances the roles of individuals and the political parties in the electoral process. It is also designed to reform a system which has led to a "permanent Congress." In the 1980's, House incumbents have had a 97.7 percent reelection rate and Senate incumbents an 85 percent reelection rate. Below is an outline of the major proposals:
Elimination of political action committees (PAC's) supported by corporations, unions, or trade associations, and a prohibition on any such entities paying for the overhead or administrative costs of any independent PAC.
Reforms to address the problem of the "permanent Congress" by reducing the unwarranted advantages of incumbency. Specifically, the proposal would prohibit the personal use of excess campaign funds, drastically reduce congressional franked mailings, ban the rollover of campaign funds from one election cycle to the next, and legislate fair neutral criteria for the redistricting that will follow the 1990 census.
A strengthening of political parties by increasing the amounts they can spend on behalf of congressional candidates. This source of funds would permit legislators to spend less time fundraising, would ensure that challengers have greater resources with which to challenge incumbents, and would further limit the role of special economic interests in elections.
Full disclosure of all "soft money" spent by the political parties and all labor unions, corporations, and trade associations to influence a Federal election.
George Bush, White House Fact Sheet on Proposed Campaign Finance Reform Legislation Online by Gerhard Peters and John T. Woolley, The American Presidency Project https://www.presidency.ucsb.edu/node/263412