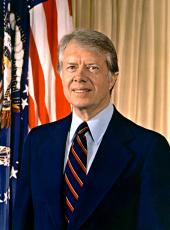 White House Conference on Families Remarks at a White House Reception.
First of all, I want to thank Jim Guy Tucker 1 and all of you for being willing to serve in this most important and responsible effort.
1 Chairperson, White House Conference on Families.
As you know, the American family is under unprecedented pressure, and it's good to meet with people who will think and study and consider and learn before we act.
The purpose of the family conference to be held here at the White House will be not to set up some big new expensive Federal program; it's to see what we can do, not simply as a government, but as a nation, to strengthen American families. In some instances, this may mean just getting government out of the way. You'll be looking at what many public and private institutions of all kinds are doing now at all levels to see how these activities affect families.
I hope that you will not look just at the programs that were originally designed to
affect families, but also look at other programs that were designed for other purposes that might have an adverse effect on the cohesion and the strength of American families today. You must reach out, not only to scholars and to experts but to many thousands of American citizens around this country who know from their own experience what makes a family strong.
Our generation has been through a time of great social and technological change, affecting the way we live, the way we think, the way we act, the way we work, the way we assess our own status as individuals. Our institutions do not seem to offer the same degree of support for a cohesive family arrangement as they did in years past. And the signs of strain within families, those signs are all around US.
I talked last Sunday night about a crisis of confidence in our country. And the family is very much part of that crisis-part of the problem, yes, but much more importantly, it is a major part of the solution. For couples who married in the early years of this century, 1 marriage in 10 ended in divorce; for couples who have married since World War II, 1 marriage in 3 ends in divorce.
I was talking to Jody Powell the other day—who's a little bit older than my oldest son, who lived in a small Georgia town not very far from Plains—and neither he nor I could recall any divorced person who lived in Vienna, Georgia, or Plains, Georgia, in the years we were growing up. There are a lot of them there now. The rate of teenage suicide has doubled in the last 10 years. Half a million youngsters each year run away from home. Too many of our older people are lonely and sometimes even afraid. Without question, the American family is in trouble.
The family has survived, though, many social and technological revolutions in the past, and our families can survive the current changes and stresses. They are too precious—the families are too basic, too essential not to survive. Ultimately, the family may emerge from this test even stronger if we are successful and the American people are successful in facing facts and acting together.
This will obviously not be automatic, and it will obviously not be easy. We all know that change is nothing new. The people who created this country were engaged in changes that shook old institutions and old ways of living profoundly; the pioneers who pushed west, the immigrants who added to the rich diversity of our people were cut off from old certainties and faced with troubling change just as we are today. They, too, had to live with dramatic, often wrenching change in their lives, and they had to adapt to new patterns of living.
They quickly learned—and this is important-to rely on each other, to build new families and new communities. They saw a change not as something to be feared, but as an opportunity. They learned to hold onto their real values and not let them change, values that bound together families. They learned to work for the family as individuals. They learned to let the families strengthen communities, and they learned to let those communities, based on the families, strengthen and develop a nation.
There's a difference. In those times-revolution, moving west, the assimilation of broad and diverse types of people-those fearsome changes had a strong tendency to bring families together for mutual support, mutual reassurance, mutual love. These days, the changes that affect us have a tendency to fragment families, to drive one part of a family in one direction, a different part of a family, maybe a different generation, in an opposite direction. That tendency, which is the new thing, will be a major subject for you to address.
We often feel nostalgic about a past that seems to be simpler and sometimes seems to be better, and we can learn from the past. But we must not limit our vision of what a good family is just to what a family was in the past. Instead, we must find meaning in today's challenges and today's realities, which we cannot change, honestly, creatively, with courage and with compassion.
Our people are searching not for an artificially constructed family trait that we might try to impose on them, but they're searching for freedom to make their own decisions and for opportunity, as they always have. And this search is having profound effects on the modern family. For many it's already proven to be liberating and rewarding, but it also leaves many who are unsure, who are lonely and afraid. Lily Tomlin jokes that we are all in this alone. [Laughter] But for many of our people, these words seem not funny, but tragically true. Too many feel that they have no one to whom they can turn in a moment of crisis or a moment of need.
These problems that I've described to you so briefly are real, but they are also the kinds of problems that families have always specialized in solving. Many of our toughest problems, from energy to the decay of our cities, from inflation to coping with old age, even the strengthening of a nation's spirit can be resolved if every family does its share and takes seriously its responsibilities to its own members and to the community.
Families, as you well know, are more than just households. They are a network of relationships rooted not only in kinship based on blood but a kinship based on shared experiences, shared joys and sorrows, and I think, most of all, in shared love that crosses vast distances and also crosses very easily the barrier of generations. Families are groups of people, some small, some large, who do not necessarily live together in one place, but who do take responsibility for each other.
There is an old Yiddish proverb, "God gave burdens, but also shoulders." Not only our own shoulders but shoulders to help us bear the burdens that are too heavy for us alone, shoulders to cry on, shoulders to be patted in a gesture of encouragement, shoulders to help others bear their loads and their burdens. That's what a family is—kind of a collection of shoulders.
We're not in this alone. With strong families, I'm convinced, as I know you are, that our Nation's strength now and in the future will be assured. That's a task that I give to you to open your hearts, to study the family structure, the structure of communities and our Nation, and building upon strong families assure the strength of the United States.

Thank you very much.
Note: The President spoke at 2:36 p.m. in the East Room at the White House.
Jimmy Carter, White House Conference on Families Remarks at a White House Reception. Online by Gerhard Peters and John T. Woolley, The American Presidency Project https://www.presidency.ucsb.edu/node/249648