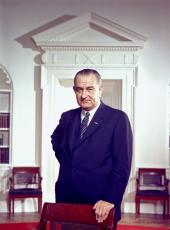 White House Announcement of the Presentation of a Painting to the White House by the Family of President Kennedy
The family of President John F. Kennedy has presented today in his memory a picture to be added to the permanent collection in the White House, the White House announced today.
It is by the French artist Claude Monet (1840-1926). The painting is oil on canvas, 36½ x 35 inches, and is entitled "Matinee sur la Seine," subtitled: "Beautemps" ("A Morning on the Seine; Good Weather"). Painted in 1897, it is a superb example of Monet's work at a time when he was developing a personal style that separates him from the other painters of the impressionist school and gives him a unique place in the history of French art. Paintings by Monet hang in such great museums of the world as the Louvre, the National Gallery of Art, the Metropolitan, the Hermitage, the Boston Museum of Fine Arts, and the Art Institute of Chicago.
The painting was selected by the members of the Kennedy family from a group of pictures gathered together at the White House this week. It was felt that this picture would be especially appropriate because it reflects the President's deep love of the outdoors and particularly of water, and represents the very personal taste in painting of both President and Mrs. Kennedy. They shared a love of French nineteenth century painting and had several fine examples of it in their own personal collection.
While the establishment of a distinguished permanent collection of American paintings for the White House was the goal of President and Mrs. Kennedy and has been entirely assembled in the brief years he was in office, the Kennedy family wished to leave something personal to the White House in the tradition of Charles Loeser who gave a unique collection of eight Cezannes and Mrs. Margaret Thompson Biddle who left a priceless collection of vermeil.
The painting has been hung in the Green Room.
Lyndon B. Johnson, White House Announcement of the Presentation of a Painting to the White House by the Family of President Kennedy Online by Gerhard Peters and John T. Woolley, The American Presidency Project https://www.presidency.ucsb.edu/node/239512