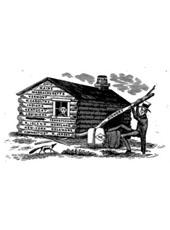 Whig Party Platform of 1844
Resolved, That, in presenting to the country the names of Henry Clay for president, and of Theodore Frelinghuysen for vice-president of the United States, this Convention is actuated by the conviction that all the great principles of the Whig party—principles inseparable from the public honor and prosperity—will be maintained and advanced by these candidates.
Resolved, That these principles may be summed as comprising, a well-regulated currency; a tariff for revenue to defray the necessary expenses of the government, and discriminating with special reference to the protection of the domestic labor of the country; the distribution of the proceeds of the sales of the public lands; a single term for the presidency; a reform of executive usurpations;—and, generally—such an administration of the affairs of the country as shall impart to every branch of the public service the greatest practicable efficiency, controlled by a well regulated and wise economy.
Resolved, That the name of Henry Clay needs no eulogy; the history of the country since his first appearance in public life is his history; its brightest pages of prosperity and success are identified with the principles which he has upheld, as its darkest and more disastrous pages are with every material departure in our public policy from those principles.
Resolved, That in Theodore Frelinghuysen we present a man pledged alike by his revolutionary ancestry and his own public course to every measure calculated to sustain the honor and interest of the country. Inheriting the principles as well as the name of a father who, with Washington, on the fields of Trenton and of Monmouth, perilled life in the contest for liberty, and afterwards, as a senator of the United States, acted with Washington in establishing and perpetuating that liberty, Theodore Frelinghuysen, by his course as Attorney-General of the State of New Jersey for twelve years, and subsequently as a senator of the United States for several years, was always strenuous on the side of law, order, and the constitution, while as a private man, his head, his hand, and his heart have been given without stint to the cause of morals, education, philanthropy, and religion.
APP Note: The American Presidency Project used the first day of the national nominating convention as the "date" of this platform since the original document is undated.
Whig Party Platform, Whig Party Platform of 1844 Online by Gerhard Peters and John T. Woolley, The American Presidency Project https://www.presidency.ucsb.edu/node/273457