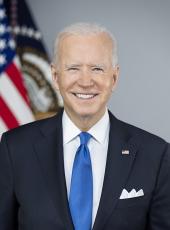 WHAT THEY ARE SAYING: Women's Groups Applaud President Biden's Supreme Court Nominee Ketanji Brown Jackson
Yesterday, President Biden announced his intent to nominate Judge Ketanji Brown Jackson, one of our nation's brightest legal minds, as Associate Justice of the U.S. Supreme Court. President Biden sought a candidate with exceptional credentials, unimpeachable character, and unwavering dedication to the rule of law. Judge Jackson formerly clerked for Justice Breyer, and has broad experience across the legal profession – as a federal appellate judge, a federal district court judge, a member of the U.S. Sentencing Commission, an attorney in private practice, and as a federal public defender. She has been confirmed by the Senate on a bipartisan basis three times – most recently last year for her current seat. If confirmed, Jackson will be the first Black woman to serve on the Supreme Court.
A broad range of women's advocacy organizations issued statements applauding her qualifications and acknowledging her historic nomination.
Here's what they are saying:
Fatima Goss Graves, President, National Women Law Center: "Judge Jackson is an eminently qualified public servant with distinguished experience as a federal judge, and her historic nomination promises an end to the erasure of Black women from our most sacred legal institutions. She brings extensive litigation experience at every level of the federal court system. As a District Court judge, she ruled on over 550 cases and is renowned for her careful, methodical approach to ensuring equal justice under the law on reproductive rights, disability rights, and workers' rights. It is incumbent upon senators to give her a fair and timely confirmation without obstruction, honoring their Constitutional duty to advise and consent and their moral duty to treat her with the respect and dignity she deserves." [Statement, 2/25/22]
Alexis McGill Johnson, President and CEO of Planned Parenthood Federation of America: "We celebrate the historic nomination of Judge Jackson to serve as a U.S. Supreme Court justice. Judge Jackson brings a wealth of knowledge, expertise, and meaningful experience after years of service as a federal judge on both the U.S. Circuit Court of Appeals for the D.C. Circuit and the U.S. District Court for the District of Columbia, and as a public defender earlier in her career. Beyond her record of remarkable achievement, it is clear that she has a deep commitment to public service and pursuing equal justice under the law, including safeguarding individual rights and liberties. And as the first Black woman ever named to the Supreme Court, this historic nomination is long overdue.
"This nomination arrives as our freedoms and civil liberties are in crisis. We are currently awaiting a Supreme Court decision in the Dobbs v. Jackson Women's Health Organization case that challenges a blatantly unconstitutional ban on abortion after 15 weeks of pregnancy. The Court could rule to overturn nearly 50 years of precedent, established by Roe v. Wade, and decimate abortion access in states across the country. Already, Texans have spent nearly six months with a ban on abortion at six weeks of pregnancy, before many people even know they're pregnant. Now more than ever, we need a Supreme Court justice who understands the impact of the court's rulings on people — particularly on reproductive and LGBTQ+ rights — and the importance of protecting individual liberties for generations to come.
"Judge Jackson will play a crucial role in the direction the court takes in the future. As the Senate considers her nomination, we must not lose sight of how meaningful this moment is for this country, and for Black women. Far too often, we don't see ourselves represented in the highest seats of government. This nomination is also part of essential work to rebuild our courts and protect our health and rights. We call on the Senate to swiftly consider Judge Jackson's nomination."
Jotaka Eaddy, Founder, Win With Black Women Collective: "I applaud President Biden's nomination of Judge Ketanji Brown Jackson to the United States Supreme Court. Judge Jackson is an exceptionally qualified jurist who will bring to the Supreme Court her expertise and commitment to the Constitution and values of our democracy. Most importantly, Judge Jackson will bring to the Supreme Court what it has lacked for 233 years - the lived experience of a Black woman. With this nomination, President Biden and Vice President Harris will once again elevate a woman, and in this case, a Black woman, to a position that has long been covered by a cement ceiling - today that ceiling is shattered into a million pieces." [Statement, 2/25/22]
Jocelyn Frye, President, National Partnership for Women and Families: "In a moment when lawlessness has taken center stage globally, today's announcement of Judge Ketanji Brown Jackson as President Biden's nominee to the United States Supreme Court is an important — and, indeed, joyous — reminder of the need to elevate jurists unflinchingly committed to upholding the rule of law. President Biden has taken our nation a giant step closer to realizing the vision of equal justice under the law in putting forward a nominee in Judge Jackson who is both eminently qualified and the first Black woman nominated to the nation's highest court." [Statement, 2/25/22]
Jordan Brooks, Executive Director, United State of Women: "Judge Jackson's nomination to serve as America's next Supreme Court Justice, and the first Black woman on our nation's highest court, is an incredible moment in history that the entire gender justice community is celebrating. She is a deeply qualified judge with a proven record of putting equal justice above all else. We are confident Judge Jackson will be a fair-minded justice and protect our most sacred rights as Americans, including reproductive justice, voting rights, health care access and LGBTQ equity." [Statement, 2/25/22]
Mini Timmaraju, President, NARAL: "We are thrilled with President Biden's decision to nominate Judge Ketanji Brown Jackson—the first Black woman nominated to the Supreme Court. This is a phenomenal and overdue milestone. Judge Jackson is both an eminently qualified jurist and someone who understands the disproportionate impact of our laws and justice system on communities of color. Judge Jackson also has a demonstrated record of defending and upholding our constitutional rights and fundamental freedoms—including reproductive freedom. We are confident that she will be a voice for justice, equity, and freedom on the Court in the decades to come. We urge the Senate to swiftly confirm Judge Jackson." [Statement, 2/25/22]
Shiela Katz, Chief Executive Officer, National Council of Jewish Women: "Today Judge Ketanji Brown Jackson made history as the first Black woman nominated to the US Supreme Court. Based on National Council of Jewish Women's criteria of determining whether nominees are fair, independent, and qualified for lifetime tenure on the federal court, including the Supreme Court, NCJW is thrilled to support Judge Jackson's nomination to the highest court of the land. As the only national Jewish organization which actively vets and endorses federal judicial nominees, NCJW follows the guidance of our tradition which affirms the importance of having ethical, unbiased judges like Judge Jackson who will fight for justice for everyone each and every day. Her keen intellect, integrity, background, and lived experience are what we need on the Court." [Statement, 2/25/22]
Dr. Raegan McDonald-Mosley, MD, MPH, Chief Executive Officer, Power To Decide: " This Supreme Court has signaled its willingness to revisit settled law and potentially roll back reproductive rights and health for generations to come. The consequences of the court's decisions have far-reaching effects on the reproductive well-being, health and rights of people in every part of the country. We are encouraged by the nomination of Judge Jackson, whose background and experience—including her rulings protecting the Teen Pregnancy Prevention Program—suggest that she understands the barriers women of color and people with low incomes face every day, such as accessing basic, reproductive health care. [Statement, 2/25/22]
Glynda C. Carr, President and CEO of Higher Heights for America: "We commend President Biden's historic nomination of the first Black woman to the Supreme Court. By all accounts, Judge Jackson's accomplished, exceptionally well equipped for this role, and well-respected by her peers. The President has selected a nominee with a distinguished record of professional accomplishments such as Judge Jacksons. Her impressive personal biography signals that she understands how the law affects everyday people's lives. There is a great deal at stake for the country with the appointment of the next Justice and having a Black woman's voice on the bench is pivotal." [Statement, 2/25/22]
Shaunna Thomas, Executive Director, Ultra Violet "Judge Jackson is a seasoned legal expert with ample experience as a judge and attorney in both the private and public sectors. Judge Jackson is exceptionally qualified to serve as a Justice on the Supreme Court. She is currently a judge on the US Court of Appeals for the District of Columbia. Prior to Judge Jackson's appointment to the Appellate Court in 2021, she was a federal trial court judge for eight years, where she authored over 500 legal opinions. Her work as a public defender and vice chair of the US Sentencing Commission shows a strong, principled history and passion for criminal reform." [Statement, 2/25/22]
Amanda Brown Lierman, Executive Director, Supermajority: "We are thrilled by Judge Ketanji Brown Jackson's nomination today to the Supreme Court of the United States. This is a historic moment for our country and our democracy for people who look like me. For centuries, Black women have been at the forefront of every major event in our nation's history. They have helped enslaved people escape to freedom, calculated coordinates for NASA, helped pass the Civil Rights Act, and saved our democracy time and time again. Today, we add a new achievement to that list, with the first Black woman nominated to serve our nation's highest court. Judge Jackson will provide a much needed voice and perspective that until now has been missing from the Court and the most pressing debates of our country. Judge Jackson has long been a crucial advocate for the rights of women and people of color. In her years as a federal judge, she has fought tirelessly to protect our most cherished rights and freedoms. She has long been dedicated to shaping a country where justice and fairness for each and every one of us is the law of the land. Black women have long fought for the realization of America's promise of equal opportunity. This nomination is a welcomed delivery of President Biden's promise and a signal that he understands the value of representation of Black women. President Biden understands that Black women voted him into office, and we demand to be represented at the highest levels of the government we helped build. The President fulfilled this important campaign promise — and we love to see it. Judge Jackson's nomination comes at a critical point in our history. Women's rights are being attacked by legislatures across the country. It will be so important to have her on the bench as the Court responds to these vicious laws, including those trying to strip our constitutional right to an abortion. It will be equally important to have her voice today and tomorrow as women fight back against restrictions to our voting rights, civil rights, and more. People opposed to her nomination will spin racist narratives; they will viciously warp the facts of her background and experience to undermine her appointment and her service. We will have her back through it all. Judge Jackson's nomination is a giant step toward a country where our rights are finally protected and our voices are heard in each and every one of the institutions that govern our lives. We wish her a fast confirmation, and we cannot wait to see her raise her hand and take her place on the bench. And you can be sure that I'll be there with my three girls on that day." [Statement, 2/25/22]
Margaret Mitchell, CEO, YWCA USA: "Over the course of its history, the Supreme Court of the United States has lacked both gender and racial diversity. The Court was not served by a woman justice until 1981, and just three justices of the 115 who have been appointed have been people of color. This historic day – the nomination of Ketanji Brown Jackson, the first Black woman nominee, marks a critical and long overdue shift toward a Court that looks more like the people it is charged to serve. Black women are the backbone of American democracy. For far too long, Black women have been overlooked, ignored, and undervalued for positions in our judicial system and our communities have continued to suffer as a result. From voting rights to maternal health, having a Black woman on the Supreme Court will offer new insights and perspectives that prioritizes and centers the needs of Black and brown communities. While we at YWCA we know that nominating the first Black woman Supreme Court Justice will not fix the myriad of problems in our legal system, we are more hopeful than ever for a Court that better represents the communities our nearly 200 YWCAs across the nation serve and the opportunity to push our nation closer to fairer and more just outcomes for people of color." [Statement, 2/25/22]
Kristin Rowe-Finkbeiner, Executive Director and CEO of MomsRising: "President Biden made a brilliant choice by nominating D.C. Circuit Court Judge Ketanji Brown Jackson to serve on the U.S. Supreme Court. This nomination is historic and long overdue. Judge Jackson is a fair-minded jurist who will strengthen our highest court's commitment to fairness, privacy, dignity, and equal rights for all. Her keen intellect and vast experience at every level of the federal court system, including ruling on more than 550 cases during her tenure as a District Court judge, is needed. Her record demonstrates that she is a fair, impartial jurist with a clear commitment to equal justice. The U.S. Senate should confirm Judge Jackson without delay. Judge Jackson's extensive background, and in particular her work as a public defender, indicates that, once she is confirmed, she will support equal rights under the law and stand against attempts to undermine and deny our rights. This is a good day for our country."
Dr. Yashica Robinson, Board Member of Physicians for Reproductive Health: "We are thrilled at the prospect of Judge Ketanji Brown Jackson joining the Supreme Court bench as the sixth woman and first Black woman to serve on the Supreme Court. For too long, extremely qualified Black women have been overlooked for our nation's highest court. Judge Jackson is highly experienced and brings to the Court eight years of expert leadership on the United States District Court protecting reproductive rights, immigrant rights, workers' rights, democracy, and accomplished notable work as a public defender prior to becoming a judge. We are thrilled Judge Jackson will bring this legacy with her to the Supreme Court, currently in dire need of a Justice who understands first-hand how the Supreme Court's decisions impact every aspect of our lives." [Statement, 2/25/22]
Nancy Northup, President, Center for Reproductive Rights: "In nominating Judge Ketanji Brown Jackson to the United States Supreme Court, President Biden has put forth a nominee with a stellar career in law practice and on the bench. In addition to demonstrated integrity and professional excellence, the justices on the Court should reflect the diversity of the American public, and Judge Jackson's nomination is a historic step towards making that a reality. As the first Black woman nominated to the Court, Judge Jackson has life experiences that are distinct from all current and previous Supreme Court justices. A former federal public defender, Judge Jackson has a record in public service that demonstrates her commitment to equal justice under law." [Statement, 2/25/22]
National Organization of Women: "Today, we celebrate, and prepare for what will inevitably be a concerted and ugly campaign to oppose this nomination, based on misogyny, racism, and lies. But we know Judge Jackson has an impeccable record as a fair, knowledgeable, and empathetic jurist who evaluates the law holistically to make the justice system more accessible for those it serves. As the first Black woman to sit on the nation's highest court, Judge Ketanji Brown's Jackson's confirmation to SCOTUS will be a milestone that is long overdue. She will be an advocate for justice and for the intersectional issues that matter to NOW—and for the millions who finally have a Supreme Court that is beginning to look like America." [Statement, 2/25/22]
Laphonza Butler, President, Emily's List: "Today, President Biden fulfilled one of the most important roles of a president after a thorough search and nominated Judge Ketanji Brown Jackson to the Supreme Court. Judge Jackson brings deep and extensive experience as a district court and federal appeals judge, a public defender, and a lawyer in the private sector, and has been confirmed by a bipartisan vote three times. One of the nation's best legal minds, she is unquestionably qualified to serve, will bring a unique understanding of our judicial system, and will undoubtedly build a strong legacy on the court." [Statement, 2/25/22]
Joseph R. Biden, WHAT THEY ARE SAYING: Women's Groups Applaud President Biden's Supreme Court Nominee Ketanji Brown Jackson Online by Gerhard Peters and John T. Woolley, The American Presidency Project https://www.presidency.ucsb.edu/node/354642