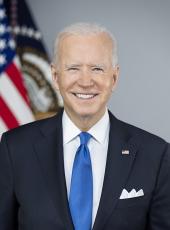 WHAT THEY ARE SAYING: Unions, Manufacturers, Business Groups Praise President Biden for His Leadership in Brokering Labor Negotiation Deal
After a fraught period of negotiations, the tentative railway labor agreement reached last night is an important win for our economy and the American people. Tens of thousands of rail workers who worked through the pandemic to ensure that deliveries reached communities across the country will now get better pay, improved working conditions, and peace of mind around their health care costs – all hard earned. This agreement also represents a victory for railway companies who will more ably retain and recruit workers, strengthening America's supply chains as part of the backbone of the American economy for decades to come.
The hard work done to reach this tentative agreement means that our economy can avert the significant damage any shutdown would have brought. With unemployment still near record lows and signs of progress in lowering costs, tonight's agreement allows us to continue to fight for long term economic growth that finally works for working families.
Union and industry leaders have come together in support of the Biden Administration's tireless work in reaching this agreement benefitting rail workers, industry, and the American people.
See below for what they are saying:
Liz Schuler, President and CEO, American Federation of Labor and Congress of Industrial Organizations: "Last night's tentative agreement would not have been possible without the hard work of our rail union leadership, @POTUS, @SecMartyWalsh, @USDOL Deputy Secretary Julie Su, and all others in the administration who worked long days and sleepless nights to see this through. #1u" [Tweet, 9/15/22]
Chet Thompson, President and CEO, American Fuel and Petrochemical Manufacturers: "Refiners and petrochemical manufacturers are relieved that the two sides were able to come to agreement and avert what would have been a disastrous event for our economy and energy security. We hope the same urgency and energy that brought about this outcome can now be directed to the work of bipartisan Surface Transportation Board reauthorization and service reforms to make America's freight rail system more efficient and accountable, competitive, and less costly for shippers and consumers." [Statement, 9/15/22]
Tom Madrecki, Vice President of Supply Chains and Logistics, Consumer Brands Association: "The Biden administration's efforts to avoid a strike will keep ingredients, inputs, commodities and finished products moving, ultimately ensuring the availability of goods consumers depend on every day. We're hopeful the unions move swiftly to ratify the tentative agreement and we can prevent a crisis that would roil the supply chain. As the strike deadline loomed, Consumer Brands warned of the devastating blow that a national freight rail shutdown would have on already high wholesale and product availability. The supply chain has been battered by everything from extreme weather to geopolitical issues that have left its pandemic recovery a classic 'one step forward, two steps back' scenario. While a strike was averted, it was too close for comfort, leading to the cancellation of some shipments and rail routes. This situation is proof that we must be better prepared for potential supply chain disruptions. Enacting policies that build in resiliency and add visibility across the national supply chain are a necessary complement to CPG companies' efforts to shore up their own supply chains after the pandemic exposed weaknesses." [Statement, 9/15/22]
International Association of Machinists and Aerospace Workers (IAM) District 19: "IAM District 19, along with the IAM Rail Division, is working to get back to the table with the National Carriers' Conference Committee to negotiate an agreement worthy of our members' ratification. We are also working to better understand the Tentative Agreements reached earlier. We are grateful for our members and all rail workers, who have delivered a strong message that rail workers deserve respect and dignity on the job. We will share more information with our membership as soon as it becomes available." [Statement, 9/15/22]
Sean M. O'Brien, General President, The International Brotherhood of Teamsters: "Collective bargaining works. The labor movement works. And we know through lifetimes of experience and unbelievable sacrifice, Teamsters across America's railroads work harder than anyone. The Teamsters thank all of our members and negotiating partners for staying at the table until this job was done. We're not yet to the end of the line, but the process is working. Negotiations never follow a straight line but the fight for a union contract is always worth it. The Teamsters are proud to represent the hardest working people in America, and our members' families know the dedication and grit they bring to their crafts and careers. The unity, perseverance, and patience of union workers is to be admired. Our members never fall short of doing the right thing for their Teamster brothers and sisters and for their country." [Statement, 9/15/22]
Eric R. Byer, President and CEO, National Association of Chemical Distributors: "The disruption caused by the looming rail strike would have been catastrophic to businesses still recovering from the impacts of the supply chain crisis and navigating inflation, rising interest rates, labor challenges, and more. Chemical distributors, many of which are small businesses, rely heavily on railways as they process and deliver critical products used in goods that support Americans' everyday lives. Earlier this week, NACD sent a letter to Congress highlighting the risks of this potential strike and called on Congress to use its legal authority under the Railway Labor Act to intervene to prevent a rail stoppage. A rail strike of any duration would have exacerbated existing supply chain challenges, rendered significant damage to the U.S. economy, and threatened the movement of products that are critical to the health and well-being of Americans. Today, we are grateful to the Biden administration, Secretary of Labor Martin J. Walsh, and all rail negotiators for averting a national crisis." [Statement, 9/15/22]
Mike Seyfert, President and CEO, National Grain and Feed Association (NGFA): "The efficient operation of our rail network, which moves 25 percent of all U.S. grain, is crucial to a functioning agricultural economy. NGFA members, which include 1,000 companies that handle U.S. grains and oilseeds, commend both parties for working in good faith toward an agreement and preventing severe economic damage. We thank President Biden, Agriculture Secretary Tom Vilsack, Transportation Secretary Pete Buttigieg and Labor Secretary Marty Walsh for the efforts they put into reaching this agreement. We want to especially thank Secretary Vilsack for understanding the threat to the food and ag supply chain and making sure it was represented in these discussions. Resilient and reliable rail service is essential to the daily operations of NGFA members. We thank our rail industry partners for working to get this deal and we encourage quick ratification by the labor unions. We also thank our partners for working with us and NGFA member companies to provide updates on the operational status of their individual lines during this past week of uncertainty. As an association representing a segment of the agricultural supply chain that directly interfaces with freight railroads, we will continue working with our rail industry partners, the Surface Transportation Board and lawmakers for sensible policy measures that guarantee the strength, stability and reliability of this important transportation system moving forward." [Statement, 9/15/22]
Matthew Shay, President and CEO, National Retail Federation: "We are relieved and cautiously optimistic that this devastating nationwide rail strike has been averted. We appreciate the Biden administration's intervention on behalf of the businesses and consumers who would have been impacted at a time when high inflation and economic uncertainty are challenging consumer budgets and putting business resiliency at risk. We hope railway workers will accept the new terms of the proposed contract and the railway system can continue to operate on behalf of the millions of hardworking Americans who rely on it for their jobs and the economic security of our country." [Statement, 9/15/22]
Suzanne P. Clark, President and CEO, US Chamber of Commerce: "The U.S. Chamber commends the nation's six largest railroads, the twelve unions, and the Biden administration for reaching agreement on a new labor contract. This is the best outcome for the American public and is a testament to the hard work and willingness to compromise from both sides. Our nation was very close to a national rail shutdown this week, the effects of which were already beginning to be felt throughout the business community, and would have had devastating impacts to American families and our economy. We are glad to see a rail strike averted and hope to see future negotiations finalized in a timely manner." [Statement, 9/15/22]
Chris Spear, CEO, American Trucking Association: ""Our supply chain is entirely interdependent, making the potential for a nationwide rail stoppage a serious threat to our nation's economic and national security," Spear said. "We applaud both sides for reaching a tentative agreement that averts this outcome and permits our supply chain to continue climbing out of this COVID-induced rut."
Jeremy Ferguson, President, SMART Transportation Division and Dennis Pierce, President, Brotherhood of Locomotive Engineers and Trainmen: "Early this morning following nearly three years of bargaining, the Transportation Division of the International Association of Sheet Metal, Air, Rail, and Transportation Workers (SMART-TD) and the Brotherhood of Locomotive Engineers and Trainmen (BLET), a Division of the Rail Conference of the International Brotherhood of Teamsters, reached a tentative National Agreement with the nation's largest freight rail carriers which includes wage increases, bonuses, and no increases to insurance copays and deductibles. For the first time our Unions were able to obtain negotiated contract language exempting time off for certain medical events from carrier attendance policies. Our Unions will now begin the process of submitting the tentative agreement to the rank and file for a ratification vote by the memberships of both unions. The tentative agreement calls for an immediate wage increase of 14% once compounded with an additional 4% on July 1, 2023, and 4.5% on July 1, 2024. In addition, wage increases of 3% effective July 1, 2020, 3.5% effective July 1, 2021, and 7% effective July 1, 2022, will be fully retroactive, for a compounded increase of 24% over the 5-year term of the agreement. The agreement also includes annual lump-sum bonus payments totaling $5,000. The parties' Health and Welfare Plan point-of-service costs will remain unchanged; there will be no increases to copays or deductibles and there are no disruptions to the existing health care networks. After over 20 hours of negotiations, we were able to reach an agreement that freezes our members' monthly health care contributions at the end of the agreement. No additional increases will apply to our monthly contributions while the parties bargain over the next National Agreement. The solidarity shown by our members, essential workers to this economy who keep America's freight trains moving, made the difference in our Unions obtaining agreement provisions that exceeded the recommendations of the Presidential Emergency Board. We listened when our members told us that a final agreement would require improvements to their quality of life as well as economic gains. As a result, this agreement includes agreement provisions that will create voluntary assigned days off for members working in thru freight service, and all members will receive one additional paid day off. Most importantly, for the first time ever, the agreement provides our members with the ability to take time away from work to attend to routine and preventive medical care, as well as exemptions from attendance policies for hospitalizations and surgical procedures. This tentative agreement provides for the highest general wage increases over the life of the agreement in over 45 years. SMART-TD was successful in blocking the carriers' attempts to fast track arbitration on crew-consist agreements, protecting two-person crews for the indefinite future. The carriers' demands for increases in point-of-service health care costs were blocked, along with their demands to charge married employees with children more for monthly health care contributions. Retroactive application of general wage increases and performance bonuses will provide our members with meaningful back pay checks in the coming weeks. This agreement would not have been reached without the hard work of President Biden, Labor Secretary Walsh, Deputy Secretary Julie Su and others in the administration. Congressional leaders, including Senators Schumer, Durbin and Sanders, along with Speaker Pelosi listened to your requests and stayed out of our dispute, allowing for an agreement to be reached across the bargaining table, rather than through legislation. This contract will not become final until our members have an opportunity to review its terms and approve it through a ratification vote. The new leaders of the International Brotherhood of Teamsters, General President Sean M. O'Brien and General Secretary-Treasurer Fred Zuckerman, along with SMART Union General President Joseph Sellers, Jr., played a critical role in helping us get this tentative agreement across the finish line. Combined, the BLET and SMART-TD represent approximately 125,000 active and retired rail employees, approximately half of our membership is employed at Class I railroads that are party to this agreement." [Statement, 9/15/22]
Joseph R. Biden, WHAT THEY ARE SAYING: Unions, Manufacturers, Business Groups Praise President Biden for His Leadership in Brokering Labor Negotiation Deal Online by Gerhard Peters and John T. Woolley, The American Presidency Project https://www.presidency.ucsb.edu/node/357909