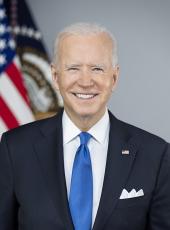 WHAT THEY ARE SAYING: The Biden-Harris Administration's Fleet of Actions to Drive a Clean Transportation Future
Today, Vice President Kamala Harris announced major federal actions that expand clean public transit and school buses, reduce emissions from dirty diesel trucks, and create good-paying jobs. Through investments from the American Rescue Plan, Bipartisan Infrastructure Law, and strong emissions standards, the Biden-Harris Administration is modernizing public transit and reducing air pollution that has long overburdened low-income communities and communities of color.
As part of the historic $5.5 billion expansion of the Low- and No-Emission Transit Vehicle program, the Department of Transportation (DOT) announced $1.1 billion in funding for 2022 and an additional $372 million under the Bus and Bus Facilities program. To keep transit workers on the job and transit services running, DOT also announced $2.2 billion in funding to 35 transit agencies across 18 states through the American Rescue Plan.
The Environmental Protection Agency (EPA) announced a proposed rule that aims to promote clean air and reduce harmful nitrogen oxide emissions from trucks, buses, and other heavy-duty vehicles. This rule, if finalized, will save lives and improve heath, including for children. The EPA also awarded $17 million to fund electric zero-emission and low-emission school buses in communities across America – in advance of more critical resources coming from the Bipartisan Infrastructure Law for clean school buses.
Elected officials as well as environmental and labor leaders championed the Administration's actions and Vice President Kamala Harris' remarks.
Here's what they are saying:
Members of Congress
Speaker of the House Nancy Pelosi: "Thanks to President Biden and Secretary Buttigieg, more than half-a-billion dollars in new federal funding from Democrats' American Rescue Plan is headed to the Bay Area: helping us preserve essential, affordable public transportation access for Californians and save transit worker jobs. The past two years have posed unprecedented challenges for our region's public transit systems and those who rely upon them, which is why the Democratic Congress secured historic investments to help keep our infrastructure systems working safe and strong, now and in the future. As a proud Representative for San Francisco, it was my priority to ensure that BART, Muni, Caltrain and many more agencies get their fair share of this funding so that we can continue our work to Build a Better Bay Area." [Statement, 3/3/22]
Delaware Senator Tom Carper, Chairman of the Senate Committee on Environment and Public Works: "I'm pleased to see the Administration take actions to implement and complement the work we've done on EPW to invest in cleaning up our school buses, heavy-duty trucks, and ports. For over a decade, I've worked with my colleagues to transition dirty diesel engines from our trucks, buses, and ports to cleaner, more efficient engines. In doing so, we clean up the air that nearby communities breathe and address the climate crisis while reducing our dependence on foreign oil and creating economic opportunities here at home. Today's historic investments in cleaning up our dirtiest engines in the transportation sector — thanks in part to the American Rescue Plan and the Bipartisan Infrastructure Law — is a boon for our country and our planet. It will help put our nation on the path for a brighter future with cleaner air, healthier communities, and a stronger economy." [Statement, 3/7/22]
Massachusetts Senator Ed Markey, Chair of Senate Subcommittee on Clean Air, Climate, & Nuclear Safety: "Here is your good news of the day. We're getting new, cleaner school buses in Quincy, stronger proposed rules to cut toxic pollution from trucks, and building the clean trucks of the future." [Tweet, 3/7/22]
Nevada Senator Cortez Mastro: "I pushed to make sure the bipartisan infrastructure law creates a fleet of electric school buses to keep kids healthy and fight the climate crisis. Glad to see the administration working on this and other steps to make our transportation cleaner and more efficient." [Tweet, 3/7/22]
Nevada Senator Jacky Rosen: "Thanks to the Bipartisan Infrastructure Law I helped write & pass, we are investing $1.47 billion in modernizing bus fleets and bus facilities across the country. This money will create good-paying jobs, reduce carbon emissions, and contribute to cleaner air in our cities." [Tweet, 3/7/22]
California Congressman Tony Cardenas: "Excited to join the @VP today to announce $1.5B in grant funds to help bring more electric school buses to the Valley! These funds I helped secure with our Clean Commute for Kids Act will create healthier communities for our kids, our families and our neighborhoods." [Tweet, 3/7/22]
Connecticut Congresswoman Jahana Hayes: "I am thrilled the Biden-Harris administration is dedicating funding to expanding access to clean, lower-emissions school buses. Along with the announced rule from the Environmental Protection Agency (EPA), this money will be critical to mitigating climate change, improving public health, and reducing childhood asthma resulting from exposure to air pollution and diesel fumes. These investments would not have been possible without the American Rescue Plan and the Infrastructure Investment and Jobs Act. I am grateful to Vice President Harris and the Biden Administration for their leadership on this issue, and I will continue to push for these investments until we are able to achieve low or no emissions school bus transportation nationwide." [Statement, 3/7/22]
Illinois Congressman Chuy Garcia: "Today's announcement of new actions by the Biden Administration to accelerate clean transit buses, school buses, and trucks is welcome news, especially for children in communities impacted by environmental injustices like the ones I represent in Chicago." [Twitter, 3/7/22]
New Jersey Congressman Josh Gottheimer: "Today, at the Rt.17 Park & Ride in Ridgewood, I announced — as part of our Bipartisan Infrastructure Bill — that NJ Transit, school districts, and others across the state will be able to purchase low- and no-emission vans and buses, including electric buses." [Tweet, 3/7/22]
New York Congressman Paul Tonko: "Thrilled to hear from @VP, @SecretaryPete, @EPAMichaelRegan & others about the historic steps this Administration has taken to cut pollution from heavy-duty vehicles. Together we can protect kids and our most vulnerable neighborhoods while creating good jobs across the nation!" [Tweet, 3/7/22]
Washington Congressman Rick Larsen: "#WA02 transit agencies like #Everett Transit & @ridewta are expanding their
?
fleets to keep people moving while reducing maintenance costs & their carbon footprint. Thanks to the #IIJA, agencies will have the resources needed to expand fleets & make transit cleaner & greener." [Tweet, 3/7/22]
State and Local Government Leaders
Basil Seggos, Commissioner, New York State Department of Environmental Conservation: "Thank you @POTUS @VP @EPAMichaelRegan and @EPA for proposing tougher standards for heavy-duty vehicles. We must reduce harmful emissions and transition to zero-emissions vehicles to ensure clean air, improved health, and environmental justice for everyone.
" [Tweet, 3/7/22]
Denver, Colorado, Mayor Michael B. Hancock: "Thank you for prioritizing the health, safety and success of our communities!" [Tweet, 3/7/22]
Orlando, Florida, Mayor Buddy Dyer: "Today's announcement by @VP is a win for cities nationwide. @USDOT is putting the Bipartisan Infrastructure Law into action to provide cleaner and more convenient transit, and investing in upskilling transit workers for tomorrow's infrastructure needs." [Tweet, 3/7/22]
Phoenix, AZ, Mayor Kate Gallego: "@EPA and @POTUS are targeting emissions from heavy-duty equipment and school buses. This investment will reduce pollution, promote clean air, and advance the transition to a zero-emissions future. It's the right move for the health of #Phoenix residents." [Tweet, 3/7/22]
The Climate Mayors: "Today, @EPA and the Biden Administration announced bold new investments to cut pollution from transportation. This announcement is a significant step forward for cities working to clean up our air and keep our communities healthy." [Tweet, 3/7/22]
Advocacy Leaders, Organizations, & Experts
Harold P. Wimmer, President & CEO, American Lung Association: "EPA's proposal is good news for everyone who breathes, especially those who live near a highway, truck stop, port or distribution center. It would require lifesaving reductions in nitrogen oxide emissions and other pollution from heavy-duty vehicles. Nitrogen oxides are dangerous. On their own, these emissions can cause lifelong lung damage to people who live close to truck traffic. Nitrogen oxides also react in the atmosphere to form ground-level ozone and particulate matter. Ozone and particulate matter are widespread air pollutants that cause a wide range of adverse health effects including asthma attacks and even premature death. EPA estimates a strong final rule will prevent up to 2,100 premature deaths in 2045. This action is an important piece of the puzzle in addressing the dangerous pollution that comes from trucks, buses and delivery vans. Today's proposal also includes improvements in greenhouse gas emissions standards for new heavy-duty vehicles." [Statement, 3/7/22]
Andrew Reagan, Executive Director, Clean Energy for America: "The Biden Administration has acted to further decarbonize the U.S. transportation sector in ways that will cut pollution for communities, lower costs for families, and create jobs for American workers. The U.S must continue pushing to combat climate change and dependence on foreign oil, and these kinds of investments in clean energy do just that. It's time to clean up and electrify the transportation sector, and we look forward to working with the Administration on these efforts." [Statement, 3/7/22]
Ann Jaworski, Staff Attorney, Environmental Law & Policy Center: "We welcome EPA's proposal today to set stronger standards. ELPC will work to ensure EPA hears loud and clear that we need the toughest standards EPA can issue when this rule is finalized. EPA's proposed stronger NOx emissions standards are vital for protecting the health of people living near highways and roadways with high truck traffic. The public health dangers of NOx emissions disproportionately impact low income communities and communities of color, and the health of sensitive populations, including children with asthma. Lowering NOx emissions in our cities means that people will be breathing less directly harmful NOx pollution, and less of the ozone and particulate matter pollution to which NOx emissions contribute." [Tweet, 3/7/22]
Johanna Chao Kreilick, President, Union of Concerned Scientists: "The science is clear. Heavy-duty trucks are one of the biggest sources of health-harming air pollution, and the burden of this pollution falls hardest on communities of color and low-income neighborhoods. The Administration is right to be focusing on reducing pollution from diesel trucks. Truck emissions are a matter of life and death, particularly for communities along trucking corridors, near warehouses, and surrounding ports. It is critical that this new rule for trucks is at least as protective as the existing California truck rule to protect public health and advance justice." [Statement, 3/7/22]
Dan Lashof, Director, WRI United States: "Today the Biden administration flexed its regulatory muscles to strengthen emissions standards for heavy-duty trucks that spew tons of toxic pollutants into our communities each day. With transportation being America's number one source of carbon pollution, the importance of these standards cannot be overstated. They are an essential tool to tackle U.S. emissions and meet the nation's 2030 climate target. It is important for EPA to finalize the most ambitious regulations that are technically and economically feasible." [Statement, 3/7/22]
Ramón Cruz, President, Sierra Club: "The importance and urgency of this rule cannot be overstated: A strong federal rule that is bold in cleaning up dirty diesel trucks is essential for the Biden administration to deliver on its climate and environmental justice commitments." [Statement, 3/7/22]
Matthew Davis, Senior Director of Government Affairs, League of Conservation Voters: "As international conflict drives up the price of oil, announcements and proposals like these that help end U.S. reliance on dangerous, dirty and unreliable fossil fuels are welcome news. The Biden-Harris administration's continued actions to deliver clean transit, school buses and trucks are great news for children, families, workers, and the planet, but they must move even more swiftly. We look forward to the EPA strengthening their proposals for the final rule to deliver health-improving pollution reductions and electric trucks and buses faster. We eagerly await the further investments in electric trucks and school buses from President Biden's infrastructure law and are counting on the Senate to enact the House-passed $555 billion investments in climate, clean energy and environmental justice into law." [Statement, 3/7/22]
Meredith Hankins, Attorney, Institute for Policy Integrity, NYU School of Law: "EPA's move today is an important step toward cleaning up deadly freight pollution. With the meteoric rise of online shopping, pollution from the logistics industry has become one of the primary environmental justice issues we face. Pollution from heavy-duty trucks disproportionately harms low-income communities and communities of color who are much more likely to live in neighborhoods near highways, ports, and warehouses." [Statement, 3/7/22]
Molly Rauch, Public Health Policy Director, Moms Clean Air Force: "Truck pollution harms people's lungs, hearts, and brains. It also makes climate change more severe, and that is dangerous to our health. Today's proposed pollution standards and investments in cleaning up heavy-duty vehicles show us that the Biden administration and EPA are prioritizing fixing this problem. Families need this. Truck pollution is an urgent public health and environmental justice issue." [Statement, 2/7/22]
Morgan Folger, Director, Environment America Destination: Zero Carbon: "Cleaning up the pollution from the biggest trucks on our roads is necessary to slow global warming. It's been 20 years since we updated pollution standards for trucks, and EPA's new rule can help save lives and kick start the development of cleaner electric semi-trucks and tractor-trailers. As we transition to zero-emission trucks and buses, the smog will lift and we will all breathe easier." [Statement, 3/7/22]
Patricio Portillo, Transportation Analyst, Natural Resources Defense Council: "Tailpipe pollution from trucks and buses plagues communities across the nation, especially those near ports, highways, warehouses and factories. Because these trucks and buses stay on the road for decades, measures put in place today will affect the air our grandchildren breathe. The strongest standard EPA is proposing would slash dangerous diesel pollution." [Statement, 3/7/22]
Peter Zalzal, Senior Counsel & Associate Vice President for Clean Air Strategies, Environmental Defense Fund: "Heavy-duty vehicles like freight trucks, delivery vans, transit buses and school buses are a significant source of both climate pollution and deadly diesel pollution. Today's EPA proposal and the administration's planned actions and investments are an important start, but they do not yet ensure levels of zero-emission vehicle deployment that are feasible and needed. Rapid deployment of zero-emission vehicles will protect the health of all Americans, help address the climate crisis, provide economic benefits to fleets and help create good-paying American jobs, and strengthen our energy security in the face of increasingly volatile global markets. We look forward to working with EPA to substantially strengthen these proposed standards and to ensure we are using every tool in the toolbox to rapidly deploy zero-emitting solutions." [Statement, 3/7/22]
Taryn Finnessey, Acting Executive Director & Policy Director, U.S. Climate Alliance: "The Alliance strongly supports the Biden Administration's efforts to clean up the air we breathe, protect the health of our communities and expand economic opportunity by accelerating the transition to cleaner trucks and buses." [Tweet, 3/7/22]
Tiernan Sittenfeld, Senior Vice President for Government Affairs, League of Conservation Voters: "So excited to be at the White House for important transit and clean vehicles announcements from @VP, @SecretaryPete & @EPAMichaelRegan with @LCVoters, @ChispaMaryland & @SierraClub! #ActOnClimate" [Tweet, 3/7/22]
Center for American Progress Energy Policy: "Truck pollution disproportionately impacts disadvantaged communities, leading to
rates of asthma & other respiratory illness. We need the strongest possible #CleanerTrucks standards NOW to cut deadly smog pollution & deliver 100% zero emission trucks by 2035." [Tweet, 3/7/22]
Chesapeake Bay Foundation: "Thanks @POTUS for proposing #CleanerTrucks standards. @EPA must write the strongest possible limits to protect the health of #ChesBay communities,
NOx polluting the Bay and its waterways, and fight the #ClimateCrisis hitting this region so hard." [Tweet, 3/7/22]
Chispa LCV: "Exciting to see @ChispaMaryland representing at the White House today! Thank you @VP, @EPAMichaelRegan, and @SecretaryPete for announcing the funding for electric school buses
?. This will not only clean up our air quality but also protect the health of our niños + communicated" [Tweet, 3/7/22]
NC Clinicians for Climate Action: "New @EPA tailpipe air pollution limits could prevent 2,100 premature deaths, 6,700 hospital visits, 18,000 cases of asthma in kids, 1.1 million lost days of school by 2045. A win for #healthequity and #EnvironmentalJustice. Thank you @EPAMichaelRegan!" [Tweet, 3/7/22]
RMI Public Policy: "New from Biden admin
The plan will take steps to:
Electricity school buses
Reduce heavy trucking emissions/ move toward zero emission options
Clean up US port operations
Transform the federal fleet to cleaner vehicles
#CleanTransit #EVs." [Tweet, 3/7/22]
Business and Labor Leaders
Chris Spear, President and CEO, American Trucking Associations: "We share the Biden Administration's goals of reducing air pollution – as a longtime member of EPA SmartWay Transport Partnership – we have worked in harmony with environmental regulators to successfully reduce greenhouse gas and NOx emissions. We will be looking very closely at the proposal put forth today by the administration and working with them to shape an outcome that builds on those reductions, while not hurting the reliability of the trucks and trailers we purchase, nor imposing unreasonable or unworkable costs on our industry." [Statement, 3/7/22]
Gareth Joyce, CEO, Proterra: "Proterra applauds the Biden Administration's historic support to clean up our nation's trucks, school buses, and transit buses. Heavy-duty vehicles like trucks and buses are the workhorses of our economy but disproportionately contribute to the pollution that's threatening the air we breathe and the planet. Transistioning to zero-emission, electric vehicles is an opportunity to protect public health at the same time we bring the next wave of innovation and job creation to communities across the country." [Tweet, 3/7/22]
Greg Regan, President, Transportation Trades Department, AFL-CIO: "We applaud the Department of Transportation (DOT) and Federal Transit Administration (FTA) for these transformative grants to train workers and create new union jobs in green transit. These massive new investments in transit also include historic investments in American workers, thanks to DOT Secretary Buttigieg and FTA Administrator Fernandez's vision for tying federal investments to good jobs." [Statement, 3/7/22]
Jed Mandel, President, Truck & Engine Manufacturers Association: "Heavy-duty truck and engine manufacturers have long advocated for and benefited from national standards for NOx emissions, and we welcome today's proposed rule as an important step toward maintaining that goal. EMA members have worked collaboratively with EPA to achieve national environmental rules that have resulted in a more than 98% reduction in NOx and particulate matter emissions from commercial vehicles, and our members are investing billions of dollars in technology that will achieve zero emissions. "We are firmly committed to continued NOx reductions because we support cleaner air and better health for all communities. We look forward to working with EPA to ensure that the final version of today's rule is practical, technically feasible, cost-effective, and will result in the necessary fleet turnover to achieve the nation's environmental objectives." [Statement, 3/7/22]
Paul Skoutelas, President and CEO, American Public Transportation Association: "The COVID funds will be vital to keeping workers connected to their offices, but, even more importantly, the long-term funds in the bipartisan infrastructure bill will provide generational change." [Tweet, 3/7/22]
Transport Workers Union: "Transportation workers will be the first to benefit from #electricbuses under @POTUS @VPand @SecretaryPete's plan. Workforce development, labor rights, and a demand that new investments create good, union jobs!" [Tweet, 3/7/22]
Joseph R. Biden, WHAT THEY ARE SAYING: The Biden-Harris Administration's Fleet of Actions to Drive a Clean Transportation Future Online by Gerhard Peters and John T. Woolley, The American Presidency Project https://www.presidency.ucsb.edu/node/354815