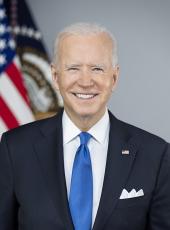 WHAT THEY ARE SAYING: Support for President Biden's Leadership and Global Commitments Made During Global Summit to End COVID-19
Yesterday, President Biden convened heads of state and leaders from international organizations, the private sector, philanthropies, NGOs, and other partners for virtual summit focused on ending the COVID-19 pandemic in 2022 and to build back better global health security so that we can prevent and prepare for future pandemics.
As emerging variants impact global response efforts, President Biden challenged the world to tackle the pandemic with new, focused urgency – and to cooperate on our collective response to this crisis to secure our future.
Leading public health officials, advocacy organizations and state and local leaders applauded the President's leadership and commitment to rallying our global partners in the fight to defeat the virus.
See below for what they are saying:
Elected officials:
Senator Chris Coons: "As long as the coronavirus exists somewhere, it will continue to threaten the health & economic well-being of Americans here at home. I support President Biden's efforts to lead the world in securing commitments to vaccinate 70% of the planet by Sept 2022."? [Tweet, 9/22/21]
Representative Gregory Meeks: "Pleased that @WhiteHouse will donate an additional 500M Pfizer COVID-19 vaccines to support lower-income countries fight against the pandemic. These doses will aid the most vulnerable populations and help make vaccine equity a reality worldwide. Global challenges require a global response, and only through working together with our multilateral partners will we succeed in addressing this pandemic." [Tweet, 9/22/21]
Representative Ami Bera: "I applaud the decision by @POTUS to donate 500 million #COVID19 vaccine doses.? This decision will not only save lives abroad, but it will also keep Americans protected here at home."? [Tweet, 8/22/21]
Representative Pramila Jayapal:? "This is a good step from @POTUS. COVID won't be over until it's over everywhere — and vaccinating the world is critical to that goal."? [Tweet, 9/22/21]
Representative Norma Torres:? "I'm proud to see that our global vaccine leadership continues. We must put an end to the #COVID19 pandemic and encourage everyone who is eligible to receive a vaccine to #GetVaccinated!"? [Tweet, 9/22/21]
Representative Emmanuel Cleaver: "This is not only the morally righteous thing to do, but it's important for our national security. The more quickly we get the world vaccinated, the less likely another deadly variant will arise—which could set us back to square one. Great decision from @POTUS." [Tweet, 9/22/21]
Public Health Organizations
Seth Berkley, CEO, GAVI, The Vaccine Allaince: "Very grateful to @POTUS and the @WhiteHouse for contributing an additional 500 million @pfizer #COVID19 doses for low- and lower-middle-income countries to support the global vaccine rollout. These doses will reach some of those in greatest need around the world. The US has shown great leadership as now #COVAX's largest donor, both in terms of financing and shared doses. The #COVIDSummit was a timely opportunity to recommit to #vaccinequity and working together to vaccinate the world. Despite all the challenges #COVAX has faced, we have shipped more than 300 million vaccines to 142 economies around the world, with deliveries now accelerating. Continued support is essential." [Tweet, 9/22/21]
Coalition for Epidemic Preparedness Innovations: "We thank President Biden and the US Government for their leadership in convening this Summit and for setting concrete targets around the three goals of vaccinating the world, saving lives now, and through the Build Back Better goal, laying the financial and governance foundations for global health security in the 21st century." [Press Statement, 9/22/2021]
Clinton Health Access Initiative: "We were honored to join @POTUS #COVIDsummit, which set new #COVID19 targets to #InvestInOxygen. Working together, we can ensure #Oxygen is available in all health facilities by the end of 2022, as CHAI co-CEO @JoyPhumaphi_ explains. #UNGA @Stop_Pneumonia #ACTogether @UNITAID" [Tweet, 9/22/2021]
Scott Becker, CEO, Association of Public Health Laboratories: "Strong leadership from @POTUS at the
#COVIDSummit on the critical role of testing in order to Save Lives Now. @APHL is committed to supporting no cost lab training and global lab leadership development alongside our partners @WHO @CDCgov @ECDC_EU @FAO & @OIEAnimalHealth.? [Tweet, 9/22/2021]
Pandemic Action Network: "Thank you @POTUS @WhiteHouse for stepping up to make today's #COVIDSummit happen. We can only end the #COVID19 crisis together. Earth globe americas Now is the time to turn targets into action with the urgency that this crisis deserves. #COVIDSummit" [Tweet, 9/22/2021]
Jenny Ottenhoff, Senior Policy Director, Health and Education, ONE: "We applaud President Biden's efforts to host this summit and increase global collaboration to end COVID-19 which will help save lives, reduce the emergency of variants, and limit the spread of this deadly virus." [Full Statement, 9/17/2021]
Friends of the Global Fight Against AIDS, Tuberculosis and Malaria: "Public address loudspeaker #COVIDSummit: @POTUS sets goals to #SaveLivesNow which include investments that
- bolster oxygen capacity
- expand COVID-19 testing
- strengthen health systems
Thank you for your leadership Flag of United States + stepping up during this global crisis" [Tweet, 9/22/2021]
Every Breath Counts: "#Oxygen - an essential medicine - is often beyond the reach of the poorest & most vulnerable Down pointing backhand index It's why governments must cover O2 as part of #UHC Right pointing backhand index https://bit.ly/3Au2g8Q And why @POTUS? call to solve the #OxygenCrisis is so urgent #COVIDSummit #UNGA #UHC #EveryBreathCounts" [Tweet, 9/22/2021]
Management Sciences for Health Advocacy: "MSH applauds and thanks @POTUS for his leadership toward ending the devastating #COVID19Pandemic, both in the US and worldwide. Read the announcement: https://lnkd.in/ggcbfnyG #pandemicresponse #globalhealth #COVIDSummit" [Tweet, 9/22/2021]
Elisha Dunn-Georgiou, President and CEO, Global Health Council: "Thank you @POTUS @WhiteHouse for today's #COVIDSummit. We can only solve the #COVID19 pandemic together. Yes to #VaccineEquity and #healthequity with adequate PPE, training and resources for #healthworkers. We must do better! The time is now for global action and accountability!" [Tweet, 9/22/2021]
Carolyn Reynolds, Co-founder, Pandemic Action Network: ".@SecBlinken summed it up: 'It's about delivering on these targets. Let's get the job done. ' Couldn't have said it better myself. It's time to act to end this pandemic and prevent the next. #CovidSummit" [Tweet; 9/22/2021]
Kiki Kalkstein, Advocacy & Engagement Lead, Global Health Council: "TY @POTUS @WhiteHouse for today's #COVIDSummit? @GlobalHealthOrg is committed, now more than ever, to combating the pandemic, ensuring #healthsystems worldwide are resilient, & providing access to quality, effective healthcare for all We need for global action & accountability!" [Tweet, 9/22/2021]
Zipporah Iregi, Nursing Now: "It was such an honour to speak at the #COVIDSummit convened by @POTUS. Calling on world leaders to invest in the #Health workforce by ensuring proper working conditions and our involvement in the policy & decision-making process! @NursingNow2020 @C_Hannaway #ChallengersCommittee" [Tweet, 9/23/21]
Arush Lal, Vice Chair, Women in Global Health: "So pleased to hear @PowerUSAID remind us of the real human lives lost to #COVID19. In a departure from other #COVIDSummit speakers, she discusses often overlooked actions to save lives:
- Frontline health workers require PPE
- Scaled up access to oxygen
- Increased testing [Tweet, 9/22/2021]
Institutions and Organizations
Global Citizen Impact: "Thanks to President Biden @POTUS donate 500 million additional doses of vaccine @pfizer against the #COVID19 for the poorest countries #COVIDSummit" [Tweet, 9/23/21]
CORE Group: "It's time for our leaders to do WHATEVER IT TAKES to end the global #COVID19 crisis. Today's #COVIDSummit of @POTUS + world leaders is a critical opportunity for action to end this crisis for everyone." [Tweet, 9/22/2021]
EAGL: "Applaud strong U.S. leadership: practical steps to boost global supply of #COVID19 #vaccines. We need MORE of this, w/renewed efforts to tackle #manufacturing, #supplychain & #trade restrictions to vaccine access without undermining #pandemic #innovation. #COVIDSummit #UNGA76" [Tweet,9/22/2021]
US Global Leadership Coalition: "Ahead of #COVIDSummit, 20 top business + NGO leaders write @POTUS pressing their support on vaccinating 70% of Earth globe europe-africa @UPS @Siemens @USChamber @LandOLakesV37 @SavetheChildren @CARE @WorldVision @RESCUEorg @SesameWorkshop @CatholicRelief @RockefellerFdn & more" [Tweet, 9/22/2021]
David Malpass, President, World Bank: "Today, I was pleased to address the Global COVID-19 Summit at #UNGA. The @WorldBank welcomes the global target of having at least 70% of people vaccinated in all countries by UNGA 2022. My thanks to @POTUS for hosting & generous pledge of 500m doses for developing countries." [Tweet, 9/22/2021]
David Miliband, President, International Rescue Committee: "The IRC welcomes President Biden's COVID announcement today. We echo @GaviSeth's call for COVID vaccine manufacturers to remove liability requirements for the COVAX Humanitarian Buffer, so @RESCUEorg & other NGOs can distribute vaccines to those in crisis." [Tweet, 9/22/21]
Randi Weingarten, President, American Federation of Teachers: "It's clear that vaccines work and that they save lives. That is why I'm happy to see the admin working with our global partners to send vaccines to countries struggling to acquire them." [Tweet, 9/22/21]
Michael Sheldrick, Co-Founder and Chief Policy & Government Affairs Officer, Global Citizen: "We commend the @WhiteHouse for its leadership in addressing the pandemic and for convening #CovidSummit. @GlblCtzn supports the plan to vaccinate at least 70% of the world by this time next year while also realizing governments can and should further accelerate that timeline." [Tweet, 9/22/2021]
Hayley Anne Severance, Member, Nuclear Threat Initiative: "Encouraging signs @ #COVIDSummit of support for a new global financing mechanism (financial intermediary fund) to incentivize national investments in health security. Call for $10B annually - small price tag when compared to COVID economic losses." [Tweet, 9/22/2021]
Global Fund Advocates: "It took mere days to identify #vaccine candidates after the virus was sequenced, and a year to start mass immunization. Almost a year later, the roll-out is still riddled with issues. On #Sept22, the #COVIDSummit is a chance to fix that. #BeBoldOnCOVID" [Tweet, 9/22/2021]
Land O'Lakes Venture 37: ""We cannot defeat a global pandemic without a global response. As long as the virus is anywhere, no one is safe." Venture37 fully endorses the imperative that at least 70% of the world's population be fully vaccinated in all countries by next year's UNGA. #COVIDsummit" [Tweet, 9/22/2021]
World Leaders
Sebastian Kurz, Chancellor of Austria: ? "Thank you President Joe Biden @POTUS for hosting the virtual #COVID19 Summit today! The pandemic continues to be a challenge that we must overcome together. Therefore #Austria bilaterally supports countries in need with 2 mio. vaccine-doses." [Tweet, 9/22/21]
José Manuel Barroso, former EU Commission President: "Many thanks to @POTUS for contributing 500 million additional @pfizer #COVID19 doses! Today's #COVIDSummit was a timely and welcome opportunity to reiterate the importance of equitable #COVID19 vaccine access." [Tweet, 9/22/2021]
Philanthropies
Bill Gates, The Gates Foundation: A global response will help the world end the COVID crisis. I'm glad to see so many leaders coming together at this U.S.-led virtual Global COVID-19 summit, and look forward to their continued efforts to help the world move out of the acute phase of this pandemic." [Tweet, 9/22/21]
Clinton Foundation: "Thank you @POTUS for your continued leadership on COVID-19. We look forward to working with @WhiteHouse and a worldwide coalition of partners across sectors to increase distribution of vaccines, save lives now, and build back better." [Tweet, 9/22/21]
Eric Schmidt, Former Executive Chairman & CEO, Schmidt Foundation: "Today I am joining world leaders at #COVIDSummit convened by @JoeBiden to commit to ending the pandemic.? Let's build an interdisciplinary network of experts across sectors to anticipate and better respond to future threats, and also #buildbackbetter and more equitably." [Twitter, 9/22/2021]
The Rockefeller Foundation: "At today's #COVIDSummit, we're calling for bold actions: Strengthened global leadership + accountability A fully-costed roadmap to end the pandemic A global task force? Accelerated vaccine dose-sharing Prioritized vaccination delivery Increased funding" [Tweet, 9/22/2021]
Joseph R. Biden, WHAT THEY ARE SAYING: Support for President Biden's Leadership and Global Commitments Made During Global Summit to End COVID-19 Online by Gerhard Peters and John T. Woolley, The American Presidency Project https://www.presidency.ucsb.edu/node/352604