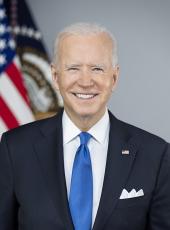 WHAT THEY ARE SAYING: Rural and Agriculture Leaders Applaud Passage of President Biden's Bipartisan Infrastructure Deal
The Bipartisan Infrastructure Deal – a once-in-a-generation investment that will create millions of jobs, modernize our infrastructure, and tackle the climate crisis – passed the House and now heads to President Biden's desk for his signature.
For far too long, Washington policymakers have celebrated "infrastructure week" without ever following through. The American people made it clear: we need to deliver. The President and Congressional Democrats proved we can.
Rural and Agriculture leaders praised the President and the lawmakers who worked across the aisle to pass the historic legislation, which will make a real impact in communities across the country, and put us on a path to win the economic competition for the 21st century.
See below for what they are saying:
Rob Larew, President, National Farmers Union: "The passage of the Infrastructure Investment and Jobs Act is a momentous achievement in boosting our rural communities and the economy as a whole. The bill strengthens our food supply chain as it makes tremendous, much-needed investments in the roads, bridges, dams, and waterways that family farmers and ranchers depend on. The bill also updates hours-of-service regulations for agriculture and livestock haulers, which will keep our crops, inputs, and livestock moving. Rural America, like the rest of the country, needs access to high-speed internet, and this bill will make affordable broadband available to the 19 million Americans who have lived offline. Provisions in the bill will also help us respond to the climate crisis by increasing the resiliency of watersheds, improving water infrastructure in the west to address more frequent droughts, and by investing in wildfire mitigation. This bill, as part of the greater Build Back Better Agenda, recognizes that rural American vitality is key to ensuring the prosperity of our country. We thank President Biden for keeping with his promise and his leadership, and urge Congress to take action on passing the rest of the President's plan." [Statement, 11/6/21]
Zippy Duvall, President, American Farm Bureau Federation: "We cannot afford to ignore the millions of miles of roadways, waterways and railways rural America relies on to keep our country fed, especially as we see widespread supply chain challenges. Extending broadband to rural communities is just as much a priority. A quarter of America's farm families have no high-speed internet access while working to meet the needs of a growing world. Investments in physical infrastructure like broadband will be critical to bridging the digital divide. Bipartisan efforts such as the Infrastructure Investment and Jobs Act provide commonsense solutions to our nation's infrastructure challenges, and we look forward to seeing the bill signed into law." [Statement, 11/5/21]
Chris Gibbs, Ohio Farmer and Board President, Rural Voices USA: "This is an enormous victory for rural America. This bill invests in good paying jobs by tackling infrastructure projects that are essential to rural commerce, agriculture and heartland communities. Of particular importance to rural communities is the historic investments this bill makes in rural broadband. The broadband expansion in this bill is a modern-day version of rural electrification and will have lasting impacts in the way many rural Americans learn, work and connect. Passage of this bill is also a signal to rural America that the federal government can be responsive to the needs of their communities. Seeing construction crews repair crumbling bridges or creating new broadband connections will be a tangible reminder that politics is about more than the bickering on cable news. The only way to bridge the widening divide between rural America and Washington, D.C. is to continue to focus on impactful policies like infrastructure. To that end, we are hopeful that Congress will soon also send the Build Back Better plan to the President's desk. That bill includes vital investment like universal pre-school, reduction in prescription drug costs and support for retirees that will similarly be seen and felt in rural America." [Statement, 11/6/21]
Todd Van Hoose, President and CEO, Farm Credit Council: "Farm Credit thanks President Biden and bipartisan congressional leaders for their tremendous efforts to deliver the Infrastructure Investment and Jobs Act and its much-needed resources to rural communities and agriculture. Critical investments in rural broadband will connect more communities, improvements in rural water systems will keep rural families safe, and rebuilding rural roads, bridges, freight rail, inland waterways and ports will bring our nation's agricultural products to a global marketplace. We commend policymakers for passing this historic bill that recognizes rural America's unique infrastructure needs, creates rural jobs and makes our rural communities more vital places to live and work." [Statement, 11/6/21]
Chandler Goule, CEO, National Association of Wheat Growers: "NAWG applauds this historic investment in our traditional infrastructure, which is critical to rural communities and agriculture's long-term success and viability. The Infrastructure Investment and Jobs Act makes a once-in-a-generation investment in roads, railways, locks and dams, and ports that the ag community relies on. Prioritizing investments in infrastructure will enhance wheat growers' competitiveness in the international market. Additionally, this legislation includes hours-of-service changes and provisions to address truck driver shortages which can, in part, help with some of the supply chain issues being experienced across America." [Statement, 11/6/21]
Nathan Ohle, CEO, Rural Community Assistance Partnership: "The Infrastructure Investment and Jobs Act is a critical step towards addressing the needs of our rural communities: clean, safe, reliable and affordable drinking and wastewater systems. We look forward to continuing to partner with our legislators and communities to ensure equitable and efficient implementation of this legislation's funding." [Statement, 11/8/21]
Kevin Scott, South Dakota Farmer and President, American Soybean Association: "Good things can indeed come to those who wait, and passage of this long-considered bill is a win for everyone in our country. Infrastructure is critical to the long-term success of not only the ag industry, but also the general health of American commerce and global competitiveness. We are very appreciative that our congressional leaders stayed the course on this important package that will bolster the U.S. economy, and which encompasses so many priorities for soy, ranging from surface transportation and waterways funding to investments in rural broadband and new opportunities for soy-based products." [Statement, 11/5/21]
Allison Rivera, Executive Director of Government Affairs, National Cattlemen's Beef Association: "The infrastructure package includes several key provisions that NCBA has long advocated for, including funding for the modernization of roads and bridges, funding for high-speed rural broadband, congressional commitment to the improvement of the federal permitting process for critical water-related investments and an additional 150 air-mile exemption for livestock haulers on the destination of hauls, providing much needed flexibility under current hours-of-service regulations. Investing in critical infrastructure is consistent with NCBA's mission to increase producer profitability. The ability for cattle producers to efficiently raise cattle, haul them safely and compete in a fast-paced global marketplace has a direct link to the economic stability of rural communities and a resilient food supply chain. We look forward to the president signing the bill and stand ready to ensure proper implementation." [Statement, 11/6/21]
Ted McKinney, CEO, National Association of State Departments of Agriculture: "State departments of agriculture commend the U.S. House of Representatives for coming together to build opportunities for agriculture and rural communities. We can all recognize the importance of a thriving U.S. agriculture industry to all people, and yesterday's actions will connect more individuals to American grown products and provide financial sustainability for farming and ranching businesses." [Statement, 11/6/21]
Chris Edgington, President, National Corn Growers Association: "We are pleased to see the House act on this legislation which was developed in a bipartisan manner and allocates funding for initiatives that are extremely important to corn growers and rural America," said NCGA President Chris Edgington. "This is a once in a generation infrastructure investment that will help farmers for years to come." [Statement, 11/6/21]
Jim Matheson, CEO, National Rural Electric Cooperative Association: "This bipartisan bill provides a significant down payment toward meeting critical needs of electric cooperatives and the communities we serve, including funding for priorities such as broadband deployment and electric vehicle charging. This bill recognizes the need to expand these two technologies in rural communities. As policymakers plan for a future that depends on electricity to drive the economy, more work will be needed to build on the groundwork laid by this legislation." [Statement, 11/5/21]
Shirley Bloomfield, CEO, NTCA-The Rural Broadband Association: "If the last 20 months have shown us anything, it's that access to broadband is essential. On behalf of NTCA's nearly 850 community-based providers, I am thrilled that Congress has passed the Infrastructure Investment and Jobs Act, which includes an historic investment in broadband infrastructure. Implemented properly, this investment should go great distances toward connecting the millions of rural consumers who still need reliable, sustainable and affordable access—improving economic opportunity, job creation, education, healthcare and civic engagement. As policymakers at the state and federal levels decide how to implement this landmark legislation, I urge them to invest in future-proof scalable technology like fiber, and to partner with small, community-based local exchange providers – regardless of their corporate structure – who have already proven their ability and commitment to build and maintain strong networks in rural areas. We are eager to see the Infrastructure Investment and Jobs Act signed into law by President Biden and we look forward to working with policymakers at all levels to successfully implement it." [Statement, 11/5/21]
Heidi Heitkamp, Founder, One Country Project: "The Infrastructure Investment and Jobs Act will help keep rural communities connected by increasing broadband access, modernizing roads and bridges, and supporting 21st century industries. Having access to reliable, affordable internet is key for farmers and small businesses to remain competitive in new markets, and it can bring education, workforce training, and health care directly into remote households. Meanwhile, making neglected transportation infrastructure safe and efficient is critically important for ensuring rural residents can access emergency services, bolster supply chains, and spur job creation alongside rural economic growth." [Statement, 11/8/21]
Darin Von Ruden, President, Wisconsin Farmers Union: "The passage of the Build Back Better Agenda represents a historic investment in the critical infrastructure needs of family farmers and our communities. The effects of this effort will be far-reaching, as the bill aims to strengthen our food supply chain through tremendous investment in the transportation infrastructure that family farmers rely on. Provisions of the bill will also help us bridge the gap on broadband access, respond to and begin countering the climate crisis, and reduce supply chain bottlenecks. This once-in-a-generation bipartisan investment has the potential to create jobs, transform our transportation system, and put us on a path to a more competitive, prosperous economy." [Statement, 11/8/21]
Minnesota Farmers Union: "This is great news! Among the vitally-needed investments in roads + bridges, the bipartisan infrastructure package also includes $65B to strengthen our broadband infrastructure. This will help fix the glaring disparities in internet access that hold many rural communities back." [Tweet, 11/6/21]
Michigan Agri-Business Association: "This bipartisan investment to fix our nation's crumbling infrastructure is good news for rural Michigan. Michigan agriculture relies on functioning highways, bridges, waterways, railways and high-speed internet to serve markets across the globe. Too often, crumbling rural infrastructure creates needless delays and uncertainty for rural businesses, rural communities and Michigan farmers. We are pleased to see this bipartisan measure sent to President Biden's desk because it will equip Michigan agriculture to connect, compete and continue growing our state's economy." [Statement, 11/6/21]
Joseph R. Biden, WHAT THEY ARE SAYING: Rural and Agriculture Leaders Applaud Passage of President Biden's Bipartisan Infrastructure Deal Online by Gerhard Peters and John T. Woolley, The American Presidency Project https://www.presidency.ucsb.edu/node/353300