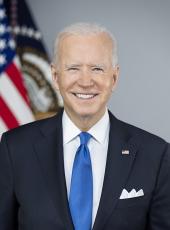 WHAT THEY ARE SAYING: President Biden's U.S. Citizenship Act to Strengthen America's Immigration System and Restore Our Values
Yesterday, California Congresswoman Linda Sanchez introduced President Biden's bicameral immigration bill – the U.S. Citizenship Act – in the House of Representatives. The bill will be introduced in the Senate next week by New Jersey Senator Bob Menendez. The U.S. Citizenship Act is a common-sense and long-overdue approach to solving our immigration challenges while restoring humanity and American values to our immigration system. The legislation modernizes our immigration system, and prioritizes keeping families together, grows our economy while ensuring every worker is protected. It responsibly and effectively manages the border with smart and effective investments, addresses the root causes of migration from Central America, and ensures that the United States remains a refuge for those fleeing persecution. The American people know that our immigration system is not working the way it should, and needs an overhaul that both protects the American people and is consistent with our values. That is what the President intends to do with this legislation.
Here's what they are saying about the U.S. Citizenship Act:
New Jersey Senator Robert Menendez: "As the son of Cuban immigrants who fled an oppressive regime for a better life in the United States, I have dedicated much of my career in Congress, both in the House and the Senate, fighting for the dignity of immigrant families in New Jersey and all across America. Immigrants contribute greatly to our country and society; they own businesses, pay taxes and teach our children, they are our coworkers, neighbors and friends. We have an historic opportunity to finally enact bold immigration reform that leaves no one behind, addresses root causes of migration, and safeguards our country's national security. We have a moral and economic imperative to get this done once and for all." [Press Release, 2/18/21]
California Congresswoman Linda Sánchez: "I am deeply proud to introduce the U.S. Citizenship Act in the House of Representative today, a vision that provides long-overdue permanent protections, and restores humanity and American values to our immigration system. I am the daughter of immigrant parents from Mexico, this is personal to me. I have dedicated my career to building an immigration system that lets people live without fear, and a system that gives immigrants – like my parents – who sought a better life and contribute to our nation a fair opportunity to thrive. After all, immigration reform isn't just about policy changes and politics-as-usual, it's about people: our loved ones, friends, and neighbors who have been living in our communities and contributing to our country for decades. They deserve real relief. With President Biden's leadership and vision, Democratic majorities in both Chambers, and the support of the majority of Americans: this is our moment to finally deliver big, bold, and inclusive immigration reform that our nation and its people deserve." [Press Release, 2/18/21]
Janet Murguía, President and CEO, UnidosUS: "Today's introduction of the U.S. Citizenship Act of 2021 by Senator Menendez, Rep. Linda Sanchez, leaders of the Congressional Hispanic Caucus (CHC) and other members of Congress animates the bold vision set forth by the Biden administration. This legislation establishes a much-needed earned pathway to citizenship for 11 million immigrants and begins to chart a new course for an effective and humane 21st century immigration system. This important bill includes critical improvements, like fast-tracking legalization for DREAMers and farmworkers, as well as modernizing our legal immigration system by, among other things, eliminating harmful barriers to family unity. As we pull through a once-in-a-generation health and economic crisis, Americans are coming to understand the essential role immigrants play in keeping the country afloat, and this bill offers sensible immigration reform to ensure their contributions are supported and honored. This legislation is an important step forward in undoing the damage the last four years of cruel, bigoted and senseless policies have caused. We pledge to work with the CHC, the Biden administration and all partners to ensure we advance this legislation's promise to our communities." [Press Release, 2/18/21]
Marielena Hincapié, Executive Director, National Immigration Law Center: "The U.S. Citizenship Act would provide a path to citizenship to approximately 11 million undocumented people whose home is here and who are essential members of our communities, and begin to address root causes of immigration. It would also strengthen protections for all workers, remove barriers to family-based immigration, place limits on dangerously overbroad executive authority to issue bans on people entering the U.S., restore asylum and other humanitarian forms of relief, and replace the term "alien" with "noncitizen" in our immigration law. We at the National Immigration Law Center welcome this shift in approach, which breaks with decades of immigration reform proposals that tethered long-overdue relief to punitive measures that are harmful to our communities as a whole. This bill marks a significant step as we continue working to reclaim our nation's role as a beacon of hope for people around the world seeking a better life. We thank Senator Menendez, Representative Sanchez, and the Biden White House for their leadership in swiftly bringing this historic bill forward. Millions of immigrants are doing essential work to help us get through the pandemic and are in urgent need of stability and relief. We urge members of Congress to move swiftly to provide undocumented members of our communities with a pathway to citizenship, including a fast-track for those eligible for DACA, TPS, or DED, and for essential workers and farmworkers ... The vision articulated by President Biden for an immigration system that lives up to our country's needs and values in the 21st century — one that advances racial and economic equity and justice — requires that Congress work to enact a fully inclusive bill that provides everyone in our communities with the freedom to thrive. Our collective health and well-being depends on full immigrant inclusion." [Press Release, 2/18/20]
Rick Santos, President and CEO, Church World Service: "This bill will allow many of our current neighbors, who have been our partners in community, to be our partners in citizenship. It will allow them the pride of officially being Americans, something that they have long been in terms of deed and commitment to our country. For the vulnerable still seeking safety within our borders, this legislation will provide a dreamed-of path to raising their children without the fears of persecution or marginalization. Ultimately, a fair and just immigration policy makes the United States better; it boosts our economy, improves our communities, and elevates our national character by adhering to our core values. Congress must now act and pass this bill." [Press Release, 2/18/21]
America's Voice: "Thank you, @POTUS, @SenatorMenendez and @RepLindaSanchez for introducing the U.S. Citizenship Act of 2021 which will provide a pathway to citizenship for millions of undocumented immigrants #WeAreHome" [Tweet, 2/18/21]
Todd Schulte, President, FWD.us: "The introduction of the U.S. Citizenship Act of 2021 today on behalf of the President is a critical moment for immigration policy in the United States. This is a substantial step forward for major immigration legislation and would provide a desperately-needed pathway to citizenship for millions of immigrants who have spent decades building their lives and families here. We commend President Biden for leading on this landmark bill, and Senator Menendez, Congresswoman Sánchez, and the other original cosponsors for this timely introduction ... The bill would also provide permanent protections for TPS holders and create much-needed changes to our legal immigration channels, including improvements to the family-based green card and employment-based green card system, growing our economy, creating jobs, and unlocking the potential for innovation and entrepreneurship ... This bill would be a tremendous step forward for our country's public health and economic recovery, and it would help ensure more of our communities are safe, secure, and more prosperous. Congress has a once-in-a-generation opportunity to transform a long-failed and too easily weaponized immigration system. The time is now and we will seize this moment." [Press Release, 2/18/21]
Nathaly Arriola, Campaign Director, We Are Home: "Today, I join my colleagues in applauding the introduction of the U.S. Citizenship Act of 2021. On behalf of the campaign, I thank President Biden, Sen. Menendez, Rep. Sanchez and all the Senate and House cosponsors. Most importantly, I want to show gratitude for the decades of work that lead us to this historic step in our efforts to rebuild our country's immigration system and finally grant relief to our 11 million undocumented family members and neighbors who have long called this country home. We will not, and cannot go back to our communities empty handed. We look forward to working closely in partnership with the Biden administration and Congress to deploy every resource at hand." [Press Release, 2/18/21]
Greisa Martinez Rosas, Executive Director, United We Dream: "These are our mothers, our fathers, our neighbors. This fight is about fighting for the rights of ALL people to be seen as fully human. Never has this been more clear than now as immigrants have risked their lives to keep our country safe, fed, and healthy during the COVID-19 pandemic. This is why President Biden and the Democratic majority in Congress must use every tool at their disposal to deliver on immigration. We will not tolerate next year or next time. We have the power now, we will use it and show the country what it's like to embrace immigration." [Press Release, 2/18/21]
Glo Harn Choi, Chicago-based Organizer, NAKASEC: "This bill is a sign of the work that community members and organizers have been doing for years. It's a commitment that we will continue to do everything in our power to continue pushing to ensure that all of us have the ability to thrive and not just survive. This is a sign saying you can come back home, you can be back in your communities. We need to make sure that all the folks have been deported can come back. There have been 30,000 deportations under this administration and it's time for it to end. We need to stop the unjust backlog of bureaucracy of the USCIS that stops people from being able to process their paperwork, because this requires all of us." [Press Release, 2/18/21]
Angelica Salas, Executive Director, CHIRLA: "Today's introduction of President Biden's U.S Citizenship Act of 2021 creates hope and opportunity for undocumented children and their immigrant families. For the past 35 years, immigrants have contributed as taxpayers, provided their labor, formed families and during this pandemic kept working so that many of us could be safe and protected. Despite their contributions and vulnerable conditions, they are barred from basic protection, exploited in the workplace, detained in horrible conditions, and separated from their families. They remain undocumented until their last days on this Earth and this cruelty has to change. This time, we ask Congress to embody the immigrant spirit of hope, courage, and fortitude that fights against all odds. When that happens, and Congress passes the Citizenship Act of 2021, immigrants will finally be recognized as the Americans they have always been." [Press Release, 2/18/21]
Clara Cortes, Make the Road New York: "This bill brings me hope for a better future. For over twenty years, I have waited for Congress to pass legislation like this. Immigrants like me have built our lives and our families here. This country is our home. Over the last year, while facing the constant risk of being torn from our loved ones, immigrants like me have also been trying to survive the COVID-19 pandemic. My husband has been hospitalized for almost a year after contracting the virus, and every time I see him, he worries about me since because of my lack of immigration status, I could be separated from my family. Today, I am happy to see that fixing our immigration system is a priority for the current administration, and it is crucial that Congress quickly acts to make a pathway to citizenship a reality." [Press Release, 2/18/21]
Varshini Prakash, Executive Director, Sunrise Movement: "We are proud and humbled to fight alongside the multi-racial coalition whose efforts have realized this bill that puts humanity first. Our hearts break as we hear the stories of immigrants living in fear of deportation, even as they risk their lives to serve as our community's frontline workers during this pandemic – and we don't forget that these are often the very people most impacted by the plight of climate change. Especially as more and more millions of people are displaced from extreme weather events alone, migrants in this country must be taken care of. As with President Biden's proposals on the climate crisis, a $15 minimum wage and Covid relief, this is a good start, but introducing a bill is not enough. We must see material change before this movement can let up, feel relief and celebrate a victory. And we will continue to demand ICE and CBP be defunded and all immigrants be included in COVID-19 relief. So we ask Biden, what is your plan to deliver? And how much more heartbreak must we endure before you take the necessary steps to deliver? Congress must abolish the filibuster so the U.S. Citizenship Act is more than an empty promise." [Press Release, 2/18/21]
Becky Pringle, President, NEA: "Our strength as a country comes from our diverse and vibrant population made up of people from all backgrounds and races. Despite the pandemic, the economic crisis, and deliberate barriers put in place to keep Black, brown, young, and new Americans from voting, we came together in record numbers to choose new leaders and a new direction, and now, we expect them to deliver on their promises and to govern for all of us. The introduction of the U.S. Citizenship Act of 2021 is a necessary and good step towards transforming America's inhumane immigration system into one that is more humane, functional, and centered in racial justice, and respects all people, regardless of race, religion, or birthplace. This thoughtful and robust legislation also would ensure a path towards citizenship for undocumented immigrants and much-needed protections for DACA recipients – including an estimated 15,000 educators who have continued to provide and sustain student learning during the pandemic. That we stand on the verge of this important point in our history is a testament to the educators who mobilized like never before during the elections and the advocates, families, allies, and voters who came together to demand the future we deserve, a future that works for all who call this country home – without exceptions. All of us – students, educators and our communities – will greatly benefit from the swift passage of this bill. Our families cannot continue to wait. Our students and educators cannot continue to wait. We are demanding an America where We the People includes all of us. With deeds and actions, Sen. Menendez and Rep. Sánchez are demonstrating their commitment to immigrant families, our educators and students, and our communities by moving with urgency on this critical issue. We urge Congress to do the same and move swiftly to pass this important piece of legislation."
Treasury Secretary Pete Buttigieg: "From Dreamers who have called the U.S. home for as long as they can remember, to essential workers who keep America running but lack a pathway to citizenship, millions will benefit from this vision for finally healing our broken immigration system. It will make America stronger." [Tweet, 2/18/21]
Jennifer Rubin, Washington Post Columnist: "However, the most important reason for moving ahead is that it is good policy. We need to straighten out our legal immigration system, which, contrary to what xenophobic propagandists say, provides growth, entrepreneurial strength and young workers (needed to support retiring baby boomers). Previous analyses have shown that immigration reform will bolster growth and increase tax revenue. On humanitarian grounds, those who have already integrated into the economy — many of whom are performing essential services during the pandemic — should be spared the constant fear of deportation." [Column, 2/19/21]
United States Conference of Mayors (USCM) President and Louisville Mayor Greg Fischer: "The United States is a compassionate country, but our immigration laws do not reflect the American spirit of inclusion. America's mayors are grateful to President Biden, Vice President Harris, Senator Menendez, and Representative Sánchez for answering the call and making reform a priority. Their plan recognizes the value of the American immigrant to our culture, our economy and our nation, seeks to bring order and security to a system that has decayed over decades of inaction, and it legalizes the status of Dreamers once and for all. For too long politics have prevented Washington from doing what is common sense: secure the border, modernize legal immigration, keep families safe, and allow people to earn the right be an American. The Biden plan would not only strengthen our economy but also the bonds that unite us a people. Mayors are committed to working with Congress and this administration to break down the political barriers to reform and deliver lasting change." [Press Release, 2/18/21]
Los Angeles Mayor Eric Garcetti, Chair of USCM's Latino Alliance: "Like our entire country, Los Angeles, at its best, is a place where immigrants can contribute to our economy, our society, and our culture without fear or discrimination — where everybody belongs and everyone knows the blessings of the American dream. Every day, immigrants strengthen our cities as essential workers, healthcare workers, students, entrepreneurs, artists, and more, and the U.S. Citizenship Act is the right step forward to honor our values, uphold human dignity, provide a pathway to citizenship, and lift up our communities." [Press Release, 2/18/21]
Providence Mayor Jorge O. Elorza, Co-Chair of USCM's Immigration Reform Task Force: "The Biden Administration's proposed immigration reform bill represents one of the most expansive legislative overhauls of our immigration system and is a welcome step towards rolling back some of the most shameful and heartless policies in American history. With this legislation, Congress has an opportunity to not just correct the harms of the past, but to invest in our immigrant communities for the long-term by keeping families together, removing harmful barriers to citizenship, and providing localities with the resources they need to successfully integrate new Americans into our communities." [Press Release, 2/18/21]
Mesa Mayor John Giles, Co-Chair of USCM's Immigration Reform Taskforce: "The immigration bill put forward by the Biden administration is bold action on an important issue, one of the most important facing our nation. As a mayor in a border state, I know the impact these policies can have on communities like mine. Reuniting families, smart border strategies, clearer paths to citizenship and a more functional immigration process would put us on a path to the progress we need." [Press Release, 2/18/21]
San Diego Mayor Todd Gloria: "I am extremely pleased to see the legislative package released today incorporates many of those key priorities – specifically, providing a pathway to citizenship for our undocumented residents, keeping families together with a streamlined immigration system, and promoting immigrant and refugee integration. As America's largest border city, we are a shining example of how a binational region built on partnership, humanity, and a welcoming approach can thrive. I look forward to continue working directly with the Biden administration and our congressional delegation to help get this effort across the finish line to finally make immigration reform in America a reality." [Press Release, 2/18/21]
California Senator Alex Padilla: "For too long, our immigration system has failed to live up to the ideals and principles our nation was founded on. We must enact bold, robust immigration reform that meets the urgency this moment demands -- and that millions of hard-working immigrants have earned. As the son of immigrants from Mexico, I am proud to join Senator Menendez and Congresswoman Sánchez in introducing this legislation to restore humanity to our immigration system and give everyone a fair shot at achieving the American dream." [Press Release, 2/18/21]
Arizona Congressman Ruben Gallego: "Undocumented workers make up 4.4% of the national workforce and five million of them are on the front lines of the COVID-19 pandemic. The #USCitizenshipAct recognizes their contributions and will make the whole workforce stronger. I am proud to cosponsor this bill." [Tweet, 2/18/21]
California Congressman Raul Ruiz, Chairman, Congressional Hispanic Caucus: "The Congressional Hispanic Caucus applauds the U.S. Citizenship Act; it is the broad and bold immigration reform we need. For far too long, our country has suffered from a broken immigration system and it is past time that we fix it. The CHC is committed to passing immigration reform that will provide many essential workers and taxpaying immigrants an earned pathway to citizenship and allow them to fully contribute to our society by keeping programs like Medicare and Social Security solvent and generating economic growth and productivity. Immigrants are the fabric of our nation; they feed America, care for our families, and help keep us safe. The U.S. Citizenship Act will restore dignity and humanity to our immigration system, prioritize keeping families together, and provide 21st Century solutions for border security. I'd like to thank CHC Members Senator Menendez and Congresswoman Sanchez for their leadership on this vital legislation. The CHC, along with the White House, is committed to unlocking opportunities for all Americans. This includes passing immigration reform once and for all." [Press Release, 2/18/21]
California Congresswoman Janet Napolitano: "Immigrants work hard, pay taxes, and contribute so much to our communities, often at great risk to their own health and safe. Now we have an opportunity to bring millions out of the shadows and more fully into everyday American society, finally doing the right thing for our country and our economy. Our bill provides those who have lived in the U.S. for years, in some cases decades, an earned pathway to citizenship and an opportunity to fulfill the promise of the American Dream. With a new administration committed to modernizing our immigration system rather than demonizing immigrants, we must finish the job and pass immigration reform this year." [Press Release, 2/18/21]
California Congresswoman Nanette Barragan: "The #USCitizenshipAct provides hardworking people who enrich our communities every day and who have lived here for years -- in some cases for decades -- an opportunity to earn citizenship. Proud to support this bold reform. #ImmigrationReformNow" [Tweet, 2/18/21]
California Congressman Jim Costa: "I'm proud to co-sponsor this bold legislation that restores humanity and American values to our immigration system. This is a monumental step in reform. In addition, for years I've been working with a bipartisan coalition on the Farm Workforce Modernization Act and the Dream and Promise Act . I want to see each of these bills pass so that hardworking immigrants have an earned path to citizenship. It's time we act for our farmworkers who put food on our tables and shape our state's economy. For too long we have talked about reform without significant action. Now is the time to deliver permanent protections for the millions of immigrants and their families who are American in every way but on paper." [Press Release, 2/18/21]
Texas Congresswoman Veronica Escobar: "Today, I am honoring my promise to finally fix our broken immigration system, improve our nation's economy, and provide solutions to address the root causes of migration by supporting President Biden's U.S. Citizenship Act of 2021, legislation that will modernize our immigration system and make it more fair and humane. For four years, El Paso – our nation's modern-day Ellis Island – witnessed the devastating effects the Trump administration's reckless and hateful policies had on our already broken immigration system. This long-awaited legislation is an important first step in addressing the cruelty and incompetence of the past and giving hard-working families that enrich our communities an opportunity to pursue the American Dream." [Press Release, 2/18/21]
New Mexico Congresswoman Teresa Leger Fernández: "People all over the world see our country as a beacon of hope. Many leave everything they love behind to come here in search for a better life for their families. Once here, they make our country stronger. Our immigrants care for our elderly, pick and prepare our food, and are incredible entrepreneurs making our economy stronger and more vibrant. But for the last four years, our country's inhumane immigration policies have demonized immigrants and caused unimaginable suffering. We have a long road ahead to repair the damage and ease that pain. The U.S. Citizenship Act helps repair our immigration system to protect families and strengthen communities. It will keep loved ones together, protect our immigrant workforce, and effectively and responsibility manage our borders. Immigrants are the heart and soul of our country. Throughout this pandemic, immigrant workers - the same essential workers we have thanked endlessly - have put their lives on the line to keep our country running. It's time that we turn our words into actions and provide them with a clear pathway to citizenship. Let us repay their patriotism and sacrifice with humanity and love." [Press Release, 2/18/21]
California Congresswoman Lucille Roybal-Allard: "Today, we introduced President Biden's U.S. Citizenship Act of 2021. This robust immigration reform bill is long overdue. Over my 28 years in Congress, I and the members of the Congressional Hispanic Caucus have worked hard to reform our broken immigration system. This bill will help ensure that immigrants like those in my district who strengthen our economy and add so much value to our communities are treated with dignity and respect. It will reunite and keep families together and protect the millions of undocumented immigrants who contribute to our nation, including those serving in our armed forces and on the front lines battling the COVID-19 pandemic. I am thrilled that this legislation builds on the principles of my Dream and Promise Act and expedites a pathway to citizenship for all DACA-eligible youth, as well as Temporary Protected Status (TPS) and Deferred Enforcement Departure (DED) recipients. I look forward to working with my colleagues and the Biden Administration to pass the U.S. Citizenship Act of 2021 into law." [Press Release, 2/18/21]
New York Congresswoman Nydia Velázquez: "For too long, a broken immigration system has failed so many who come to America seeking a better life. And over the last four years, xenophobia and hatred coming from the highest office in our land led to cruel policies like tearing children apart from their parents at the border. Well today we are here to turn the page on that dark chapter. To finally make headwinds in the decades-long battle for humane immigration reform. The U.S. Citizenship Act will provide enhanced pathways to citizenship, keep families together, grow our economy, and support asylum seekers." [Press Release, 2/18/21]
New Mexico Senator Ben Ray Luján: "From child separation to ending DACA, the policies of the previous administration shone a light on our broken immigration system and the tragic consequences of federal inaction. While President Biden has already taken important steps toward addressing the harm done to immigrant communities, only Congress can take permanent action to bring America's immigration policies into the 21st century. This long-awaited legislation keeps families together; helps America's economy recover and rebuild; creates a path to citizenship for 11 million undocumented immigrants, including our Dreamers and farmworkers; modernizes border security and our ports of entry; and addresses the root causes of migration from the Northern Triangle region. I look forward to working alongside Senator Menendez and Congresswoman Sanchez to reform our immigration system." [Press Release, 2/18/21]
California Congresswoman Zoe Lofgren, Chair of the House Judiciary Committee's Subcommittee on Immigration and Citizenship: "I applaud President Biden for delivering on his promise and sending to Congress a bold vision for immigration reform. There is a lot to like about this bill. It includes several pieces of legislation which I wrote. It would greatly benefit our country. I look forward to working with my colleagues in the legislative process to advance the bill through the House." [Press Release, 2/18/21]
California Congresswoman Judy Chu: "I am proud to be supporting this long-needed immigration reform bill. With today's package of updates to our immigration laws, we are living up to the Biden-Harris Administration's week one commitment to finally transform our broken immigration system. I'm particularly pleased that after four years of Islamophobia masquerading as policy, this bill includes the NO BAN Act which will prevent future administrations from banning groups of people based on religion ever again. I also believe that our immigration laws should make it easier for families to stay together, which is better for immigrants and our country. That is why I'm so glad this package includes provisions from my bill, the Reuniting Families Act, to reduce employment and family-based visa backlogs and create a more inclusive definition of family members so more families can be together in a shorter time frame. Finally, the COVID-19 pandemic has shown us that immigrants make up a significant portion of essential frontline workers in industries like healthcare and agriculture. But, despite how much we depend on immigrant workers, some unscrupulous employers seek to exploit them, making them work extreme hours in difficult and dangerous conditions. That is why the inclusion of my bill, the POWER Act, which protects immigrants who report unfair labor practices, is key to ensuring immigrants are treated with dignity and respect in the workplace. This bill includes many more provisions that are essential to building a strong and healthy economy and humane immigration laws that are intended to help our country, not stoke xenophobia. As one The Closers, I know we can move this robust package to President Biden's desk and I look forward to working with my colleagues to do just that." [Press Release, 2/18/21]
New York Congresswoman Yvette Clarke: "I am the daughter of Jamaican immigrants, and I am uniquely familiar with the need for comprehensive immigration reform. As Chair of the Congressional Black Caucus Immigration Task Force, I have seen the glaring inequities, blatant racism, vicious xenophobia, and civil rights violations immigrants face -- particularly in immigrant communities of African descent. Our immigration system is broken, and I will not relent until our immigration system reflects a modern and equitable approach to this issue. Reversing the policies of the last four years is not enough. We must reimagine the immigration system in a manner that is humane, just, and fair. This bill is the Biden-Harris Administration's vision to fix our immigration system once and for all. The time has come for the values of our nation to be reflected in our immigration policies. I am proud to co-lead this paramount legislation." [Press Release, 2/18/21]
California Congresswoman Karen Bass: "Today, I'm proud to join my colleagues in taking decisive and robust action to reform our immigration system. Over the last four years we all witnessed horrific immigration policies resulting in thousands of children being removed from their parents, families held in cages, and refugees from as far away as Cameroon and countries in Western Africa forced to languish in Mexico because the US consistently violated international asylum laws. It is my hope that my colleagues will join in voting to pass this important piece of legislation – reforming our immigration system." [Press Release, 2/18/21]
Joseph R. Biden, WHAT THEY ARE SAYING: President Biden's U.S. Citizenship Act to Strengthen America's Immigration System and Restore Our Values Online by Gerhard Peters and John T. Woolley, The American Presidency Project https://www.presidency.ucsb.edu/node/348066