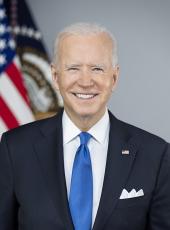 WHAT THEY ARE SAYING: President Biden's Showcases a Future Made in America During Michigan Visit
Today, President Biden traveled to Dearborn, Michigan to visit the Ford Rouge Electric Vehicle Center to see firsthand how union workers are building the future of electric vehicles right here in America.
In remarks, the President outlined his proposal for a $174 billion investment in the American Jobs Plan to win the EV market – positioning America to outcompete China and the world. President Biden believes now is the golden time to invest in EVs, infrastructure, and R&D – leading to strong, durable growth for decades to come.
The President's visit earned widespread support from the labor unions who will build the future across domestic supply chains, advocacy organizations dedicated to tackling the climate crisis and creating jobs, and elected officials across the country pushing for Congress to pass the American Jobs Plan and invest in our future.
See below for what they are saying:
William C. Ford Jr., Chairman, Ford: "We're not just electrifying fringe vehicles. The Mustang and the F-150 are the heart of what Ford is, so this is a signal about how serious we are about electrification. This really showcases where the industry can go and should go." [Media Interview, 5/18/21]
Labor Leaders
Rory L. Gamble, President, United Autoworkers (UAW): "It is no secret that the U.S. auto industry is at a crossroads, as sales of electric vehicles and plug-in hybrids are poised to become more and more common on our roads and highways in the years ahead both at home and abroad. What we do today will shape our economy, the auto industry, and our communities for decades to come. President Biden recognizes the importance of this moment and his American Jobs Plan proposed make the bold investments in manufacturing, consumer incentives, and infrastructure needed to ensure vehicles of the future are made in our country. Without these investments, we will continue to fall behind China and Europe in the race to build the vehicles of the future. Investments alone are not enough. As the Biden Administration and Congress advance the American Jobs Plan, I urge President Biden to make certain that investments to bolster electric vehicle production and sales incorporate strong labor standards and ensure that the vehicles of the future support good union jobs. Taxpayer dollars should be spent in support of U.S. built vehicles, not imports. And public money must support good union jobs that provide good wages and benefits, secure employment and the unfettered ability for workers to form a union." [Press Release, 5/18/21]
Lonnie Stephenson, President, International Brotherhood of Electrical Workers (IBEW): "For decades, Detroit wasn't just the heart of American manufacturing. It led the world in innovation and good union jobs. Investment in electric vehicle infrastructure does not just help us fight climate change. It allows America to again take the lead in innovative and advanced manufacturing that can put millions of Americans to work in good, union jobs. President Biden's American Jobs Plan is a crucial part of making this happen. It will create good-paying, blue-collar union jobs that can't be outsourced by investing billions into half a million new electric vehicle charging stations, creating a market for America's new fleet of zero-emissions vehicles, like Ford's F-150 Lightning. And that means on-shoring good manufacturing jobs. As head of the largest union of electrical workers in North America, I know how important these jobs will be to my members and their families. The men and women of the IBEW are ready to get to work building the next generation of clean-running American vehicles. It's time Congress gets to work too and pass the American Jobs Act." [Press Release, 5/18/21]
Robert Martinez Jr., International President, International Association of Machinists and Aerospace Workers (IAM): "President Biden is laser-focused on building the future right here in America. That means creating good jobs in the industries of tomorrow, growing union membership and rebuilding the middle class. The Machinists Union is here to partner with this administration to invest in domestic manufacturing. From electronic vehicles to our defense industrial base to aerospace, IAM members and organized labor are ready to build back better and grow our presence from coast to coast. Let's get to work creating good-paying union jobs and give every American family the economic recovery they deserve." [Statement, 5/18/21]
Members of Congress
Michigan Senator Debbie Stabenow: "From Henry Ford's first automobile to today's amazing all-electric F-150, Michigan has always led the way on innovation. Our companies and workers are world leaders in advanced manufacturing, and I'm excited that President Biden shares our state's vision for the future and is seeing first-hand what Michigan can do. Electric vehicle manufacturing creates good-paying American jobs, addresses the climate crisis, and helps our state and nation remain a world leader in innovation. Welcome back to Michigan, President Biden!" [Press Release, 5/18/21]
Michigan Senator Gary Peters: "President Biden knows that Michigan workers can outcompete and outwork anyone. His visit reaffirms the importance of our state's position as a global hub in mobility. He recognizes that the future of the American auto industry is electric – and that by investing in electric vehicle manufacturing and infrastructure, we are paving the way for Michigan and auto workers to continue being the leaders in manufacturing. We also know that self-driving vehicles will be electric ... This is also essential to our competitiveness: our global competitors – particularly in China – are actively developing and testing self-driving vehicle technologies, and if we fail to do the same, we risk losing our leadership as the mobility capital of the world and the economic support that comes with that." [Press Release, 5/17/21]
Michigan Congresswoman Haley Stevens: "I worked on the US Auto Rescue under President Obama when President Biden was Vice President, and he was such a champion of American manufacturing – he was so involved in the recovery efforts ... This visit really rings on those notes of inspiration and excitement – how far our auto industry has come, how Ford continues to be a leading, global automaker located right here in Southeastern Michigan. We're excited to see that Ford F150 and excited to see what the President has to say ... That's something else that we're going to see today with President's Biden visit is the tie-in with electric vehicles and his overall infrastructure plan, because you're not doing electric vehicles without having the grid modernized as well as the charging stations in place, and that's a big part of the plan ahead." [Media Interview, 5/18/21]
Michigan Congresswoman Debbie Dingell: "Electric vehicles are the vehicles of the future! The time is now for the US to invest in electric vehicles made right here at home, build critical EV charging infrastructure, & keep & create good-paying jobs in America." [Tweet, 5/18/21]
Michigan Congresswoman Brenda Lawrence: "A future made in America. @POTUS" [Tweet, 5/18/21]
Michigan Congressman Dan Kildee: "@POTUS is right—electric vehicles are the future of our automotive industry! Investing in EVs is a win-win-win, helping to create good-paying jobs, compete economically with China & combat the climate crisis." [Tweet, 5/18/21]
Michigan Congressman Dan Kildee: "Electric vehicles are the future of the automotive industry—and I'm taking steps to ensure EVs are produced right here in Michigan. It's time for @POTUS ' #AmerianJobsPlan to invest in EV production to create good-paying, Michigan jobs." [Tweet, 5/18/21]
Illinois Congressman Sean Casten: ."@POTUS is exactly right – electric vehicles are the future of auto manufacturing and are key to a clean energy economy." [Tweet, 5/18/21]
Local Elected Officials
Governor Gretchen Whitmer: "The American Jobs Plan's proposed $174 billion investment will revolutionize electric vehicle manufacturing and help Michigan compete globally while creating tens of thousands of good-paying, union jobs and protecting our environment." [Tweet, 5/18/21]
Lieutenant Governor Garlin Gilchrist II: "Earlier today, @GovWhitmer and I were honored to join @POTUS in Dearborn. It's clear that now is the best time to invest in EVs, infrastructure, and R&D – leading to strong, durable growth for decades to come and there is no better place than right here in Michigan. #MotorCity" [Tweet, 5/18/21]
Connecticut Governor Ned Lamont: "Connecticut is committed to putting more than 125,000 electric vehicles on the road by 2025. President Biden's #AmericanJobsPlan will accelerate our progress by making them more affordable and accessible for all families, while ensuring these vehicles are manufactured in the US." [Tweet, 5/18/21]
Michigan State Representative Mari Manoogian: "This visit shows that @POTUS is committed to building back better, which includes investing in the research and development of top-of-the-line technology, including EVs, batteries, and charging infrastructure, and creating good paying jobs in the advanced manufacturing sector. 2/"[Tweet, 5/18/21]
Michigan State Senator Mallory McMorrow: "President Biden's American Jobs Plan is the most ambitious climate and jobs creation proposal in several decades, one that includes a most needed expansion of the electric vehicles market in the United States. His vision will allow us to continue to be leaders in the global economy –not followers – and will make a significant difference for thousands of working families in the state that have suffered with a struggling economy even before COVID hit. Michigan has a rich history of innovation and our workers have the knowhow to make Biden's vision a reality. We are ready to build the next generation of electric vehicles here in Michigan, transforming our state's economy, ensuring a more prosperous future, and safeguarding clean air and water for generations to come." [Article, 5/18/21]
Michigan State Senator Stephanie Chang: "I'm grateful that President Biden has made it a priority to invest in the American people," Sen. Stephanie Chang (D-Detroit) said. "His American Jobs Plan will advance racial equity and deliver overdue investments to disadvantaged communities, including Detroit, and right years of wrongs that have perpetuated economic, racial, and environmental injustices. No one should have to worry about lead pipes or clean drinking water, especially during a global pandemic and especially in the Great Lakes State. Underserved Michiganders living in environmental justice communities and other areas affected by pollution certainly welcome all federal dollars that will help safeguard them and their family members' health." [Article, 5/18/21]
The Climate Mayors: "Today in Dearborn, MI, @POTUS called for significant investments in EVs and EV infrastructure. @ClimateMayors applauds the President's ambitious goals to drive innovation, job creation, and emissions reductions. https://t.co/WiAmI0lTfi" [Tweet, 5/18/21]
The Climate Mayors: "With over 250 cities, counties, and other public entities participating in the Climate Mayors EV Purchasing Collaborative, Mayors understand the value and urgency of this transition. Electrification will drive us towards our climate goals and fuel the economy of the future." [Tweet, 5/18/21]
Advocacy Organizations
Joint Letter from Center for American Progress, BlueGreen Alliance, Sierra Club, Environmental Defense Fund, Natural Resources Defense Council, Union of Concerned Scientists, League of Conservation Voters: "We applaud the ambitious vision of your American Jobs Plan, which is pro-worker, pro-domestic manufacturing, and pro-climate ... We stand ready to support a comprehensive investment program that will not only rebuild America's physical infrastructure but also rebuild America's manufacturing capacity, an essential element of the vision you laid out in the American Jobs Plan. Now is the time to invest in the American people -- to ensure the dignity of work, high quality jobs, and vibrant communities -- in winning the urgent global race to manufacture electric vehicles and the supply chain here in the U.S. now and for generations to come as a critical step in reducing emissions. We thank you for your continued leadership and look forward to working with you on the full suite of investments and standards needed to build the clean transportation system of the future." [Joint Letter, 5/17/21]
Zoe Lipman, Director of Manufacturing and Advanced Transportation, BlueGreen Alliance: "The U.S. auto industry is at a crossroads and the decisions and investments we make now will determine whether we build the next generation of vehicles and technology here or if we cede those jobs to China and other global competitors. The American Jobs Plan proposed by President Biden makes rebuilding manufacturing, reshoring the supply chain, and building good union jobs here in America a priority. President Biden's trip today underscores the importance of getting this right. Congress needs to act on the American Jobs Plan immediately and make these significant investments in American manufacturing a reality. This effort has to include policies and standards to ensure the jobs we create and sustain building EVs here in America are good, union jobs." [Statement, 5/18/21]
Joel Levin, Executive Director, Plug In America: "As President Biden said today, 'The future of the auto industry is electric.' Automakers, like Ford, need to continue expanding their electric vehicle portfolios to reduce the devastating effects of climate change and give consumers the clean cars, SUVs, and trucks they are looking for. The Ford F-150, produced at the River Rouge Factory, is the best-selling vehicle in America. We hope they rapidly scale up production of the electric F-150 so that it can be available in stock at every Ford dealer across all 50 states." [Statement, 5/18/21]
Gene Karpinski, President, League of Conservation Voters (LCV): "President Biden has been a long-time champion for clean energy jobs, and we must seize this opportunity for rapid job growth in the domestic electric vehicle manufacturing sector. With his visit today, he will highlight how pollution-free vehicles create good-paying union jobs at every step of the manufacturing process. We are at a turning point – the U.S. has a historic opportunity to invest in EV manufacturing on a massive scale by passing the American Jobs Plan. We urge Congress to build on existing programs to provide incentives for pollution-free vehicles so we can fight climate change, create high-quality jobs, and advance racial justice." [Statement, 5/18/21]
Katherine Garcia, Acting Director, Sierra Club's Clean Transportation for All campaign and Gail Philbin, Director of Sierra Club's Michigan Chapter: "Once again, President Biden is elevating what the transition to electric vehicles must look like for our nation, a transition that prioritizes manufacturing here at home and benefits union auto workers. The Biden administration has made it clear that cleaning up transportation, America's most polluting sector, is a top priority in its infrastructure plan. We need significant federal incentives and bold vehicle standards to build a globally competitive auto industry that delivers the electric vehicles urgently needed to meet our health and climate imperatives. The Ford Rouge EV Center - where union workers will build an electric pick-up truck - is a tangible example of building back better in action. Ford should also move at lightning speed to seize the EV market for U.S. manufacturing and set a target to shift their production to all electric vehicles." [Press Release, 5/18/21]
Peter Zalzal, Associate Vice President for Clean Air Strategies, Environmental Defense Fund: "President Biden's remarks today in Dearborn, Michigan cast a welcome spotlight on clean vehicles and the enormous opportunity they create. Ford's launch of its new electric F-150 Lightning pickup truck tomorrow will make that spotlight even brighter. Ford promises the F-150 Lightning will be the most powerful in the series, plus it can power a home during an electrical outage and it will not emit any tailpipe pollution. That should shatter any remaining misconceptions about the benefits electric vehicles will deliver...We also need investments like those President Biden has proposed in the American Jobs Plan, ensuring that we grow domestic manufacturing and that building these new electric cars, trucks and buses provides good-paying jobs for Americans. The benefits of a clean transportation sector must be shared equitably by all Americans. We agree with President Biden's statement that 'I think jobs when I think climate change.' Pivoting America to clean transportation, and taking other bold steps to address climate change, are our best hope to strengthen our economy and rebuild better than ever after all our recent challenges. It is important that we take bold and decisive action to establish pollution standards for cars, trucks and buses, and move forward with societal investments in domestic manufacturing and jobs that will continue leading us toward a healthier, more equitable, and more prosperous future where we have eliminated harmful transportation pollution." [Statement, 5/18/21]
Joe Britton, Executive Director, Zero Emission Transportation Association (ZETA): "The choices we face are stark: we either cultivate an advanced vehicle sector or cede this economic opportunity to others. China holds a disproportionate share of the EV supply chain, particularly when it comes to battery processing, materials, and recycling. They have funded research and development that has allowed their economy to capture the market. We are pleased to see the American Jobs Plan call for reshoring and investing in our supply chains, from upstream production of critical raw materials to increasing capital access to downstream manufacturers." [Statement, 5/18/21]
Kevin S. Curtis, Executive Director, NRDC Action Fund and Luke Tonachel, Senior Advisor, NRDC Action Fund: "President Biden's visit to Ford's new Rouge Electric Vehicle Center in Dearborn, Michigan, this week marks a bright future for U.S. automotive jobs and clean air. The United States will become a global leader in building and selling pollution-free electric cars and trucks if the industry and federal government come together to make it happen. We can do this. The formula for success is establishing strong vehicle standards and passing the American Jobs Plan with robust incentives for domestic electric vehicle (EV) manufacturing, consumer purchases, and charging infrastructure ... Manufacturing incentives under the American Jobs Plan help establish a domestic EV supply chain to build EVs for both American and global car buyers. The plan contains bold manufacturing federal tax credits, loans, and grants for retooling and expanding American plants to make electric vehicles and their components and for training and employing workers. These investments will create the high-quality jobs of the future ... Importantly, if done right, those economic benefits mean more high-quality U.S. jobs. Now is the time to go big—to be global leaders in clean, electric vehicles. And the American Jobs Plan can help us meet this moment." [Blog Post, 5/7/21]
Robbie Diamond, President and CEO, SAFE: "China is currently the runaway leader in the EV and battery industries, and President Biden is correct to define this as an issue of American economic prosperity and job security. It is encouraging to see the White House view this transition in these terms, and to compete by maximizing our advantages in EV innovation through scaling up domestic EV manufacturing. If we are to compete with China for EV leadership, we must maximize our advantages in innovation by stimulating investment across the entire supply chain, from mineral extraction and processing to battery manufacturing and EV production." [Statement, 5/18/21]
Jeanette Shaw, Senior Director of Public Affairs and Policy, Forth: "Forth applauds its member, Ford, on the electric F-150 pickup truck, which provides a clean, efficient, powerful electric alternative for individuals such as tradespeople and essential workers who need a heavy-duty truck for their daily work lives. Ford's release of the F-150 Lightning represents a significant notch on its innovation belt and signals the critical transformation that is underway for the U.S. vehicle market and how we get around. We are all impacted by our current carbon-intensive transportation systems, most negatively and inequitably so in communities of color, and so we all stand to benefit from this shift. Ford is an iconic American brand with a rich history, and this announcement demonstrates their continued leadership in the industry and their investment in green jobs and a better future. Continued prioritization of electrification efforts in our country will build a healthier environment, economy, and transportation system." [Statement, 5/18/21]
Matt Casale, Environment campaigns director, U.S. PIRG: "The fuel we use to power our vehicles is wreaking havoc on our health. But in the 21st century, it doesn't have to be this way. If we swap the internal combustion engine with all-electric, zero emission vehicles, we can make the dirty tailpipe a thing of the past, and put ourselves on the road to a cleaner and healthier future for all Americans. President Biden's trip to Ford's electric vehicle plant in Michigan today isn't just symbolic. The 500,000 charging stations and electric vehicle incentives, as well as his proposed investment in electric school and transit buses, can help usher in a new era in transportation technology. We need Congress to act to ensure that cleaner electric vehicles become the norm and the internal combustion engine goes the way of other obsolete 20th century technology, like rotary phones and cassette tapes." [Statement, 5/18/21]
Local Leaders
Theresa Landrum, Michigan Environmental Justice Coalition: "Biden needs to fulfill the commitments he made to environmental justice communities in Michigan to create green jobs and end the dangerous pollution that is killing the hardest hit people, especially Black, Brown and Indigenous communities like mine, that have these legacy polluters in our front yards. We need President Biden to provide direct investment into our communities. The American Jobs Plan will create millions of good jobs that can help clean up our neighborhoods, safeguarding clean air and fresh water for future generations. Biden's agenda supports clean energy now, and makes important steps towards ensuring affordable water and utilities and shutting down antiquated pipelines that threaten fresh water for millions of people internationally. He needs his team to push the Justice40 Initiative for the sake of all people. Environmental justice impacts every aspect of our lives globally." [Article, 5/18/21]
Jane McCurry, Executive Director, Clean Fuels Michigan: "President Biden continues to move America toward a clean energy future through his commitment to investing in electric vehicles as a part of his jobs plan. These investments in electric vehicles will spark more clean car manufacturing and align with the shifting transportation market. Zero emission vehicles will also help ensure the energy transition is an equitable one, and that communities most exposed to tailpipe pollution see the biggest health benefits."
Elizabeth Hauptman, Michigan Field Organizer, Moms Clean Air Force: "My son has asthma, and his disease is made worse by air pollution. Because of him, I am celebrating the fact that the nation's best-selling pick-up truck is going electric. This is going to help my son breathe easier. This new truck is also an important milestone in the fight against climate change. Our transportation sector is the nation's largest source of carbon pollution. We need to transition all our cars, trucks, and buses to electric vehicles with zero tailpipe pollution, and we need to clean up the electricity that powers those vehicles. We've got a long way to go, but today's visit from President Biden is a signal affirming his commitment to clean up the transportation sector, as laid out in his American Jobs Plan. Michigan has some of the worst rates of asthma in the country, a respiratory condition that dirty vehicle pollution both causes and aggravates. For my son, whose lungs are still developing, cleaner vehicles will help him breathe better and have fewer days when he needs his nebulizer. Ford's new truck is built right here in Michigan. It just goes to show that investing in clean energy is good for our economy and good for the climate. Electric cars and trucks will create jobs, cut air pollution, and help reduce climate pollution. To make sure that all automakers shift to making more clean vehicles like Ford's new F-150, our nation needs strong national standards that cut pollution, save us money at the pump, and spur a clean energy economy. There is no time to spare in transitioning to cleaner vehicles, and President Biden's American Jobs Plan is a great place to start. The vehicle charging investments and electric vehicle purchase incentives in the American Jobs Plan will help make it possible for more Americans to drive electric cars and trucks. Families like mine in Michigan and across the country want to drive this change." [Press Release, 5/18/21]
Dr. Abdul El-Sayed, Former Health Director in the City of Detroit: "From the poisoning of our air in communities like Detroit's 48217 zip code to the poisoning of our water, Michigan families deserve an agenda that finally tackles climate change. The American Jobs Plan is a step in the right direction, putting Michiganders to work to build the clean energy future we all deserve." [Article, 5/18/21]
Joseph R. Biden, WHAT THEY ARE SAYING: President Biden's Showcases a Future Made in America During Michigan Visit Online by Gerhard Peters and John T. Woolley, The American Presidency Project https://www.presidency.ucsb.edu/node/350004