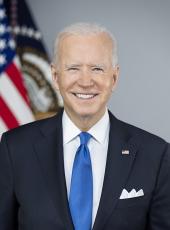 WHAT THEY ARE SAYING: President Biden's Remarks on the Ceasefire in the Middle East
Yesterday, President Biden delivered remarks on the ceasefire between Israel, Hamas, and other groups in Gaza. Speaking from the White House Cross Hall, he said, "I believe the Palestinians and Israelis equally deserve to live safely and securely and to enjoy equal measures of freedom, prosperity, and democracy. My administration will continue our quiet and relentless diplomacy toward that end."
The President thanked the Egyptian government for its critical involvement in brokering the ceasefire and assured Prime Minister Netanyahu of his full support to replenish Israel's Iron Dome system to ensure its defenses and security in the future. He expressed that the administration will continue to support peace and security for Israelis and Palestinians.
See below for what they are saying:
Members of Congress
Speaker of the House Nancy Pelosi: "The announced ceasefire between Israel and Hamas is welcome news, and we thank the Biden Administration for its extensive engagement and diplomacy. "America remains committed to supporting the security of Israel, our friend and ally. We believe it is critical for the security of Israel for Israelis and Palestinians to both be able to live in peace. "Now, with this essential ceasefire, it is incumbent upon leaders in the region to respect Israeli and Palestinian lives and strive for a lasting peace." [Press Statement, 5/20/21]
Majority Leader Steny Hoyer: "The ceasefire announced today is welcome news, especially for the civilians on both sides of the border who have suffered from violence, uncertainty, and fear resulting from the barrage of rockets fired into Israel by Hamas. "I appreciate all the work that President Biden and his advisors have done in recent days, quietly and behind the scenes, to bring about this ceasefire. I pray that Hamas and other groups will honor it. "I support the President's commitment to replenishing the Iron Dome system - and I again affirm Israel's right to defend itself against terrorist attacks. I also support providing humanitarian assistance through the Palestinian Authority to innocent civilians who have been injured or lost their homes in the fighting. [Full Statement, 5/20/21]
Congresswoman Suzanne Bonamici: I'm encouraged that Israel and Hamas have agreed to a ceasefire. Several colleagues and I urged @POTUS to facilitate such an agreement, and I appreciate President Biden's continued leadership. I'll continue to support the US role as a trusted partner internationally & strong ally to Israel. Now we must work together to maintain the pause in hostilities, foster lasting peace, & ultimately achieve a two-state solution that brings equal rights & security for all. [Tweet 5/20/21]
Congressman Joaquin Castro: A ceasefire is welcome news. More than 200 civilians were killed, including children, thousands are displaced in Gaza, and millions of Israelis and Palestinians are trapped in conflict. Now we need to see meaningful movement toward a two-state solution. [Tweet, 5/20/21]
Congressman Ted Deutch: Thank you @SecBlinken for your ongoing engagement with our ally Israel and your efforts to save Israeli and Palestinian lives. [Tweet, 5/20/21]
Congresswoman Sara Jacobs: "I am heartened by news of the ceasefire and an end to further losses of civilian life. Now, the United States must use all of our diplomatic levers to address the underlying issues and push for peace, security, autonomy, and dignity for both Israeli and Palestinian people." [Tweet 5/20/21]
Congresswoman Annie Kluster: "I'm pleased to see Israel and Hamas come to a cease-fire agreement after days of violence. The United States must remain committed to working with international partners to forge a long term pathway towards peace and stability in the region." [Tweet 5/20/21]
Congressman Jim Langevin: "Thank you, @POTUS, for helping to bring about a ceasefire between Israel and Hamas. Now more than ever, we must redouble our efforts to bring peace to the region and deliver a lasting two state solution for Israelis and Palestinians." [Tweet 5/20/21]
Congressman Andy Levin: "As I fly home to Michigan, I understand a ceasefire is to begin in two hours. Thanks to all who pushed to end the hostilities. Let's hope this holds and we can work with a whole new urgency to tackle the underlying conditions that allow violence to break out again and again." [Tweet 5/20/21]
Congressman Alan Lowenthal: A ceasefire agreement between Israel and Hamas is critical, and I thank the Biden Administration for their work, which will save lives. Our work is far from over—tensions remain high and humanitarian relief is urgently needed. A return to the status quo is unacceptable. [Tweet, 5/20/21]
Congressman Sean Patrick Maloney: "I think it's been extremely well handled by the Biden administration and it really shows you what it means to have experienced, competent people at the helm guiding our foreign policy. Look, this is a complicated situation and thank God innocent people, noncombatants, will no longer be in harm's way or lose their lives because of this terrible conflict. The administration gets high marks for steadiness and resolve and for getting the result. I think this is a big win for the White House." [MSNBC Interview, 5/20/21]
Congressman Chris Pappas: This ceasefire is welcome news. I urge the continuation of measured, thoughtful diplomacy to prevent any further loss of life and move towards peace and stability. [Tweet, 5/20/21]
Congressman Bill Pascrell, Jr.: I am deeply thankful there is a ceasefire. We should all now be mourning the loss of life and praying the halt holds. Thank you to @POTUS and his team for helping facilitate this. [Tweet, 5/20/21]
Congressman Ed Perlmutter: "This is a positive development. We need a ceasefire to end the violence and ensure no more innocent civilians and children are injured or killed." [Tweet 5/20/21]
Congresswoman Katie Porter: This is welcome news. I was proud to join over 130 House colleagues this week to urge President Biden to help negotiate a ceasefire. Now, we must do the work to maintain this truce, get humanitarian aid to those in need, and build toward lasting peace. [Tweet, 5/20/21]
Congressman David Price: I welcome the ceasefire facilitated by @POTUS & our international partners. Further, I strongly support the U.S. commitment to ensure multilateral humanitarian assistance quickly reaches those devastated by the recent violence. [Tweet, 5/20/21]
Congressman Tom Suozzi: "This ceasefire is both great news and an opportunity to begin work on a long-term resolution. This violence is unsustainable and counter-productive – the US should continue engaging with Israeli and Palestinian leaders in pursuit of an enduring peace."[Tweet 5/20/21]
Congressman Albio Sires: "I'm pleased to see that Israelis and Palestinians have agreed to a cease-fire. The past 11 days have seen the tragic loss of life and destruction of property, and with this cease-fire there is a new opportunity for diplomacy." [Tweet 5/20/21]
Congressman Rob Wittman: "The ceasefire between Israel and Hamas is fantastic news. I hope you'll join in me praying for a lasting peace in the region." [Tweet 5/20/21]
Senators
Senator Chris Murphy: "Washington is taking a little while to adjust to diplomacy being conducted in private conversations instead of by Twitter." [Tweet 5/20/21]
Senator Jeanne Shaheen: "Very relieved to see a ceasefire agreement between Israel and Hamas. Too much life has been lost & too many communities devastated. It is paramount that both parties engage meaningfully to bring this conflict to an end." [Tweet 5/20/21]
Senator Mark Warner: Though the conflict in Israel and Palestine is far from over, this cease-fire is a welcome first step. [Tweet, 5/20/21]
Advocacy Groups
AIPAC: Thank you @JoeBiden for standing with Israel as it confronted unprecedented terror attacks. Your leadership and commitment to Israel's security helped ensure Israel could defend itself and degrade Hamas's capabilities. Your working closely and personally with Israel saved lives. We appreciate the powerful pro-Israel statements made by the overwhelming majority of Democrats & Republicans in Congress reaffirming Israel's right to defend itself from Iranian-backed terrorism. You sent a clear message: America stands with Israel and against terrorism." [Tweet, 5/20/21]
Democratic Majority for Israel: Thank you, @POTUS @JoeBiden, for your extraordinary leadership in helping to broker a ceasefire agreement and for reiterating your unwavering commitment to Israel's security and to replenishing the life-saving Iron Dome defense system. [Tweet, 5/20/21] [Full Press Statement, 5/20/21]
Halie Soifer, Jewish Democratic Council of America: Grateful to @POTUS for helping to reach a ceasefire b/n Israel & Hamas. "Palestinians and Israelis equally deserve to live safely & securely, and to enjoy equal measures of freedom, prosperity & democracy. My admin will continue our quiet & relentless diplomacy toward that end." [Tweet, 5/20/21]
Israel Policy Forum: THREAD (1/3): We welcome the mutually-agreed ceasefire, and thank President Biden, his administration, and their international partners for their leadership in securing this critical agreement. (2/3): We hope that this ceasefire not only brings quiet to both sides but serves as a reminder that only a political solution will prevent more such rounds. (3/3): Moving forward, we call on the U.S. to deeply engage in promoting freedom, security, and prosperity for Israelis and Palestinians, and continue to support Israeli security, Palestinian dignity, and a viable two-state outcome. [Tweet Thread, 5/20/21]
Current and Former Officials
Amb. Martyn Indyk: Israel and Hamas approve ceasefire in Gaza! Way to go @POTUS Joe Biden. Diplomacy is back! The "arm around Israel" technique worked. axios.com/israel-securit… [Tweet, 5/20/21]
Secretary-General António Guterres: I welcome the ceasefire between Gaza & Israel, after days of deadly hostilities. All sides must observe this ceasefire. Israeli & Palestinian leaders have a responsibility beyond the restoration of calm to start a serious dialogue to address the root causes of the conflict. [Tweet, 5/20/21]
Commentators
David Rothkopf, The Daily Beast: Whatever critics on the left or right might assert, with a ceasefire being implemented, it's fair to say Biden has navigated US involvement in the current round of Israel-Palestine fighting deftly-avoiding many of the errors of his predecessors. My latest. [Tweet, 2/20/21]
Palmer Report: He won't get credit for it, but President Biden has managed to thread a seemingly impossible needle in bringing about a ceasefire in the Middle East. It's a reminder that diplomacy doesn't consist of foot stomping or mean tweets, but using the leverage you have behind the scenes. [Tweet, 5/20/21]
Yaakov Katz, Jerusalem Post: By agreeing to ceasefire, @netanyahu made a strategic decision to honor & show respect to @POTUS who asked for a truce. Netanyahu could have fought on & risked a rift but he knows that Biden stood with Israel this time & that Israel will need him in it's corner again soon. [Tweet, 5/20/21]
Joseph R. Biden, WHAT THEY ARE SAYING: President Biden's Remarks on the Ceasefire in the Middle East Online by Gerhard Peters and John T. Woolley, The American Presidency Project https://www.presidency.ucsb.edu/node/350048