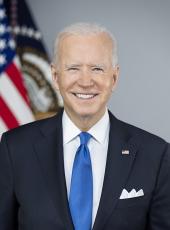 WHAT THEY ARE SAYING: President Biden's New Climate Target Aimed at Creating Good-Paying Union Jobs and Securing U.S. Leadership on Clean Energy Technologies
Yesterday, President Biden opened the Leaders Summit on Climate with the announcement that he has set a 2030 greenhouse gas pollution reduction target aimed at creating good-paying, union jobs and securing U.S. leadership on clean energy technologies. He emphasized that meeting the urgency of the climate crisis requires rallying leaders from around the world to join in the effort and work in unprecedented global cooperation.
The President's announcement earned widespread support from leaders, organizations, and elected officials across the country. The ambitious and achievable target was welcomed by labor unions like the AFL-CIO, international unions that include the IBEW, SEIU, the International Brotherhood of Teamsters, and SMART, environmental organizations like the League of Conservation Voters and Sierra Club, Fortune 500 companies like Coca-Cola and Paypal, and American automakers like Ford and GM – sending a resounding signal to the workers and families at home, and to countries around the world, that America is back and ready to tackle the climate crisis.
See below for what they are saying:
America is All In Coalition: "Today, the United States has taken an important step forward by setting a national climate target, which will drive economic growth and re-establish the federal government's global leadership and credibility in addressing the climate crisis. Meeting – and ultimately exceeding – this goal will create jobs, strengthen our economy, reduce climate-related threats, and support a healthier, more prosperous, and more just future for our country. We, the Co-Chairs and Advisory Committee of America Is All In, a coalition of thousands of institutions around the country, commend the Biden-Harris administration for establishing the NDC emission reduction target at 50-52% below 2005 levels by 2030." [Statement, 4/23/21]
Chairs: Michael R. Bloomberg, Bloomberg LP and Bloomberg Philanthropies; Lloyd H. Dean, CEO CommonSpirit Health, Charlotte Mayor Vi Lyles, Washington Governor Jay Insleee.
Advisory Committee: Bishop Marc Andrus, Episcopal Diocese of California; Patricia Hamilton, Science Museum of Minnesota; American University President Sylvia Matthews Burwell; Boise Mayor Lauren McLean; Portland Community College President Mark Mitsui; National Congress of American Indians President Fawn Sharp; Bonnie Styles, Ph.D., Association of Science Museum Directors; Rachelle R. Wenger, CommonSpirit Health; Clif, Mars, McDonalds, Microsoft, New Belgium Brewing; VF Corporation.
Labor Unions
Richard Trumka, President, AFL-CIO : "I've known @POTUS Joe Biden for over 40 years, and can tell you firsthand he is a man of his word. He said he would return the United States to global climate leadership. Today he made good on that promise, and true to form he put workers and communities at the center of his plan, calling for decent work and well-paid employment. Make no mistake, President Biden's goals are aggressive, but they are meant to meet the moment. Workers and communities must benefit or progress will be impossible. The president spoke from his heart about the workers affected, and the opportunities we have to create good union jobs. I am once again calling on Congress to do its part." [Tweet thread, 4/23/21]
Lonnie Stephenson, President, International Brotherhood of Electrical Workers (IBEW): "President Biden's American Jobs Plan is both a historic investment into modernizing our roads, bridges, ports, airports, railroads, and electrical grid and a jobs plan, creating millions of good-paying union jobs building a 21st century modern infrastructure and a clean-energy future for our nation. It will also spur a renaissance in made-in-America manufacturing, bringing new jobs back to American communities...President Biden's announcement of a new emissions goal for 2030 is consistent with campaign commitments and his decision to rejoin the Paris Agreement. It is also consistent with his focus on creating millions of good-paying union jobs building a 21st century modern infrastructure and a clean-energy future for our nation...The men and women of the International Brotherhood of Electrical Workers are ready to get to work building America and its economy back better, expanding carbon-pollution free power through carbon capture, renewables, storage, and transmission; leveraging existing resources like nuclear; and electrifying other sectors like transportation." [Statement, 4/22/21]
Jim Hoffa, General President, International Brotherhood of Teamsters: "The economy never remains stagnant. The U.S., and indeed the world, are facing new challenges that must be addressed and governments need to empower workers so they can handle these tasks. Today's plan unveiled by the White House does so. Hardworking Americans can receive a fair wage and benefits for their work to care for their loved ones while moving the nation forward at the same time. The history of good-paying jobs within some of these nascent industries has not been stellar. But by coupling their growth to President Biden's insistence that these be union jobs, the Teamsters are confident that working Americans can be part of the solution that will ensure a better country for generations to come." [Statement, 4/22/21]
Service Employees International Union (SEIU): "THIS IS WHAT PROGRESS LOOKS LIKE: Near zero-emissions by 2050 and more good union jobs. #climateaction #unionsforall #earthday #climatechange" [Tweet, 4/22/21]
Build Your Dreams/SMART Union Workforce: "BYD (Build Your Dreams) and its SMART union workforce applauds Vice President Kamala Harris and the Biden Administration and their support for converting US transit systems buses and school buses to battery electric zero emission systems. As a global corporation, BYD, with its US headquarters in Los Angeles and manufacturing facility in Lancaster, California, represents 40 percent of the nation's manufacturing capacity for battery electric buses and is committed to President Joe Biden's goal to 'Build Back Better.'" [Statement, 4/22/21]
Environmental Organizations and Leaders
Collin O'Mara, President and CEO, National Wildlife Federation: "President Biden's commitment to reduce emissions by at least 50% by 2030 will create millions of good jobs at home, while sending a clear signal abroad that the U.S. is back. We look forward to working with the Administration and Congress to achieve this ambitious, but eminently doable, goal through investments in both technological and natural climate solutions, including restoring forests, wetlands, and grasslands, boosting clean energy deployment, advancing environmental justice, and launching the Civilian Climate Corps." [Statement, 4/22/21]
Gene Karpinski, President, League of Conservation Voters: "This is exactly the kind of strong international commitment we need to drive domestic ambition to solve the climate crisis, center environmental justice communities, and transition to a 100% clean energy economy once and for all. The Biden-Harris administration is off to the strongest start we've ever seen when it comes to action on climate and environmental justice and today's announcement is another important piece of the larger picture. There is a clear path ahead — we must rapidly invest in just and equitable climate actions and infrastructure that creates millions of high-paying union jobs accessible to the communities, especially communities of color, who have been hit hardest by the nation's interconnected crises. LCV is all in for international climate action and we look forward to working with this administration and Congress to move quickly as we work to pass recovery legislation that implements climate solutions, maintains and creates jobs here in the U.S., and propels America forward without leaving any communities behind." [Statement, 4/22/21]
Nathaniel Keohane, Senior Vice President for Climate, Environmental Defense Fund: "By announcing a bold target of cutting emissions 50-52% below 2005 levels by the end of the decade, President Biden has met the moment and the urgency that the climate crisis demands. The message from the White House is clear: The United States is ready to go all-in to beat the climate crisis. This target aligns with what the science says is necessary to put the world on the path to a safer climate, and vaults the U.S. into the top tier of world leaders on climate ambition. And it's backed up by numerous analyses demonstrating that it can be met through multiple pathways using existing technologies..."We look forward to working with the administration, Congress, state and local leaders, businesses and advocates to help turn this bold commitment into strong policy action that delivers." [Statement, 4/22/21]
Mitchell Bernard, President, NRDC (Natural Resources Defense Council): "This weds climate action to equitable recovery at home and U.S. leadership abroad. It aligns national policy with the minimum that science demands, the economy needs, and the global community is counting on the country to provide. Global leadership begins at home, and Biden is leading by example. This pledge rises to the urgency of the task. It's ambitious yet achievable. We can do this—and do it in a way that creates millions of good-paying jobs, makes our communities healthier and our society more equitable." [Statement, 4/22/21]
Cherelle Blazer, International Climate and Policy Campaign Director, Sierra Club: "The Sierra Club applauds President Biden, National Climate Advisor Gina McCarthy, and US Special Presidential Envoy for Climate John Kerry for meeting the urgency of the moment and announcing an ambitious commitment to the Paris Agreement that will spur real change and once again position the US as a global climate leader. Now is the time to take bold action. We only have until 2030 before our climate budget is spent and federally, the US wasted the last four years under Trump. We now have a historic opportunity to undertake transformational change at the scale needed while fostering cleaner air and water, higher wages, greater equity, healthier communities, and a more stable climate. It is because of our collective work with allies across the movement that we still have a fighting chance to avert the worst effects of the climate crisis. The Sierra Club is prepared to continue to drive the progress that brought us to this moment and help to tackle the climate crisis and build back a stronger, clean energy economy for all." [Statement, 4/22/21]
Manish Bapna, Interim President and CEO, World Resources Institute (WRI): "President Biden has come through with a bold emissions reduction target that should make the world sit up and take note. This target will serve as the North Star for President Biden's domestic agenda. It will create a more equitable and prosperous society. At a time when the country is looking to bounce back from the pandemic, this goal will help unleash millions of good jobs, boost business and drive innovation. The administration's commitment to cut emissions 50-52% below 2005 levels by 2030 is both ambitious and attainable. A body of research, including from WRI, shows the United States can achieve this target while building a stronger economy...The new U.S. emissions target raises the bar for other countries as we head toward the UN climate summit in Glasgow. The message to other major emitters is loud and clear: It's your move next." [Statement, 4/22/21]
Former Vice President Al Gore, Climate Reality Project: "Today, President Biden showed that his administration is up to the task of tackling the climate crisis by announcing his commitment to reduce the United States' greenhouse gas emissions 50-52% by 2030. This is a groundbreaking step for our country – the world's second largest emitter of global warming pollution – and is a strong signal to leaders around the world that as a global community, we have no more time to waste. This ambitious goal is one that we must reach. I know that with the Biden Administration's whole-of-government approach, paired with investments in green jobs and infrastructure under consideration in Congress, we can." [Statement, 4/22/21]
Mindy Lubber, CEO, Ceres: "The Biden administration's bold, ambitious national emissions reduction target will help catalyze a net-zero emissions future, which is critical to our efforts to build a strong, more equitable, and more inclusive U.S. economy. Communities across the country continue to feel the impacts of the climate crisis, which is growing worse by the day. From recent extreme weather to deadly wildfires and record-breaking hurricanes, the human and economic losses this past year alone are profound—and they disproportionately hit marginalized and low-income communities. With a strong NDC, and a more determined private sector than ever before, we can tackle this crisis head on to better protect our health, communities, and economy while creating good-paying jobs." [Statement, 4/22/21]
Evergreen Action: "The Biden administration's new NDC offers an important new US commitment to global climate action in this critical decade. Bold congressional action is required to ensure it does not fade into the history of unmet international climate promises #EarthDay" [Tweet, 4/22/21]
The Wilderness Society: "The Biden administration's Climate Summit started today with a bang: The president pledged to reduce the country's greenhouse gas emissions almost in half by 2030. The plan is ambitious but critical as the climate crisis gets progressively worse, with 2020 ranking as one of the hottest years on record. As we aim to reach this goal, a vital part of the strategy should be to implement nature-based solutions on public lands." [Blog Post, 4/22/21]
Jill Tauber, Vice President of Litigation for Climate & Energy, Earthjustice: "In this make-or-break moment for our planet, the Biden administration has taken swift action to restore our commitment to address the climate crisis and chart a course towards a pollution-free, 100% clean energy future for all. The target announced today is achievable, consistent with science, and in line with President Biden's climate goals. It is a powerful signal to the world that the U.S. is serious about meeting the goals of the Paris Agreement and advancing bold climate solutions quickly and equitably. Ahead of the UN climate change conference this fall, we look forward to working with the Biden administration and Congress to build momentum for just and equitable climate action and accelerate a transition to a zero emission, 100% clean energy economy where everyone benefits." [Statement, 4/22/21]
Dr. Rachel Cleetus, Policy Director and Lead Economist for the Climate and Energy Program at the Union of Concerned Scientists (UCS): "After years of U.S. federal inaction to address its role in the climate crisis, today the Biden administration has presented all of us with significant reason for hope. This necessary and achievable goal is an important signal that the U.S. is ready to be a responsible partner on climate action with the global community. Bold action could also help mobilize a coalition of high-ambition nations, giving us a fighting chance of keeping global climate goals within reach during this consequential decade." [Statement, 4/22/21]
Bill Gates: "@POTUS Biden and @ClimateEnvoy Kerry re-establish America's leading role on climate change. I look forward to joining leaders from around the world to talk about some of the most important challenges we need to overcome to avoid a climate disaster." [Tweet, 4/22/21]
Tom Steyer: "Happy to see @POTUS announce that America will commit to a 50-52% reduction in greenhouse gases from 2005 by 2030. Now comes the task of transforming our economy and society to meet these goals and ensure the US will reap the rewards of a clean energy future." [Tweet, 4/22/21]
Michael R.Bloomberg, Former Mayor of New York City and Founder, Bloomberg LP and Bloomberg Philanthropies: "The Biden administration's new climate goal — to more than halve emissions by 2030 — is an important step that shows it is serious about leading on the climate crisis. Cities, businesses, and other local organizations have been leading the fight and making important progress through groups like America Is All In. Now, they have the chance to go further and faster if the federal government backs them with real resources and support." [Statement, 4/22/21]
Business Leaders
U.S. Chamber of Commerce: "President Biden is setting out an ambitious goal with today's announcement. Achieving that goal while also supporting economic growth and job creation will require new technology and new policy that is durable and has the support of bipartisan members of congress, consumers, business, and other stakeholders. We will work with our members, the administration, and Congress to forge durable, bipartisan policy that puts us on a sustainable path to make significant and meaningful emission reductions. We welcome President Biden's focus on returning the U.S. to international leadership on climate change. U.S. businesses are leading the world in pursuit of climate change solutions, and we see great opportunities to develop and export technologies that will help address a truly global challenge." [Statement, 4/22/1]
Coca Cola: "Together with other business leaders, we're committed to doing our part in reducing carbon emissions. We're #AllInFor50 #EarthDay" [Twitter, 4/22/21]
PayPal: "We must all do our part in protecting the health of our planet. @PayPal is proud to join hundreds of companies supporting the ambitious U.S. 2030 climate goal. https://wemeanbusinesscoalition.org/blog/US-NDC/ #AllInfor50 #LeadersClimateSummit #EarthDay" [Tweet, 4/22/21]
Kathleen McLaughlin, Chief Sustainability Officer, Walmart: "Investing in renewable energy, energy efficiency and cleaner transport is crucial for the U.S. to #BuildBackBetter. @WalmartInc is #Allinfor50 as @POTUS commits to reducing U.S. emissions by at least 50% by 2030. #EarthDay #ClimateAction" [Tweet, 4/22/21]
Jim Farley, CEO, Ford Motor: "Also proud to commit to >50% emissions reduction by 2030, consistent with our pledge to be carbon neutral by 2050 and achieve science-based interim GHG reductions in the meantime. #AllInfor50. #EarthDay" [Tweet, 4/22/21]
General Motors: "Today, GM joined more than 300 businesses and investors signing an open letter to President Biden indicating support for the administration's commitment to climate action, and for setting a federal climate target to reduce emissions. The letter was organized and published by the We Mean Business coalition and Ceres. An excerpt from the letter states, "We need to address the climate crisis at the pace and scale it demands. Specifically, the U.S. must adopt an emissions reduction target that will place the country on a credible pathway to reach net-zero emissions by 2050." At GM, this is another step on our journey toward our goal of carbon neutrality in global products and operations by 2040 and our vision of a world with zero emissions." [Statement, 4/22/21]
Volvo Car USA: "Happy Earth Day - but just one day isn't enough. We need to move to a more sustainable future. We are part of the problem and therefore need to be a part of the solution. That's why we, at Volvo Cars are changing to all-electric. Starting today." [Tweet, 4/22/21]
AmpUp: "AmpUp supports President Biden's recently announced infrastructure plan, specifically with respect to the proposed $174 billion investment in the electric vehicle market, because we believe his plan shares these essential principles." [Letter to Transportation Secretary Buttigieg]
American Council on Renewable Energy (ACORE): "This is an exciting day for all of us who have eagerly awaited the United States' return to climate leadership on the global stage. The Nationally Determined Contribution submitted by the Biden administration today sends a clear message that the United States is ready to embrace the economic transformation necessary to tackle the climate crisis. A 50-52% reduction in greenhouse gas emissions by 2030 is an achievable, scientifically driven goal that will put us on a path toward a clean and sustainable economy. Meeting this ambitious target will require rapid transformation of the power sector and significant investment in a 21st century grid, which is why ACORE supports the clean energy proposals included in President Biden's American Jobs Plan. The renewable energy sector already employs hundreds of thousands of Americans and is poised to do its part in the transition to a carbon-free grid, a step that will create millions of additional good-paying jobs while saving money for consumers and preventing the worst impacts of climate change." [Statement, 4/22/21]
American Clean Power Association: "Today's announcement is an ambitious north star for where we need to go, and our industry is proof that we can get there in a way that grows our economy. The Biden NDC demonstrates that we are serious about climate change and committed to restore our international leadership to address it. But no target, no number, and no pledge can convey the enormous domestic opportunities that await us. Clean energy will pave the way for deep carbon emissions reductions across the economy, powered by the jobs of tomorrow here today." [Statement, 4/22/21]
Bob Keefe, Executive Director, E2 (Environmental Entrepreneurs): "This is the kind of leadership America and the world needs. By pledging to cut our emissions in half, President Biden is also sending a clear market signal to business, one that will result in the new clean economy investments and jobs we need to reach that goal. Climate action and clean energy will drive global economic growth for decades to come. By ensuring America is leading the world on combatting climate change, President Biden also is ensuring America's economy will lead the world as well." [Statement, 4/22/21]
Joshua Shields, Senior Vice President of Government Affairs and Communications, POET: Too often rural America is forgotten when it comes to climate change – both in terms of impacts and potential solutions. Millions have been adversely impacted by unprecedented weather patterns which have destroyed crops, damaged infrastructure, and left many farm families on the brink of bankruptcy. POET stands alongside the other businesses and investors who have signed onto this letter in urging the Administration to invest in a resilient, economically sound, climate-smart future for all Americans. As the world's largest producer of biofuel and other bioproducts we are ready with solutions that are available today as we deploy every tool possible to ensure any solution to the climate challenge is a solution for all." [Statement, 4/22/21]
Health Care Organizations
American Lung Association: "#ClimateChange is a health emergency. We applaud @POTUS for setting a strong target ahead of today's #ClimateSummit: cutting U.S. greenhouse gas emissions in half by 2030. #ActOnClimate" [Tweet, 4/22/21]
Physicians for Social Responsibility: "70% of registered voters support U.S. participation in the Paris Climate Agreement, according to @YaleClimateComm. Today, on #EarthDay, @POTUS' Leaders Summit on Climate will take action to achieve a cut in #greenhouse gasses." [Tweet, 4/23/21]
American Public Health Association: "Biden pledges to cut U.S. greenhouse gas emissions 50%-52% below 2005 levels by 2030: #climatechangeshealth" [Tweet, 4/23/21]
Health Care Without Harm: "Health Care Without Harm applauds the announcement today of a new United States' Nationally Determined Contribution (U.S. NDC) to the Paris Agreement to achieve a 50-52% reduction from 2005 levels in economy-wide net greenhouse gas pollution in 2030. This commitment puts us on the path to avoid the most catastrophic impacts of climate change and will help build international momentum for ambitious climate action leading up to November's U.N. climate negotiations (COP26) in Glasgow." [Statement, 4/22/21]
Governors
Maryland Governor Larry Hogan: "President Biden's climate plan is an important and necessary step that validates the comprehensive, ambitious, and balanced plan our administration issued in February. [Tweet, 4/22/21]
Washington Governor Jay Inslee: "@POTUS announced a bold new U.S. climate target today: To cut emissions by more than half by 2030. This is the ambition and leadership we need to stave off the worst impacts of climate change." [Tweet, 4/22/21]
Connecticut Governor Ned Lamont: "Connecticut has long been a leader on addressing climate change. We adopted a 2030 target for greenhouse gas emissions in 2018 and I set a goal of a zero carbon energy supply by 2040 in Executive Order 3. We know that investing in clean energy, like offshore wind, is a job creator in Connecticut and represents a huge opportunity for our port communities. We also know that reducing emissions in the transportation sector by enacting the Transportation and Climate Initiative means we will have cleaner air in our communities most burdened by pollution. I applaud President Biden's adoption of the 2030 target, and Connecticut will continue to implement strategies that make that target a reality." [Statement, 4/23/21]
North Carolina Governor Roy Cooper: "We're proud to be a leader in the fight for our environment. By taking bold action, we can transition to clean energy, fight climate change and boost our economy. [Tweet, 4/22/21]
California Governor Gavin Newsom: "I applaud President Biden's announcement today, building on the leadership of states and cities, that charts a course to net-zero emissions no later than 2050 and establishes a greenhouse gas emissions reduction target aimed at achieving an over 50 percent reduction from 2005 levels in economy-wide net greenhouse gas pollution by 2030. This new target puts the United States on a path to create and retain high-quality jobs, secure U.S. leadership on clean energy technologies and avert the worst impacts of climate change." [Statement, 4/23/21]
Nevada Governor Steve Sisolak: "The climate crisis affects every Nevadan, and we need to do everything we can to reduce the greenhouse gas emissions that are increasing the size of wildfires, putting our natural resources at risk, and intensifying drought events—just like the one hitting the West right now. We need to act now, we need to act quickly, and we need to do it together so we can leave our children with a brighter future. I applaud President Biden's ambitious, nationwide emissions reduction target of 50–52% by 2030 and his efforts to achieve net-zero emissions by 2050. Achieving this new national target will require aggressive, bold action – and collaboration – at all levels. I am proud that Nevada has already taken bold steps to adopt our own emissions reduction targets. Ambitious federal goals will help us achieve our objectives, and my administration is committed to ongoing climate action in Nevada. The climate crisis requires everyone to do more, and we are committed to realizing a more resilient, sustainable, and equitable future. Our health and our economy depend on it." [Statement, 4/23/21]
Pennsylvania Governor Tom Wolf: "As communities across the globe gather this Earth Day to participate in cleanup activities and raise awareness about the critical importance of protecting our planet, I'm grateful that the Biden Administration has made climate protection a top priority and that President Biden has pledged to reduce harmful greenhouse gas emissions. I share the president's grave concern for the health of our planet and protecting our precious natural resources, and that's why my administration has also prioritized efforts to combat climate change. The president recognizes that protecting our environment and investing in clean energy solutions not only ensures that our future is cleaner and better protected for future generations, but it's also a job creator. The clean energy economy is growing and we should be at the forefront. We can help the planet and help our economy at the same time, and the efforts he has outlines and which I have prioritized will make the United States a global leader in environmental protection and preservation. On this Earth Day, I stand with President Biden to continue to push for efforts at the community, state and national level to protect our environment and I look forward to working with the Biden Administration to achieve both his goals for our nation and our own goals here in Pennsylvania." [Statement, 4/23/21]
Colorado Governor Jared Polis: "We welcome President Biden's commitment for the United States to cut greenhouse gas emissions at least 50% by 2030. This target meets the moral imperative of acting boldly to confront the climate crisis and reduce pollution, and recognizes the unprecedented economic opportunity that comes with transitioning to a clean energy economy. Colorado adopted similar climate goals in 2019, and over the past two years we've advanced one of the boldest and most comprehensive climate agendas in the nation. I ran on achieving 100% renewable energy by 2040, and we've since secured utility commitments ensuring that over 99% of the state's electricity is on a path to reduce emissions by at least 80% by 2030. Through collaboration with cities, counties, the private sector, other states and the federal government, we can continue to reduce pollution, create good-paying jobs and stimulate lasting economic growth, advance equity and a just transition, and protect our health and well-being." [Statement, 4/23/21]
Vermont Governor Phil Scott: "This #EarthDay is about more than just appreciating VT's natural beauty. We also have a historic opportunity to protect it. That's why I've proposed $200 million from ARPA funds to make record investments for climate change mitigation initiatives and to reduce carbon emissions." [Tweet, 4/22/21]
Hawaii Governor David Ige: On this #EarthDay, Hawaii applauds the @POTUS Administration's ambitious new target of lowering carbon emissions by 2030. It was an honor to discuss Hawaii's commitment in achieving that target w/ @growacity, Peggy Shepard, and @KarenPierceUK this morning. Moderator @aekbarnes." [Tweet, 4/23/21]
Members of Congress
Speaker Nancy Pelosi: "...as Speaker, I salute President Biden's historic announcement today that America will cut our carbon pollution in half by 2030. This transformative action doubles the Obama Paris Agreement commitment, reducing emissions by twice as much in just five more years. House Democrats look forward to working with the President to achieve this goal with the American Jobs Plan. With the American Jobs Plan, the House is seizing the once-in-a-century opportunity to build a cleaner, stronger economy while creating millions of new jobs, spurring innovation in the industries of the future and ensuring America can outcompete every nation on the planet." [Statement, 4/22/21]
House Majority Leader Steny H. Hoyer (MD): "The Biden-Harris Administration's announcement this morning that the United States will aim to cut its greenhouse gas emissions in half by 2030 is exactly the kind of bold leadership we need to demonstrate if America is to lead the world out of the climate crisis. Not only will this goal and the President's American Jobs Plan make our planet greener and healthier, in the process they will help us grow our economy and create millions of good jobs that won't be outsourced. Pursuing this path makes sense in every way: creating high-paying jobs in clean-energy technology manufacturing will enable more of our people to Make It In America while protecting the health of our planet for generations to come. Passing the American Jobs Plan would unlock the full potential of our economic recovery and move us more quickly and successfully out of the current economic crisis caused by COVID-19. I applaud the President and his team for setting goals that are both ambitious and achievable, goals that tackle the climate crisis head-on and restore America's place as a leader in the global effort to address the climate crisis." [Statement, 4/22/21]
Kathy Castor, Chairwoman, Select Committee on the Climate Crisis: "We are ready to work with President Biden to unleash clean energy technologies, good-paying jobs, and American innovation as we make progress on his ambitious goal to reduce our emissions by half over the next decade," said Chair Castor. "Today's announcement is a historic call to action. It sends a strong message to the global leaders convened at the President's climate summit, signaling that the United States is ready to lead again as we collectively solve the climate crisis and secure environmental justice. President Biden understands that ramping up our ambition means greater pressure on China and other large economies to act now - and not wait until the next decade." [Statement, 4/22/21]
Frank Pallone, Jr. (D-NJ), Chairman, Energy and Commerce Committee: "Today President Biden has reclaimed our position as global leader and taken huge strides toward reversing the damage the past four years of science denial has done to our credibility and economy. I applaud the President's commitment to slashing U.S. climate pollution in at least half by 2030. This announcement is proof that he listens to the science, knows what this moment requires, and cares deeply about the long-term health and safety of our citizens. My climate bill, the CLEAN Future Act, incorporates this same goal, as well as our shared intention of achieving 100 percent carbon pollution-free electricity by 2035. I look forward to working with President Biden to translate these goals into reality." [Statement, 4/22/21]
Eddie Bernice Johnson (D-TX), Chairwoman, House Science, Space, and Technology Committee: "Today, President Biden took a significant step towards putting the United States back at the forefront of leading the global effort to fight the climate crisis. The goals set forth are ambitious, but our country has a history of rising to meet and surpass expectations when faced with significant national challenges. The United States has a cadre of top tier scientists and research institutions ready with innovative solutions to address the long-term impacts of the climate crisis. To ensure a better future for all, it's vital we build upon the Biden-Harris Administration's actions today and strengthen our coordinated efforts with allies across the world to put our climate change solutions to work. As Chairwoman of the Science, Space, and Technology Committee, I will continue to move forward in a bipartisan, bicameral way to support robust, sustained, and long-term investments to address the climate crisis and create actionable climate solutions." [Statement, 4/22/21]
Senators
Environment and Public Works Committee Chairman, Delaware Senator Tom Carper: "President Biden understands that the dire threat of climate change presents us with a remarkable opportunity—if we take action and lead by example with the international community, we can protect our planet and strengthen our nation's economy today and for future generations to come. The Administration's announced goal is an ambitious one that rightly reflects the urgency of this critical time: we must take bold action now to avoid the most catastrophic consequences of the climate crisis. That's why, as Chairman of the Senate Environment and Public Works Committee, I'm working on writing laws, including a transportation infrastructure bill, that will drive down dangerous emissions, tackle the climate crisis head-on, and build a stronger future for us all." [Statement, 4/22/21]
Foreign Relations Committee Chairman, New Jersey Senator Bob Menendez: "President Biden's hosting of this week's Leaders' Summit on Climate sends a strong signal to our partners that America is back to lead on the world stage and that climate action is a priority for the United States. I fully support the new U.S. commitment to drastically reduce U.S. emissions by at least 50% from 2005 levels by 2030 and look forward to helping ensure we deliver on that commitment." [Statement, 4/22/21]
Massachusetts Senator Edward J. Markey: "The Biden administration inherited four years of dust and denialism on climate action—but that era is over. President Biden is recommitting to ambition, reaffirming science, and reasserting global leadership. The Administration's emission reduction goals are technologically feasible and well within our reach. We know with funding, with legislation, and political will, we can do even more to meet the moment on this existential crisis...I look forward to continuing to work with the Administration and Congress to ensure proper financial contributions and a methane emissions reduction target is in our final nationally determined contributions as we build on today's momentum." [Statement, 4/22/21]
Maryland Senator Ben Cardin: "Happy Earth Day! Our nation and planet are at a crossroads in determining the future health of our planet. With a new administration that understands the threat of climate change and the role of the US as a global leader, we are ready to take bold action. #EarthDayEveryDay" [Tweet, 4/22/21]
Rhode Island Senator Sheldon Whitehouse: "President Biden's goal of reducing emissions by at least half over the next decade is historic and ambitious. The United States lost credibility on climate with the international community during the previous administration, costing the world precious time to avert disaster. With this new target as our guide, we in Congress have our work cut out for us to quickly restore momentum to the climate movement at home and abroad. I'm committed to passing a major bill that will lead the world in transitioning to a clean energy economy and create good jobs in the process. Let's get it done." [Statement, 4/22/21]
Mayors
Representatives from the U.S. Conference of Mayors, National League of Cities, African American Mayors Association, Climate Mayors, C40 Cities, and ICLEI Local Governments for Sustainability USA: "We have established bold goals and set out plans to achieve greenhouse gas emission reductions in our communities and address climate impacts. Through our work we have been able to reduce our climate footprint and make our communities stronger, more equitable, and more resilient. However, we cannot do it alone. We need bold steps across all levels of government as well as the private sector, and we need additional tools and incentives, including direct allocation of funds to local governments, if we are to be successful in meeting our goals ahead. We want to thank your Administration for reentering the Paris Climate Agreement and demonstrating to the world that the United States will once again take a leadership role in this fight. We also want to thank you for introducing the America Rescue Plan that will not only begin to address our tremendous infrastructure needs but will also potentially create millions of new and good-paying jobs, put people back to work, and stimulate our economy out of this economic downturn. In addition, your infrastructure plan includes many components that will assist us with our climate change efforts and ensure a just and green recovery from the COVID-19 pandemic." [Excerpt from a joint letter to President Joe Biden, 4/22/21]
U.S. Conference of Mayors President and Louisville Mayor Greg Fischer: "This latest commitment from President Biden is ambitious, and exactly the leadership our nation needs if we are to tackle the climate crisis and ensure a better future for our children and subsequent generations. America's mayors are ready to work with the Biden administration to deliver on this bold pledge, but it will require a partner in Congress to help cities across the country address this crisis. Congress can do just that by working with the President on concrete solutions, including the authorization and full appropriation of the Energy Efficiency and Conservation Block Grant (EECBG). This would provide $3.2 billion per year for 5 years in order to enhance local government greenhouse gas reduction efforts, which will protect public health, drive economic growth, create good-paying jobs, and build an equitable future for all our cities. The time to act is now." [Statement, 4/22/21]
Climate Mayors Chair Sylvester Turner: "Climate Mayors applauds the Biden-Harris Administration for taking an ambitious yet achievable step towards creating a more sustainable, just, and thriving world. We are excited to have a partner in the White House once again who recognizes the important role local governments can play in meeting the Nationally Determined Contribution (NDC)." [Statement, 4/2/21]
Mayor LaToya Cantrell: "Please tune in to @cspan right now to hear me speak on the importance of Climate Action at All Levels during the @potus' Leaders Summit on Climate. https://c-span.org/video/?511175-1/white-house-hosts-virtual-leaders-summit-climate&live #EarthDay #EarthWeek #AmericaIsAllIn #AllinOnClimate #BuildBackBetter #nola [Tweet, 4/23/21]
Mayor Daniel Corona: "The American Rescue Plan was a vital first step in our recovery. As state & local leaders, we know more must be done. Today, I join fellow elected leaders from across the country demanding Congress to #BuildBackBetter with the American Jobs Plan. [Tweet, 4/22/21]
Mayor Rick Kriseman: "Mayors were on their own for too long, so it's nice to have a partner again in Washington. We must continue our efforts." [Tweet, 4/22/21]
Joseph R. Biden, WHAT THEY ARE SAYING: President Biden's New Climate Target Aimed at Creating Good-Paying Union Jobs and Securing U.S. Leadership on Clean Energy Technologies Online by Gerhard Peters and John T. Woolley, The American Presidency Project https://www.presidency.ucsb.edu/node/349632