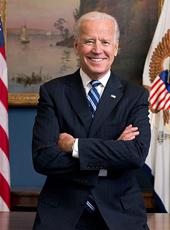 WHAT THEY ARE SAYING: President Biden's Initial Steps to Reduce Gun Violence
Yesterday, President Biden announced six initial actions to address the gun violence public health epidemic. Delivering remarks from the White House Rose Garden, he reminded survivors, their families, and community leaders that tackling gun violence is one of his highest priorities, and his Administration won't wait to take long overdue actions that saves lives. President Biden also announced that is he nominating David Chipman to serve as Director of the Bureau of Alcohol, Tobacco, and Firearms, the key agency enforcing our gun laws. Americans across the country agree that we need urgent action to reduce gun violence, make our communities safer, and save lives. They applauded President Biden for working alongside them in the fight to keep us all safe.
See below for what they are saying:
Gun Violence Prevention Leaders and Advocates
Congresswoman Gabby Giffords, Founder, Giffords: "President Biden promised to take action on gun violence in his first 100 days in office, and today he delivered. Days like today are why we fought so hard to bring a gun safety champion to the White House. These executive actions help address a crisis that devastates communities across the country on a daily basis. Today we have hope that a brighter future is in store. Thank you, President Biden." [Statement, 4/8/21]
John Feinblatt, President, Everytown for Gun Safety: "Each of these executive actions will start to address the epidemic of gun violence that has raged throughout the pandemic, and begin to make good on President Biden's promise to be the strongest gun safety president in history. In particular, ghost guns allow anyone, anywhere to easily obtain an untraceable firearm, and the Biden administration's decision to treat them like the deadly weapons they are will undoubtedly save countless lives – as will the critical funding provided to groups that focus on city gun violence. We are also thrilled about the nomination of David Chipman to head the ATF, whose extensive law enforcement experience makes him uniquely qualified for the job. David will be an invaluable point person as this administration looks to fight illegal gun trafficking and end the special treatment of the gun industry. Finally, we are glad to hear the administration's commitment that today's actions are just the beginning, and look forward to continuing to work closely with them to end gun violence in this country." [Statement, 4/7/21]
Greg Jackson, Advocacy Director, Community Justice Action Fund: "It's been 8 years since I survived gun violence and since then over 800,000 people have been directly impacted by the same violence that almost took my life. Last year saw the highest single year increase in homicides, and our communities have already survived over 100 mass shootings. Ending gun violence requires a comprehensive strategy that involves multiple agencies within government, so we are proud to witness the first President step up to address gun violence in this way." [Press Release, 4/8/21]
Pastor Michael McBride: "The $5 billion investment in community-based violence prevention initiatives and direction for federal agencies to provide support to these initiatives as quickly as possible is a need shot in the arm for urban America which has been left to deal with gun violence on our own without resources. Too often Black and Brown communities have been left out of the conversation around gun violence prevention – our daily tragedies glossed over by the public and met only with more policy and further criminalization of our communities. But even with limited resources, we have successfully reduced gun violence in cities across the country through efforts that engage and respond to the needs of communities. These critical investments did not just happen overnight and are proof that there is no power greater than the power of people organizing for their communities. Today, we breath a sign of relief seeing decades of organizing come together, with renewed energy in the fight for safer, more prosperous communities." [Statement, 4/8/21]
Shannon Watts, Founder, Moms Demand Action: "This is a huge victory for the gun safety movement and we applaud President Biden for his strong leadership. For years, our grassroots volunteers have fought NRA-backed leaders in Washington as they ignored the fact that more than 100 people were killed and hundreds more were wounded every day –– but now, President Biden is making it clear that those days are over. These much-needed executive actions will start saving lives right away, and our grassroots army of nearly 6 million supporters looks forward to standing behind President Biden as he urges the Senate to follow his lead and act." [Statement, 4/7/21]
Kris Brown, President, Brady: "Brady has said before that President Biden is the strongest gun violence prevention champion ever to occupy the Oval Office. Today, he has proved that true once again. President Biden's actions will address gun violence and its many forms, from mass shootings to community violence as well as suicide by gun which account for over 60 percent of gun deaths each year. President Biden's actions are historic and they will have an immediate impact. These are tangible and powerful policies that will save lives. From taking action to stop untraceable 'ghost guns' to investment in community violence interventions, these actions target the many facets of gun violence and address this crisis as a public health epidemic. These executive actions, coupled with President Biden's prudent nomination of David Chipman to serve as Director of the U.S. Bureau of Alcohol, Tobacco, Firearms and Explosives mark a historic day for gun violence prevention in America. Perhaps most importantly, President Biden and the Biden-Harris Administration have shared that they are not finished and that these are an initial step in their bold agenda to stop gun violence. Brady applauds today's announcement and celebrates the continued attention and action to save lives. Of course, President Biden cannot solve this problem alone. Congress must act, as well. Solving this crisis will take an all of government approach. This is a historic moment and opportunity for the movement to prevent gun violence and we must seize it." [Statement, 4/7/21]
Christian Heyne, Maisha Fields, and Liz Dunning, Survivors and Vice Presidents of Policy, Organizing, and Development, Brady: "We wake up every morning with the pain and trauma caused by having our loved ones taken from us because of our country's unfettered access to firearms. Today, our survivor community feels truly represented in the Oval Office. As gun violence survivors and activists, we applaud President Biden's clear commitment to this issue. He has shown once again that he understands the urgency of acting to end America's gun violence epidemic, and he has demonstrated that he will not hesitate to act to, as he said today, 'turn pain into purpose.' We thank President Biden, Vice President Harris and Attorney General Garland for standing up with survivors and standing up to the gun lobby so we can create a future where Americans can live free from the fear of gun violence." [Statement, 4/8/21]
Amber Goodwin, Founder and Executive Director, Community Justice Action Fund: "We applaud President Biden's historic Executive Actions to address gun violence in our country. The public health crisis of gun violence has destroyed communities of color for decades, and we are honored to work with a President that understands the urgency of immediate action. Our organization was built specifically to support moments like this where we can continue to build power with and for communities of color to end gun violence." [Press Release, 4/8/21]
Mark Barden, Co-Founder and Director, Sandy Hook Promise: "I am honored to be here in our nation's capital to continue our work with President Biden to end gun violence. Creating a model for state Extreme Risk Protection Orders and ensuring ghost guns are captured in the Background Checks system are two important ways of making our families and communities safer. Coupling these key measures with more investment in community-based prevention programs reflect the holistic approach we need to effectively address this epidemic." [Press Release, 4/8/21]
Nicole Hockley, Co-Founder and Managing Director, Sandy Hook Promise: "I am deeply grateful to the Biden-Harris Administration for their leadership to end the slow-motion mass murder happening every day in our nation due to gun violence. But today's actions are just the first steps. We need our Senators to step up and take bipartisan action to expand Background Checks. The future of our families and communities depend on this simple, life-saving legislation." [Press Release, 4/8/21]
Fatimah Loren Dreier, Executive Director, The Health Alliance for Violence Intervention: "I'm honored and humbled that @POTUS, @KamalaHarris and named HVIPs as part of comprehensive solutions to support community violence. Thank you @AmbassadorRice for your steadfast commitment to black and brown communities @TheHAVI" [Tweet, 4/8/21]
The Health Alliance for Violence Intervention: "Today's historic action by @POTUS to address the scourge of gun violence is the result of years of hard work by dedicated advocates who refused to give up. #FundPeace" [Tweet, 4/8/21]
Jamira Burley: "I started my activism 17 years ago because of the murder of my brother & today, for the first time in US History A Presidential administration @POTUS will be investing $5 billion over 8yrs to support community violence intervention programs" [Tweet, 4/8/21]
Luis Jonathan Hernandez, Founder and Executive Director, Youth Over Guns: "At the Rose Garden awaiting @POTUS & @VP for a historic announcement on six executive actions to address gun violence. The time is now, grateful for this administration's commitment to ending this public health crisis." [Tweet, 4/8/21]
March For Our Lives: "After struggling to be seen, heard and valued by the former administration, President Biden's executive actions to address gun violence are a welcomed pivot toward human-centered policies that will create a safer society. Young people have called for bold, forceful action to end this crisis and we are encouraged to see the administration begin to fulfill some of its campaign promises, especially in the wake of a series of preventable gun tragedies. Just last week, the White House announced a $5 billion investment into community-based violence prevention programs—a strategy pioneered by frontline Black activists that is proven to de-escalate conflicts before they end with guns. This is a critical step toward treating the gun violence epidemic as the public health crisis that it is, and we will keep fighting to protect this investment and reimagine public safety. Today's executive order to track "ghost guns," or untraceable firearms assembled from kits, will be another important tool to reduce the kinds of preventable everyday gun violence that don't usually happen with assault rifles. Instead, they inflict trauma that isn't covered by national news, disproportionately hurting and killing people of color. Even so, there remains more to be done. We've called on President Biden to issue executive orders that close the boyfriend loophole, and hold gun manufacturers accountable by revoking licenses from manufacturers who break the law. We are hopeful that the Department of Justice will prioritize these issues in their reporting and investigation. We've also urged the president to appoint a Director of Gun Violence Prevention, reflecting the understanding that this crisis disproportionately impacts our most vulnerable populations, and requires the full weight of our government to bring innovative, comprehensive solutions." [Statement, 4/8/21]
Chelsea Parsons, Vice President, Gun Violence Prevention at the Center for American Progress: "Today's announcement signals the beginning of a new era of gun safety in this country, with strong leadership once again in the White House that understands the gravity of this problem and is poised to take real action to address it. The actions announced today strike at some of the most urgent facets of the gun violence crisis: from the need for a significantly increased investment in community-based violence prevention programs, to closing some of the most dangerous gaps that allow the gun industry to innovate around the law, to providing crucial information about gun trafficking that can help shape policy. These are meaningful actions, the impact of which will be far-reaching." [Statement, 4/8/21]
Stop Handgun Violence: "Thank you Joe! - "This is not a partisan issue for the American people and I'm ready to work with anyone to get these done." -@JoeBiden #EndGunViolence" [Tweet, 4/8/21]
Cities United: "Today, as part of a package of initial actions to reduce gun violence, the Biden-Harris Administration announces historic investments in community violence intervention to combat the gun violence epidemic." [Tweet, 4/8/21]
The 97 Percent: "This is a smart step in the right direction. We are glad to see significant action from the Executive Branch. #97Percent of Americans agree, it's time for pragmatic solutions to make background checks and red flag laws a reality." [Tweet, 4/8/21]
Fred Guttenberg of Parkland, Florida: "On February 14, 2018 my daughter Jaime was murdered in the Parkland school shooting. Jaime and I have been on a journey since to save lives. @POTUS, thank you for listening. I am truly emotional at the significance of this. JAIME, WE DID IT!!!" [Tweet, 4/8/21]
Brandon Wolf, Pulse Survivor: "Joe Biden visited Orlando in the aftermath of the shooting and promised we would honor their lives with action. Today, almost 5 years later, we take a huge step together. I'm honored to be at the White House for the historic moment. It's time to tackle gun violence in America." [Tweet, 4/8/21]
Igor Volsky, Executive Director, Guns Down America: "Thrilled Biden is nominating new ATF Director & taking executive action to reduce gun violence -- it's leadership we need! I hope @POTUS also engages actively w/ Congress to pass legislation tightening our nation's gun laws We crave comprehensive approach to tackle this crisis." [Tweet, 4/8/21]
Mi Familia Vota: "We welcome these executive actions from @POTUS to protect our most vulnerable communities across the country from gun violence. Now we need Congress to act." [Tweet, 4/8/21]
Senators
Connecticut Senator Chris Murphy: "In Joe Biden, we finally have a president who is ready to treat gun violence like an epidemic we can solve. Today's Executive Actions are an important first step toward stemming the tide of violence that ends 100 American lives every single day. These modest, common sense actions will help stop the proliferation of untraceable ghost guns, encourage states to adopt red flag laws and invest in community intervention programs to prevent violence before it happens," said Murphy. "I've been working hard over the last two weeks, talking to my colleagues on both sides of the aisle about the need to expand background checks. The NRA's influence is fading, the gun violence prevention movement is stronger than ever, and the prospect to pass lifesaving legislation that is supported by more than 90% of Americans has never been better." [Statement, 4/7/21]
Connecticut Senator Richard Blumenthal: "This is the most significant executive action on gun violence in a generation. These actions set a model of courage and strength that Congress must now match. I am especially glad to see the Biden Administration taking steps to expand the use of Emergency Risk Protection Orders. For years, I have worked to provide additional support for states seeking to help law enforcement take action when there is solid evidence that someone is in crisis — intensely and imminently a danger to themselves or to others. ERPO laws are already on the books in 19 states and Washington, DC and a model bill that provides best practices and critical guidance will help even more states follow suit." [Statement, 4/7/21]
Pennsylvania Senator Pat Toomey: "My staff and I are reviewing the executive actions announced by President Biden today. Lasting progress though is made through the legislative process. I appreciate President Biden's expressed willingness to work with both Republicans and Democrats to achieve this goal. If done in a manner that respects the rights of law-abiding citizens, I believe there is an opportunity to strengthen our background check system so that we are better able to keep guns away from those who have no legal right to them." [Statement, 4/8/21]
Pennsylvania Senator Bob Casey: ".@POTUS is taking decisive action to confront the crisis of gun violence in our country. Congress needs to do its part now. We can't allow Republican Senators to prevent the passage of these lifesaving measures by using arcane Senate procedure. It's time to act. [Tweet, 4/8/21]
Washington Senator Patty Murray: "The epidemic of gun violence has torn apart families & ravaged communities for far too long. @POTUS' steps today to reduce gun violence are an important start—& I'll keep working to make sure the Senate does its part & passes long-overdue gun safety legislation. [Tweet, 4/8/21]
Members of Congress
Gun Violence Prevention Task Force Chairman and California Congressman Mike Thompson: "Today is a new day and I'm proud to have a President willing to do the tough work needed to help prevent gun violence and save lives. We need action on all fronts, from the President and the Congress, to help keep our communities safe. Gun violence takes thousands of lives each year and costs our country nearly $300 billion each year. It's an epidemic and we must act to combat it. Today's Executive Actions are an important piece of what is needed to get ahead of the curve. These actions will better regulate ghost guns which increasingly are being used in gun violence incidents and concealable rifles like the gun used in the Boulder mass shooting. These are actions I have led the House Gun Violence Prevention Task Force in asking the President to take. The President also announced that the Department of Justice will do an annual report on firearm trafficking and support more evidence-based community violence intervention programs, important moves that the Task Force also requested. Finally, the President announced his intention to nominate David Chipman to lead the Bureau of Alcohol, Tobacco, Firearms and Explosives. David has been a steadfast leader on gun violence prevention with decades of experience in law enforcement and I was proud to support his nomination. These executive actions are critical steps forward in our work to prevent gun violence. But they cannot be our last steps as more action is still needed. I remain firm in my work to ensure the Senate holds a vote on H.R. 8, my bipartisan bill to expand background checks and save lives. Our work must continue." [Press Release, 4/8/21]
Georgia Congresswoman Lucy McBath: "Americans continue to die every day from gun violence. Families live in fear of losing a loved one, of sending them off to school and never seeing them return, and of feeling the same pain my family feels every day. This gun violence is unacceptable, it is unconscionable, and we must do better. A majority of Americans support common-sense measures to help stop this violence, and today, I am truly proud to stand with the President as he fights for future generations, for survivors, and for mothers like me. I thank him and Attorney General Garland for their courage and their action to save American lives." [Statement, 4/8/21]
Colorado Congressman Joe Neguse: "The actions that President Biden has announced today will save lives, and are important first-steps in enacting common-sense, gun violence prevention measures. Last week, we sent a request to the White House asking for swift action to regulate concealable assault-style firearms, and we are grateful this request was included in the actions taken by the President today. In addition to these steps, it's critical that the House and the Senate take bold steps to approve comprehensive gun violence prevention legislation. We must do everything we can to stop the epidemic of gun violence and frequent mass shootings that have plagued our nation for far too long."
Florida Congresswoman Demings: "Guns in the wrong hands kill innocent people, including innocent civilians, law enforcement officers, and their own holders. 2020 was the deadliest year for gun violence in decades, and I am sick and tired of watching our children, parents, neighbors, police officers, and friends gunned down in needless acts of violence. President Biden's orders are measured, evidence-based, and carefully targeted. They will crack down on gun trafficking, ghost guns, and gun modifications that make mass shootings more deadly. They will help local law enforcement remove guns from volatile situations before violence can erupt. Simply put, they will save lives." [Statement, 4/8/21]
Missouri Congressman Emanuel Cleaver: "Gun violence is an epidemic—and the American people want Congress and the administration to take action. With the Senate GOP refusing to act, I'm happy to see @POTUS doing what he can to #EndGunViolence." [Tweet, 4/8/21]
Illinois Congressman Bill Foster: "Thank you @POTUS for taking action. Thoughts and prayers are not enough." [Tweet, 4/8/21]
Michigan Congresswoman Debbie Dingell: "Gun violence has inflicted trauma on communities across our country including schools, work, grocery stores, places of worship, shopping centers, among others.@POTUS' actions show we can take action to address this senseless violence." [Tweet, 4/8/21]
Florida Congresswoman Debbie Wasserman Schultz: "We celebrate this progress, because it will save lives & so many sacrificed so much just to get us here. Thank you @POTUS. Now let's build on it." [Tweet, 4/8/21]
Florida Congressman Ted Deutch: "As Americans are demanding action to #EndGunViolence, @POTUS made it clear that he is listening. @DavidChipman has spent his career fighting to save lives by enforcing the law & advocating for sensible gun legislation. As @ATFHQ Director, he'll help make our communities safer." [Tweet, 4/8/21]
Kentucky Congressman John Yarmuth: "Today, @POTUS announced Executive Actions to help stop the scourge of gun violence in this country. The Senate must now pass our common sense legislation to strengthen background checks, close loopholes, and help keep Americans safe from gun violence." [Tweet, 4/8/21]
Virginia Congressman Gerry Connolly: "The @NRA is headquartered in my district. I am their Congressman — much to their dismay. I'm thrilled to see @POTUS take them on directly with these commonsense Executive actions." [Tweet, 4/8/21]
Nevada Congrseswoman Dina Titus: "Gun violence is a public health crisis. I'm grateful that we have a @POTUS who is acting with urgency to address it." [Tweet, 4/8/21]
Rep. Julia Brownley: "I applaud @POTUS for taking the bold and courageous action on gun violence prevention that this country has long been calling for. Sadly, #VenturaCounty knows all too well the heartbreaking and devastating impact of gun violence. This is true leadership. This will save lives." [Tweet, 4/8/21]
Colorado Congressman Jason Crow: "As a hunter, gun owner, & former Army Ranger, I know weapons of war have no place in our communities. @POTUS's EAs will save lives & take common-sense steps to combat the gun violence epidemic. The House is ready. @POTUS is ready. The Senate must follow our lead & act now." [Tweet, 4/8/21]
Georgia Congresswoman Nikema Williams: Gun Violence is an epidemic in this country that disproportionately impacts Black and Brown communities. As we commit to ending #GunViolence, @POTUS Biden and @HouseDemocrats are working to ensure our laws address the protection of ALL people. #NPHW. [Tweet, 4/8/21]
California Congressman Jared Huffman: "Gun violence is an epidemic, and inaction is not an option. @POTUS has committed to commonsense, constitutional steps to stop this tragedy and save lives. The Senate should build on POTUS' actions and pass gun violence prevention bills like the House did earlier this year." [Tweet, 4/8/21]
New York Congresswoman Nydia Velasquez: "The first step to safer cities is common sense gun regulation. @POTUS's new plan is step one on what must become a long line of actions in protecting our communities. The time for action is now, not the next time we have to mourn the loss of life." [Tweet, 4/8/21]
Indiana Congressman Andre Carson: @POTUS is right -- Thoughts and prayers for victims of gun violence aren't enough. We also need action. I welcome his executive actions on gun safety. Congress must also continue our efforts to pass common sense reforms that save lives. [Tweet, 4/8/21]
New York Congresswoman Kathleen Rice: "I commend @POTUS for taking executive action to make our communities safer from gun violence. But he is right that legislation is still needed. We must pass the Assault Weapons Ban. And the Senate must act on the background check bills we already sent to them." [Tweet, 4/8/21]
State Attorneys General
Massachusetts Attorney General Maura Healey: "This is incredible news. Addressing ghost guns and investing in violence intervention programs will save lives, and together these actions are a strong first step toward ending the public health crisis that is gun violence in America." [Tweet, 4/8/21]
Virginia Attorney General Mark Herring: "It is so refreshing and encouraging to have a partner in the @WhiteHouse who is committed to reducing gun violence and saving lives, rather than the previous president who was beholden to the gun lobby and obstructed progress at every turn.We have lost too many Virginians and too many Americans to gun violence, but for too long we have not changed the status quo in this country. Last year, Virginia passed a number of gun violence prevention measures including the proven-effective one-handgun-a-month law, a red flag law, comprehensive background checks, and more, and I'm so glad to see the @POTUS @VP Administration following suit at the federal level." [Twitter thread, 4/8/21]
Connecticut Attorney General William Tong: "Eight years ago in the aftermath of the murder of 26 children and teachers at Sandy Hook Elementary School, Connecticut passed some of the toughest gun laws in the nation in the hope that such violence would never touch our state again. Since then, we have continued to strengthen our state's commitment to sensible gun violence prevention. Tragically though, we've seen thousands more lives claimed by gun violence across the United States. Gun violence does not respect state borders and while CT's gun laws might be among the strongest in the nation, they can only go so far without strong federal action. That is why it is so important that @POTUS is committing to address gun violence with common sense reforms. The majority of Americans support — indeed demand — common sense gun measures. Thank you President Biden for taking a stand to make all Americans safer." [Tweet thread, 4/8/21]
Pennsylvania Attorney General Josh Shapiro: "For so many years, spineless lawmakers have refused to act on commonsense gun safety — ignoring pleas of gun violence survivors & of law enforcement. We've long known the reforms needed to make us more safe. Today, @POTUS showed the courage to act. Ghost guns have become criminals' weapon of choice & are fueling gun violence across the U.S. That's why I've taken repeated action for years to regulate these untraceable, unserialized firearms. I commend @POTUS for this critical step to make us more safe. Let's keep working. Today @POTUS directed the DOJ to begin, within 30 days, the process of requiring buyers of ghost guns to undergo background checks. This is what so many in the community have been pushing for. It's what I've been working towards. It's a big win in the fight against gun violence." [Tweet, tweet, tweet, 4/8/21]
Maryland Attorney General Brian Frosh: "Ghost guns have rapidly become a significant public safety problem in communities across the country. I applaud the Administration's actions to crack down on the proliferation of these unregulated weapons." [Tweet, 4/8/21]
New Jersey Attorny General Gurbir Grewal: We're encouraged by the actions @POTUS is taking today to reduce gun violence in America, and pleased to see the federal government borrowing important chapters from our playbook. Here are a few more pages on New Jersey's leadership in the fight for gun safety: [Tweet, 4/8/21]
Michigan Attorney General Dana Nessel: .@MIAttyGen @dananessel issued the following statement applauding President Joe Biden for his executive orders to combat gun violence. [Tweet, 4/8/21]
Mayors
Louisville Mayor Greg Fischer, President, U.S. Conference of Mayors: "Nearly every day, mayors throughout the country are reminded that COVID-19 is not the only pandemic we face as a nation. Gun violence stemming from easy access to guns has been rocking our cities for decades, leaving friends and families of victims to soothe aching wounds with platitudes of thoughts and prayers. Meanwhile, mayors and other city leaders standby, dumbfounded by the nation's unwillingness to take actions that will reduce the violence, and frustrated by their own lack of control over gun safety measures.The actions announced today by President Biden are both sorely needed and a welcome step towards reducing the violence plaguing our country – violence that has only escalated during the pandemic. The nation's mayors thank the President for his bold actions and for making this an administration priority. Further, we echo his call for Congress to take action and specifically urge the Senate to use this moment to quickly consider and pass critical legislation adopted by the House a month ago that would greatly strengthen the nation's background check system." [Statement, 4/8/21]
Mayor Ras J. Baraka of Newark, NJ: "I was invited because of the work we have been doing in the community to address violence as a public health issue. It was refreshing to hear the President and US Attorney General Merrick Garland say that violence cannot be solved by police alone. They recognize what we have long known: crime must be prevented before it starts. We must disconnect residents from drugs, gangs, and violence and re-connect them with jobs, training, and career opportunities. We must separate deadly weapons from people with deadly intentions. I am proud to come here today and show that Newark supports President Biden's bold leadership." [Statement, 4/8/21]
Mayor Robert Garcia of Long Beach, CA: "As a Californian and friend, I'm beaming with pride watching our @VP Kamala Harris take on gun violence and support the incredible work of @POTUS Joe Biden. This is an epidemic and Congress must act on gun safety legislation." [Tweet, 4/8/21]
Mayor Libby Schaaf of Oakland, CA: "TY, @POTUS. The trauma suffered in our cities by the pandemic of gun violence is felt every day. The real commitment to fund violence-prevention efforts, like our Ceasefire, will help us stop tragedies before they occur, and move us toward healing." [Tweet, 4/8/21]
Mayor Muriel Bowser of Washington, DC: "I applaud President Biden for taking action and for recognizing that the status quo can no longer be accepted when it comes to gun violence in our country." [Tweet, 4/8/21]
Mayor Greg Fischer of Louisville, KY: "Over & over, we see gun violence create devastating tragedies for families across the US, including in Louisville. Poll after poll shows support for common sense laws to prevent this public health epidemic."; "I'm thankful that @POTUS & @VP are taking the 1st of many necessary steps." [Tweet, 4/8/21]
Mayor Michael Hancock of Denver, CO: Thank you @POTUS for showing leadership today in the fight to end gun violence. Now, the Senate has to do their part. Today, I'm joining my fellow #MayorsAgainstIllegalGuns members and urging the Senate to act on background checks." [Tweet, 4/8/21]
Mayor Satya Rhodes-Conway of Madison, WI: "Thank you @POTUS for showing leadership today in the fight to end gun violence. Now, the Senate has to do their part. Today, I'm joining my fellow #MayorsAgainstIllegalGuns members and urging the Senate to act on background checks." [Tweet, 4/8/21]
Mayor Bill de Blasio of New York City, NY: "THIS is a step in the right direction. We can create a new reality in America, a reality where gun violence does not ravage communities across the country. Thank you @POTUS for your leadership. Now the Senate has got to finish the job." [Tweet, 4/8/21]
Mayor Todd Gloria of San Diego, CA: "I applaud @POTUS for addressing the gun violence epidemic that has devastated families and torn apart communities in #SanDiego and across the United States. This is more than just thoughts and prayers – this is action."; "As a member of Mayors Against Illegal Guns, I thank the President for including specific regulation on 'ghost guns,' which are untraceable, easy to purchase and can be built at home. In 2020, the @SanDiegoPD recovered 210 ghost guns in our city."; "These actions are just a start to prevent gun violence. I urge the Senate to take swift action on the two gun bills the House has already passed. These bills will help keep weapons out of the hands of criminals, reduce needless violence & create a safer nation. #ForAllofUs" [Tweet, 4/8/21]
Mayor Steve Schewel of Durham, NC: "Thank you @POTUS for showing leadership today in the fight to end gun violence. Now, the Senate has to do their part. Today, I'm joining my fellow #MayorsAgainstIllegalGuns members and urging the Senate to act on background checks. #MoreThanThoughtsAndPrayers" [Tweet, 4/8/21]
Mayor Buddy Dyer of Orlando, FL: "I join my fellow @usmayors in thanking @POTUS for taking bold action today to address gun violence in our country, which is a public health epidemic. Orlando and too many other American communities know the heartbreak of gun violence." [Tweet, 4/8/21]
Mayor Sam Liccardo of San Jose, CA: "I applaud the efforts of @POTUS @JoeBiden to reduce gun violence. We need more robust reforms to reduce gun harm that Congress won't support, but cities like @CityofSanJose are leading." [Tweet, 4/8/21]
Mayor Steve Benjamin of Columbia, SC: "Thankful for @POTUS calling on ATF to regulate ghost guns. Ghost guns are untraceable firearms sold in DIY kits with NO background check & the fastest-growing threat to gun safety. I'm proud to be a plaintiff in a lawsuit pushing for ATF regulation. #MayorsAgainstIllegalGuns" [Tweet, 4/8/21]
Mayor Lori Lightfoot of Chicago, IL: "Chicagoans and Americans across the country agree: we need immediate action to reduce gun violence. @POTUS's actions today will save lives by increasing funding for proven community-based violence interventions, calling on the ATF to regulate untraceable firearms and more."; "I'm proud Chicago is a plaintiff in a lawsuit pushing for ATF regulation and grateful to the Biden-Harris administration for responding to community calls to address the epidemic of gun violence."; "Now, it's time for Congress to take urgent action and close loopholes in the background check system. Pass #HR8 and #HR1446 now." [Tweet, 4/8/21]
Joseph R. Biden, WHAT THEY ARE SAYING: President Biden's Initial Steps to Reduce Gun Violence Online by Gerhard Peters and John T. Woolley, The American Presidency Project https://www.presidency.ucsb.edu/node/349462