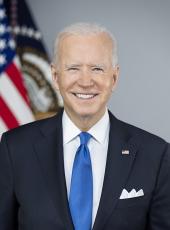 WHAT THEY ARE SAYING: President Biden Delivers First Joint Address to Nation
Last night, President Biden delivered his first joint address to Congress, highlighting the Administration's accomplishments in tackling the crises facing this nation: vaccinating America to beat the pandemic, delivering much needed help to American families, making transformative investments to rescue and rebuild our economy, and fundamentally showing that government can deliver for its people.
See below for what they are saying:
Advocacy Groups
Moms Demand Action Founder Shannon Watts: "After four years of speeches from a president who actively blocked gun safety legislation, while hundreds of thousands of Americans were killed or wounded by gun violence on his watch, tonight we got to hear from a president who treats gun violence like the epidemic that it is. President Biden is right in demanding action now, and our grassroots army of six million strong stands behind him as he urges the Senate to pass life-saving background check legislation into law." [Statement, 4/29/21]
LCV President Gene Karpinski: "Tonight, on the eve of the strongest first 100 days for climate and environmental justice we've ever seen from any presidential administration, President Biden made clear once again that he is centering communities and justice in our recovery, from the workers who built this country to the people who have been left out of economic opportunity and disproportionately impacted by the nation's four interconnected crises. The stakes of the climate crisis couldn't be higher, and in order to help cut carbon pollution, address environmental and economic injustice, and continue on this path of economic recovery, we must invest in infrastructure that creates millions of good-paying union jobs — including clean energy jobs — across the country." [Statement, 4/28/21]
Human Rights Campaign President Alphonso David: ""We are incredibly proud of the work the Biden Administration has done to protect and advance the rights of LGBTQ people here in the United States and across the world during his first 100 days in office. From issuing an executive order to implementing the Bostock decision across federal laws to reversing the ban on transgender service members, to an historic commitment to diversity in hiring — including appointing the first openly LGBTQ Cabinet member — the Biden Administration has made it clear that they celebrate and will fight for LGBTQ people at every level." [Statement, 4/29/21]
Indivisible: "We applaud @POTUS' commitment to delivering lower prescription drug prices to the American people. A majority of people in the U.S. want Medicare to negotiate the prices we pay for prescription drugs and the time to get it done is now." [Tweet, 4/28/21]
UnidosUS President and CEO Janet Murguía: "Tonight's speech by President Biden laid out an ambitious agenda to build back our nation given the challenges we still face: the continuing pandemic, an economy in need of lasting recovery, and deep divisions that demand unity and racial healing. We applaud the president for his vision and for "thinking big." We support the American Families Plan that addresses the issues of greatest concern to our community and millions of American families from jobs to child poverty, tax policy to health care, and education to safety net programs and infrastructure." [Statement, 4/29/21]
Rural Voices USA Board President Christopher Gibbs: "President Biden laid out a vision of renewed economic opportunity that should be welcome in every corner of rural America. As we begin to turn the corner on this pandemic, we need big, bold plans to rebuild rural communities, create jobs and support families. The President's plans to rebuild roads, expand broadband, tackle the climate crisis with an emphasis on jobs, strengthen rural health care and expand leave for families stretched thin all are desperately needed in rural America." [Statement, 4/29/21]
Families Belong Together Chair Jess Morales Rocketto: "We applaud President Biden's call to action on immigration. President Biden inherited a mess from President Trump and has begun taking critical steps to reverse Trump's cruel immigration policies and build a fair, humane and just immigration system. As President Biden turns the corner from his first 100 days, we need to see his administration stay the course and follow through to dismantle Trump's cruelty and chaos, end Title 42, protect rather than deport Black immigrants, restore a fair asylum process, and create a pathway to citizenship." [Statement, 4/28/21]
NextGen America: "After four long, devastating years, we were reminded tonight what it sounds like to have strong, empathetic leadership in the White House. President Biden's first 100 days have brought us much-needed pandemic relief and plans to improve the country on everything from college affordability to LGBTQ+ rights and police reform. We have a great deal of work to do, but young people's record turnout has brought us a future full of possibility." [Statement, 4/28/21]
A Better Balance: "In his call for 12 weeks of paid family and medical leave, @POTUS points out that the lack of #paidleave in the US makes us an outlier in the world. We can and must change this and guarantee #paidleaveforall! #CareCantWait #JointSession" [Tweet, 4/28/21]
Melanie Campbell: "@POTUS is speaking to the issues Black women voted for! #racialjustice #criminaljustice #policingreform #childcare #PaidLeaveForAll #votingrights #immigrationreform and much more!" [Tweet, 4/28/21]
Organizations
PFLAG National Executive Director Brian K. Bond: "We are grateful to President Biden for his unwavering support of our LGBTQ+ loved ones. His commitment to passing the Equality Act—critical legislation that would modernize our nation's civil rights laws by including explicit protections for LGBTQ people, as well as improve protections for women, people of color, people with different national origins, and people of all faiths—has meant so much to our families." [Statement, 4/28/21]
Business Roundtable President & CEO Joshua Bolten: "Business Roundtable welcomes his commitment to ending the COVID-19 pandemic through vaccine production, distribution and access. Our companies remain committed to doing our part, including by providing paid time off and incentives to encourage employees to get vaccinated. Business leaders strongly support the effort to reinvigorate the U.S. economy by upgrading the nation's physical infrastructure—including broadband—a vital investment in America's economic future that would result in tangible economic benefits for American families. We would not support increasing taxes on corporations, which would slow economic recovery and hurt American job creators and employees. Leading U.S. employers also support increasing access and affordability to childcare and college, training our workforce, sparking U.S. investment, accelerating innovation, addressing climate change, modernizing the immigration system and empowering the United States to out-compete China and other countries. [Statement, 4/29/21]
Asian & Pacific Islander American Health Forum President and CEO Juliet K. Choi: "We are thankful for President Biden and Vice President Harris' decisive and thoughtful leadership to guide our nation through this devasting pandemic. We are encouraged by their commitment and invitation to work through consensus, urging Congress to pass and sign the bipartisan COVID-19 Hate Crimes Act into law; eliminate and address long standing barriers to healthcare for immigrant communities; ensure COVID-19 information, testing, treatment and vaccine access for all; make language access and data disaggregation a priority; and continue to nominate and appoint a representative government." [Statement, 4/28/21]
Executive Director of the Immigration Hub Sergio Gonzales: "As the president said, Congress must pass legislation to grant a pathway to citizenship for the 11 million undocumented immigrants already in our country. The Dream and Promise Act and the Farm Workforce Modernization Act can be passed by the Senate and sent to the president immediately. There's no better time than now to move forward bold immigration policies to power our recovery and show the American people that we can lead with heart, conviction and the belief that no matter who you are or where you come from, you are part of this union." [Statement, 4/28/21]
National Immigration Law Center Executive Director Marielena Hincapié: "In his first 100 days in office, President Biden has sent a clear signal that our country is ready to chart a new course on immigration. We were heartened to hear the president reiterate that commitment tonight before both chambers of Congress and millions of Americans watching at home, and we urge Congress to meet President Biden's words of encouragement with courageous, bold action. President Biden's ability to follow through on the vision he put forth for immigrants will determine whether he will make history not only by undoing the harms of the previous administration but by creating a transformational immigration system that will impact millions of immigrants, their families and loved ones, their communities, and our country as a whole. We expect President Biden and Democrats who currently wield the levers of power to deliver on his promises to enact a 21st century immigration system that reflects the values we aspire to as a nation and our role as a global leader." [Statement, 4/28,21]
CHIRLA Executive Director Angelica Salas: "As the President discussed elements of the Build Back Better plan to respond to the ravages of the Covid-19 pandemic on American families, we are delighted to know his commitment remains strong to fix our broken immigration system, address root causes and pass immigration reform for the 11 million undocumented immigrants. The recognition that we have an outdated and inhumane system, coupled with the president's strong endorsement of immigration reform, is a welcome relief and in stark comparison to the hate-filled four years of the previous administration." [Statement, 4/28/21]
National School Boards Association Executive Director and CEO Anna Maria Chávez: "Last night, President Biden presented a new vision for the future of education in America. A vision that not only addresses shortcomings revealed by the pandemic, but one that invests in the nation's public schools and its students. One that chooses innovative school buildings and 100 percent access to broadband over crumbling concrete and leaky lead pipes. And one that extends access to education early in a child's life and after high school graduation—a bookend approach that would help more students, especially those facing the greatest challenges, receive the education they need to build a twenty-first century workforce and power our nation in the future." [Statement, 4/29/21]
National Rural Electric Cooperative Association CEO Jim Matheson: "Electric cooperatives focus on serving consumer-members across 48 states and specifically whether the lights will turn on at a price that consumers can afford. As we plan for a future that depends on electricity as the primary energy source for a majority of the economy, strategic investments in grid modernization and energy innovation are critical. We applaud the president's commitment to repair and improve our nation's critical infrastructure, with a focus on rural and low- and moderate-income families." [Statement, 4/28/21]
AARP CEO Jo Ann Jenkins: ""AARP is heartened to hear President Biden address many of the concerns of Americans 50 and older, particularly more support for caregiving and long-term care and lowering the skyrocketing price of prescription drugs. If this pandemic taught us anything, it is that America's care infrastructure and physical infrastructure are failing." [Statement, 4/29/21]
RuralOrganizing.org Executive Director Matt Hildreth: "President Joe Biden believes the small town way of life is worth fighting for and that no one should have to choose between leaving their hometown and providing their family with opportunity, healthcare, and financial security. That's what we learned from his first 100 days in office." [Statement, 4/29/21]
MomsRising: We applaud @POTUS's historic investments in #childcare and we know we need to go further. Let's build on his down payment & ensure that Congress invests at least $700B in direct spending to build the comprehensive child care and early learning system. #JointAddress #CareCantWait" [Tweet, 4/28/21]
Unions
AFL-CIO President Richard Trumka: "More than any of his recent predecessors, President Biden understands we are at a crossroads. A deadly pandemic has laid bare the systemic inequalities that have prevented too many working families from realizing the American Dream. Any just recovery will require structural changes to our economy, a fundamental strengthening of our democracy and unprecedented federal investments in the communities that have lost the most. That means creating good-paying union jobs to rebuild our country's capacity to provide for its people—from fixing our roads and modernizing our energy grid to educating our kids and caring for our grandparents. And it means restoring the balance of power in our workplaces by passing the PRO Act. [Statement, 4/28/21]
National Farmers Union: "During his first joint address to Congress, President Joe Biden tonight highlighted the progress the United States has made on pandemic recovery and laid out his strategy to create additional jobs and lift more families out of poverty. The linchpin of that strategy is the American Families Plan, a comprehensive package that would invest $1.8 trillion in education, childcare, nutrition assistance, and paid leave." [Statement, 4/28/21]
Congressional Leadership
Speaker Nancy Pelosi: "Tonight, the American people heard President Joe Biden deliver a unifying message of resilience, resolve and hope. The President painted a portrait of how his Administration has made extraordinary progress For The People. As the President said, 'America is on the move again. Turning peril into possibility. Crisis into opportunity. Setback into strength.'
President Biden's address laid out an ambitious, transformative vision for seizing this once-in-a-century opportunity for our economy to Build Back Better. It does so by investing in the foundation of our nation's strength: our workers and the middle class, which built America. The bold investments of the American Jobs Plan and American Families Plan will Build Back Better by putting children, women, workers and families first and by ensuring that every person in every zip code has the opportunity to succeed in the 21st century.
The Democratic Congress looks forward to working with the Biden-Harris Administration to enact this historic vision for lower health care costs, for bigger paychecks, for cleaner government, For The People." [Statement, 4/28/21]
House Majority Leader Steny Hoyer: "I was glad to hear President Biden set out his vision and call our country to the higher purpose of living up to the promise of its Founders: that all our people must not only be treated equally under our laws but that all equally deserve a chance to Make It In America. I look forward to working with my House Democratic colleagues to advance this agenda of justice, equality, security, and opportunity in the weeks and months ahead as we work to defeat this pandemic and build the better future Americans deserve." [Statement, 4/28/21]
Governors
Gov. Pritzker (D-IL): "In his first 100 days, @POTUS passed a sorely needed Rescue Plan to battle COVID-19, put forward a bold infrastructure proposal with the Jobs Plan, and will unveil a once-in-a-generation investment in education, healthcare & childcare in the Families Plan." [Tweet, 4/28/21]
Gov. Northam (D-VA): "With the #AmericanFamiliesPlan, @POTUS put forward an agenda that invests in children, families, and our economic future. These policies are already improving the lives of Virginians—and will position all of America for a stronger future. My statement on tonight's #JointAddress:" [Tweet, 4/28/21]
Gov Jay Inslee: "I look forward to working with the Biden/Harris administration to support all workers & their communities. Congress should move swiftly now to bring the entire Build Back Better agenda to the President's desk." [Tweet, 4/28/21]
Senators
Sen. Jacky Rosen: "President Biden just laid out his positive vision to build back better. I look forward to working with him and my colleagues in Congress to move our country forward." [Tweet, 4/28/21]
Sen. Tammy Duckworth: "The George Floyd Justice in Policing Act. The COVID-19 Hate Crimes Act. The Equality Act. The Violence Against Women Reauthorization Act. The For The People Act. The John Lewis Voting Rights Advancement Act. President Biden is READY to sign. Let's get this done." [Tweet, 4/28/21]
Sen. Richard Blumenthal:?"A spine tingling sense of history at tonight's #JointSession—feeling this exciting, energizing moment. America on the move again. But we can't stop now. A big bold vision for action." [Tweet, 4/28/21]
Sen. Elizabeth Warren: "In 100 days, the Biden-Harris admin has led our recovery with competence, compassion, and a real commitment to structural change. We've got a lot of big fights ahead, but I'm more optimistic than ever about the future we can build together. Let's get back to work." [Tweet, 4/28/21]
Sen. Jeanne Shaheen: ". @POTUS ' address was a reflection of what we've collectively been through as a nation, but more importantly, where we must go. For more than a year, our nation has grappled with the worst health and economic crisis of our lifetime." [Tweet, 4/28/21]
Sen. Martin Heinrich:?"Americans are counting on us to finally put an end to the pandemic and rebuild strong local economies. @POTUS has delivered the calm and steady leadership in the White House that we need to restore the promise of the American dream." [Tweet, 4/28/21]
Sen. Ron Wyden: "What we heard from the President tonight was a resounding message of hope, unity, and resilience. The American people elected Democrats to fight for the priorities that matter to American families, and that's just what we'll continue doing." [Tweet, 4/28/21]
Congressmembers
Rep. Steve Cohen: "Joe hit a grand slam tonight! I'm all in. Let's build back better!" [Tweet, 4/28/21]
Rep. Lizzie Fletcher: "President Biden spoke tonight about the progress we have made toward getting our country back on track. In his first 100 days, he has worked to deliver on his promise to confront the multiple, unprecedented challenges our country faces. In no space is this more evident than in the progress made against the COVID-19 pandemic. The President has acted with the urgency needed to end the pandemic that has plagued us for the past year—and we see the direct results of these efforts...Tonight, President Biden addressed the many challenges ahead of us with a vision of hope and unity. Through this leadership, and by working together, we can rise to the occasion and deliver for the American people." [Statement, 4/28/21]
Rep. Jim Langevin: "Tonight's speech was another reminder - with @POTUS & @VP in the White House, we will beat this pandemic and come out stronger on the other side. Thank you, Pres. Biden, for sharing your administration's priorities with Congress. There are brighter days ahead!" [Tweet, 4/28/21]
Rep. Dina Titus: "President Biden presented a clear vision for this country and he has the policies and political will to make it a reality. After listening to his speech, I'm feeling even more inspired to get this work done." [Tweet, 4/28/21]
Rep. Debbie Wasserman Schultz: "Tonight President @JoeBiden showed the courage & grace that put him in the White House. And he's right: "America is on the move again. Turning peril into possibility. Crisis into opportunity. Setback into strength." [Tweet, 4/28/21]
Rep. Chellie Pingree: "For too long, government has not done enough to support working families. I appreciate that @POTUS used tonight's speech to explain his vision to reinvigorate our national fabric and show beyond all doubt that the Democratic Party is the pro-working family party." [Tweet, 4/28/21]
Rep. Lisa Blunt Rochester: "Tonight, @POTUS laid out in clear terms his direction and vision for the United States of America. From recovering from this pandemic, to rebuilding in its wake, and restoring the soul of our nation" [Tweet, 4/28/21]
Attorneys General
Virginia Attorney General Mark Herring: "It is refreshing to have leadership in the @WhiteHouse that is committed to ensuring we enact real change in our country. Let's #KeepBuilding and get it done!" [Tweet, 4/28/21]
Pennsylvania Attorney General Josh Shapiro: "Thank you @POTUS for your commitment to stopping the spread of untraceable, unserialized ghost guns.These DIY firearms require no background checks & they are fueling violence. This is common sense reform that will keep people safe." [Tweet, 4/28/21]
Minnesota Attorney General Keith Ellison: "I'm really happy about @POTUS's vision tonight. Will it all get done? If we work to get it done then it will get done. The President outlined a vision. But it's our job to make it happen." [Tweet, 4/28/21]
State Legislators
California Assemblyman Reggie Jones-Sawyer: "President Biden delivered a powerful message of hope and perseverance. I too am confident that with unity, focus, & planning we can come back better as a nation from the devastation caused by COVID. @POTUS @VP #BidenAddress" [Tweet, 4/28/21]
Colorado Rep. Steven Woodrow: "President Biden's decency has been the best rebuttal to the last 4 years." [Tweet, 4/28/21]
Colorado Senator Rhonda Fields: "Pres. Biden: 'We have all seen the knee of injustice on the neck of Black America. Now is our opportunity to make real progress ... To root out systemic racism in our criminal justice system. And to enact police reform in George Floyd's name that passed the House already.' #CoLeg" [Tweet, 4/28/21]
Delaware Senator Sarah McBride: "This is the @POTUS I know. Thank you, Mr. President." [Tweet, 4/28/21]
Florida Senator Shevrin Jones: "To every Transgender person watching, I want you to know that your President has your back. ~@JoeBiden Thank you from Florida for lifting this up, Mr. President. #JointAddress" [Tweet, 4/28/21]
Iowa Senator Rob Hogg: "'When I was sworn in, less than 1% of seniors were fully vaccinated against COVID-19. 100 days later, nearly 70% of seniors are fully protected. Senior deaths from COVID-19 are down 80% since January. Down 80%. - Pres. Biden, April 28, 2021 #100Days'" [Tweet, 4/28/21]
Idaho Senator Maryanna Jordan: "In 100 days, Joe Biden has slow walked us back to what we know we can be. As a country. As a people. As Americans. @potus" [Tweet, 4/28/21]
Massachusetts Senator Eric Lesser: "Joe Biden is just fantastic." [Tweet, 4/28/21]
Michigan Rep. Christine Morse: "True leadership right there folks." [Tweet, 4/28/21]
Michigan Senator Erika Geiss: "I'm pretty sure he just hit all the high notes tonight & what the people really need in this first Biden #JointSession. Okay Congress, you've got your marching orders from the people & the president—he told you what he wants on his desk...please get it done." [Tweet, 4/28/21]
Minnesota Rep. Kelly Morrison: "Aiming to "cut child poverty in half." Now that's worth cheering for! #StateOfTheUnion" [Tweet, 4/28/21]
New Mexico Senator Michael Padilla: "American history made tonight. President Joe Biden declared tonight to a joint session of Congress that "America is rising anew," and pointed optimistically to the nation's emergence from the pandemic. @senpadilla @nmsenatedems #nmleg #nmpol" [Tweet, 4/28/21]
New York Senator Michelle Hinchey: "This is covering all of my favorite topics: water infrastructure, Union jobs, home care, paid leave, middle-class growth, early education, climate goals." [Tweet, 4/28/21]
Ohio Rep. Kent Smith: "Biden reminds us that the history of America is full of challenges - followed by victories. Our future can be bright if we reach for it together. That's my shared vision for Columbus." [Tweet, 4/28/21]
Rhode Island Rep. Marcia Ranglin: "Thank you, President Biden. I really like the President's message of Hope. Let's get to work in Rhode Island. Let's dismantle systemic racism , structural poverty and gun violence." [Tweet, 4/29/21]
Wisconsin Senator Chris Larson: "What we heard from Pres. Biden last night was a bold, inclusive, and hopeful vision for the United States. A welcome departure from "American Carnage. So many things Dems have been fighting for at the local level are finally part of the national agenda. #BuildBackBetter" [Tweet, 4/28/21]
Pennsylvania Rep. Malcolm Kenyatta: "Everyday I'm happy Joe Biden and Kamala Harris are in the White House and not the other guy." [Tweet, 4/28/21]
Michigan Senate Minority Leader Jim Ananich: "It's great to have a @POTUS that believes in the greatness of America and the vast potential of all Americans. People will fall for hate and bs but prefer believing in things every time." [Tweet, 4/28/21]
Mayors
Long Beach, California Mayor Robert Garcia: "As an educator, this is the speech I've been waiting for from an American President. Pre-K and free community college for all. The research is clear - it's the best investment we can make. Thank you, Mr. President!" [Tweet, 4/28/21]
Pittsburgh Mayor Bill Peduto: "We are here and we are ready Mr @POTUS - our economic development strategy to Reimagine Appalachia @newdeal4us requires a strong federal partner and it allows us to meet our requirements of the Paris Agreement while creating 400,000 jobs. @ginamccarthy46" [Tweet, 4/28/21]
Philadelphia Mayor Jim Kenney: "Congratulations to @POTUS , @VP , and the Biden-Harris administration on a successful first 100 days in office. Thank you for all you've done to support our city and the American people. #BuildBackBetter" [Tweet, 4/29/21]
Joseph R. Biden, WHAT THEY ARE SAYING: President Biden Delivers First Joint Address to Nation Online by Gerhard Peters and John T. Woolley, The American Presidency Project https://www.presidency.ucsb.edu/node/349764