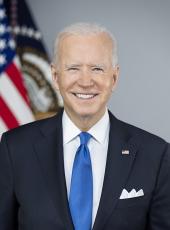 What They Are Saying: Praise for President Biden's Administration Supply Chain Executive Order
President Biden signed an Executive Order to help address the vulnerabilities in supply chains across critical sectors of our economy so the American people are prepared to withstand any crisis. This executive order invests in America and America's workers making sure the United States can meet every challenge we face in this new era singlehandedly. A broad range of leaders and organizations applauded the President's actions and emphasized the impact the order could have on communities across the country.
See below for highlights:
Robert Martinez Jr., International President of the International Association of Machinists and Aerospace Workers (IAM): "The Machinists Union applauds President Biden for taking another concrete step toward bringing our jobs home. We have been sounding the alarm for decades about the ever-expanding supply chains of U.S. parts, components and equipment to overseas manufacturers. Our members have witnessed firsthand the decimation of our industrial base as company after company sends critical work offshore. The onset of the COVID-19 pandemic has highlighted the need to bring critical medical supply chains home. Losing supply chains overseas also imperils our national defense. Last year, for example, a Pentagon official noted that supplies needed for vital defense equipment had been offshored to Mexico. Never again should the security of the United States be dependent on supply chains from other countries. In addition to the review of medical and semiconductor supply chains, we also welcome and look forward to the critical review of defense supply chains."
Tom Conway, International President of the United Steelworkers (USW): "President Biden recognizes that American manufacturing is a critical part of our nation's safety and security. If the COVID-19 pandemic taught us anything, it's that when we are forced to rely on other nations to supply our day-to-day needs, we put American lives on the line. These are essential pieces of our economy, but this is simply one step in what must be a sustained effort to restore our nation's manufacturing capacity across all industries. That effort must include large-scale investments in updating our infrastructure, along with a commitment to ensuring that these investments create long-term, good-paying jobs that can support families. While these four areas of focus are an important start, a similar effort will be necessary to strengthen our infrastructure supply chain when that work begins. The shortages of household supplies, medical equipment and personal protective equipment that Americans saw during the first several months of the pandemic demonstrated the urgent need to revitalize U.S. manufacturing. American workers are more than capable of meeting our nation's needs if we make sure they have the tools they need to do so. We have to learn from the lessons that 2020 taught us and do everything we can to make sure it never happens again."
Rory Gamble, President of the United Automobile Workers: "The UAW is working with and supports President Biden in issuing his executive order on strategic supply chains which comes at a critical time for UAW members, retirees, and their families. The current semiconductor automotive chip shortage has disrupted production plans for automakers and hurt workers. It is a stark reminder of why we must make critical manufacturing supplies that are needed for our economic well-being, health, and national security in the United States. The Biden Administration's review of key U.S. supply chains, including semiconductor manufacturing, electric car batteries, medical supplies, and rare earth elements is an important step. These supply chains, as well as other inputs and components, are the building blocks of our economy and it is crucial for the United States to make these critical products right here in the United States. Over the last year in dealing with the coronavirus pandemic, our nation has repeatedly experienced the pitfalls of offshoring critical supply chains. As we have seen, lack of domestic production of medical equipment and advanced technology has cost lives and hampered our recovery. The UAW is working with the Biden Administration on developing proactive policies to strengthen domestic supply chains and create good jobs in the United States now and in the future."
Bob Bruggeworth, president, CEO & director of Qorvo and 2021 Semiconductor Industry Association board chair: "We welcome today's executive order and stand ready to work with the Biden administration to ensure the strength and resilience of America's semiconductor supply chains. As part of this effort, we urge the president and Congress to invest ambitiously in domestic chip manufacturing and research. Doing so will ensure more of the chips our country needs are produced on U.S. shores, while also promoting sustained U.S. leadership in the technology at the heart of America's economic strength and job creation, national security, and critical infrastructure."
Governor Matt Blunt, president of the American Automotive Policy Council: "We thank President Biden and the administration for their efforts to address the global shortage of auto-grade semiconductor wafers. The U.S. auto industry needs immediate action to resolve plant closures and U.S. vehicle production losses, which are impacting hundreds of thousands of American auto workers, our customers, our businesses and our economy. We look forward to working with the administration on long-term actions that secure our domestic supply chain to avoid any future chip supply shortages."
Linda Moore, TechNet President and CEO: "Technology has powered our country and the world during the pandemic. As we continue to rely on devices that use semiconductor chips in our pandemic response, the need to increase our chip supply has never been greater. Chips are needed to run devices that help public health officials, educators, students, families, and our workforce. They're also needed to unlock innovation and drive our economic recovery. As the President reviews the semiconductor supply chain over the next 100 days, we urge the administration to work with Congress to fully fund the Creating Helpful Incentives to Produce Semiconductors (CHIPS) for America Act to spur chip manufacturing here at home, employ a whole-of-government approach when evaluating the global semiconductor production capacity as it relates to U.S. consumption, and encourage the private sector and government to work together to address any supply chain issues. The shortage impacts all industries across our economy, and any attempt to alter the supply chain by picking winners and losers will have serious short-term and long-term consequences. We thank the President for addressing semiconductor shortages and his leadership on this critical issue impacting all industries. We look forward to working with the administration on solutions that will drive our economy forward."
Jeff Rittener, Chief Government Affairs Officers and General Manager of Intel's Governments, Markets, and Trade Groups (GMT): Today, U.S. leadership in semiconductor manufacturing is at risk. The average rate of chip manufacturing output has grown five times faster overseas than it has in the U.S. over the last decade due to robust incentive programs other countries have put in place to attract and grow semiconductor manufacturing. The America's Supply Chains Executive Order can help level the playing field for American companies in the global competition for semiconductor manufacturing leadership. The executive order will reinforce the urgency of fully funding the bipartisan Creating Helpful Incentives to Produce and Semiconductors (CHIPS) for America Act."
Pini Althaus, Chief Executive Officer of USA Rare Earth: "The assessments over the next 100 days will reiterate the importance of U.S. national assets like our Round Top heavy rare earth and lithium project in providing the technology metals needed for the next century of U.S. innovation and infrastructure. We applaud President Biden's urgency to assess and build additional U.S. capacity across the transportation, energy and defense industrial base. Rare earths and critical minerals, including lithium, are essential to modern technology and require a robust, resilient strategy for U.S. advanced manufacturing and national security. Round Top touches three of the four vital products leading the EO today, including for semiconductors and electric vehicle batteries."
Joseph R. Biden, What They Are Saying: Praise for President Biden's Administration Supply Chain Executive Order Online by Gerhard Peters and John T. Woolley, The American Presidency Project https://www.presidency.ucsb.edu/node/348170