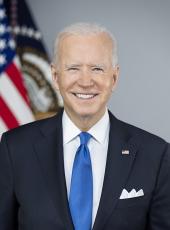 WHAT THEY ARE SAYING: New COVIDTest.Gov Website is Quick and Easy to Use
This week, the Biden Administration launched the new COVIDTests.gov website to make it easy for Americans to order free, at-home rapid tests directly to their homes. The website's launch was met with overwhelmingly positive reviews, noting that it is simple, quick, and easy to use.
Testing is a critical tool to help mitigate the spread of COVID-19. Last week, President Biden announced the administration is purchasing one billion at-home rapid tests to give to Americans for free, building on significant steps to expand capacity and increase access to tests. The first 500 million of these tests are now available for order on COVIDTests.gov.
See below for what they are saying:
"Ordering your free at-home COVID tests is easy. All you need is your name, email, and address, and you're all set." – New Jersey Senator Bob Menendez [Tweet]
"I just ordered at home Covid tests and it was super easy." — Hawaii Senator Brian Schatz [Tweet]
"As easy as 1, 2, 3!" – Georgia Senator Reverend Raphael Warnock [Tweet]
"Just ordered my free COVID tests on COVIDTests.gov. That was easy." – Michigan Rep. Debbie Dingell [Tweet]
"Thanks to President Biden and the @USPS, American households can now order up to four at-home COVID-19 tests—free of charge." – Maryland Rep. Jamie Raskin [Tweet]
"Quick and easy to get free at home COVID19 tests. Took me less than 2 minutes to place my order." – Dr. Syra Madad [Tweet]
"Every home can order 4 free #covid19 tests to be sent right to them. Well done, @WHCOVIDResponse. Everyone should have tests for when they need them." – Dr. Leana Wen [Tweet]
"Thank you @JoeBiden and @USPS. It was quick and easy to order in home rapid Covid tests." – Randi Weingarten [Tweet]
"Congrats to the Biden administration on creating a 100% user-friendly experience with Covidtests.gov." – Brian Fallon [Tweet]
"This was remarkably easy." – Jon Favreau [Tweet]
"The government has made it pretty easy." – Craig Melvin [Tweet]
"If you haven't done so yet, do order a set of free COVID test kits for your household or order for a loved one who might not be online. Quick and easy. A good idea by the Biden-Harris admin. More of this please." – Joy Reid [Tweet]
"This govt website for free at-home Covid tests is super quick and easy. It took me literally two minutes today, and I then ordered tests for my mom — even though it's probably one of the few websites she could actually navigate on her own." – Ashley Parker [Tweet]
"This is such an easy to use website! Amazing." – Jerusalem Demsas [Tweet]
"An easy and smooth ordering process for free at-home COVID tests from @USPS." – Larry Levitt [Tweet]
"So easy. Seconds to order tests to your home." – Kirsten Bibbins-Domingo [Tweet]
"based on many previous experiences with govt websites, I thought ordering my free federal COVID tests would be annoying. but NO! this was truly among the easiest, most seamless web experiences I've ever had! less than a min. what's stopping you?" – Rachel Kurzius [Tweet]
"This was remarkably easy." – Jon Swartz [Tweet]
"I just ordered my free Covid tests. It took less than a minute." – Erik Brynjolfsson [Tweet]
"Quite literally the most efficient experience I've ever had with the US government. Takes less than a minute (under 30 seconds if your browser's autofill is on its game—iykyk)." – Norman Seawright [Tweet]
"this was really straightforward. good job, usps!" – Derek Thompson [Tweet]
"It is quick and easy to sign up. Thanks @JoeBiden." – John Anzalone [Tweet]
"Took less than a minute to order these free COVID tests. Super quick and easy. Now we wait for delivery." – Jeana Tahnk [Tweet]
Joseph R. Biden, WHAT THEY ARE SAYING: New COVIDTest.Gov Website is Quick and Easy to Use Online by Gerhard Peters and John T. Woolley, The American Presidency Project https://www.presidency.ucsb.edu/node/354200