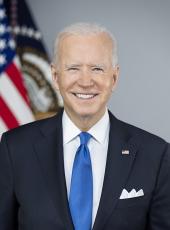 WHAT THEY ARE SAYING: Members of Congress Applaud Passage of President Biden's Bipartisan Infrastructure Deal
The Bipartisan Infrastructure Deal – a once-in-a-generation investment that will create millions of jobs, modernize our infrastructure, and position America to compete – passed the House and now heads to President Biden's desk for his signature.
For far too long, Washington policymakers have celebrated "infrastructure week" without ever following through. But President Biden worked across the aisle in both the House and Senate to forge consensus and deliver results that will rebuild roads, bridges, and other transit, expand access to clean drinking water, make affordable high-speed internet available to every household, and more.
Members of Congress in both chambers and from across the country celebrated the deal's passage and how it will deliver for their constituencies and communities.
See below for what they are saying:
Representatives
Speaker Nancy Pelosi (D-CA): "The American people sent President Biden to the White House and Democratic Majorities to Congress to deliver results that make their lives better. Last night, by sending an historic and bipartisan infrastructure package to the President's desk, that is exactly what we have done. I commend the President for his visionary and tireless leadership in securing the passage of this once-in-a-century infrastructure investment on a strong bipartisan vote. This landmark legislation will create millions of good-paying American jobs and make a lasting difference in our communities: strengthening our roads and bridges, improving public transit, expanding broadband, ensuring clean drinking water for every child and more. While our crumbling infrastructure has long held us back, these monumental investments will ensure America can outcompete any nation on earth for decades to come. This week, Democrats have taken a momentous step toward realizing our transformative agenda. When the House returns, we will pass our Build Back Better Act to bring down the everyday costs that burden working parents – from health care to child care to paid leave to prescription drugs and more – while also securing one of the largest middle-class tax cuts in history. Together, our bills will forge the greatest progress for families in a generation." [Statement, 11/7/21]
Leader Steny Hoyer (D-MD): "This evening, the House passed the Infrastructure Investment and Jobs Act with bipartisan support. This bill will make the largest infusion of funding for America's infrastructure in our nation's history. It is now on its way to President Biden to be signed into law, allowing $1.2 trillion worth of investments to begin flowing to states and communities across our country that will rebuild, upgrade, and expand roads, bridges, highways, and other critical infrastructure, which will create millions of jobs and expand economic opportunity. It will vastly expand access to high-speed internet in underserved areas, including rural and inner-city communities. Moreover, it will promote the more rapid adoption of clean-energy technologies and improve our resilience against climate change." [Statement, 11/5/21]
Representative James Clyburn, Majority Whip (D-SC): "It was clear urgency of this moment, and its unique nature required we invest in a foundation for strong economic growth and ensure all communities can compete and succeed in the 21st Century. As a result of our hard work and the hard work of President Biden and Speaker Pelosi, the historic Bipartisan Infrastructure Investment and Jobs Act is headed to President Biden's desk." [Statement, 11/6/21]
Assistant Speaker Representative Katherine Clark (D-CT): "Tonight, the House sent the Infrastructure Investment and Jobs Act to President Biden's desk and set the stage for passage of the Build Back Better Act. Together, these bills will infuse our economy with opportunity by creating jobs, lowering costs and taxes, and investing directly in working families. The Infrastructure Investment and Jobs Act will modernize our nation's roads and bridges, expand broadband, get lead out of our drinking water, and help address climate change. It will create 2 million jobs annually over the next decade -- union jobs, green jobs, and most importantly, good paying jobs." [Statement, 11/5/21]
Representative Joyce Beatty, Congressional Black Caucus Chairwoman (D-OH): "Tonight, we saw the diversity of all of our caucus'. Together, these bills will bring life-saving change for the people across the nation. By empowering families with tax credits, child care, and universal pre-K, the Build Back Better Act and the Bipartisan Infrastructure Investment and Jobs Act deliver once-in-a-generation action to lower the everyday costs that burden working families – from health care to child care – while also fighting inflation." [Statement, 11/6/21]
Representative Hakeem Jeffries, Democratic Caucus Chairman (D-NY): "The Congressional Black Caucus represents 17 million Black Americans and more than 80 million Americans, delivering for the American public was not optional." [Statement, 11/6/21]
Representative Pramila Jayapal, Congressional Progressive Caucus Chairwoman (D-WA): "This popular legislation delivers on our promise to provide a historic, deeply necessary, and long overdue investment in our state's roads, bridges, waterways, and public transit systems that will directly impact our communities while taking a first step to address the climate crisis and creating millions of good paying, union jobs. By investing more than half a trillion dollars in improving our infrastructure, making America's largest ever investment in public transit, and providing the largest bridge funding since the mid-1900s, we will finally be able to send our communities, cities, and state the resources necessary to not only build back better but greener. There is still more work to be done to invest in families, and I will continue fighting for them while ensuring that this new infrastructure funding reaches projects throughout Washington." [Statement, 11/5/21]
Representative Raul Ruiz, Congressional Hispanic Caucus Chairman (D-CA): "Today, we made a historic investment in our infrastructure, environment, and local economy. The Infrastructure Investment and Jobs Act delivers the transformative resources we need to create jobs and build safer, more resilient roads, bridges, water systems, and railways. This bipartisan legislation is now on its way to President Biden's desk, and once signed into law, it will help our economy thrive while bringing our infrastructure into the 21st century." [Statement, 11/6/21]
Representative Peter DeFazio, House Committee on Transportation and Infrastructure Chairman (D-OR): "Today, House Democrats are building back better for the American people. The long-overdue investments in our nation's infrastructure included in the bipartisan Infrastructure Investment and Jobs Act will grow the economy, strengthen our global competitiveness, create good-paying union jobs that can't be sent overseas, and make our communities more resilient, livable, and equitable. In particular, this bipartisan infrastructure bill will make badly-needed improvements to our rail systems, bridges and highways, transit, water, and broadband infrastructure, as well as our ports and airports—investments I have championed for years, both in the minority and majority, and under Republican and Democratic administrations. Furthermore, this bill will help ensure our infrastructure can face our most pressing challenges, including an important down payment on addressing the climate crisis head on by reducing carbon pollution from the transportation sector, as well as upgrading our port infrastructure to help alleviate the current supply chain crisis." [Statement, 11/6/21]
Representative Frank Pallone, Energy and Commerce Committee Chairman (D-NJ): "With the passage of the bipartisan infrastructure bill today, we are modernizing our crumbling infrastructure, revitalizing our economy, and combating the worsening climate crisis. Whether it be investments to expand renewable energy and make our electric grid more resilient and reliable, or funding for electric vehicle infrastructure, we are accelerating the move to clean energy. I'm pleased that this bill invests in my home state of New Jersey. The infrastructure bill delivers the funding necessary for the Gateway Project that will ensure long-term reliability for thousands of daily commuters traveling between New Jersey and New York. Safe drinking water is a basic human right, yet right now millions of American families cannot trust the water coming out of their taps. That's why the bipartisan infrastructure bill provides significant funding for our drinking water infrastructure, including funding to remove the toxic lead service lines harming communities across the country and funding to address PFAS contamination. New Jersey has some of the highest levels of contamination in the country. This is exactly why I've led the effort at the federal level to address these toxic chemicals and ensure that everyone can trust the water coming out of the tap. Superfund sites threaten public and environmental health in New Jersey and across the country, and those sites could be cleaned up faster with adequate funding. I've been fighting to make sure that corporate polluters are held accountable. This bill puts people to work cleaning up toxic Superfund sites around the nation while helping ensure that polluters pay the bill by reinstating the Superfund tax on chemical companies. Finally, the infrastructure bill's sweeping investments in broadband access, affordability, and adoption will help us close the digital divide. Every community – regardless of zip code – needs and deserves access to reliable, affordable, high-speed internet, and with today's action we take a giant step toward making that a reality. I'm pleased the bipartisan infrastructure bill is now on its way to President Biden's desk for signature and look forward to soon passing the Build Back Better Act." [Statement, 11/6/21]
Representative Andrew Garbarino (R-NY): "Make no mistake, tonight's vote was about roads, bridges, and clean water. It was about real people, and the tangible action Congress could take to better their lives by rebuilding and revitalizing our nation's crumbling infrastructure. The bipartisan infrastructure bill will not raise taxes or increase costs to American families. What it will do is allocate $24.9 billion for New York highways, bridges, and transit, provide $15 billion to replace lead service lines for New York drinking water, grant $470 million to New York's MacArthur, Republic, LaGuardia, and JFK airports, and fund many other vital infrastructure projects that Long Island residents desperately need. This means local priorities such as fixing the Oakdale Merge, addressing sewer overflow and other wastewater issues, and upgrading the LIRR can finally come to fruition." [Statement, 11/5/21]
Representative Jahana Hayes (D-CT): "The House passed the Infrastructure Investment and Jobs Act, which delivers investments to Connecticut and throughout the US, to build our infrastructure and add good paying jobs to our economy. I look forward to the President signing this key piece of legislation." [Tweet, 11/6/21]
Representative Dan Kildee (D-MI): "With this bipartisan infrastructure bill, President Biden and Democrats in Congress have delivered for Michigan. For decades, our state's infrastructure has suffered from a lack of investment. This historic infrastructure bill will deliver tens of billions of dollars in much-needed investments to improve roads, repair bridges and replace lead pipes across Michigan. I have worked hard to ensure that this bill also includes investments to protect the Great Lakes, modernize the Soo Locks and expand electric vehicle charging stations across our state. Investments in infrastructure means good-paying jobs, and we are going to put Michiganders back to work to improve our roads, bridges and water systems." [Statement, 11/6/21]
Representative Brenda Lawrence (D-MI): "For decades, hard-working Americans in Michigan and across the country have been left behind. Child care is out of reach, our planet is in a climate crisis, and prescription drug prices are out of control. Then you turn to our crumbling infrastructure and see that too many bridges are structurally deficient, lead pipes are poisoning communities, and millions of Americans don't have access to broadband. We've kicked the can down the road for far too long, but the House of Representatives is fighting to change that. With the House passage of the historic Infrastructure Investment and Jobs Act, we're fixing our roads and bridges; replacing lead pipes; investing in electric vehicles; and expanding broadband access while creating thousands of good-paying jobs. However, infrastructure is more than just roads and bridges." [Statement, 11/6/21]
Representative Carolyn Maloney (D-NY): "I have been a long-time champion for investing in New York City's infrastructure, and tonight, I was proud to vote for the much-needed bipartisan infrastructure bill. Throughout my career, I have helped secure more than $10 billion in federal funding to the City for a wide array of infrastructure investments – projects that created jobs, improved the quality of life, reduced overcrowding, and improved safety. There are few better ways to improve our communities and create good-paying jobs than infrastructure investments, and this bill will do just that with $550 billion in new federal funding for our nation's needs. The Infrastructure Investment and Jobs Act will create millions of jobs, invest in a foundation for strong economic growth, and ensure all communities can compete and succeed in the 21st Century" [Statement, 11/6/21]
Representative Bobby Scott (D-VA): "The passage of the bipartisan infrastructure bill delivers an essential pillar of President Biden's domestic agenda. This bill represents a much-needed investment in jobs and our economy as we rebuild America's infrastructure, including roads, bridges, public transit, ports, and broadband, as well as making our electric grid more resilient to climate change. This legislation will accelerate America's global competitiveness in the 21st century." [Statement, 11/6/21]
Representative Jackie Speier (D-CA): "The bipartisan infrastructure bill is about jobs and safety to provide historic funding for roads, railways, broadband, water, and climate change mitigation efforts. Together with the Build Back Better Act, the bipartisan infrastructure bill will create an average 2 million jobs per year for 10 years. This is how taxpayer money should be spent—on tangible benefits that we can all recognize as contributing to our safety and future. In addition to these historic investments, we have secured a dedicated $24 million for the San Francisco Bay geographic program." [Statement, 11/6/21]
Representative Mark Takano (R-CA): "Passage of the Infrastructure Investment and Jobs Act represents a major win for the American people as we take one step closer toward passing the entirety of President Biden's Build Back Better agenda. This bill makes critical investments in our nation's roads and bridges, public transit and rail, and broadband, and will create two million good-paying jobs as we create a foundation for strong economic growth in this country. This bill is a key component of what our country needs to realize the president's vision, and what the American people need as we emerge from a pandemic and rebuild our economy." [Statement, 11/6/21]
Representative Don Bacon (R-NE): "For months, I have expressed my support for the hard infrastructure bill that is supported by 70 percent of our district. Senators Fischer and Grassley also voted for this bipartisan bill which will fix our highways, seaports, and locks, and will provide more access to rural broadband. Further, most of the hard infrastructure bill is paid for by unspent COVID money that was already appropriated by Congress. This bill makes our nation stronger and more competitive for years to come." [Statement, 11/6/21]
Representative Nicole Malliotakis (R-NY): "I proudly voted for the bipartisan infrastructure package that will improve the safety and prosperity of communities across America and make the necessary improvements to bring our infrastructure into the 21st century. For far too long, our local, state, and federal leaders have neglected to modernize New York City's aging infrastructure to keep pace with economic and population growth. The funding stream we are providing today will be used by states and cities to modernize roads, highways, bridges, sewer systems, and flood resiliency projects, including right here on Staten Island and in Southern Brooklyn." [Statement, 11/6/21]
Representative Don Young (R-AK): "Last night, I voted in support of the Infrastructure Investment and Jobs Act, commonly referred to as the bipartisan infrastructure bill. Our country is an economic powerhouse in no small part due to our historical support for infrastructure and other surface transportation projects. Perhaps more than anyone else, Alaskans know just how vital reliable infrastructure is to stay connected with one another and secure upward economic mobility. But I will be honest: when I take a look at some of our roads, bridges, and ports, I do not like what I see. I truly believe that this bipartisan infrastructure legislation may be our last best chance to make the federal investments necessary to modernize and strengthen America's infrastructure needs for the next century and beyond." [Statement, 11/6/21]
Representative Cindy Axne (D-IA): "With this bill, we're securing the investments we need to expand internet access, reduce supply chain disruptions, and keep our communities safe – all without raising taxes on middle class Iowans. This bipartisan infrastructure package, which I look forward to seeing signed into law very soon, will support thousands of Iowa jobs and fund vital investments that I've fought to see included in our agenda this year — like the largest investment in rural broadband connectivity in history. This bill will also provide an important extension of programs and new investments that will bring more than $5 billion to Iowa for modernization of our roads, bridges, airports, and public transportation systems. And, as we have promised from the first days of this new Administration, these investments are made without raising taxes on middle class families or passing large amounts of debt on to our children's generation." [Statement, 11/6/21]
Representative Suzanne Bonamici (D-OR): "Our national infrastructure is crumbling, outdated, and in urgent need of significant upgrades. The bipartisan Infrastructure Investment and Jobs Act represents a significant commitment to reaching a more connected and resilient nation. It will help Oregonians and families across the country by repairing and improving our roads and bridges, creating new jobs, expanding access to broadband, and so much more. Importantly, this legislation takes meaningful steps in the face of the climate crisis to increase access to public transportation and reduce carbon emissions, and strengthen our nation's infrastructure to withstand and protect people and property from extreme weather events." [Statement, 11/6/21]
Representative Sean Casten (D-IL): "Today, the House passed the bipartisan Investment in Infrastructure & Jobs Act. Not only will it fix the potholes in our roads & make it easier to get to work by investing billions into revitalizing Illinois' infrastructure, but it will create jobs and grow our economy." [Tweet, 11/6/21]
Representative Judy Chu (D-CA): "Tonight I'm proud to have cast my vote to send the bipartisan infrastructure bill to @JoeBiden for signature. We're going to create millions of good-paying jobs, invest in clean air and drinking water, rebuild our roads and bridges, and so much more! #InfrastructureWeek" [Tweet, 11/6/21]
Senators
Senate Majority Leader Chuck Schumer (D-NY): "This infrastructure and jobs bill gives people, businesses, and our economy the tools to succeed in the 21st century, and improve both productivity and job creation in America for decades to come. Congress will keep working to pass President Biden's Build Back Better agenda." [Tweet, 11/6/21]
Senator Tammy Baldwin (D-WI): "I am proud to stand on the side of delivering results for Wisconsin. This bipartisan legislation will create good paying jobs and put Wisconsin to work fixing roads and bridges, rebuilding water infrastructure, and expanding access to affordable and reliable high speed broadband." [Tweet, 11/6/21]
Senator Maria Cantwell (D-WA): "The State of Washington benefits from a flourishing trade economy, and the investments in freight infrastructure will help us stay competitive internationally. This legislation is going to create jobs and improve our state." [Tweet, 11/6/21]
Senator Tom Carper (D-DE): "We've cut across partisan divides and delivered extraordinary investments in everything from roads and transit to drinking water and wastewater to broadband and flood control. Our nation will be the better for it—and it would not have happened if not for @POTUS's leadership." [Tweet, 11/6/21]
Senator Bill Cassidy (R-FL): "This is a major victory for Louisiana and our nation. This infrastructure package will rebuild our roads and bridges, increase access to high-speed internet, strengthen our electric grid, add levee protection, and improve flood resiliency. After almost every corner of our state was hit by natural disasters in the last year, we must have the federal investment to protect us from future storms. This bipartisan bill is the right way to reinvest in our country, unlike Democrats reckless tax-and-spending spree, which I continue to strongly oppose." [Statement, 11/6/21]
Senator Susan Collins (R-ME): "This infrastructure package is good for America. Earlier this year, I joined a group of 10 Senators—five Republicans and five Democrats—who were determined to break through the partisan gridlock and pass this long-overdue infrastructure investment for the American people. After months of working night and day, our bipartisan negotiations resulted in a truly transformational package for our country that will make the most significant investment in American infrastructure since the establishment of the Interstate Highway System in the 1950s. One of the many provisions that will have a significant impact on Maine is the $65 billion investment for broadband, which will expand high-speed Internet access to rural and unserved areas of our state. I negotiated this section of the bill with Senator Jeanne Shaheen (D-NH), along with our colleagues and the Administration. It has become increasingly clear in recent years – and especially in light of the pandemic – that broadband is not a luxury, but a necessity. I look forward to this bill being signed into law." [Statement, 11/6/21]
Senators Tammy Duckworth (D-IL) and Dick Durbin (D-IL): "No one should have to worry if the water in their home is safe for their family or if the bridge they're driving over is safe. With this bill, we can put our country on the path toward providing safe water, better roads and much more for our working families. This Bipartisan Infrastructure Deal makes transformative investments to enhance our global competitiveness, economic prosperity and public health and create good-paying jobs and I look forward to President Biden signing this landmark legislation into law. Today, a historic deal is making its way to the President's desk. The Bipartisan Infrastructure Deal is a once-in-a-generation reinvestment to mend our nation's crumbling roads and bridges, expand public transit and rail, and provide clean drinking water and broadband to our communities in need. I commend the House on passing the bill yesterday and I look forward to seeing the positive impact of this landmark legislation on communities in Illinois." [Joint Statement, 11/6/21]
Senator Kirsten Gillibrand (D-NY): "Congress just passed the largest investment in our nation's infrastructure in nearly a century! This historic bill will create millions of good jobs, help rebuild our roads and bridges, expand broadband, and so much more. Now let's finish the job and pass the #BuildBackBetterAct." [Tweet, 11/6/21]
Senator Maggie Hassan (D-NH): "Game Changer. That's what our bipartisan infrastructure package will mean for New Hampshire and America's economy. Tonight, the House passed this historic bill which I was proud to help negotiate. I look forward to the President signing it right away." [Tweet, 11/6/21]
Senator Ben Ray Lujan (D-NM): "The bipartisan infrastructure legislation marks the most significant investment in our nation's infrastructure in generations. I was proud to vote to pass this legislation in August, and secure so many key priorities for New Mexico" [Tweet, 11/6/21]
Senator Joe Manchin (D-WV): "West Virginia has 1,545 bridges and more than 3,200 miles of highway in poor condition and 32 percent of trains and other transit vehicles in the state are past useful life. At least 258,000 West Virginians have no broadband access. Our bipartisan bill will help West Virginia, and every other state in the nation, address the infrastructure needs of our nation while creating good-paying jobs and growing the economy. This type of investment hasn't been made in three decades. I am pleased the House of Representatives passed this bipartisan legislation, and look forward to President Biden signing it into law. I have always said that the best politics is good government, and I'm incredibly proud of my bipartisan colleagues for their tireless efforts to get this across the finish line and deliver on this major investment in the needs of America." [Statement, 11/6/21]
Senator Gary Peters (D-MI): "The passage of the bipartisan infrastructure bill is a win for Michigan and the country as we deliver on our promise to build back better, rebuild our crumbling infrastructure the right way – so that it cuts costs for taxpayers – and strengthen our economy and the Great Lakes. I look forward to President Biden signing this critical bill into law swiftly to create good-paying jobs, repair our roads and bridges, expand access to high-speed internet, eliminate lead service lines and pipes in Michigan and help communities address rising water levels, shoreline erosion and flooding with funding from my STORM Act. This urgently needed investment is decades overdue, and I'm proud to have helped make it a reality to improve the way Michiganders move, live and work for decades to come." [Statement, 11/6/21]
Senator Mitt Romney (R-UT): "Today's passage is a win for Utah, as we will now be better positioned to meet transportation challenges, mitigate drought conditions, prepare for and respond to wildfires, extend broadband to rural communities, and fulfill critical water needs. In stark contrast to Democrats' efforts to pass a separate bill to drastically expand social programs, the bipartisan group I worked with proved that it's possible to achieve solutions without raising taxes or adding trillions to the national debt. I urge President Biden to keep his promise to sign this legislation without delay, so we can modernize our nation's physical infrastructure, address supply chain issues, and demonstrate that, even in polarized times, Congress can still come together on behalf of the American people." [Statement, 11/6/21]
Senator John Hickenlooper (D-CO): "FULL STEAM AHEAD! The House just passed our Bipartisan Infrastructure Bill, which will make historic investments in infrastructure and create good jobs. Today America showed we can work together!" [Tweet, 11/6/21]
Senator Jeff Merkley (D-OR): "Fixing roads and bridges, expanding broadband, rebuilding water systems, and new transit are crucial to creating good jobs. It's great to see the infrastructure bill pass the House. We also must pass Build Back Better to lower Americans' costs and invest in their futures." [Tweet, 11/6/21]
Senator Lisa Murkowski (R-AK): "This bipartisan infrastructure bill is one of the most consequential legislative efforts I have worked on in my Senate career. I am incredibly proud and humbled to have played a leading role in the creation of this legislation. The Infrastructure Investment and Jobs Act recognizes that Alaska is decades behind in having the basic infrastructure which many states in the Lower 48 take for granted. It addresses that gap by sending billions of dollars back home to put Alaskans to work building roads and wastewater systems, fixing bridges, and pioneering innovative transportation and energy technologies, all of which will benefit generations to come. I want to thank the many Alaskans who worked with me in writing provisions that address the needs of both our urban and rural communities. And a big thank you to my friend and colleague Congressman Don Young, for using his influence and platform in the House to garner support to get this across the finish line. As this historic legislation now heads to the President for his signature, I look forward to working with our federal partners to make these visions on paper become a reality." [Statement, 11/5/21]
Senator Chris Murphy (D-CT): "For decades, Republicans and Democrats in Congress have talked about working together to pass a game changing investment in roads, rail lines, and broadband. Today, we finally did it. Both houses of Congress passed the biggest bipartisan investment in infrastructure in our nation's history, an investment that will create new jobs, finally fix our nation's crumbling infrastructure, and deliver serious cost savings to Americans. I was proud to fight for billions of dollars in funding to improve the Northeast Rail Corridor, protect Long Island Sound, and upgrade Coast Guard infrastructure because all of this ultimately leads to job creation in Connecticut." [Statement, 11/6/21]
Senator Rob Portman (R-OH): "America's infrastructure is in desperate need of repair, and today, Congress made good on our promise to the American people to improve it for future generations. While I'm disappointed it took the House of Representatives nearly three months to pass the Infrastructure Investment & Jobs Act following bipartisan passage in the Senate, I'm pleased this historic legislation is now ready for the president's signature." [Statement, 11/5/21]
Senator Jack Reed (D-RI): "For decades, everyone said our national #infrastructure was falling behind. President Biden and Dems listened and delivered a historic law that invests in our future and creates real jobs now, reduces pollution and congestion, & strengthens U.S." [Tweet, 11/6/21]
Senator Debbie Stabenow (D-MI): "There is so much in the Infrastructure Investment and Jobs Act of critical importance to Michigan—from rebuilding roads and bridges, to the removal of lead pipes, to high-speed internet in every corner of Michigan, to the largest single investment ever made in the Great Lakes." [Tweet, 11/6/21]
Senator Jon Tester (D-MT): "The House just passed my historic, bipartisan legislation to invest in our nation's crumbling infrastructure. As we work to lower costs for families, create more jobs, and rebuild our economy, this couldn't be more urgently-needed. I look forward to getting this signed into law." [Tweet, 11/6/21]
Senator Chris Van Hollen (D-MD): "The Bipartisan Infrastructure Bill is headed to the President's Desk! This is a big part of our #BuildBackBetter Agenda. It invests in key MD priorities and will help modernize our roads, bridges & transit, build out broadband, reconnect our communities & clean up the Bay." [Tweet, 11/6/21]
Joseph R. Biden, WHAT THEY ARE SAYING: Members of Congress Applaud Passage of President Biden's Bipartisan Infrastructure Deal Online by Gerhard Peters and John T. Woolley, The American Presidency Project https://www.presidency.ucsb.edu/node/353294