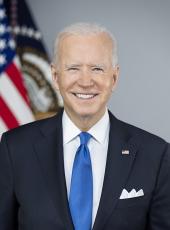 WHAT THEY ARE SAYING: Leaders Applaud Historic Progress on Supply Chains
One year ago, President Biden signed Executive Order 14017 directing an all-of-government approach to assessing vulnerabilities in – and strengthening the resilience of – the United States' critical supply chains.
The Administration has reached a crucial milestone in its work to build the long-term capacity of the federal government to secure America's supply chains. For the first time, the Federal government has now worked across seven agencies to assess supply chain vulnerabilities across six critical industries and developed multi-year plans to address these vulnerabilities. The White House also published a capstone report highlighting the key actions the Biden-Harris Administration has taken over the past year and a fact sheet outlining new actions the Administration is taking to strengthen critical supply chains.
On this historic anniversary, Members of Congress and businesses leaders from around the country applauded the Administration's year of action and progress rebuilding American supply chains towards resilience, security, and sustainability.
See below for what they are saying:
Bipartisan Members of Congress
New Jersey Congressman Tom Malinowski (NJ-07), Delaware Congresswoman Lisa Blunt Rochester (DE-At Large), Illinois Congressman Adam Kinzinger (IL-16), Pennsylvania Congressman Susan Wild (PA-07), Georgia Congresswoman Carolyn Bourdeaux (GA-07), Michigan Congresswoman Debbie Dingell (MI-12), and Illinois Congresswoman Robin Kelly (IL-02): "These latest reports underscore the pressing need to bolster U.S. supply chains and spur domestic manufacturing of critical goods, just as we propose to do in the House-passed America COMPETES Act. We came together as a bipartisan group and crafted the provisions in the bill to establish an Office of Manufacturing Security and Resilience at the U.S. Department of Commerce, which would be responsible for implementing a $46 billion program to map and monitor supply chain vulnerabilities, provide grants, loans, and loan guarantees to spur domestic manufacturing of critical goods, and equip the private sector with the tools and best practices needed to address supply chain weaknesses before they become full blown crises. These provisions will address the needs identified by the Administration, strengthen our economic and national security, and should be part of any final competitiveness bill that goes to the President for his signature." [Statement, 2/24/22]
U.S. House Energy and Commerce Committee: "These reports underscore the importance of passing the #AmericaCOMPETES Act to secure our supply chains and create a more stable, resilient economy here at home." [Tweet, 2/24/22]
Business Leaders
Ford Motor Company Chief Policy Officer and General Counsel Steven Croley: "Ford thanks the Biden Administration for its continued support of strengthening U.S. supply chains and for taking steps to ensure that American manufacturers can access semiconductors and other critical components our customers need. Ford is working around the clock to break constraints and develop the domestic supply chains we need to build the quality vehicles our customers want. We appreciate that today's announcement will help build real long-term resilience in our supply chains." [Statement, 2/24/22]
U.S. Chamber of Commerce Senior Vice President for Cyber, Intelligence, and Supply Chain Security Policy Christopher D. Roberti: "Supply chain concerns continue to be top of mind for many U.S. businesses, and the U.S. Chamber welcomes the Biden administration's hard work and consultative approach to improve U.S. supply chain resiliency through today's reports. We are reviewing the six industrial base reviews and look forward to continue working with officials to implement the priority actions that enjoy broad bipartisan support and address key issues with our supply chains." [Statement, 2/24/22]
Information Technology and Innovation Foundation Vice President for Global Innovation Policy Stephen Ezell: "ITIF applauds the administration's plan detailing much-needed concrete actions to strengthen critical supply chains across federal agencies. The plan includes a domestic manufacturing initiative led by the Export-Import Bank that will strengthen U.S. manufacturing exports, and an expanded State Small Business Credit Initiative channeling $70 billion in additional lending and investment for small businesses. ITIF also welcomes the administration's intentions to increase the sustainability of domestic production and processing of critical minerals; support breakthroughs in hydrogen and other clean energy technologies; and secure America's base of industrial health resources. Also laudable are the calls to establish a Global Supply Chain Resilience forum to work on these challenges in collaboration with allied nations. Overall, Biden's plan represents a comprehensive and integrated effort to enhance the security, sustainability, and resilience of key supply chains—the pillars of America's economic and national security. Implementing these measures will be crucial to ensuring the United States meets the competitive threat from China, accelerates progress toward a low-carbon-energy future, and is prepared for other pandemics that could disrupt the supply chain." [Statement, 2/24/22]
Alliance for American Manufacturing President Scott Paul: "Whether it's the recent chaos and uncertainty of the pandemic, shipping woes, China turning inward, or now conflict in Europe, the importance of a strong and resilient U.S. manufacturing base is clearer than ever. These reports demonstrate that rebuilding domestic manufacturing capabilities and our critical supply chains is not something the private sector can do alone. We're pleased that the Biden administration has outlined policy actions, including enhanced Buy American policies, to address these vulnerabilities. We also urge the administration to proceed expeditiously to implement the Buy American and other domestic content tools provided by Congress in the Bipartisan Infrastructure Law, which will ensure that both government purchases and U.S. infrastructure source from U.S. manufacturing and its workers." [Statement, 2/24/22]
Lithium Americas CEO Jonathan Evans: "We commend @POTUS ' unwavering commitment to resilient domestic supply chains. By securing our country's own supply of critical minerals for renewable power storage, you're positioning America to lead the global energy transition. @LithiumAmericas is ready to go here in Nevada." [Tweet, 2/24/22]
Samsung Electronics North America President and CEO KS Choi: "We commend the Biden Administration for bringing government and industry partners together to help address current supply chain challenges. We look forward to working with the Administration and continuing cross-industry collaboration to ensure manufacturers and consumers can receive the goods they want and need." [Statement, 2/24/22]
Information Technology Industry Council President and CEO Jason Oxman: "A trusted, secure, and reliable global supply chain is essential to encourage economic growth, protect national security, and harness U.S. innovation. We commend the Biden-Harris Administration's prioritization of supply chain security and resiliency and welcome its progress. We are encouraged by the administration's ongoing engagement with industry, including through public-private partnerships such as the ICT Supply Chain Risk Management Task Force, and efforts to boost the domestic ICT workforce and semiconductor production, including its call to Congress to fund the CHIPS for America Act. Further, we support the administration's emphasis on cooperation with global partners, and urge the advancement of global supply chain security and resiliency through bilateral and regional frameworks and discussions, such as the U.S.-EU Trade and Technology Council, the U.S.-Mexico High-Level Economic Dialogue, and the forthcoming Indo-Pacific Economic Framework. At the same time, we ask that it continue to promote policies that consider the realities of the global ICT supply chain, specifically as they relate to domestic content requirements. Our industry remains committed to working with the administration and Congress to develop long-term, coordinated solutions to address global supply chain challenges." [Statement, 2/24/22]
National Cattlemen's Beef Association Director of Government Affairs and Market Regulatory Policy Tanner Beymer: "Today, the U.S. Department of Agriculture (USDA) announced the availability of up to $215 million in grants and resources as part of a continued effort to strengthen the meat and poultry processing sector and create a more resilient food supply chain. NCBA appreciates the Administration's efforts to expand and diversify processing capacity and looks forward to working with USDA to ensure proper implementation of the funds." [Statement, 2/24/22]
American Farm Bureau President Zippy Duvall: "AFBF appreciates USDA's efforts to increase competition in America's beef and poultry processing systems. Families continue to find rising prices at the grocery store, but farmers don't see the price they're paid for chicken and beef rise at the same rate. We asked Secretary Vilsack and USDA to provide more resources to level the playing field. Investments in new processing options and job creation are positive steps toward creating fair markets while strengthening America's supply chain." [Statement, 2/24/22]
Global Cold Chain Alliance: "GCCA is encouraged to see the Biden Administration's report on how to secure critical supply chains in 2022. We look forward to seeing how the agri-food supply chain policy proposals turn into concrete actions and stand ready to assist." [Tweet, 2/24/22]
Charge Point: "Thanks @POTUS for strengthening critical supply chains that help to deliver more electric vehicles and chargers, helping more Americans go electric." [Tweet, 2/24/22]
Joseph R. Biden, WHAT THEY ARE SAYING: Leaders Applaud Historic Progress on Supply Chains Online by Gerhard Peters and John T. Woolley, The American Presidency Project https://www.presidency.ucsb.edu/node/354622