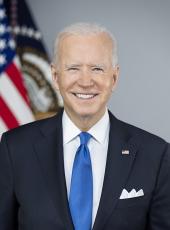 WHAT THEY ARE SAYING: Leaders Applaud Biden-Harris Administration's Clean Industry and Manufacturing Actions
Yesterday, the Biden-Harris Administration announced actions to reduce industrial emissions and support American leadership on clean manufacturing—which will create good-paying union jobs and revitalize local economies, while advancing climate goals and environmental justice.
The Department of Energy launched major clean hydrogen initiatives, totaling $9.5 billion in Bipartisan Infrastructure Law investments, and the Council on Environmental Quality issued new guidance on the responsible deployment of Carbon Capture, Utilization, and Sequestration (CCUS) to reduce emissions from heavy industry.
The first-ever Buy Clean Task Force will leverage the federal government's massive purchasing power to support low-carbon materials made in American factories. As part of these efforts, the General Services Administration and Department of Transportation are promoting use of construction materials with lower emissions across their lifecycle. The Administration is also expanding the First Movers Coalition to boost Buy Clean commitments from large companies and working with the European Union on carbon-based trade policies to reward American manufacturers of clean steel and aluminum.
Members of Congress, labor and business leaders, and a wide range of advocates and experts praised the Administration for these pro-climate, pro-worker actions that will strengthen our industrial base and reduce pollution.
Members of Congress:
California Senator Diane Feinstein: "Glad to see the Biden administration is working to help the American manufacturing industry reduce carbon emissions and produce cleaner products, including through green hydrogen. This set of actions will help spur this transition and advance efforts to confront climate change." [Tweet, 2/15/22]
California Senator Alex Padilla: "I applaud President Biden's creation of the new Buy Clean Task Force. California has been a leader in promoting the use of more sustainable construction materials in public projects, and I am glad to see that vision gaining national momentum," said Senator Padilla. "As we repair and rebuild our nation's infrastructure over the next decade, it is imperative that we use American-made, low-carbon materials. Incentivizing the use of cleaner cement and steel is a great example of how we can build a more resilient economy that creates good-paying jobs, reduces climate pollution, and safeguards clean air and water. Meaningful progress in creating more environmentally friendly construction requires this level of collaboration between government agencies and between the public and private sectors." [Statement, 2/15/22]
Delaware Senator Chris Coons: "Industry accounts for nearly a third of US emissions—cleaning it up is key to addressing climate change. Here's how:
Support the innovative tech that's needed, like clean hydrogen and carbon capture
Create demand for low-carbon products through procurement & trade policies" [Tweet, 2/15/22]
Massachusetts Senator Ed Markey: "The US government is the largest purchaser in the world—making the announcement of the Buy Clean Task Force a historic one. The taskforce will not only help reduce harmful industrial pollutants and emissions, but increase transparency and demand for clean American-made products." [Tweet, 2/15/22]
Michigan Senator Debbie Stabenow: "It's a no-brainer. One way to fight the climate crisis is to buy steel, cement, and other materials that produce less carbon emissions. Great work from the @WhiteHouse." [Tweet, 2/15/22]
Rhode Island Senator Sheldon Whitehouse: "We're on track to overshoot the 1.5-degree Celsius safe zone, and carbon utilization and direct air capture have roles to play in mitigating the damage to the planet. This new federal guidance will allow the bipartisan USE IT Act we shepherded into law to be fully deployed in support of promising technologies that remove pollution from the air." [Statement, 2/16/22]
Pennsylvania Senator Bob Casey: "I applaud the Biden Administration's actions to boost clean manufacturing and lower industrial emissions. This will create good-paying jobs while getting us closer to our goal of net-zero emissions by 2050." [Tweet, 2/15/22]
California Congressman Scott Peters: "To compete globally and avoid the most catastrophic consequences of the climate crisis, we must guide America's industries and economy towards a more sustainable future. We know that fighting climate change requires investment in innovative technologies and promulgation of trade policies aimed at cleaning up industrial practices that have long been at odds with a healthy climate. The actions announced today are a win for the planet and will deliver benefits to American factories and workers across the country." [Statement, 2/15/22]
Illinois Congressman Sean Casten: "This is a great first step and I'm especially happy to see the focus on the "hard to decarbonize" industrial sectors like steel and cement. We have to get to zero-CO2 ASAP, but decarbonizing our whole energy sector isn't sufficient." [Tweet, 2/15/22]
Illinois Congresswoman Jan Schakowsky: "
GREAT NEWS!" [Tweet, 2/15/22]
Michigan Congresswoman Debbie Dingell: "This is a HUGE deal! These actions are setting us on a path to sustainable manufacturing of electric vehicles, wind turbines, solar panels, & clean concrete—all while creating good-paying jobs & keeping America at the forefront of innovation & technology." [Tweet, 2/15/22]
Labor and Business Leaders:
Liz Shuler, President, AFL-CIO: "You may have heard that the industrial sector accounts for nearly 30% of our greenhouse gas emissions. Cleaner domestic manufacturing and industry means we can make products & materials for the net-zero economy right here in America, with big ripple effects for our communities. Yesterday's actions by the Biden-Harris Administration will

revitalize local economies

boost our competitiveness around the world

create good-paying, union jobs

lower costs for consumers

reduce pollutants in our air & water

help us build the clean energy future
A strong, clean, unionized domestic manufacturing sector will benefit the planet, the middle class, and workers in every corner of the country. #1u" [Tweet, 2/16/22]
International Brotherhood of Teamsters: "Expanding U.S. manufacturing has been a goal for elected officials across the political spectrum for years. But a new set of actions unveiled by the White House this week is focusing largely on 21st century technologies that will keep these good-paying jobs at home where they belong. The Biden administration debuted changes Tuesday that will focus on stepping up the nation's manufacturing efforts when it comes to clean manufacturing—including low-carbon production of the steel and aluminum the U.S. needs for electric vehicles, wind turbines and solar panels, and the clean concrete needed to upgrade transportation infrastructure." [Blog, 2/16/22]
Elizabeth Brotherton-Bunch, Senior Vice President for Communications, Alliance for American Manufacturing: "Together, Buy Clean and Buy America policies can help ensure American manufacturers and workers are leading the way when it comes to reducing global greenhouse gas emissions and creating a better environment. Combined with strong trade enforcement, these policies will allow the United States to be able to build a cleaner and more efficient industrial sector. Let's get the job done, and let's do it right." [Blog, 2/15/22]
Eric Stuart, Vice President of Environment and Sustainability, Steel Manufacturers Association: "We're excited to see the government coming around to recognizing that value [of steelmaking processes with lower greenhouse gas emissions] and making decisions that will help use U.S. tax dollars to purchase domestically produced materials. It's the right time for this type of buying apparatus to be put in place by the federal government, because it will allow us to educate the government as to the nature of our products, and benefit the domestic economy as a result." [Statement, 2/15/22]
Michael Ireland, President and CEO, Portland Cement Association: "PCA applauds the Biden-Harris administration for highlighting the importance of the industrial sector in tackling the climate crisis. PCA member companies are committed to doing their part in reducing the carbon intensity of American industry for years to come. PCA has been working toward implementing our industry's Roadmap to Carbon Neutrality to reduce carbon emissions across the entire cement-concrete-construction value chain since last October. We are pleased to see our thinking reflected in many of the actions proposed today. We are delighted the White House has recognized that carbon reductions cannot be achieved via a single industry in isolation ? it requires collaboration across an entire value chain. We are therefore encouraged to see alignment with the White House on a variety of critical issues. These include taking a lifecycle approach to evaluating construction materials, encouraging collaboration, engaging the workforce, and incentivizing private sector innovation. We look forward to working together with the White House Office of Domestic Climate Policy and the Council on Environmental Quality on this vital initiative. Meanwhile, PCA will continue its efforts with government agencies including the Department of Energy, Department of Transportation, General Services Administration and the Environmental Protection Agency to develop and implement policies that will help the industry to reduce emissions and reach carbon neutrality across the entire cement-concrete-construction value chain." [Statement, 2/15/22]
CEMEX: "The net-zero CO2 journey requires public and private sectors working together. CEMEX is a proud member of the #FirstMoversCoalition and committed to building a better future with low carbon products. #Vertua #FutureinAction" [Tweet, 2/15/22]
Advanced Energy Economy: "The advanced energy industry is uniquely positioned to help spur economic development & a federal push toward a cleaner industrial sector can build new domestic manufacturing opportunities for America's growing #CleanEnergy workforce." [Tweet, 2/15/22]
Labor Energy Partnership: "Today the @WhiteHouse announced a comprehensive set of pro-worker, pro-climate actions to strengthen our industrial sector while also:
adopting clean energy sources and tech
using clean, American-made materials
creating good, union jobs" [Tweet, 2/15/22]
Advocacy Leaders, Organizations, & Experts:
Conrad Schneider, Advocacy Director, Clean Air Task Force: "With today's announcement, the administration is furthering its leadership in tackling emissions from hard-to-electrify sectors and highlighting the importance of advancing critical carbon-free technologies like hydrogen and carbon capture. Industrial decarbonization is absolutely essential to hitting national and global climate targets to fend off the worst impacts of climate change. And, in order to get there, we need to a full suite of critical carbon-free technologies — including carbon capture, hydrogen, advanced nuclear energy, and geothermal. We're pleased to see the Administration showing global leadership to spur the advancement of these climate solutions, and we look forward to working with the administration to maximize impact and ensure effective implementation" [Statement, 2/15/22]
Derek Walker, Vice President for U.S. Region, Environmental Defense Fund: "Building a cleaner industrial sector is a major climate challenge that deserves a serious, whole-of-government approach. The Biden-Harris administration is taking direct aim at industrial pollution with a range of new initiatives that can spur innovative solutions and drive investment in clean, American-made materials. These actions will position the U.S. to lead on clean manufacturing, while creating good-paying, union jobs for workers and communities across the country. With inclusive and proactive planning, communities that have been disproportionately burdened by health-harming, air and water pollution can shape efforts to clean up industry and manufacturing. To fully and responsibly deliver on our climate goals, it will be essential for the Administration to integrate strong environmental and equity protections. We thank the Biden-Harris administration for taking on this notoriously tough climate challenge and look forward to harnessing new opportunities in clean manufacturing." [Statement, 2/15/22]
Jamal Raad, Executive Director, Evergreen Action: "In the 'whole-of-government' industrial decarbonization strategy released today, the Biden administration took strong, important actions towards cleaning up America's industrial sector ? one that makes up nearly 30% of our domestic greenhouse gas pollution once industrial electricity consumption is taken into account. The administration's industrial decarbonization strategy will help secure America's position as a global leader in the clean economy by accelerating the development of clean hydrogen, launching a Buy Clean Task Force, using trade policy to drive the global market for low carbon steel and aluminum products, and supporting equitable industrial innovation in communities across the country. They will be a powerful tool to slash carbon pollution from the sector while also creating good-paying jobs throughout the country. These industrial sector strategies should be celebrated. To achieve President Biden's goal of a net-zero economy by 2050, the administration must move full steam ahead on working on a notoriously tricky sector to decarbonize. That means industrial climate pollution standards in places where the EPA has (HFCs, methane) and has not yet (GHGs) already begun to regulate. And, crucially, we must pass the climate investments in the Build Back Better Act (BBBA) that contain robust tax incentives, as well as financing programs and direct investments for industrial decarbonization." [Statement, 2/15/22]
Jason Walsh, Executive Director, BlueGreen Alliance: "The BlueGreen Alliance has led advocacy efforts to develop and adopt Buy Clean since the policy's inception in California and we are thrilled to see this innovative idea implemented at the federal level. Buy Clean's climate benefits are clear. It will lower emissions from the industrial sector—one of the nation's highest emitters—by leveling the playing field for companies that are doing the right thing. This effort, as well as related initiatives announced today, will ensure that American manufacturers remain competitive in an increasingly carbon constrained world—supporting manufacturing workers and communities who rely on these important industries. We thank the Council on Environmental Quality and the Biden administration for this important work to fight climate change while lifting up American manufacturing." [Statement, 2/15/22]
Jessie Stolark, Policy and Member Relations Manager, Carbon Capture Coalition: "Today's announcements by the Biden Administration to advance industrial decarbonization initiatives across federal programs, reiterates the broad, bipartisan support for the economywide deployment of carbon management technologies and further underscores President Biden's commitment to utilizing carbon management as a critical tool to decarbonize heavy industry and manufacturing. The industrial and manufacturing sectors provide family sustaining, high-wage jobs, and form the backbone of many regional economies. At the same time, industry and manufacturing are responsible for nearly a third of domestic greenhouse gas emissions and are considered especially hard to decarbonize. Deploying technologies across the entire carbon management value chain—including carbon capture, removal, transport, utilization and storage, as well as low-carbon hydrogen produced with carbon capture—in these hard-to-abate sectors will be essential to reaching midcentury climate goals, while preserving and expanding a high-wage jobs base that families and communities depend upon." [Statement, 2/15/22]
Josh Freed, Senior Vice President for Climate & Energy, Third Way: "The economic race for the 21st century will be won by the country that leads on clean, advanced manufacturing, creating high quality jobs for workers, and exporting products like low-carbon steel, cement, and chemicals, and carbon management technologies to the world. The actions announced by the Administration today show that President Biden understands this race. And as we saw in the recent US-European Union steel and aluminum trade announcement, when America acts, other countries follow. By leveraging the expertise, leadership, and purchasing power of the federal government, the President is taking every step he can for the United States to lead in clean energy manufacturing ? and become the engine to help eliminate carbon pollution in the process." [Statement, 2/15/22]
Mike Williams, Senior Fellow, Center for American Progress: "The Biden administration is harnessing its own purchasing power and leveraging trade and the implementation of the Infrastructure Investment and Jobs Act to help achieve U.S. climate goals for the manufacturing sector. The actions outlined today will encourage the domestic production of low-carbon products such as steel and cement, position the United States to benefit from new and innovative industries, and help create good-paying union jobs." [Statement, 2/15/22]
Sasha Stashwick, Senior Advocate, Climate and Clean Energy Program, Natural Resources Defense Council: "Industrial materials like concrete, cement, steel, and aluminum are both carbon-intensive to produce and foundational to modern life. As the global demand for them grows, the only way to meet our climate goals and protect communities—including those on the frontlines of industrial pollution—is to explore all avenues to clean up these industries. We need to study the plan in detail before commenting further, but it is critically important that the Biden administration is taking action on curbing dangerous carbon emissions from U.S. heavy industry—which is responsible for almost a quarter of our nation's carbon footprint. This plan can cut climate pollution while creating jobs and making us more competitive on the world stage. With its focus on supporting innovation, using federal procurement to build markets for cleaner industrial materials, trade policy, and economic development, the White House shows it's committed to a holistic industrial policy for the future." [Statement, 2/15/22]
Sara Fontes, Government Affairs Advocate, League of Conservation Voters: "We are happy to see the Biden-Harris administration getting to work on implementing the crucial federal sustainability executive order announced in December as well as key provisions of the Infrastructure, Investment, and Jobs Act (IIJA). Today's announcement marks important progress toward decarbonizing our industrial sector, which comprises nearly a third of domestic greenhouse gas emissions, and reducing its toxic water and air pollution, which disproportionately harm low-income and communities of color. It further cements President Biden's whole of government approach to combating the climate crisis and commitment to leveraging the purchasing power of the federal government to do so. We applaud the administration's efforts to ensure that deployment of new technologies?particularly carbon capture and sequestration and clean hydrogen?is focused on industrial applications and done in an equitable way that does not further impact communities who are overburdened by pollution and the most harmed by climate change, and supports good, union jobs. Continued implementation of these ambitious Buy Clean and industrial decarbonization plans will require additional investments, and it is essential that Congress move quickly on federal appropriations bills and pass the climate and environmental justice provisions of the Build Back Better agenda as soon as possible." [Statement, 2/15/22]
Shannon Heyck-Williams, Senior Director of Climate and Energy Policy, National Wildlife Federation: "The manufacturing and industrial sectors are responsible for nearly one-third of carbon emissions — and need to be at the forefront of any serious climate action plan. The Biden Administration's industrial-emissions strategy will not only drive innovation in clean tech, but also will meet public health needs, foster a just energy transition, and create and maintain the type of good-paying, union jobs that will create opportunity in every corner of the country. We will work with White House to ensure this strategy centers environmental justice and drives the nation toward its mid-century climate goals." [Statement, 2/15/22]
Ben Beachy, Living Economy Program Director, Sierra Club: "The Sierra Club applauds the Biden administration's creation of a Buy Clean Task Force to ensure that when the government buys steel and concrete for infrastructure projects, it supports not only new bridges, but also clean air, good manufacturing jobs, and a livable climate. The launch of Buy Clean efforts at the Department of Transportation and General Services Administration is a welcome step to leverage billions of dollars in government contracts to drive demand for clean manufacturing. The Sierra Club also welcomes the advancement of climate-friendly trade policies with the European Union, which could help to spur demand for clean steel and aluminum manufacturing while reversing the outsourcing of pollution and jobs that outdated trade deals have fueled. It's also critical to ensure that the Biden administration's efforts to reduce industrial emissions support a swift transition to clean energy. Support for fossil-based hydrogen or CCUS projects that facilitate the expansion of the fossil fuel industry would undercut investments in industrial electrification, energy efficiency, and cleaner industrial processes, which are necessary to advance the administration's climate, jobs, and justice goals. We urge the Biden administration to direct all funding toward initiatives that slash climate pollution, support workers, and build healthy communities, not those that exacerbate the climate crisis." [Statement, 2/16/22]
Jack Andreasen, Manager of Industrial Decarbonization Policy, Breakthrough Energy: "Historic investments that will support emissions reductions in the hardest to abate sectors, bring good-paying union jobs, and reward US manufacturing that sets the bar for clean materials. Congrats @JaneAFlegal, @WHCEQ, @WhiteHouseCSO, and all staff!" [Tweet, 2/15/22]
Jesse Jenkins, Assistant Professor and Lead of Princeton's ZERO Lab: "The @WhiteHouse announced a bevy of new initiatives today to drive clean manufacturing and decarbonize industries, including billions for clean hydrogen, trade & "buy clean" efforts focused on low-CO2 steel, aluminum & cement, new guidance for CCUS, & more." [Tweet, 2/15/22]
Julio Friedmann, Chief Scientist, Carbon Direct: "Terrific news & welcome. US industries deserve the attention and range of options, including hydrogen, CCS, 'buy clean' and investment in innovation. Well done!!" [Tweet, 2/15/22]
Rebecca Dell, Industry Program Director, ClimateWorks Foundation: "As the world's largest purchaser, US government took a big step today by committing to Buy Clean: use low GHG alternatives to the most important products, like steel and cement. Helps the climate, doesn't increase costs." [Tweet, 2/15/22]
Steven Davis, Professor of Earth System Science, University of California Irvine: "Exciting bundle of efforts to address challenging GHG sources that my colleagues and I have spent years emphasizing. Procurement and buy clean policies especially could go a long way towards de-risking green industries. Feels like progress." [Tweet, 2/15/22]
Steven Rothstein, Managing Director, Ceres Accelerator for Sustainable Capital Markets: "Congratulations to @WhiteHouse @POTUS Ceres supports the role of federal procurement on climate risks" [Tweet, 2/15/22]
Todd Tucker, Director of Industrial Policy / Trade, Roosevelt Institute: "Big announcements coming out of the White House today on decarbonization of the industrial sector. It's the clearest indication yet the US will not only reduce imports of dirty steel, but will also push domestic industry to green its production." [Tweet, 2/15/22]
Tom Steyer, Co-Executive Chair of Galvanize Climate Solutions: "Clean manufacturing will be critical to meeting our decarbonization goals and revitalizing local economies across the country. It's great to see the @WhiteHouse use the government's purchasing power to increase demand for clean and low-carbon materials." [Tweet, 2/15/22]
Climate Power: "The Biden Administration just announced actions it will take across federal agencies to support clean manufacturing and create good-paying jobs. @POTUS is deploying an all-of-government approach to tackling the climate crisis and announcements like the one today prove it. But executive action alone is not enough. Congress must act to tackle this crisis and lower costs for working families." [Tweet, 2/15/22]
Great Plains Institute: "Today, the Biden administration announced a suite of actions to advance clean manufacturing and reduce US industrial emissions. GPI's Industrial Innovation Initiative marks the announcement as an important step toward achieving decarbonization priorities." [Tweet, 2/15/22]
Rocky Mountain Institute: "To solve climate change, we must tackle emissions from the industrial sector— which currently make up 40% of global emissions and are on track to majorly increase in the coming years. We applaud the @WhiteHouse for these actions" [Tweet, 2/15/22]
World Resources Institute: "WRI joins I3 in applauding the suite of actions to advance clean manufacturing and reduce US industrial emissions announced by the White House today. Important steps toward Decarbonizing Industry by 2050. #i3Blueprint21" [Tweet, 2/16/22]
Joseph R. Biden, WHAT THEY ARE SAYING: Leaders Applaud Biden-Harris Administration's Clean Industry and Manufacturing Actions Online by Gerhard Peters and John T. Woolley, The American Presidency Project https://www.presidency.ucsb.edu/node/354552