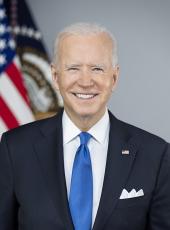 WHAT THEY ARE SAYING: Florida Leaders Applaud the Nomination of Judge Ketanji Brown Jackson
Yesterday, President Biden announced his intent to nominate Judge Ketanji Brown Jackson, one of our nation's brightest legal minds, as Associate Justice of the U.S. Supreme Court. President Biden sought a candidate with exceptional credentials, unimpeachable character, and unwavering dedication to the rule of law. Judge Jackson formerly clerked for Justice Breyer, and has broad experience across the legal profession – as a federal appellate judge, a federal district court judge, a member of the U.S. Sentencing Commission, an attorney in private practice, and as a federal public defender. She has been confirmed by the Senate on a bipartisan basis three times – most recently last year for her current seat. If confirmed, Jackson will be the first Black woman to serve on the Supreme Court.
A broad range of leaders and organizations from Jackson's home state of Florida issued statements applauding her qualifications and acknowledging her historic nomination.
See below for what they are saying:
Florida Rising Executive Director, Andrea Mercado: "Miami and Florida are proud to see one of our own nominated to represent us in the highest court in the nation. In this moment of history, we applaud President Biden for fulfilling his promise by nominating a highly qualified former public defender and Black woman to the Supreme Court. It's time the highest court reflects its own diverse population. Judge Ketanji Brown Jackson's nomination comes at a time when our nation is confronting the lack of representation that people of color have at the highest levels of government and power. She embodies the ideals of equality and justice that our country strives to achieve. That is a profound and lasting achievement for America." [Statement, 2/25/22]
Florida Cuban-American Leader and eMerge Americas CEO Felice Gorordo: "Tremendous #Miami hometown pride with the #SCOTUS nomination of Judge #KetanjiBrownJackson! Great pick @POTUS!" [Tweet, 2/25/22]
Mark Ferrulo, Executive Director, Progress Florida: "There can be no doubt that with President Joe Biden's nomination today of Judge Ketanji Brown Jackson our nation will have an immensely qualified new Justice on the United States Supreme Court," said Progress Florida Executive Director Mark Ferrulo. "Judge Brown Jackson's career has been defined by her deep respect for and commitment to upholding the rule of law and the values that define our country. Her exceptional life story and professional accomplishments leave no doubt that Judge Brown Jackson is the type of experienced jurist Americans can trust to serve on the United States Supreme Court."[Statement, 2/25/22]
Josh Weierbach, Executive Director, Florida Watch: "Today is a proud day for Florida and for all Americans as President Joe Biden has fulfilled his promise to nominate the first Black woman to the United States Supreme Court," said Florida Watch Executive Director Josh Weierbach. "A product of Miami-Dade public schools, Judge Brown Jackson's life story is inspiring to us all and a shining example of what the American Dream truly means. This is a historic moment for our nation that has been too long coming and we all look forward to Judge Brown Jackson's swift confirmation to the Supreme Court." [Statement, 2/25/22]
Jasmine Burney-Clark, Founder and Consulting Director, Equal Ground Florida: "On behalf of Equal Ground, I am overjoyed to share in the celebration of the nomination of Judge Ketanji Brown Jackson to the United States Supreme Court. This historical selection makes way for a new perspective never presented in the highest court of the land since its inception. Judge Jackson's views and approach will be one that carries the weight, the depth, and breadth of a people who have helped build this country but haven't been granted the full authority to serve this country in the role of Supreme Court Justice. We at Equal Ground are confident in her credentials and ability to meet this moment in time with the highest level of integrity. We call on Congress to swiftly hold hearings and bring President Biden's nominee to the floor for a confirmation vote." [Statement, 2/25/22]
Joseph R. Biden, WHAT THEY ARE SAYING: Florida Leaders Applaud the Nomination of Judge Ketanji Brown Jackson Online by Gerhard Peters and John T. Woolley, The American Presidency Project https://www.presidency.ucsb.edu/node/354645