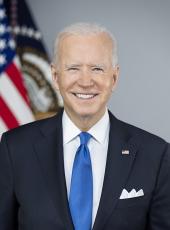 WHAT THEY ARE SAYING: Families Across the Country Begin Receiving President Biden's Child Tax Credit Relief Payments
Yesterday, thanks to President Biden's efforts and the successful passage of the American Rescue Plan, tens of millions of American families began to see their much-needed first monthly Child Tax Credit payment hit their bank accounts or mailboxes. Treasury estimates that families received roughly $15 billion dollars yesterday in the first-ever round of monthly Child Tax Credit payments.
The Child Tax Credit -- which has been expanded through the American Rescue Plan -- provides hard working families with more breathing room to cover expenses and pay the bills, and covers nearly 60 million children. The expanded Child Tax Credit is one of the largest-ever single-year tax cuts for families with children.
State and local elected officials and community advocates praised the President for his commitment to making historic investments in our kids, our families, and our economic future – because when American families do well, our nation thrives.
See below for what they are saying:
Governors
Governor Michelle Lujan Grisham (D-NM): "Huge news from the @WhiteHouse – today New Mexico working families will begin receiving the results of the expanded Child Tax Credit, the first of monthly payments that will make an incredible difference in the lives of so many New Mexicans. More info: https://t.co/GGl7HncZTj" [Tweet, 7/15/21]
Governor Gretchen Whitmer (D-MI): "An estimated 92% of children in Michigan will benefit from this vital piece of the American Rescue Plan. That's nearly 2 million children – and you can still sign up! Visit https://t.co/vStDKXMtfU to learn how." [Tweet, 7/15/21]
Governor Phil Murphy (D-NJ): "Start?ing today, direct monthly payments will begin to hit families' bank accounts and mailboxes – helping cut child poverty and provide historic relief for our working families. This is a big deal, and it's all thanks to @POTUS's American Rescue Plan. #ChildTaxCredit https://t.co/0odoE0oJrP" [Tweet, 7/15/21]
Governor JB Pritzker (D-IL): "Today, most parents across Illinois will receive a check from the expanded #ChildTaxCredit thanks to @POTUS's American Rescue Plan. These monthly payments of $250 or $300 per child will go a long way to help families meet their needs. Learn more at https://t.co/LTakoPa8mL https://t.co/HKboX6HdrR" [Twitter, 7/15/21]
Governor Ralph Northam (D-VA): "Starting TODAY, working families across Virginia will begin receiving monthly payments of up to $300 per child—all thanks to an expansion of the Child Tax Credit included in the #AmericanRescuePlan. This will benefit 1.6 million Virginia children, lifting 85,000 out of poverty. https://t.co/ZM09JFfbPm" [Tweet, 7/15/21]
Governor Steve Sisolak (D-NV): "Today, thanks to @POTUS' & @VP's #AmericanRescuePlan, tens of millions of American families covering nearly 60 million children will begin to see their much-needed first monthly #ChildTaxCredit payment - This is how we #BuildBackBetter! https://t.co/0ae6rTy58t. https://t.co/AMkvjzqOJ3" [Tweet, 7/15/21]
Governor Dan McKee (D-RI): Reminder for RI Families! The first Child Tax Credit payments of up to $300 go out TODAY, July 15th. For more info visit http://childtaxcredit.gov Not sure if you qualify? Check your eligibility here: https://bit.ly/3kgz4gq" [Tweet, 7/15/21]
State Representatives
AZ Rep. Reginal Bolding: "The #ChildTaxCredit is historic and will be a game changer for so many families. Over 35 million families will begin receiving up to $300 per child from the American Rescue Plan. Elections matter!" [Tweet, 7/15/21]
MO Rep. Crystal Quad: "Thanks to the #ChildTaxCredit, starting today, most families will qualify for monthly payments up to $300 per child. This is huge relief for so many, this is food in the fridge, this is helping put a roof over kids' heads, this is what Missourians need." [Tweet, 7/15/21]
FL Rep. Andrew Learned: "Childhood poverty robs kids of their full potential and strangles future prosperity. Thanks to the #AmericanRescuePlan, starting today, we're putting dollars into the pockets of America's families and helping these kids excel! For more info:" [Tweet, 7/15/21]
WI Rep. Gordon Hintz: "Today, Wisconsin families will receive up to $300 per child in tax credit payments as a part of the American Rescue Plan. Find out more at http://Childtaxcredit.gov." [Tweet, 7/15/21]
NJ Speaker Craig Coughlin: "Today, working families and parents of 60 million children will begin seeing the first federal Child Tax Credit payments. Projected to lift millions of kids out of poverty, this meaningfully invests into our children, their well-being, and futures." [Tweet, 7/15/21]
FL Rep. Dotie Joseph: "Starting today, July 15th, families will receive monthly payments of $250 to $300 for each child as part of the advance #child #TaxCredit expanded by the #AmericanRescuePlan! For more information, visit http://childtaxcredit.gov #TeamDotie with #NewsYouCanUse #BidenBucks" [Tweet, 7/15/21]
PA Rep. Malcolm Kenyatta: "As Child Tax Credits begin arriving, @POTUS is making good on his promises to our families. I got my first job at age 12 to help make ends meet, but a Child Tax Credit would have given us room to breathe. Government can and must work for working families. This is how we start." [Tweet, 7/15/21]
CO Sen. Julie Gonzales: "¡ATENCIÓN PADRES Y MADRES! La primera ronda del #ChildTaxCredit expandido llegará a tus cuentas bancarias HOY! Si eres elegible y sometiste tus impuestos en 2019 o 2020, automáticamente recibirás pagos. O, puedes inscribirte aquí: http://irs.gov/childtaxcredit2021... #COLeg #copolitics." [Tweet, 7/15/21]
SC Rep. Todd Rutherford: "Starting today, families in South Carolina will receive monthly payments through the Child Tax Credit. Let's be clear: President Biden and Democrats in Congress made this happen. Every single Republican voted against it!" [Tweet, 7/15/21]
PA Rep. Dan Frankel: "Today, the expanded Child Tax Credit is hitting U.S. families bank accounts and mailboxes. Over 2.3 million children in Pennsylvania will benefit from this major aspect of the American Rescue Plan." [Tweet, 7/15/21]
WV Rep. Kayla Young: "Child Tax Credit rolls out today! Nearly 1 in 5 kids in WV lives in poverty. This money will lift many of them out of said poverty." [Tweet, 7/15/21]
WI Rep. Beth Meyers: "Starting today, Wisconsin families will receive up to $300 per child in tax credit payments as a part of the American Rescue Plan. Find out more here:" [Tweet, 7/15/21]
FL Rep. Ben Diamond: "Working parents can breathe a little easier today. Thanks to @POTUS & Democrats in Congress, the expanded #ChildTaxCredit will begin hitting bank accounts starting today. This policy will be transformational for millions of children across the country." [Tweet, 7/15/21]
SC Rep. Marvin Pendarvis: "Families eligible for the Child Tax Credit will begin receiving their first monthly payment today. This is huge for working families across South Carolina and will help them cover expenses and pay the bills. #HelpIsHere" [Tweet, 7/15/21]
SC Rep. JA Moore: "Families eligible for the Child Tax Credit will begin receiving their first monthly payment today. This is huge for working families across South Carolina and will help them cover expenses and pay the bills. #helpishere" [Tweet, 7/15/21]
SC Rep. Rosalyn Henderson-Myers: "To prevent childhood poverty and help working families, eligible households will begin receiving monthly payments to help cover expenses. To learn more about the Child Tax Credit or to sign up if you have not automatically qualified, visit http://ChildTaxCredit.gov. #HelpisHere" [Tweet, 7/15/21]
GA Sen. Michelle Au: "Today, GA families will start receiving new monthly payments as part of the #ChildTaxCredit expansion, which could lift 165,000 kids out of poverty. Parents will get $300/month for any child ? 5, and $250 for kids age 6-17. Thank you @POTUS, @VP, @SenOssoff, @SenatorWarnock!" [Tweet, 7/15/21]
AZ Sen. Kirsten Engel: "The #ChildTaxCredit will be a game-changer for so many Tucson families. https://tucson.com/news/local/more-than-90-of-tucson-families-eligible-for-new-child-tax-credit-study-says/article_13434c78-e4e5-11eb-b629-5f60df86ef20.html?utm_medium=social&utm_source=twitter&utm_campaign=user-share... via @tucsonstar" [Tweet, 7/15/21]
FL Sen. Loranne Ausley: "According to the @FLChamberFDN, over 21,000 children in #SD3 live in poverty. Help is on the way for these families starting today with the #ChildTaxCredit!" [Tweet, 7/15/21]
CO Sen. Steve Fenberg: "The 1st round of the #ChildTaxCredit hits mailboxes & bank accounts TODAY! Parents of 1 MILLION CO kids will receive a check of up to $300/child! If you're eligible & filed taxes in 2019 or '20 you'll automatically receive payments. Otherwise, sign up at http://IRS.gov" [Tweet, 7/15/21]
CO Sen. Rhonda Fields: "Parents: Check your bank accounts starting today July 15! The new #ChildTaxCredit is on its way to help millions of families succeed in #CO & across country as well as cutting childhood poverty in HALF! Now they're asking @SenSchumer to make these monthly #ChildCheckspermanent !" [Tweet, 7/15/21]
VT Sen. Pro Tem Becca Balint: "Child poverty cut in half. That's right–IN HALF. Congress can and should make the #ChildTaxCredit permanent." [Tweet, 7/15/21]
TN Sen. Raumesh Akbari: "Listen up, #Tennessee! More then 750,00 families in Tennessee with more than 1.2 million children will benefit from the #ChildTaxCredit. This investment will immediately reduce childhood poverty by half. That's a BIG DEAL! For more information, visit http://childtaxcredit.gov" [Tweet, 7/15/21]
PA Sen. Maria Collett: "Today, families will begin to receive automatic monthly payments of $250-$300 for each child as part of the federal #ChildTaxCredit. If you haven't filed taxes in the last 2 years, complete the IRS non-filer form to get your credit. Learn more: http://childtaxcredit.gov." [Twitter, 7/15/21]
GA Sen. Nikki Merritt: "Hitting bank accounts today! Monthly tax credits of $300 for children under 6, and $250 for children 6-17. Knowing how hard the pandemic has been on many GA families, I am thankful these tax credits will help lift children out of poverty and strengthen our middle class." [Tweet, 7/15/21]
NH Sen. Rebecca Perkins Kwoka: "Over 75% of children in our district will benefit from the expanded #ChildTaxCredit—nearly 200,000 kids statewide. Crucial relief to help parents afford child care and remain in the workforce. Thank you to @RepChrisPappas and our Delegation. #NHPolitics." [Tweet, 7/15/21]
FL Sen. Annette Taddeo: "The #AmericanRescuePlan is finally providing hard-working families the #ChildTaxCredit they deserve. Grateful to see steps forward through the efforts of @HouseDemocrats & President @JoeBiden to reduce child poverty, hardship, & hunger." [Tweet, 7/15/21]
MI Sen. Sean McCann: "Beginning today, $3,000 to $3,600 per child will be available to eligible families under President Biden's American Rescue Plan. This will have a huge impact on child poverty and help families across the country! 1/2 The tax credit will provide residents who qualify with monthly checks that would ease financial burdens worsened by the COVID-19 pandemic. 2/2" [Thread, 7/15/21]
VA Delegate Eileen Filler-Corn: "Hundreds of thousands of Virginia families will begin receiving payments today thanks to President Biden's Child Tax Credit expansion, which will provide substantial help to assist families paying bills and accessing child care." [Tweet, 7/15/21]
Democratic Party Leaders
CA Assembly Democrats: "Starting TODAY! Nearly all working families will start seeing $250 to $300 per child delivered monthly to their bank account or sent to their mailboxes. @POTUS @VP @WhiteHouse @JoeBiden @KamalaHarris. The Child Tax Credit will: Provide major tax relief for nearly all working families. President Biden's American Families Plan calls for extending this for years and years. Have an easy sign-up for low-income families to cut child poverty in half. Look for a deposit labeled "CHILDCTC" in your bank account." [Thread, 7/15/21]
MA State Senate: "Thanks to the #AmericanRescuePlan, starting today, low- and middle-income families with children will receive monthly payments until December, with an additional payment following tax fillings, helping to cover childcare costs and other challenges stemming from the pandemic." [Tweet, 7/15/21]
NC House Democrats: "Today, thanks to President Biden's efforts and the successful passage of the American Rescue Plan, millions of American families will begin to see their first monthly Child Tax Credit payment hit their bank accounts. #ncpol" [Tweet, 7/15/21]
CT Senate Democrats: "Thank you Democrats and President Biden! Child tax credit payments begin today via @WFSBnews" [Tweet, 7/15/21]
VA Senate Democrats: "President Biden's plan helps thousands of Virginia's families keep a roof over their heads and food on the table." [Tweet, 7/15/21]
Indiana Senate Dems: "Everything you need to know about the Child Tax Credit, which officially begin going out today in advance payments, can be found below:" [Tweet, 7/15/21]
SC House Democrats: "Starting today, eligible families will begin receiving monthly payments to help cover the expenses that accompany raising a child. (1/3) The expansion of the Child Tax Credit under the Biden administration represents a historic investment in ending child poverty and supporting working families, including those in South Carolina. (2/3) To learn more about the Child Tax Credit or to sign up if you haven't automatically qualified, visit http://ChildTaxCredit.gov. (3/3)" [Thread, 7/15/21]
MI Senate Dems: "Help is here! Almost all working families start receiving historic expanded #ChildTaxCredit payments today. With money flowing to families across Michigan, communities will grow even stronger." [Tweet, 7/15/21]
MO House Democratic Caucus: "The Child Tax Credit is a different kind of economic stimulus: one that helps everyday Americans and doesn't just help the ultra-wealthy pad their bank accounts. You can read more about it here: https://whitehouse.gov/child-tax-credit/ [Tweet, 7/15/21]
CO Senate Democrats: "IT'S CHILD TAX CREDIT DAY Starting today, most American families have begun receiving up to $300 a month per child in payments from the newly expanded federal Child Tax Credit! Learn more http://whitehouse.gov/child-tax-credit... #COLeg #COpolitics" [Tweet, 7/15/21]
Mayors
Mayor Andrew Ginther, Columbus, OH: "The Child Tax Credit in the American Rescue Plan provides the largest Child Tax Credit ever and historic relief to the most working families ever!" [Tweet, 7/16/21]
Mayor Tom McNmara, Rockford, IL: "Thank you @POTUS for the increased Child Tax Credit that began helping families today. #BidenBucks" [Tweet, 7/15/21]
Mayor Kathy Sheehan, Albany, NY: "Starting today, direct monthly payments will begin to hit families' bank accounts & mailboxes – lifting children out of poverty & providing historic relief for our working families. This is a big deal & it's all thanks to @POTUS' American Rescue Plan #ChildTaxCredit" [Tweet, 7/15/21]
Mayor Jenny Durkhan, Seattle, WA: "Starting today, over 760k Washington families are eligible for a #ChildTaxCredit of $3,000-$3,600 per child. Thanks to the @potus #AmericanRescuePlan, families struggling to cover basic needs & expenses will get the support they need. More info:" [Tweet, 7/15/21]
Mayor Gary McCarthy, Schenectady, NY: "The #ChildTaxCredit in @POTUS American Rescue Plan provides historic relief to the most working families ever by lifting children out of poverty. To learn more, visit: http://ChildTaxCredit.gov" [Tweet, 7/16/21]
Mayor Randall Woodfin, Birmingham, AL: "This historic investment in our children and economic future will make a huge difference for working families across the country -- including right here in Birmingham -- by providing breathing room to cover expenses and pay the bills. Head to https://t.co/P5l3HczBhN for more." [Tweet, 7/16/21]
Mayor Luke Bronin, Hartford, CT: ".@POTUS and @thedemocrats passed the most significant anti-poverty program & middle class family support in generations by expanding the child tax credit. Will lift up tens of thousands of Hartford kids & families. https://t.co/thktuJJYrb to learn more & sign up if you need to. https://t.co/fjgqQZRLQ3" [Tweet, 7/15/21]
Mayor James Mueller, South Bend, IN: "Actually, in my lifetime, we have not seen this kind of investment in the local level from the federal government so it can be a game changer for our community." How South Bend plans to spend Covid relief funds (msn.com)
Mayor Tishaura Jones, St. Louis, MO: "Almost 50% of Americans don't have $400 for emergencies. This direct relief helps." St. Louis Pandemic Relief Includes Cash Payments To Low-Income Residents And Vaccine Incentives | St. Louis Public Radio (stlpublicradio.org)
Mayor Levar M. Stoney, Richmond, VA: "The #ChildTaxCredit is transformative and demonstrates what government can do! I agree with @POTUS, this should be extended for years to come so we can continue to Build Back Better. Learn more about the tax credit ?? https://t.co/6P6DQ3CQ3E" [Tweet, 7/15/21]
Mayor Steve Schewel, Durham, NC: "Thanks to the American Rescue Plan, most families in Durham will receive monthly #ChildTaxCredit payments starting today. It's a guaranteed income through December. I joined @mayorsforagi because all Americans deserve an income floor. This is a step in that direction. https://t.co/DPGUP8UXuD" [Tweet, 7/15/21]
Mayor Jenny Durkan, Seattle, WA: "Starting today, over 760k Washington families are eligible for a #ChildTaxCredit of $3,000-$3,600 per child. Thanks to the @potus #AmericanRescuePlan, families struggling to cover basic needs & expenses will get the support they need. More info: https://t.co/KRLwjMqwLT" [Tweet, 7/15/21]
Mayor Todd Gloria, San Diego, CA: "Thanks to @POTUS and @VP, and the passage of the #AmericanRescuePlan, thousands of San Diego families will begin to see their much-needed first monthly Child Tax Credit payment in their bank accounts. This puts money back in the pockets of those who need it most. #ForAllofUs"[Tweet, 7/15/21]
Mayor Joyce Craig, Manchester, NH: "As the #ChildTaxCredit begins hitting bank accounts of parents across Manchester today, my team and I were talking to voters at the #CareKeepsUsAfloat Summer Block Party about how children and families are benefiting from the American Rescue Plan. #NHPolitics https://t.co/1N5XoWTBIc" [Tweet, 7/15/21]
Mayor Tishaura Jones, St. Louis, MO: "Today is the the day! @POTUS' #ChildTaxCredit will put money in the pockets of working families across the country. Make sure you're prepared to take advantage of this incredible opportunity for our children ?? https://t.co/FDDw5QB7x6" [Tweet, 7/15/21]
Mayor Kim Janey, Boston, MA: "The Child Tax Credit is a precious opportunity for families to gain their financial footing and provide the best they can for their children." [Tweet, 7/15/21]
Mayor Robert Garcia, Long Beach, CA: "Today is a historic day as the monthly child tax credit begins for working families. An incredible safety net for parents and children. Thank you President Biden and VP Harris ????????" [Tweet, 7/15/21]
Mayor Nan Whaley, Dayton, OH: "Today, the families of nearly 1.2 million Ohio kids will see their first Child Tax Credit payments. Thanks to the American Rescue Plan and President Biden's leadership, child poverty could be cut dramatically through this investment in American families! " [Tweet, 7/15/21]
Mayor Lori E. Lightfoot, Chicago, CA: "About 90% of children in the U.S. are now eligible for the new child tax credit, starting today, July 15. Non-tax filers must sign-up to get monthly payments." [Tweet, 7/15/21]
Mayor Libby Schaaf, Oakland, CA: "This is a big deal. Nearly 90% of families will receive up to $300 a month per child thanks to the #ChildTaxCredit. It is a huge step towards cutting childhood poverty in half! TY @POTUS and @VP
" [Tweet, 7/15/21]
Mayor Steve Adler, Austin, TX: "Today, tens of millions of American families will begin to see their first monthly Child Tax Credit payment hit their bank accounts or arrive in the mail. #ChildTaxCredit #AmericanRescuePlan" [Tweet, 7/15/21]
Mayor Sharon Weston Broome, Baton Rouge, LA: "Relief is on the way for Baton Rouge's families — the Child Tax Credit in the American Rescue Plan provides historic relief to the most working families ever." [Tweet, 7/15/21]
Mayor Michael Hancock, Denver, CO: "Advance Child Tax Credit payments begin this week. Please take advantage of this amazing opportunity to help our kids and families get the help they need. See if your family is eligible today: https://t.co/BPLsyJ6Fqs https://t.co/UpXHK0eR2E" [Tweet, 7/15/21]
Office of the Mayor, Los Angeles, CA: "Starting today, thanks to the American Rescue Plan, the first-ever #ChildTaxCredit payment will be distributed to tens of millions of working families across our nation and provide much-needed relief for families with children who are struggling to cover basic expenses. [Tweet, 7/15/21]
City of Tacoma: "Through the American Rescue Plan, working families in #Tacoma will begin receiving monthly #ChildTaxCredit payments starting today. Most families will automatically receive monthly payments without having to take any action. Learn more at https://t.co/fekrbhfKlj. https://t.co/D2wMsCUdgR" [Tweet, 7/15/21]
City of New Orleans, LA: "Did you know that the federal government is sending monthly cash payments to most working-class families starting this month?? Even if you don't file taxes, you're still eligible to receive monthly payments of up to $300 a month ($3,600 annually) - straight from the IRS to you?? https://t.co/4f9Wj1mrcK" [Tweet, 7/15/21]
Joseph R. Biden, WHAT THEY ARE SAYING: Families Across the Country Begin Receiving President Biden's Child Tax Credit Relief Payments Online by Gerhard Peters and John T. Woolley, The American Presidency Project https://www.presidency.ucsb.edu/node/337056