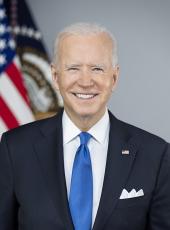 WHAT THEY ARE SAYING: Business Leaders Make the Case That Care Policies Are Good for Economy, Business
Vice President Harris Convenes Leading Businesses To Discuss Support for Care Provisions in Build Back Better
Yesterday, on the heels of the Senate taking an important step towards passing the Biden-Harris Administration's Build Back Better Agenda, Vice President Kamala Harris convened a group of company CEOs and presidents from Airbnb, Chobani, Etsy, Gap Inc., Microsoft, Patagonia, and Seventh Generation to discuss the importance of investing in our care infrastructure. In addition, the Care Can't Wait Coalition announced support from over 275 companies for care provisions in Build Back Better.
Business leaders and employers from across the country joined in making it clear that a strong investment in care is a win-win for both employers and workers, helping to cut costs for families and businesses and grow the economy.  Here's what they had to say about the President's care provisions in the Build Back Better Agenda:
Nathan Blecharczyk, Co-founder and Chief Strategy Officer of Airbnb: "At Airbnb, we see firsthand that paid leave and caregiving policies promote employee and family wellness, and also strengthen our company. Investing in our workforce is an investment in our country's future and President Biden's American Family Plan will give Americans more equitable access to programs that would help to balance caring for families and earning a paycheck."
Argent: "Even before the pandemic our economy was not built to support women—particularly working mothers—and one thing is clear: we're facing a crisis. Argent wholeheartedly supports and champions policies and legislation that will address the necessity for a more complete care infrastructure, one that will allow us to break down the systemic barriers that have kept women from reaching their full potential at work for far too long."  
Liz Fairchild, Executive Director of Business Forward: "Business Forward is encouraged by the Biden-Harris Administration's Build Back Better investments in care infrastructure. The country needs a robust approach to support working families as they manage caregiving responsibilities. Providing paid leave is a win-win solution that helps individuals stay in the workforce, increases profits for employers, and levels the playing field between large employers and small businesses.  Ambitious investments in the care economy are critical to improving our labor force participation rate and giving families and employers the support they need as we build back better."
Tim Allen, CEO of Care.com: "As a leader in the child and senior care space, we know that now is the time to completely reimagine care in America.  The pandemic has forced us to shift how we think about and value care as a nation.  But to do so means acknowledging that care is economic infrastructure essential to our recovery and future growth. Flexible, affordable, and permanent solutions that help support families and caregivers, especially women, are the key. Care is the difference between employees working and companies being productive or our economy coming to a halt."
Hamdi Ulukaya, CEO of Chobani: "Chobani applauds the Administration's efforts to promote policies that help kids and working families.  We know from experience how critical these policies are. Chobani implemented a paid parental leave policy in 2017, offering 100% paid parental leave for six weeks for all full-time hourly and salaried employees. And, since the onset of the COVID-19 pandemic, Chobani has also supported our employees by providing an ongoing daily childcare subsidy to support those who suddenly found themselves without childcare options due to closed schools and childcare centers. Policies that support parental leave and childcare are critical to ensuring that parents can remain in the workforce. We look forward to partnering with the Administration on policies that support working families."
Danone North America: "At Danone, we are a purpose-driven company and one of the world's largest certified B corporations. 50 years ago, our CEO made a public statement that 'Our responsibility does not end at the factory gate or the office door.' We take our responsibilities to our employees very seriously – from paying a living wage, to having high safety standards, to providing highly competitive benefits. That is why in 2016, we began implementing a parental leave policy to provide our eligible corporate U.S. Danoners paid time to bond and care for their new family members. More recently, we announced the expansion of our paid Parental Bonding Leave Policy to 18 weeks for our hourly (union and non-union) manufacturing employees, who became eligible to participate under the policy beginning December 1, 2020."
Josh Silverman, CEO of Etsy: "Ultimately, we want to enable parents and caregivers to play equal roles in building successful businesses and nurturing their families. We are excited to work together with the Biden-Harris  Administration to help America make this needed investment in our children, for our families and for our economy."
David Hanrahan, Chief Human Resources Officer of Eventbrite: "Eventbrite believes that paid leave is critical for working families, businesses large and small, and our country's long-term economic growth. At Eventbrite, paid leave benefits both our employees, who get the time they need to focus on the changes in their lives, as well as our business, which doesn't skip a beat."
Gap Inc.: "Gap Inc. is the largest American specialty apparel company with more than one hundred thousand employees. Women and people of color make up the majority of our employee base and we know that COVID has impacted them disproportionately. Gap shares the Administration's commitment to an equitable and inclusive economic recovery and that is why we joined the Vice President and other private sector businesses to support the Build Back Better plan. As the first Fortune 500 company to validate Equal Pay, we took a stand and that continues today. We offer employees backup childcare, crisis care and tuition discounts, and this year we were recognized both as leaders on paid leave and for our strong commitment to gender equality across our supply chain."
Levi's: "American workers have shown they can take on just about any challenge, but there are times when they need extra support, especially when it comes to looking after family members. A national paid family and medical leave policy would not only help us build back better as a nation; it would also provide immense relief to large numbers of working Americans, including members of the growing "sandwich generation" who are looking after both children and aging parents. Paid leave is good for businesses, too, as we've seen firsthand — a relatively small investment with a very meaningful return that encourages employee retention, lowers re-training costs, supports productivity, and fosters a culture where people can do their best work. Paid leave benefits can also make our country more equitable and help recover some of the estimated $22.5 billion in annual lost wages linked to the absence of paid family and medical leave benefits. It is time for a national paid leave policy, for the good of our workers, our businesses, and our country."
Chanda Causer and Stephen Michael, Co-Executive Directors of Main Street Alliance: "Small businesses applaud the historic investment in our care economy outlined in the budget resolution. It is time to invest in our care infrastructure. Small businesses are demanding these programs, like paid leave and child care, that will help ease the burden of high costs on working families and support entrepreneurs. It's past time to level this playing field. An investment in our overall care economy is an investment in small businesses, and our local community."
Brad Smith, President of Microsoft: "Today, @VP organized an important conversation on childcare and paid leave. The pandemic has underscored the need to ensure caregivers can continue to contribute to companies and the economy. We welcomed the opportunity to engage."
Sarah Miyazawa LaFleur, Founder and CEO of MM LaFleur: "As an employer who has hired hundreds of employees in New York, Boston, Chicago, SF, Atlanta, Houston, and more, we have seen firsthand that access to paid leave leads to happier, more productive employees and parents.  Speaking personally as a new mother of three babies, I know first-hand that I would have never been able to lead my company through this challenging year of Covid had I not had that time off to recover and the same is true of my husband: he managed to secure four months of paid leave, and as a result has bonded with my children just as much as me. The result is that he continues to be an equal partner, and he has enabled me to focus on getting my company back on track after a hard year of Covid. It makes economic sense to support both our mothers AND our fathers in order to get more women back into the workforce. There is no time to waste – business and government must come together to take action now."
Jenna Johnson, President of Patagonia: "Policies to support working parents are good for communities, good for our economy and good for our country," said Jenna Johnson, president of Patagonia. "As a result of 40 years of supporting employees with onsite childcare, Patagonia has learned we can create a more equitable and productive workplace culture and retain and attract talent while recouping most of the cost. The companies represented at the White House today all offer incredible benefits to families, but we shouldn't be the exception. The respect and dignity this nation owes workers — which workers deserve — should not be a competitive advantage. These policies need to be the norm."
Liz Meyerdirk, CEO of the Pill Club: "The benefits of caregiving and paid leave policies far outweigh the costs. That's why The Pill Club has taken steps to address the gap in traditional parental leave policies by introducing a paid pregnancy loss leave policy earlier this year. Supporting working caregivers is critical to ensuring their emotional and physical wellbeing—and it's good for business. It's time to redefine our caregiving infrastructure, and The Pill Club is proud to support the Care agenda in its efforts to move workplaces forward."
Alexis Ohanian, Founder of Seven Seven Six and Cofounder, Reddit: "This is a business decision from an economic standpoint. We know our economy is better off with healthier outcomes for our newborns, and healthier outcomes for our mothers."
Seventh Generation: "We have a once in a generation opportunity as we come out of the COVID crisis to address the inequities in our society - including both climate and childcare," said Alison Whritenour, CEO of Seventh Generation. "Access to quality childcare is critical for building an equitable economy that works for all people."
Salesforce: "At Salesforce, we believe paid family leave is essential to creating a better future of work for everyone. People are our biggest asset and we're committed to supporting working parents with benefits, programs and policies that enable employees and their families to stay happy and well." 
The Second Shift:  "As a company founded by working mothers, representing thousands of working women across the country, and dedicated to giving women control of their career journeys, we know that funding for CARE is a crucial component to re-building a strong and equitable workforce. The pandemic exposed the structural fault lines in the lives of working families and with federal government action, along with cooperation from the business community, we will create a solid foundation to support women in the workplace today and for future generations."
Small Business for America's Future: "Small business owners are the backbone of the nation's economy, driving economic growth and job creation. As we recover from the devastating economic impact of the Covid-19 pandemic, small businesses will take a central role in getting our communities back to work. The Biden Administration's Build Back Better Agenda proposes significant investments in child care, paid family and medical leave, and long-term care to ensure the workforce has adequate resources and care for their families. These proposals will help small businesses avoid lost productivity and growth caused when workers are forced to take time away or leave their jobs because of a lack of affordable care options."
Lindsay Jurist-Rosner, CEO & Founder of Wellthy: "It's never been more important to provide proper support and infrastructure for families who are balancing care responsibilities. Caregiving challenges have long been impacting individuals and employers alike. As the pandemic has pushed this crisis to a boiling point, government and business leaders will need to act soon to avoid further social and economic damage, and get families back on track."
Joseph R. Biden, WHAT THEY ARE SAYING: Business Leaders Make the Case That Care Policies Are Good for Economy, Business Online by Gerhard Peters and John T. Woolley, The American Presidency Project https://www.presidency.ucsb.edu/node/352320