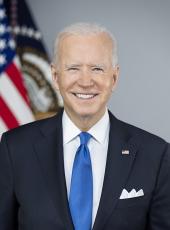 WHAT THEY ARE SAYING: Black Leaders Applaud President Biden's Selection of Judge Ketanji Brown Jackson as next US Supreme Court Justice
Yesterday, President Biden announced his intent to nominate Judge Kentanji Brown Jackson, one of our nation's brightest legal minds, as Associate Justice of the U.S. Supreme Court. President Biden sought a candidate with exceptional credentials, unimpeachable character, and unwavering dedication to the rule of law. Judge Jackson formerly clerked for Justice Breyer, and has broad experience across the legal profession – as a federal appellate judge, a federal district court judge, a member of the U.S. Sentencing Commission, an attorney in private practice, and as a federal public defender. She has been confirmed by the Senate on a bipartisan basis three times – most recently last year for her current seat. If confirmed, Jackson will be the first Black woman to serve on the Supreme Court.
A broad range of leaders in the Black community issued statements applauding her qualifications and acknowledging her historic nomination.
See below for what they are saying:
Marc Morial, President and CEO, National Urban League: "Two years ago today, President Biden made a promise to the American people that he would nominate the first Black woman to the United States Supreme Court. We are pleased that the President honored his promise and congratulate U.S. Circuit Court Judge Ketanji Brown Jackson on this prestigious nomination. Even as we review her full record, Judge Jackson has already proven she is eminently qualified to serve on the U.S. Supreme Court. After graduating from Harvard Law School, Judge Jackson clerked for judges at every level of the federal judiciary, including former Associate Justice Stephen Breyer on the U.S. Supreme Court, and served as a federal public defender. With her extensive experience in both civil and criminal law, Judge Jackson is more than prepared for exemplary service on the nation's highest court." [Statement, 2/25/22]
Spencer Overton, President, Joint Center for Political and Economic Studies: "President Biden made an outstanding choice in nominating Judge Jackson to serve on the U.S. Supreme Court. Her experiences clerking for Justice Breyer at the U.S. Supreme Court, practicing law, and serving as a federal judge at both the district and appellate levels give her deep insights into the federal judiciary. Judge Jackson's brilliance, her strong work ethic, and her experiences building consensus while serving on multi-member institutions, like the U.S. Sentencing Commission empower her to be an effective and influential justice. "The Supreme Court would be more insightful, more just, and better equipped to ensure 'Equal Justice Under Law' for all Americans with Ketanji Brown Jackson as a justice. We urge the U.S. Senate to swiftly confirm Judge Jackson." [Statement, 2/25/22]
Melanie Campbell, President, National Coalition on Black Civic Participation and Convener of the Black Women's Roundtable: "Today, as we close out Black History Month, we thank President Joe Biden and Vice President Kamala Harris, for keeping their campaign commitment by nominating Kentanji Brown Jackson to serve as the first Black woman U.S. Supreme Court Justice. The NCBCP Black Women's Roundtable is working in coalition with our allies to ensure that this nominee is treated fairly and is confirmed without delay. This has been a rigorous process with input from Senators of both parties, legal experts, and civil society. President Biden has chosen an exceptionally well qualified and experienced nominee— someone with the character, integrity, and dedication to the Constitution and rule of law to serve on the nation's highest court." [Statement, 2/25/22]
Carlos Moore, President, National Bar Association: "This is a monumental day not just in Black history, but American history. Speaking as both a lawyer and judge myself, I know firsthand that courtrooms benefit from juror and judicial diversity. The nomination of a Black woman to the Supreme Court of the United States is long overdue, and I applaud the Biden Administration for ending the delay in nominating a Black woman to our nation's highest court with such an exceptionally qualified candidate." [Statement, 2/25/22]
Rev. Al Sharpton, President & Founder, National Action Network: "National Action Network applauds the Biden Administration's Supreme Court Justice Nomination of Judge Ketanji Brown Jackson. After a thorough and rigorous selection process with input from Senators of both parties and legal experts, President Biden has chosen Judge Ketanji Brown Jackson. She is exceptionally well qualified and has the experience, character, integrity, and dedication to the Constitution and the rule of law to serve on the nation's highest Court. Judge Brown Jackson has deep experience across the justice system, which will make her a well-rounded Justice. She comes from a family of police officers, worked as a public defender, served on the bipartisan U.S. Sentencing Commission, and served as a judge on the District Court and D.C. Circuit Court of Appeal. Throughout her entire career, Judge Ketanji Brown Jackson has demonstrated a strong commitment to civil and human rights, with a proven fair-minded track record." [Statement, 2/25/22]
Jotaka Eaddy, Founder, #WinWithBlackWomen: "Today marks an important day for our nation as a whole. I applaud President Biden's nomination of Judge Ketanji Brown Jackson to the United States Supreme Court. Judge Jackson is an exceptionally qualified jurist who will bring to the Supreme Court her expertise and commitment to the Constitution and values of our democracy. Most importantly, Judge Jackson will bring to the Supreme Court what it has lacked for 233 years - the lived experience of a Black woman. With this nomination, President Biden and Vice President Harris will once again elevate a woman, and in this case, a Black woman, to a position that has long been covered by a cement ceiling - today that ceiling is shattered into a million pieces." [Tweet, 2/25/22]
Derrick Johnson, President & CEO, NAACP: "The NAACP applauds President Biden's nomination of Judge Ketanji Brown Jackson to the Supreme Court. This is a historic moment for our nation and our community in particular. President Biden has met this moment with an extraordinarily qualified nominee, who has stellar credentials and an impeccable background," said Derrick Johnson, NAACP president and CEO. This is tremendously exciting news. We have been calling for this at the NAACP. We need Black women at every level of the judiciary, and especially on the highest court of the land," said NAACP general counsel Janette McCarthy Wallace. "Beginning with Judge Jane Bolin and Judge Constance Baker Motley, Black women have been highly qualified and exceptional judges — and as such, they have been valuable members of the judicial system and they made incredibly unique contributions." [Statement, 2/25/22]
Delta Sigma Theta Sorority, Inc.: As one of the nation's preeminent service-based sororities, comprised primarily of Black, college-educated women with more than 300,000 initiated members and over 1,000 chartered chapters worldwide, Delta Sigma Theta Sorority, Incorporated proudly supports President Joe Biden's nomination of Ketanji Brown Jackson to serve as the first Black woman Associate Justice on the United States Supreme Court […] This nomination, while historic, is not symbolic. It represents the inclusion of not only a skilled jurist on the Court, but the opportunity to bring a diversity of thought, lived experiences and perspective that has never been represented on our nation's highest court in the 233 years of its existence. As Black women engaged in professional, civic and community endeavors across this country, we remain one of the most engaged voting demographics committed to protecting and advancing democracy for the benefit of all Americans. However, Black women remain vastly underrepresented throughout the judiciary, even as many decisions before the courts have disparate impact on Black women, mothers, families and communities; from matters related to voting and reproductive rights to criminal and environmental justice. [Statement, 2/25/22]
Quentin James and Stefanie Brown James, Founders, The Collective PAC: "The Collective PAC is proud to stand in support of Judge Ketanji Brown Jackson as she begins the confirmation process to become the next United States Supreme Court Associate Justice. Today's appointment by President Biden is remedying a long overdue injustice in America by appointing the first Black woman to the Supreme Court. Through her many written opinions, Judge Jackson has demonstrated a deep understanding of and fidelity to the Constitution. She has broad experience across the judicial landscape – as a federal appellate judge, a federal district court judge, a member of the U.S. Sentencing Commission, an attorney in private practice, and as a federal public defender. Judge Jackson has also been confirmed by the United States Senate on a bipartisan basis three times – most recently last year for her current seat on what's widely considered the nation's second most powerful court, the D.C. Court of Appeals." [Statement, 2/25/22]
Michael C. Hyter, President & CEO, The Executive Leadership Council: "On behalf of The ELC's nearly 800 members who represent Black excellence at the highest levels of business, we commend Judge Jackson's appointment to the Supreme Court. Her pioneering accomplishments build on the rich legacy of Black women throughout history who shattered barriers in order to make our society more just. Research has consistently shown that diversity drives high performing teams, and we look forward to Judge Jackson's contributions to our highest court." [Statement, 2/25/22]
Joseph R. Biden, WHAT THEY ARE SAYING: Black Leaders Applaud President Biden's Selection of Judge Ketanji Brown Jackson as next US Supreme Court Justice Online by Gerhard Peters and John T. Woolley, The American Presidency Project https://www.presidency.ucsb.edu/node/354643