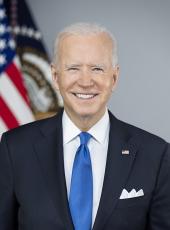 WHAT THEY ARE SAYING: Biden-Harris Administration Making Hearing Aids Available Over the Counter
For millions of Americans, hearing aids and the doctor's visit to get them prescribed are too expensive. Last year, President Biden issued an executive order to increase competition in key industries and lower costs. In the order, he called on the FDA to make hearing aids available over the counter.
Today, the FDA issued a final rule allowing hearing aids to be sold over the counter, improving access and lowering costs for millions of Americans. As early as mid-October, Americans will be able to purchase more affordable hearing aids over the counter—without a prescription—at pharmacies and stores across the country.
This action will deliver nearly $3,000 in savings to American families purchasing a pair of hearing aids while providing more choices to improve their health and wellbeing.
See below for what they are saying:
Elected Officials
Majority Leader Congressman Steny Hoyer: "I am pleased to see @US_FDA make affordable hearing aids available over the counter today. This will expand Americans' access to these critical devices and lower health care costs for America's seniors." [Tweet, 8/16/22]
Chairman of the House Armed Services Committee, Washington Congressman Adam Smith: "Last year @POTUS called on @US_FDA to make hearing aids available over the counter and today the FDA issued a new rule to do just that. This action will lower the price of a pair of hearing aids by nearly $3000 and help expand access to hearing aids for people with hearing loss. This is the latest action by the Biden-Harris administration to lower costs for millions of families across the country." [Tweets, 8/16/22]
Pennsylvania Congresswoman Mary Gay Scanlon: "Great news for those living with hearing loss, especially American seniors. Hearing aids will be able to be sold over the counter, no prescription needed." [Tweet, 8/16/22]
Georgia Congressman Hank Johnson: "For millions of Americans, the cost of hearing aids & the trip to the doctor to get an Rx are too expensive. In @POTUS executive order last year to increase competition & lower costs for families, he called on the FDA to finally make hearing aids available over the counter. Today, FDA issued a new rule doing just that. Today's action will lower the price of a pair of hearing aids by nearly $3000. You'll see them in stores as early as mid-October. Thank you Joe!" [Tweets, 8/16/22]
Illinois Congresswoman Marie Newman: "Outstanding news! This action from @POTUS will remove a ridiculous barrier that prevented countless Americans from accessing hearing aids." [Tweet, 8/16/22]
Iowa Congresswoman Cindy Axne: "This is incredible news for Iowans living with hearing loss and their families! Let's continue our work to make health care more affordable and accessible." [Tweet, 8/16/22]
New York Congresswoman Grace Meng: "Great news: The FDA will allow hearing aids to be sold over the counter and without a prescription. This change lowers costs and will allow Americans with hearing loss to receive the care they need!" [Tweet, 8/16/22]
New York Congresswoman Yvette Clarke: "Hear, hear — literally! This humanity-focused move opens the door for so many seniors and hearing-impaired individuals to get the care they need in an affordable, easy way. Thrilled to see this!" [Tweet, 8/16/22]
New York Congressman Joe Morelle: "Lowering the cost of healthcare is one of my top priorities. Grateful to see @US_FDA announce action I have long advocated for to make hearing aids more accessible and affordable for seniors." [Tweet, 8/16/22]
Texas Congressman Colin Allred: "The average cost of a hearing aid can be well above $2,000, and this rule will let folks get much less expensive hearing aids over-the-counter at their pharmacy. This lowers costs and will help folks finally get access to the hearing aids they need." [Tweet, 8/16/22]
Texas Congressman Joaquin Castro: "For many seniors, hearing aids and the required doctor visits are too expensive. Today, we take another step to bring medical costs down. Hearing aids will soon be available over-the-counter, saving seniors thousands of dollars." [Tweet, 8/16/22]
Virginia Congressman Gerry Connolly: "This is really big news, folks. Thanks to @POTUS, the FDA has decided to finally make hearing aids available over the counter! As early as mid-October, Americans will be able to purchase more affordable hearing aids over the counter at pharmacies and stores across the country." [Tweet, 8/16/22]
Michigan Congresswoman Debbie Dingell: "Hearing aids aren't a luxury, they are critical for millions of people to lead a healthy, independent lifestyle. This rule will make treatment accessible to Americans who otherwise may not have been able to get it. This step by the FDA is a great one, but we must continue to expand access by allowing Medicare to cover hearing aids for beneficiaries. It's simple: No one should feel isolated, confused, or shut out from the world because they can't afford treatment." [Tweet, 8/16/22]
New Jersey Congressman Andy Kim: "What a transformative day for seniors in America. Today the President will sign into law the ability for Medicare to negotiate drug prices and cap out-of-pocket costs. This morning FDA moved to make hearing aids over the counter. These are game-changers." [Tweet, 8/16/22]
Georgia Congresswoman Nikema Williams: "Big news y'all! The millions of Americans who depend on hearing aids should NEVER face going without them because of the added cost of a visit to the doctor. By mid-October, Americans will be able to buy them quickly and easily at local stores." [Tweet, 8/16/22]
Ohio Congressman Tim Ryan: "Really big news today for our seniors in Ohio — starting this October, you'll be able to buy hearing aids over the counter! This is going to save folks thousands of dollars in trips to the doctor and *finally* make hearing devices affordable & accessible. Total game-changer." [Tweet, 8/16/22]
Congressional Progressive Caucus: "75% of seniors with hearing loss don't have a hearing aid because of the prohibitive cost. Even mild hearing loss among older people can increase social isolation and, studies show, double dementia risk. This is such an important move that will change lives." [Tweet, 8/16/22]
Massachusetts Senator Elizabeth Warren: "A HISTORIC day for Americans: @US_FDA announced that it will allow people with mild to moderate hearing loss to buy safe and affordable hearing aids right off the shelf! I've been fighting for this for 5+ years and this is a terrific win for consumers." [Tweet, 8/16/22]
Iowa Senator Chuck Grassley, Ranking Member of the Senate Judiciary: "FDA finally heard me! 2day FDA issued final rules allowing over-the-counter hearing aids Sen Warren & I have worked on this since 2016 Law passed in 2017 Good news 4 consumers who will c lower prices/more competition 4 safe/effective hearing aids" [Tweet, 8/16/22]
Massachusetts Senator Ed Markey: "Our nation's seniors and countless others struggle to access costly hearing aids. I applaud @US_FDA's new rule allowing hearing aids for adults to finally be sold over the counter. This will save millions of American families thousands of dollars." [Tweet, 8/16/22]
New Hampshire Senator Maggie Hassan: "BREAKING: Today the FDA announced that in as soon as 2 months, Americans will be able to walk into a local drug store and buy hearing aids on the spot. This is a game changer - and will improve the lives of millions of Americans. I was proud to help lead the law that got this done. It's good news for consumers, will increase market competition, and lower health care costs. Look for hearing aids to be available for purchase at your pharmacy as soon as October!" [Tweet, 8/16/22]
Connecticut Senator Will Haskell: "This is a big win for my grandmother and millions of other Americans who use a hearing aid. This decision will lower the price of a pair of hearing aids by nearly $3,000. Right now, 1 in 5 Americans with hearing loss don't use hearings aids, in large part due to high costs." [Tweet, 8/16/22]
Advocacy Organizations and Advocates
Nancy LeaMond, Executive Vice President and Chief Advocacy and Engagement Officer, AARP: "Giving people with mild to moderate hearing loss access to affordable hearing aids is an important step to ensure their health and quality of life. For many Americans, the high cost of prescription hearing aids puts them out of reach, increasing their risk of isolation, depression and other health issues. Today's rule could help millions." [Statement, 8/16/22]
Debara Tucci, Director of The National Institute on Deafness and Other Communication Disorders (NIDCD): The United States marks a significant milestone in advancing hearing health care, as the Food and Drug Administration (FDA) issued its final rule establishing guidelines for over-the-counter (OTC) hearing aids. This landmark rule, released on August 16, 2022, is part of a broader effort to expand access to high-quality, affordable health care for all Americans. OTC hearing aids are intended to address perceived mild to moderate hearing loss in people 18 or older. Now, millions of adults who have trouble hearing will be able to buy less expensive hearing aids without a medical exam, prescription, or fitting by an audiologist... [Statement, 8/16/22]
Maria Town, President and CEO, American Association of People with Disabilities: "Good news, indeed! This has been such a long time coming and is the result of years of advocacy from the hard of hearing communities including veterans, seniors, and other disabled people. I'm personally excited b/c this means my dad might be able to afford hearing aids. A recent study found that hearing aids were unaffordable for 77% of Americans with loss, and purchasing hearing aids would impoverish hundreds of thousands of people. https://pubmed.ncbi.nlm.nih.gov/33112178/ #DisabilityTax
#DemolishDisabledPoverty. This new rule is good news, but it isn't enough. Insurance, particularly Medicaid and Medicare, should cover hearing aids, and hearing care. By hearing care - I mean services that fit hearing aids and train people on how to use and maintain their devices. The work continues." [Tweets, 8/16/22]
Hearing Loss Association of America: "Millions of American adults with mild to moderate hearing loss will soon have more choices in hearing aids, and the ability to get them without seeing a doctor or hearing care professional first. The Hearing Loss Association of America (HLAA) – the leading voice for the growing number of Americans with hearing loss – calls the step a win for millions of adults who have hearing loss and may have been waiting to get the help they need." [Statement, 8/16/22]
Keith Boykin, Author: "My father suffered from hearing loss and my brother is deaf, so this issue is personal to me. The option of getting an affordable hearing aid without a prescription is a game changer. Thanks to the Biden administration for finally making this happen." [Tweet, 8/16/22]
Jay Hancock, Retired Journalist KHN News: "Audiologists & the hearing aid industry fought this for decades. Hearing aids ($4,000 apiece!) basically skipped the consumer-electronics revolution of plunging prices and soaring quality -- thanks to overregulation & industry power. Not anymore." [Tweet, 8/16/22]
Journalists
Timothy Noah, The New Republic: "Hallelujah. My earlier piece here: https://newrepublic.com/article/166953/over-counter-hearing-aid-fda-rule-warren-grassley" [Tweet, 8/16/22]
Cady Stanton, USA Today: "My Dad, who has lost most of his hearing in his right ear, has tried and failed to find an affordable aid that 1) stays in his ear and 2) he won't easily lose or struggle to replace the batteries in. I'm thrilled at the possibility of more options for him and so many others." [Tweet, 8/16/22]
Nicholas Florko, Statnews: "Wow, FDA's hearing aid final rule got a statement from POTUS." [Tweet, 8/16/22]
Laura Strickler, NBC News: "If you have ever bought a hearing aid for a loved one you will know that this is a huge, huge deal. Over the counter hearing aids. Statement by President Joe Biden on FDA Hearing Aids Final Rule - The White House." [Tweet, 8/16/22]
Joseph R. Biden, WHAT THEY ARE SAYING: Biden-Harris Administration Making Hearing Aids Available Over the Counter Online by Gerhard Peters and John T. Woolley, The American Presidency Project https://www.presidency.ucsb.edu/node/357300