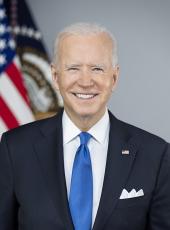 WHAT THEY ARE SAYING: Biden Administration Works to Address Household Expenses as Monthly Price Increases Moderate
Wednesday's Consumer Price Index (CPI) report showed monthly price increases moderating, with core inflation below expectations and lower in July than the previous two months—from 0.7% and 0.9% to 0.3%. And when accounting for autos and pandemic-affected services like airfares and hotels, core CPI has trended downward for the last three months and now stands below 0.2%.
But President Biden knows that rising prices have been squeezing families for decades—that's why his Build Back Better economic plan is focused squarely on creating jobs, raising wages, and lowering costs for families: prescription drugs, health care, child care, and other things that drive up household expenses.
The investments proposed in the Build Back Better agenda as well as the Infrastructure Investment and Jobs Act will grow the economy, reduce price pressures, and make our economy stronger in the long run. Experts like the Wall Street firm Moody's say the President's plan is "designed to lift the economy's longer-term growth potential and ease inflation pressures."
Here is what they are saying:
Monthly price increases moderate:
AP: US consumer prices rose in July but at slower pace
"Wednesday's report from the Labor Department showed that consumer prices jumped 0.5% from June to July, down from the previous monthly increase of 0.9%."
CNBC: July consumer prices jump 5.4%, but core inflation rises less than expected
"Sharp decelerations in inflation in select areas of the economy that had seen rapid price increases in the spring helped keep the headline numbers in check. ... Apparel prices were flat after a 0.7% increase in June, and transportation services prices actually declined after a pop of more than 1% at the end of the second quarter."
MarketWatch: U.S. inflation shows signs of moderating in July
"However, the closely watched measure of inflation that omits volatile food and energy rose 0.3%, below expectations of a 0.4% gain. It's down from solid gains in the last three months."
Bloomberg: Consumer Inflation in U.S. Moderates While Remaining Elevated
"At the same time, some of the price surges linked to the economy's reopening are beginning to ebb. The Labor Department said a smaller gain in the costs of used cars and trucks was a 'major factor' in the moderation of the core CPI. ... The gain in the overall CPI from the prior month was in line with economists' projections, while the core rate was less than forecast."
CNBC: Dow jumps 200 points to new record after inflation report is not as bad as feared
"Stocks rose on Wednesday after inflation jumped, but not by quite as much as investors feared when stripping out volatile food and energy prices. The Dow Jones Industrial Average gained about 200 points, or 0.55%, to reach a new intraday record. ... But investors were concentrating on the core rate of inflation, which could signal inflation will remain tempered and the economy will remain strong. CPI, excluding energy and food prices, rose by 0.3% last month, below the 0.4% increase expected."
Biden Administration takes action to address cost of gas:
CNBC: White House calls on OPEC to boost oil production as gasoline prices rise
"The Biden administration is also calling on the Federal Trade Commission to "monitor the U.S. gasoline market" and "address any illegal conduct that might be contributing to price increases for consumers at the pump.""
Bloomberg: Biden Pressures OPEC to Speed Production to Lower Gas Prices
"President Joe Biden urged OPEC countries to reverse pandemic-era production cuts, calling it an essential step to make gasoline prices more affordable for Americans. The president's comments capped a series of actions taken Wednesday by his administration to address the rising cost of oil."
AP: Biden team is seeking ways to address rising energy prices
"President Joe Biden's administration is moving at home and abroad to try to address concerns about rising energy prices slowing the nation's recovery from the pandemic-induced recession. National security adviser Jake Sullivan on Wednesday called on the Organization of the Petroleum Exporting Countries to move faster to restore global supply of petroleum to pre-pandemic levels, and the White House asked the Federal Trade Commission to investigate the domestic gasoline market for any anti-competitive behavior that could be increasing prices."
The Biden economic plan will ease inflationary pressures and help families cover costs:
New York Times: How the Biden Administration Wants to Reframe the Inflation Debate
"Administration economists, in a new paper, argue that new spending plans would diminish the pain of those price pressures, contrary to a standard narrative that more spending increases inflation risk."
CNN: Biden tackles inflation concerns as he touts wins on infrastructure
"Biden said he's directing his administration 'to crack down on what some major players are doing in the economy that are keeping prices higher than they need be,' including through an executive order that he says will open up competition in the agriculture business and trickle down to grocery prices."
CNN: White House seeks to reassure Democrats anxious over inflation concerns in Biden's agenda
"In a new memo to lawmakers, National Economic Council Director Brian Deese called on both parts of administration's infrastructure plan "long-term investments that are spread over the course of the decade and will lead to the kind of durable economic growth over the long-run that eases bottlenecks and inflationary pressures.""
Economists
Paul Krugman, New York Times: "TEAM TRANSITORY — I like it and plan to steal it. This report does look like what you'd expect if recent inflation was about transitory disruptions, not stagflation redux"
Dr. Julia Coronado, Associate Professor of Finance at the McCombs School of Business at the University of Texas at Austin and member of the Economic Advisory Panel of the Federal Reserve Bank of New York: "The reopening surge in inflation is waning--prices are normalizing"
Claudia Sahm, Former section chief in the Division of Consumer and Community Affairs at the Federal Reserve Board and senior economist at the Council of Economic Advisers: "morning chart: Team Transitory is WINNING!"

Greg McBridge, CFA, Chief Financial Analyst, Bankrate: "Score one for the 'inflation is transitory' camp, w/used car prices up just 0.2%, airfares dipping 0.1%, auto insurance falling 2.8% & car/truck rental prices plunging 4.6% since last month."
Jay Shambaugh, Professor of Economics and International Affairs, George Washington University: "Data will almost certainly continue to bounce around and we should all be humble with forecasts right now. But this one month of data looks like price gains slowing down after a burst during spring re-opening."
Reporters & Columnists
Heather Long, Washington Post: "Inflation remains high at 5.4% (y/y), but the encouraging sign is monthly gains cooled in several areas Used car prices had lowest gain since Feb. Airfare and laundry machines fell a bit in July vs June (though prices remain high) Overall CPI July gain: 0.5% June 0.9% May 0.6%"
Steve Rattner, MSNBC: "Core CPI rises by 4.3% year/year, down from 4.5% in June. This is in-line with expectations as base effects are now fading. Good news—and a point in favor of team 'transitory.'"
Lisa Abramowicz, Bloomberg: "It's clear traders are focused on the granular data rather than headline inflation reads. While the headline print for the U.S. consumer price index was hotter than expected, at 5.4%, the underlying elements suggests that inflation is decelerating. Bond yields dip slightly."
Tim Fernholz, Quartz: "Transitory inflation's gonna transit"
Joe Weisenthal, Executive Editor of News for Bloomberg Digital: "On a sequential basis, core CPI came in lighter than expected. Economists were looking for a 0.4% increases. Instead it was a 0.3% increase. On a YOY basis, it was in line at 4.3%."
Joseph R. Biden, WHAT THEY ARE SAYING: Biden Administration Works to Address Household Expenses as Monthly Price Increases Moderate Online by Gerhard Peters and John T. Woolley, The American Presidency Project https://www.presidency.ucsb.edu/node/352314