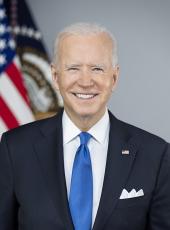 WHAT THEY ARE SAYING: Biden Administration Severs Ties with Immigrant Jails
Yesterday, Department of Homeland Security Secretary Alejandro Mayorkas ordered U.S. Immigration and Customs Enforcement to immediately terminate its contracts with the Bristol County Sheriff's Office in Massachusetts and the Irwin County Detention Center in rural Georgia, which are both under federal investigation for allegations of abuse against immigrants in their custody.
The announcement is one of many steps in the Biden administration's efforts to reform the immigration system and ensure it reflects America's values. The announcement was met with praise from immigrant advocacy groups and community leaders across the country.
See below for what they are saying:
Dr. Raul Ruiz (CA-36), Chair, Congressional Hispanic Caucus (CHC): "The Congressional Hispanic Caucus (CHC) welcomes the announcement by Department of Homeland Security Secretary Alejandro Mayorkas to close the Immigration and Customs Enforcement (ICE) Irwin County Detention Center. It is unacceptable and shameful that detainees received gynecological procedures without their informed consent and lived in unsafe and unsanitary conditions. The CHC will continue to advance the Biden Administration's pursuit of a professional, humane, and efficient immigration system." [Statement, 5/20/21]
Karen Tumlin, Founder and Director, Justice Action Center: "What happened at Irwin County Detention Center represents one of the ugliest chapters in the stain-filled Trump administration's immigration record, and it is right for the Biden administration to close this facility. This represents one important step toward creating some accountability for the horrors the Trump administration inflicted upon the immigrant community. We are grateful to the immigrants held at this facility who spoke up and the advocates and organizers who worked with them to call for this day. We applaud the Biden administration for ensuring that no immigrant will be held at Irwin again." [Statement, 5/20/21]
Lorella Praeli, Co-President, Community Change: "Today's announcement is a welcome first step from DHS, and a testament to years of work by organizers and activists in Massachusetts, Georgia, and across the country. But it's only a first step. Trump's cruel and xenophobic deportation-first immigration policy relied on a massive detention infrastructure constructed under both Republican and Democratic administrations and funded annually by Congress. It's long past time for a course-correction. President Biden's commitment to an immigration policy that reflects our highest values as a nation must include an action plan to dramatically reduce and ultimately end detention." [Statement, 5/20/21]
Todd Schulte, President, FWD.us: "Today's decision by DHS to terminate the ICE contracts at Irwin and Bristol detention facilities is an important step toward improving the inhumane immigration detention system. The Trump Administration weaponized a long broken immigration system that was built by both Democratic and Republican administrations, but today's action gives hope to the opportunity for a new approach. The extreme human costs of incarceration couldn't be clearer, and the harm inflicted on so many, particularly in these two facilities is a reminder of why decarceration efforts are so vital. We thank the years of organizing by community groups, organizers, activists, and especially those unjustly detained which have led to this moment, and call on the Biden Administration to continue to enact changes to our immigration system that promote dignity, fairness, and humanity." [Statement, 5/20/21]
Silky Shah, Executive Director, Detention Watch Network: "We applaud the Biden administration for finally taking a first step to address the inhumane immigration detention system. The end of ICE contracts at Irwin and Bristol are an important win for the immigrant rights movement and the growing demand to shut down detention centers nationwide. Immigrant lives are in jeopardy anytime they are in ICE custody, and we will continue to press the Biden administration to cut detention contracts, release people from ICE custody, and shut down detention centers for good. Simply put, everyone should be able to navigate their immigration case at home and in community — not behind bars in immigration detention." [Statement, 5/20/21]
Sirine Shebaya, Executive Director, National Immigration Project: "ICE systematically endangers the lives of thousands of immigrants and deprives them of their liberty each day. While this announcement is an important step in the right direction and a testament to the power of community advocacy and organizing, we hope it signals a truly transformed approach to immigration detention and enforcement. To build a 'fair and humane' immigration system, the Biden administration must put an end to the inherently inhumane immigration detention system, and must decisively end the deportation pipeline that comes through 287(g) and similar programs." [Statement, 5/20/21]
Mary Meg McCarthy, Executive Director, National Immigrant Justice Center: "Human rights abuses are endemic to immigrant detention, often hidden by thick prison walls and barbed wire. Today we celebrate and honor the activists and movement leaders who were brave enough to tell their stories, culminating in this important announcement. We call on the Biden Administration to make sure this is only the first step toward ending all 287(g) agreements and eliminating the use of immigration detention, beginning with a dramatic reduction in the number of those detained." [Statement, 5/20/21]
Aaron Reichlin-Melnick, Policy Counsel, American Immigration Council: "Welcome news that ICE will terminate detention contracts at the Bristol County Sheriff's Office and the Irwin County Detention Center! Both facilities have appalling records of harm and abuse, including allegations of nonconsensual sterilization at Irwin." [Tweet, 5/20/21]
Azadeh Shahshahani, Legal and Advocacy, Project South: "BREAKING! Immigrants will no longer be detained at the corporate-run Irwin County Detention Center, where women were subjected to medical abuse. This momentous victory is the result of years of organizing & exposing the human rights violations by orgs on the ground. Onward!" [Tweet, 5/20/21]
Naureen Shah, Senior Advocacy and Policy Counsel, American Civil Liberties Union (ACLU):"Today's announcements show the Biden administration's willingness to decisively break from the immigrants' rights abuses of prior administrations. Far more can and must be done to pull the plug on a system that has squandered millions of taxpayer dollars and inflicted trauma and profound harm on hundreds of thousands of immigrants and their loved ones. To realize the promise of these reforms, the Biden administration must ensure that today's announcements mark the first in a series of steps to shutter ICE detention sites, and end 287(g) agreements, nationwide. And as ICE detention sites close, the Biden administration must release the individuals detained there–rather than transfer them to detention sites elsewhere, which risks stranding these individuals far from their families and lawyers and exposes them to continued risks from COVID-19." [Statement, 5/20/21]
Congressman Joaquin Castro: "As @HispanicCaucus Chair, I led a delegation to investigate the abuse of immigrant women at the Irwin County Detention Center. We heard about unwanted medical procedures, COVID-19 exposure, and fear of retaliation. Shutting down Irwin is a good step toward overhauling @ICEgov." [Tweet, 5/20/21]
Congresswoman Pramila Jayapal: "BIG NEWS: The Irwin County Detention Center is shutting down thanks to all of us keeping the pressure on! This is a powerful testament to the strong immigrant women who bravely spoke their truth, and the advocates and organizers who stood by their side each day." [Tweet, 5/20/21]
Senator Reverend Raphael Warnock: "The imminent closure of the Irwin Co. Detention Center is long overdue. Thank you to the countless organizers, activists, & community leaders who fought tirelessly to protect Georgians & speak out against human rights abuses in our state." [Tweet, 5/20/21]
Joseph R. Biden, WHAT THEY ARE SAYING: Biden Administration Severs Ties with Immigrant Jails Online by Gerhard Peters and John T. Woolley, The American Presidency Project https://www.presidency.ucsb.edu/node/350047