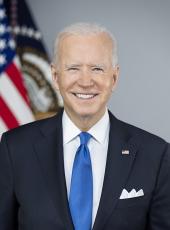 WHAT THEY ARE SAYING: Biden Administration Lays Out Path to Reach Justice40 Goal, Earns Praise from Administration Officials, Environmental Justice Leaders, Advocates, and Congressional Leaders
Environmental justice leaders, advocates, and Administration officials, and Congressional leaders applauded the Biden-Harris Administration's Justice40 that was issued this week by the Council on Environmental Quality, the Office of Management and Budget, and the White House Office of Domestic Climate Policy.
Justice40 is a whole-of-government effort to ensure that Federal agencies work with states, Tribes, and local communities to make good on President Biden's promise to deliver at least 40 percent of the overall benefits from Federal investments in climate and clean energy to disadvantaged communities. The interim guidance issued this week is a key step in the fulfillment of President Biden's environmental justice commitments and introduces measures to guide agencies on their path to implementing Justice40, launches the Justice40 Pilot Program, and includes accountability and transparency tools to ensure agencies are working to reach the Justice40 goal.
The Justice40 pilot identifies 21 priority programs to immediately begin enhancing benefits for disadvantaged communities. These priority programs will provide a blueprint for other agencies to help inform their work to implement the Justice40 Initiative across government. This initial set of programs was selected following extensive consultation with environmental justice stakeholders and the recently established White House Environmental Justice Advisory Council and the White House Environmental Justice Interagency Council.
Here's what they are saying about the Justice40 interim guidance:
Environmental Justice Leaders and Advocates:
Peggy M. Shepard, Chair of the White House Environmental Justice Advisory Council, Executive Director at WE ACT For Environmental Justice in Harlem, New York:
"This interim guidance from the Biden Administration's CEQ is a strong blueprint for how federal agencies will develop the Justice40 initiative that has the potential to transform conditions, and access by frontline communities and tribal areas, to the investments so desperately needed. It is an initial roadmap to how we can improve the health and sustainability of underserved communities that have borne a legacy of pollution, harm, and chronic under-employment. This is a model for localities and states to replicate on how to transform business as usual and provide benefit and access to all their residents and communities. The only question to government and policymakers is: What took so long to understand that centering justice and equity should be a foundational concept for all our planning and policies." [Statement, 7/20/21]
Richard Moore, Chair of the White House Environmental Justice Advisory Council, Co-Director of Los Jardines Institute, Albuquerque, New Mexico:
"As one of the chairs of the White House Environmental Justice Advisory Council, I'm pleased to see much of the work of our Council reflected in this interim guidance. This guidance is another step on the long road toward justice and equity. President Biden's consistent focus on environmental justice will have a positive impact on communities all across the country, including the communities Los Jardines Institute serves here in New Mexico." [Statement, 7/20/21]
Rep Harold Mitchell, Founder of ReGenesis Community Development Corporation, Former Member of the South Carolina House of Representatives, Spartanburg, South Carolina:
"This country has never witnessed any president consistently emphasize the importance of addressing environmental justice like President Biden has since taking office. A year ago, then candidate Biden met with a group of environmental justice leaders from around the country seeking input on what our communities needed to see from their government. Although as a result of the pandemic the meeting was virtual, Biden looked us in the eye and committed to doing all that he could to get it right. Today's historic Justice 40 interim guidance is proof to all EJ leaders and every vulnerable community that Joe Biden is a leader who keeps his word." [Statement, 7/20/21]
Tom Cormons, Executive Director, Appalachian Voices:
"It is critical that our federal government prioritize investments in Black, Indigenous and low-income communities to revitalize communities and protect public health and the environment from pollution and the disproportionate impacts of climate change. This new guidance is a concrete step toward refocusing federal investment in a way that benefits the communities that need it the most, and demonstrates that the administration is listening to impacted community stakeholders through White House Environmental Justice Advisory Council. Appalachian Voices looks forward to continuing to engage with the administration to ensure that proposed stakeholder consultation and community investments are as impactful as possible." [Statement, 7/21/21]
Congressional Leaders
Senator Cory Booker (NJ), Co-Chair, U.S. Senate Environmental Justice Caucus:
"This interim guidance is a critically important step toward implementation of Justice40," said Senator Booker. "I commend the Biden-Harris Administration for taking this action, and I look forward to working with them to ensure that Justice40 implementation is paired with historic investments in environmental justice communities this year." [Statement, 7/20/21]
Senator Tammy Duckworth (IL), Co-Chair, U.S. Senate Environmental Justice Caucus:
"For generations our most toxic, polluting industries have been located next door to Black, Brown, Indigenous and low-income communities at the expense of their health, and these communities have been ignored by too many in power when it comes to development as well as implementation and enforcement of environmental laws, regulations and policies. President Biden's Justice 40 Interim Guidance today is a necessary and critical first step that will help us make significant strides on our path toward true environmental justice for all by helping federal agencies reexamine their processes, programs and practices relating to disadvantaged communities. This new guidance shows that the President is listening to the needs of these communities and will keep making environmental justice a centerpiece of his Administration. I look forward to continuing our work with President Biden to conduct oversight of the implementation of this guidance and secure critical federal funding for these communities." [Statement, 7/20/21]
Congressman Raúl M. Grijalva, Chair, U.S. House Committee on Natural Resources:
"The Biden administration is giving environmental justice the attention it's always deserved and so rarely gotten at the federal level. The Interim Justice40 Guidance is more than forward progress – it's a sign that we're close to extending critical investments to the communities that most need them. I appreciate the level of care and effort that went into preparing this interim guidance, and I look forward to continued work with the administration and my colleagues in Congress to ensure that we maximize federal investments in environmental justice communities that have long been the most overburdened by pollution and underinvestment." [Statement, 7/20/21]
Congresswoman Lisa Blunt Rochester (DE), U.S. House Committee on Energy and Commerce:
"For too long, our low-wealth communities and communities of color have borne the brunt of environmental injustices. These historical injustices have impacted the economic well-being, safety, and public health of these communities. The Interim Implementation Guidance for the Justice40 Initiative is an important step toward advancing equity and fighting the systemic racism that these communities have faced for decades. We commend the efforts of the Biden-Harris Administration in putting together this historic guidance and pilot program to help achieve the investment goals of the Justice40 Initiative." [Statement, 7/20/21]
Congressman A. Donald McEachin (VA-04), U.S. House Committee on Energy and Commerce, Co-Chair of the U.S. House United for Climate and Environmental Justice Task Force:
"Low-income communities, communities of color, and tribal and indigenous communities are disproportionately impacted by toxic environmental pollutants. The Biden administration's Justice40 initiative is a good faith effort to address these inequities by direct investment in impacted communities and to undertake meaningful consultation to make measurable impacts. The Justice40 initiative and this guidance represents a significant step towards mitigating the impact of long-standing environmental injustice, and in recognizing that we must develop tailored solutions to address issues facing environmental justice communities." [Statement, 7/20/21]
Congresswoman Nanette Diaz Barragán (CA-44), U.S. House Committee on Energy and Commerce, Co-chair of the U.S. House United for Climate and Environmental Justice Task Force, Chair of the Congressional Hispanic Caucus Climate Change Tack Force:
"As chair of the Congressional Hispanic Caucus Climate Change Task Force, I applaud the White House Council for Environmental Quality for taking an important step in implementing President Biden's Justice40 Initiative. In May, the CHC wrote a letter to Chair Mallory with six recommendations on how to effectively implement Justice40 to address public health and environmental disparities in the Latino community, communities of color, and low-income communities historically overburdened by pollution. It's clear from this Interim Guidance that the White House has included many of our recommendations in their implementation approach, particularly around developing a mapping tool, tracking benefits and investments, and modifying existing programs to maximize benefits. I look forward to working with the White House Council for Environmental Quality on additional guidance and implementation steps in the months to come." [Statement, 7/20]
Environmental and Equity Groups
John Podesta, Founder and Chair of the Board of Directors & Christy Goldfuss, Senior Vice President for Energy and Environment Policy, Center for American Progress
"Today marks an historic step forward on the long march toward climate justice. We are pleased that the White House Justice40 implementation guidance released this week includes many of the recommendations made by the Equitable and Just National Climate Platform, the White House Environmental Justice Advisory Council, and CAP to support transparency and accountability and maximize the benefits delivered to disadvantaged communities. These recommendations will be key to ensuring that President Joe Biden's Build Back Better plan delivers on the just, pollution-free future it promises.
"For too long, communities of color, low income, frontline and fence line communities have been overexposed to a toxic legacy of pollution and other forms of institutional racism and marginalization. Today's interim guidance is an important step toward meaningfully addressing these injustices. Now, the agencies must take immediate steps to turn the White House guidance into action to effectively implement Justice40 and make progress toward the initiative's goals so that all Americans can realize their fundamental right to breathe clean air, drink safe water, and live in a healthy and prosperous community."
Leslie Fields, National Director of Policy Advocacy and Legal, The Sierra Club
"Justice40 is a historic advancement for environmental justice by this Administration. In short order, this Administration created opportunities for stakeholder engagement (the WHEAC) and hired key people in order to advance this agenda throughout the federal government.
"Today's announcement and Justice40 guidelines is a significant step forward and now we must urge departments and agencies to follow this guidance and Congress to follow suit in the budget and infrastructure package."
Moms Clean Air Force:
"The Justice40 implementation guidance tasks agencies with:
-Devising a methodology to quantify benefits
-Identifying pilot programs
-Prioritizing stakeholder consultation w/ EJ communities & much more!
TY @OMBPress, @WHCEQ& @WhiteHouse" [Tweet, 7/20/21]
Sara Chieffo, Vice President of Government Affairs, League of Conservation Voters:
"Thanks to President Biden for his commitment to directing 40 percent of climate and clean energy investment benefits to communities of color and low-wealth communities who are harmed the most from the legacy of toxic pollution. This is an important step toward the equitable and just implementation of the Justice40 Initiative across the federal government and would not be possible without the environmental justice leaders who have been leading in the decades-long fight to dismantle environmental racism and ensure that all communities can thrive. We are thrilled to see this historic guidance and look forward to continuing to work with this administration, Congress, and environmental justice leaders to deliver these long overdue investment benefits to advance environmental and economic justice for the most disadvantaged communities." [Statement, 7/21/21]
Lena Moffitt, Evergreen Action Campaigns Director:
"Due to generations of segregation and racist decision-making, communities of color and low-income communities are disproportionately overburdened with toxic pollution and climate harms. President Biden committed to redressing those wrongs, and to giving all communities the opportunity to flourish in a just and inclusive clean energy economy. The Justice40 interim guidance issued today is a strong step in the right direction." [Statement, 7/20/21]
The Nature Conservancy:
"We're encouraged to see @WhiteHouse @WHCEQ @OMBPress release interim guidance for #Justice40. We need to ensure that frontline communities are not left behind as we invest in climate change." [Tweet, 7/20/21]
Lori Lodes, Executive Director, Climate Power:
"Low-income neighborhoods and communities of color have long been the dumping grounds for pollution at the same time they are experiencing the most devastating impacts of the climate crisis. Families endured highways tearing up their neighborhoods, lived in the shadow of dirty power plants, and were ignored when unsafe drinking water filled their faucets. Meanwhile, access to the benefits that come with rooftop solar, electric vehicles, and energy efficiency remained out of reach for these communities. With today's guidance, President Biden and his Administration are taking a critical first step to bringing justice to communities suffering from decades of legacy pollution and the worst impacts of climate change. Congress must follow President Biden's lead by passing a bold reconciliation package that reduces pollution and drives us towards a just and equitable economy by investing in our communities on the frontlines."
[Statement,7/20/21]
Biden Administration Officials
Secretary of the Interior Deb Haaland:
"Addressing longstanding environmental injustice requires a whole-of-government approach. The #Justice40 initiative aims to ensure that 40% of overall benefits from federal investments in climate and clean energy will go toward historically underrepresented communities. We @Interior look forward to implementing this initiative and putting environmental justice first. I'm excited that @OSMRE's Abandoned Mine Land program will be a #Justice40 pilot program." [Tweet, 7/20/21]
EPA Administrator Michael Regan:
"Advancing environmental justice is a top priority @EPA. We must invest in our overburdened, underserved communities. The #Justice40 initiative makes sure we do just that." [Tweet, 7/22/21]
Joseph R. Biden, WHAT THEY ARE SAYING: Biden Administration Lays Out Path to Reach Justice40 Goal, Earns Praise from Administration Officials, Environmental Justice Leaders, Advocates, and Congressional Leaders Online by Gerhard Peters and John T. Woolley, The American Presidency Project https://www.presidency.ucsb.edu/node/336910