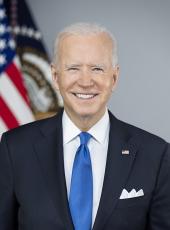 WHAT THEY ARE SAYING: Attorney General Merrick Garland Announces New Strategies in the Fight Against Attacks on Americans' Constitutional Right to Vote
Today, Attorney General Merrick Garland announced that the Department of Justice will within 30 days double the staff of its Civil Rights Division for protecting the right to vote. Today's announcement builds upon the unprecedented actions taken by President Biden to advance and defend voting rights. The President recently named Vice President Harris to take charge of a new, intensified campaign on this issue, signifying its vital importance to this administration.
Here is what they are saying:
Media Coverage
Axios: AG Garland to double enforcement staff to protect voting rights
"Garland said agency officials will work with Congress on federal legislation to protect voting rights. "We need Congress to pass S-1 and the John Lewis Voting Rights Act, which would provide the department with the tools it needs," he said."
CNN: Attorney General Garland vows to fight GOP efforts to curb voting access
"Garland emphasized a commitment to protecting Black voters and other voters of color, and said the department will "scrutinize current laws and practices" to discern whether Black voters and other voters of color have been discriminated against, including when it comes to the amount of time Black voters and other voters of color wait in polling lines compared to white voters."
Daily Beast: AG Garland: I'll Double Number of DOJ Attorneys Working on Voter Rights
"The announcement represents the most significant response yet from President Joe Biden to the wave of bills to restrict voting access that have been approved by Republican governors around the country since Donald Trump's defeat in the 2020 election."
The Hill: Garland vows fight against voting limits that violate law
"Still, Garland said the department would apply existing powers under the Voting Rights Act and other legal authorities "to ensure that we protect every qualified American seeking to participate in our democracy.""
HuffPost: Merrick Garland: DOJ Will 'Never Stop Working' To Protect Voting Rights
"Republican-led state legislatures across the country are enacting restrictive voting laws in the wake of the Jan. 6 attack on the U.S. Capitol by people who believed former President Donald Trump's lies about a stolen election. The Justice Department wants the public to know it is fighting back."
NBC: Garland says Justice Department will scrutinize new voting restrictions, post-election audits
"Garland said that while his agency will do its best to protect the right to vote, he also needs help, and urged Congress to pass two bills that are currently in limbo — the For the People Act and the John Lewis Voting Rights Act. The bills, if passed, "would provide the department with tools it need," Garland said."
New York Times: Merrick Garland announces Justice Dept. plans to protect voting access.
"Attorney General Merrick B. Garland laid out a detailed plan on Friday for protecting voting rights, announcing that the Justice Department would double enforcement staff on the issue, scrutinize new laws that seek to curb voter access and act if it sees a violation of federal law."
Politico: Garland declares voting rights expansion 'central' to democracy
"Attorney General Merrick Garland affirmed Friday the expansion of voting rights as a "central pillar" to American democracy, building upon the Biden administration's commitment as the issue has gained prominence in the aftermath of the 2020 elections."
Advocates and Civil Rights Leaders
Al Sharpton, Civil Rights Activist: ""I was very happy to hear what the Attorney General announced today... I was particularly happy today because we have had meetings this week... with Manchin, pushing for the legislation because you need the legislation" [Interview, 6/11/21]
Derrick Johnson, President and CEO, NAACP: "Today's announcement from Attorney General Merrick Garland speaks to the level of urgency that is needed to protect our democracy and ensure that our voices are heard. We are in a race against time, and against those working to suppress our votes." [Tweet, 6/11/21]
Stacey Abrams, Voting Rights Activist: "I commend Attorney General Merrick Garland, Deputy AG Lisa Monaco, Associate AG Vanita Gupta and Assistant AG Kristen Clarke for taking bold action to protect the freedom to vote across the country. The measures the AG outlined will strengthen our democracy." [Tweet, 6/11/21]
Wade Henderson, Interim President and CEO of The Leadership Conference on Civil and Human Rights: "We applaud Attorney General Garland for saying unequivocally that the Department of Justice will take significant steps to protect the freedom to vote. Our country works best when we can all participate. Barriers to the ballot box are antithetical to our democracy and must be torn down." [Statement, 6/11/21]
Wendy Weiser, Vice President for Democracy, Brennan Center for Justice: "It was certainly gratifying to hear Attorney General #Garland stand up so powerfully for voting rights and the rule of law and offer a robust agenda for the #JusticeDepartment to enforce our nation's voting rights laws." [Tweet, 6/11/21]
Tiffany Muller, President of End Citizens United and Let America Vote: "Attorney General Merrick Garland is adding his voice to those of voters and activists across the country and calling on Congress to swiftly pass the #ForThePeopleAct and the #JohnLewisVotingRightsAct." [Tweet, 6/11/21]
ACLU: "Good, we won't stop fighting until every eligible voter can cast a ballot. We need Congress to help protect our right to vote by passing legislation to strengthen and restore the Voting Rights Act." [Tweet, 6/11/21]
Common Cause: "Attorney General Merrick Garland is correct. In order to fully protect our freedom to vote, Congress must pass the #ForThePeopleAct and John Lewis #VotingRights Advancement Act!" [Tweet, 6/11/21]
Members of Congress
Vermont Senator and Senate President Pro Tempore Patrick Leahy: "I'm heartened to hear that AG Garland is doing everything in his power to protect Americans' precious right to vote. But Congress MUST swiftly pass my bipartisan John Lewis #VRAA to restore the full powers of @TheJusticeDept to protect voting rights that are under assault." [Tweet, 6/11/21]
Illinois Senator and Senate Democratic Majority Whip Dick Durbin: "Doubling the number of lawyers who enforce voting rights will help protect this sacred pillar of our democracy. After four years of a politicized DOJ, this is a new chapter for civil rights and a new era of fidelity to our nation's civil rights laws." [Tweet, 6/11/21]
New Jersey Congresswoman and Vice-Chair of the Congressional Progressive Caucus Bonnie Watson Coleman: "In April, my colleagues and I called on AG Garland to investigate the recent attacks on voting rights. Doubling the @CivilRights division shows us he sees what's happening around the country and is serious about protecting voting rights." [Tweet, 6/11/21]
New York Congresswoman Yvette Clark: "I applaud you, Mr. @Attorneygeneral. Protecting the right to vote across our nation is of critical importance now, more than ever. I urge all who believe in the promise of the American Dream to stand with us in fighting to preserve the right to vote for all." [Tweet, 6/11/21]
Florida Congressman Charlie Crist: "The right to vote is under unprecedented assault in Florida. I'm grateful we have AG Merrick Garland and @KristenClarkeJD fighting to protect our rights." [Tweet, 6/11/21]
Joseph R. Biden, WHAT THEY ARE SAYING: Attorney General Merrick Garland Announces New Strategies in the Fight Against Attacks on Americans' Constitutional Right to Vote Online by Gerhard Peters and John T. Woolley, The American Presidency Project https://www.presidency.ucsb.edu/node/350344