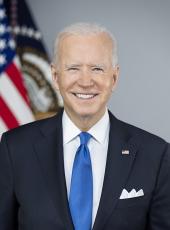 WHAT THEY ARE SAYING: Asian American and Native Hawaiian and Pacific Islanders Applaud President Biden's Supreme Court Nominee
Yesterday, President Biden announced his intent to nominate Judge Ketanji Brown Jackson, one of our nation's brightest legal minds, as Associate Justice of the U.S. Supreme Court. President Biden sought a candidate with exceptional credentials, unimpeachable character, and unwavering dedication to the rule of law. Judge Jackson formerly clerked for Justice Breyer, and has broad experience across the legal profession – as a federal appellate judge, a federal district court judge, a member of the U.S. Sentencing Commission, an attorney in private practice, and as a federal public defender. She has been confirmed by the Senate on a bipartisan basis three times – most recently last year for her current seat. If confirmed, Jackson will be the first Black woman to serve on the Supreme Court.
A number of AA and NHPI organizations issued statements applauding her qualifications and acknowledging her historic nomination.
Here's what they are saying:
John C. Yang, President and Executive Director, Asian Americans Advancing Justice – AAJC: "We applaud the nomination of Judge Ketanji Brown Jackson to the United States Supreme Court. Judge Jackson is a seasoned jurist with exceptional experience and credentials demonstrating legal excellence and a deep commitment to equal justice under the law. She would bring to the nation's highest court the depth and breadth of her experience. Her illustrious legal career began, fittingly, as a clerk for retiring Supreme Court Justice Breyer, includes service as Vice Chair of the U.S. Sentencing Commission, as a Judge on the U.S. District Court for the District of Columbia, and currently as a Judge on the U.S. Court of Appeals for the D.C. Circuit. She would become the first black woman and the second woman of color, to serve on the U.S. Supreme Court - moving the Court towards reflecting the diversity of America. We celebrate Judge Jackson's nomination, as the Supreme Court needs more justices who have a demonstrated commitment to equal justice under the law, understand the lived experiences of communities of color, and who will ensure the civil rights of all communities are protected. Judge Jackson's record reflects the work of a fair-minded jurist, whose excellence has been recognized on both sides of the aisle. She received bipartisan support through her confirmations as the Senate to the U.S. Sentencing Commission, the U.S. District Court for the District of Columbia, and the U.S. Court of Appeals to the D.C. Circuit. We urge a swift and fair confirmation from the Senate. Judge Jackson is an exceptional nominee who will serve our nation well." [Statement, 2/25/22]
Sung Yeon Choimorrow, Executive Director, National Asian Pacific American Women's Forum (NAPAWF): ""NAPAWF is thrilled to celebrate Judge Ketanji Brown Jackson's nomination to the highest court in the land. She is an exceptional jurist with a breadth of experience and a demonstrated pattern of excellence over the course of her accomplished career. Judge Jackson's historical nomination is a meaningful step to ensuring that the highest court in the land is closer to reflecting the diversity of our country and NAPAWF." [Statement, 2/25/22]
A.B. Cruz III, Acting President, The National Asian Pacific American Bar Association (NAPABA): "NAPABA congratulates Judge Jackson on her historic nomination to serve on the U.S. Supreme Court. She is a brilliant legal scholar and is well qualified to serve on the Court. President Biden's promise to appoint the first Black woman to the Supreme Court underscores his commitment to diversifying our judiciary. Notably, women and persons of color, including Asian Americans, Native Hawaiians, and Pacific Islanders, continue to be underrepresented on our courts. If confirmed, Judge Jackson will be the sixth woman and third black Justice in our nation's history to have served on the Court. We thank President Biden for nominating Judge Jackson and we urge the Senate to confirm her swiftly. NAPABA thanks Justice Stephen Breyer for his service on the Court and his mentorship of many NAPABA members who will continue his legacy in the legal profession and on the courts." [Statement, 2/25/22]
Madalene Mielke, President & CEO of Asian Pacific American Institute for Congressional Studies (APAICS): "APAICS applauds President Biden for keeping his promise to diversify the leadership in our country by nominating the first Black woman to the Supreme Court. We understand better than anyone that, oftentimes, qualified women of color are overlooked for leadership positions. It is critical that we continue to create a pipeline to elevate individuals that can represent our country and the diversity within it." [Statement, 2/25/22]
Juliet K. Choi, President and Chief Executive Officer of Asian & Pacific Islander American Health Forum (APIAHF): "We are encouraged that President Biden has followed through with his campaign promise to nominate a Black woman to serve on the Supreme Court. Diversity and representation at the apex of our nation's institutions is critical to making underserved communities like ours heard, and we celebrate the work that the Administration has, and will continue to progress equity and justice." [Statement, 2/25/22]
Hope Atuel, CEO of Asian Real Estate Association of America (AREAA): "The Asian Real Estate Association of America congratulates Judge Ketanji Brown Jackson for attaining the rare distinction of a Supreme Court Justice nomination, and for being the first Black woman in history to receive this honor. Judge Ketanji Brown Jackson's extensive resume and experience in the field make her a highly qualified candidate, and we extend our support and trust to her to uphold the founding doctrine of our country. As proud Americans, the AAPI community benefits from any justice that follows the American ideals of liberty and justice for all." [Statement, 2/25/22]
Thu Nguyen, Executive Director of OCA-Asian Pacific American Advocates (OCA): "The Supreme Court is not truly reflective of the country it serves, which is why this nomination is so incredibly important. The confirmation of Judge Ketanji Brown Jackson will shatter a historic barrier and hopefully set a precedent for the proper inclusion of people of color in government." [Statement, 2/25/22]
Anjuli Amin, Ph.D., President of the Asian American Psychological Association (AAPA): "The Asian American Psychological Association (AAPA) congratulates Judge Ketanji Brown Jackson on their historic nomination to the Supreme Court. This nomination is a critical step towards uplifting all communities of color. It comes at a crucial point in our fight for justice and in ensuring the Supreme Court becomes a more accurate reflection of the diversity present within our country." [Statement, 2/25/22]
David Inoue, Executive Director of the Japanese American Citizens League (JACL): Judge Ketanji Brown Jackson is an excellent nominee for the Supreme Court, with unimpeachable credentials. Rather than ask why Judge Jackson has been nominated above other candidates, we should be asking why they have been passed over previously for consideration. When President Biden was campaigning, he promised to nominate a Black woman so that the court would look more like America. Swift confirmation of Judge Jackson will move us in that direction. [Statement, 2/25/22]
Kiran Kaur Gill, Executive Director of the Sikh American Legal Defense and Education Fund (SALDEF): "SALDEF congratulates Judge Ketanji Brown Jackson on her nomination. Today's nomination is a historic sign of progress for our country. The elevation of a Black woman to the Supreme Court is a signal that America's highest institutions can be inclusive of persons of all backgrounds and all experiences. Judge Jackson is an experienced legal advocate and we urge the Senate to confirm her to the bench." [Statement, 2/25/22]
Mona R. Shah, Executive Director of the South Asian Bar Association of North America: "The South Asian Bar Association of North America (SABA) congratulates Judge Ketanji Brown Jackson for her well deserved nomination to be a Supreme Court Justice. SABA also praises the Biden Administration for this historic and needed choice." [Statement, 2/25/22]
Christine Chen, Executive Director of Asian Pacific Islander American Vote (APIAVote): "The nomination of Judge Ketanji Brown Jackson is absolutely historic. Judge Jackson is one of the most qualified candidates in the country and we welcome her nomination as a huge step for representation and equality for all communities including Asian Americans and Pacific Islanders. The Supreme Court today faces fundamental questions regarding our democracy and our right to vote, therefore it is of the utmost importance we have Supreme Court justices who understand the unique circumstances of our diverse nation. We see promise in Judge Jackson's ability to do this." [Statement, 2/25/22]
Jeffrey B. Caballero, Executive Director of the Association of Asian Pacific Community Health Organizations (AAPCHO): "AAPCHO commends President Biden for nominating Judge Ketanji Brown Jackson to the Supreme Court of the United States. Diversity and representation are critical to understanding and addressing institutional, systemic, and structural barriers that perpetuate our nation's inequities. Judge Ketanji Brown Jackson's expertise and lived experience will provide the court with an important perspective as it considers the most critical legal questions facing the nation. AAPCHO and our member community health centers urge the Senate to quickly confirm Judge Jackson." [Statement, 2/25/22]
Kenrick I. Ross, Executive Director of the National Queer Asian Pacific Islander Alliance (NQAPIA): "NQAPIA applauds the historic nomination of Judge Ketanji Brown Jackson to the Supreme Court. Along with being eminently qualified for this role, the nominee will bring a unique perspective to issues heard before the court in a moment when the basic rights and dignity of LGBTQ+ Asians and Pacific Islanders and other marginalized groups are being decided. We applaud President Biden in taking this historic step, and for moving at such a rapid pace to have all levels of the judicial system better reflect the true diversity of America" [Statement, 2/25/22]
Marielle A. Reataza, Executive Director of the National Asian Pacific American Families Against Substance Abuse (NAPAFASA): "We wholly support President Biden's nomination of Judge Ketanji Brown Jackson as the next Supreme Court Justice. The next Justice is filling a seat during a time in which Americans are aching for representation and seeking guidance on how to move forward. We believe that she is well-qualified and poised for this role. Congratulations, Judge Jackson!" [Statement, 2/25/22]
Tavae Samuelu, Executive Director of Empowering Pacific Islander Communities (EPIC): "EPIC celebrates the nomination of Judge Jackson. It's incumbent upon us to ensure that though she is the first, she cannot be the last. This is a step toward correcting the longstanding exclusion of Black women from seats of power." [Statement, 2/25/22]
Alvina Yeh, Executive Director of the Asian Pacific American Labor Alliance (APALA), AFL-CIO: "We congratulate Judge Ketanji Brown Jackson for her nomination to the United States Supreme Court. As the high court's first former public defender, Jackson brings with her invaluable experiences and perspectives from issues impacting the most vulnerable members of our community. While serving on the U.S. Sentencing Commission, she successfully helped to reduce the recommended penalties for nonviolent drug offenders, demonstrating her commitment to reform the criminal legal system. Jackson's confirmation would strengthen the progressive and women's voice on the court, which is critical when attacks to abortion access, worker protections, and civil rights are being contested across the nation. We call for a swift confirmation for Judge Jackson!" [Statement, 2/25/22]
Becky Belcore, Co-Director of the National Korean American Service and Education Consortium (NAKASEC): "Recognizing the diversity of communities and experiences in the United States is a vital step towards creating more equitable systems and reducing harm. It is imperative and urgent that our judicial systems, including and especially the highest court, reflect, recognize, and center the communities their decisions will most impact." [Statement, 2/25/22]
Seema Agnani, Executive Director of the National Coalition for Asian Pacific American Community Development (National CAPACD): "National CAPACD congratulates Judge Ketanji Brown Jackson for her well-deserved Supreme Court nomination. We are proud to witness the first Black woman nominated to the highest legal institution in our country, and we are encouraged by the Biden Administration's commitment to appoint leaders who reflect the diversity—and determine the futures—of the communities they serve. We urge the Administration to swiftly confirm Judge Jackson as the Supreme Court faces critical decisions that will determine whether we, as a country, move toward equity and racial justice." [Statement, 2/25/22]
Rod Lew, Executive Director of Asian Pacific Partners for Empowerment, Advocacy, and Leadership (APPEAL): "President Biden's SCOTUS nomination marks a historic day. This is a step forward for racial and gender justice. Judge Ketanji Brown Jackson's experience and knowledge will have positive impacts for communities of color for generations to come." [Statement, 2/25/22]
Joseph R. Biden, WHAT THEY ARE SAYING: Asian American and Native Hawaiian and Pacific Islanders Applaud President Biden's Supreme Court Nominee Online by Gerhard Peters and John T. Woolley, The American Presidency Project https://www.presidency.ucsb.edu/node/354637