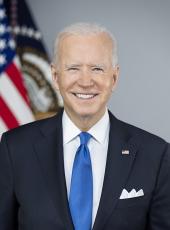 What They Are Reading in the States: President Biden's Economic Agenda Ushers in Record Low State Unemployment Rates
In September, according to the Bureau of Labor Statistics:
17 states had unemployment rates at or below 3 percent.
11 states and the District of Columbia either set new records or matched records for their lowest unemployment rates since the beginning of the state data series in 1976.
All 50 States and the District of Columbia had their unemployment rate decrease or remain unchanged from a year earlier.
This data is further proof that President Biden's economic agenda is working, and that the U.S. economy is moving from a historically strong economic recovery to more steady and stable growth.
Read below for a sampling of the local coverage.
WKBT (CBS La Crosse, WI): Wisconsin's unemployment rate below national average Wisconsin's unemployment rate is below the national average. According to White House data released today, Wisconsin's rate is 3.2%. The national average is at 3.5%. In a one-on-one interview with News 8 Now, one of President Biden's economic advisors says Wisconsin's economy is strong. Jared Bernstein also touted the president's work to decrease the deficit by a record $1.4 trillion. "Wisconsin is a good example of that where we have an unemployment rate of close to three percent in the state, lot of people work which means they're drawing paychecks and it also is good news for deficit reduction so we're glad to see that," said Jared Bernstein, member of the president's council of economic advisors.
Additional local coverage:
TN: Clarksville Online: Tennessee's September Unemployment Rate remained Steady
Joseph R. Biden, What They Are Reading in the States: President Biden's Economic Agenda Ushers in Record Low State Unemployment Rates Online by Gerhard Peters and John T. Woolley, The American Presidency Project https://www.presidency.ucsb.edu/node/358519