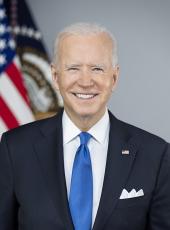 What They Are Reading in the States: President Biden Touts Nationwide Manufacturing Boom During Ohio Visit
''Intel breaks ground on massive project; Biden, others hail Silicon Heartland launch'
'Wolfspeed announces $5 billion investment in Chatham County, largest in NC history'
This week, local news outlets are reporting about how President Biden's economic plan has led to a nationwide manufacturing boom that is creating good-paying jobs in communities across the U.S.
On Friday, President Biden traveled to Licking County, Ohio and declared: "'Made in Ohio' and 'Made in America' is no longer just a slogan. It's happening," said President Biden. "Folks, the future of the chip industry is going to be made in America."
During his visit, he joined with Intel and Ohio leaders for the groundbreaking of a new semiconductor chip manufacturing facility that will create over 7,000 construction jobs and 3,000 full time jobs. The commitment from Intel was made possible by passage of the bipartisan CHIPS and Science Act, which President Biden signed into law a few weeks ago.
During the speech, the President also highlighted the latest string of manufacturing investments by companies across the U.S., including Wolfspeed, which announced Friday that they will invest $5 billion to build a new silicon chip factory that will create 1,800 good-paying jobs in North Carolina.
Read below for a sample of what Americans are reading in the states.
President Biden in Ohio
Columbus Dispatch: President Joe Biden at Intel event: 'Made in Ohio' no longer just a slogan
President Joe Biden told the crowd at the groundbreaking of Intel's semiconductor factories in Licking County on Friday that "Intel is going to build the workforce of the future right here in Ohio." "It's time to bury the label Rust Belt," Biden told the crowd, which started gathering early in the morning for the event. "Made in Ohio and made in America is not just a slogan. It's happening," Biden celebrated Intel's investment in the factories as a sign of the return of American manufacturing in general, and semiconductor production in particular. "We need to make these chips right here in America," he said. "America's back. ... The future of the chip industry is going to be made in America, made in America."
More stories:
North Carolina Wolfspeed Announcement
WRAL Raleigh: Wolfspeed announces $5 billion investment in Chatham County, largest in NC history
Wolfspeed will build a new semiconductor plant at a 400-acre site in Chatham County with an estimated investment of $5 billion and a commitment to create more than 1,800 jobs paying $77,000 a year on average…. The investment over time stands to be the largest in North Carolina history, exceeding the $4.5 billion commitment by automaker VinFast to build a plant. That investment is also going to Chatham County.
Joseph R. Biden, What They Are Reading in the States: President Biden Touts Nationwide Manufacturing Boom During Ohio Visit Online by Gerhard Peters and John T. Woolley, The American Presidency Project https://www.presidency.ucsb.edu/node/357841