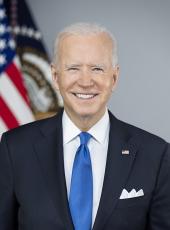 What They Are Reading in the States: President Biden, Cabinet Members, and Senior Administration Officials Tout Nationwide Impact of the Bipartisan Infrastructure Deal
This week, President Biden, members of the Biden-Harris Cabinet, and senior administration officials fanned out across the airwaves—from Baltimore to Boise—to speak directly to the American people about the nationwide impact of the historic Bipartisan Infrastructure Deal.
Through a series of local media interviews, regional press briefings, editorials, and travel across the country, the Biden-Harris Administration highlighted how the Bipartisan Infrastructure Deal will rebuild America's roads, bridges, and rails; expand access to clean drinking water; ensure every American has access to high-speed internet; tackle the climate crisis; advance environmental justice; and drive the creation of good-paying union jobs. The legislation will also help ease inflationary pressures and strengthen supply chains by making long overdue improvements for our nation's ports, airports, rail, and roads.
See below for a sampling of the local coverage:
Maryland
Baltimore Sun: President Biden tours Port of Baltimore to tout infrastructure bill as his administration seeks to regain momentum
[Jeff Barker and Pamela Wood, 11/10/21]
President Joe Biden toured the Port of Baltimore Wednesday and touted the passage of a $1.2 trillion infrastructure bill that Democrats hope will allow his administration to regain momentum even as a second signature measure remains stalled in a divided Congress… The infrastructure bill — which Biden plans to sign into law Monday — includes $17 billion to improve ports and entry points along the U.S. border…The administration says the measure will help alleviate supply chain problems that have disrupted shipments of goods.
Alaska
Anchorage Daily News: The infrastructure bill's passage is a huge win for Alaska
[Joelle Hall, President of Alaska AFL-CIO, 11/10/21]
The recently passed bipartisan infrastructure bill, Infrastructure Investment and Jobs Act, is a historic achievement and an unparalleled investment in our state. We want to thank each member of our congressional delegation for putting working Alaskans first and voting for this critical, much-needed legislation…. From day one, Alaska had a meaningful seat at the table — and it paid off. Over the next five years, billions of dollars will flow into our state. These funds will help Alaska build for the future and lead in a meaningful way.
Arkansas
Arkansas Democrat-Gazette: Arkansas to see $4B for roads, broadband, other sectors in infrastructure bill
[Ryan Tarinelli, 11/9/21]
Arkansas would secure more than $4 billion in funding for a variety of broad infrastructure sectors over five years under a sweeping legislative package that cleared Congress on Friday, according to White House estimates…. Arkansas would get nearly $3.6 billion for highway programs and $278 million to replace and fix bridges based on formula funding, according to the White House analysis.
California
Long Beach Business Journal: White House unveils funding to ease supply chain crisis, with LA and Long Beach ports being a top priority
[11/9/21]
The Biden administration announced plans on Tuesday to identify and pay for possible upgrades to U.S. ports within the next 90 days in the hopes of ultimately tamping down the inflation being caused by ships waiting to dock and a shortage of truck drivers to haul goods. The ports of Long Beach and Los Angeles specifically will be a top priority, a senior administration official told the Long Beach Business Journal.
Georgia
Savannah Morning News: Backlogged Savannah Port to see immediate relief funds from bipartisan infrastructure bill
[Zoe Nicholson, 11/10/21]
The $1.2 trillion Infrastructure Investment and Jobs Act will soon become law, clearing the way for billions of dollars to provide much-needed relief for the nation's ports, which have been inundated under a pandemic-wrought buying spree and supply chain clog…. The $8 million project will allow the Georgia Ports Authority (GPA) to convert five properties in Georgia and North Carolina into temporary storage yards. "The effort will free up more dock space and speed goods flow in and out of the Port of Savannah, which leads the nation in containerized agricultural exports," a White House press release stated.
Idaho
Spokane Public Radio: Idaho slated to receive billions from infrastructure bill for roads, broadband, wildfires
[Rebecca White, 11/12/21]
According to estimates released by the White House, Idaho has 286 bridges and about 1,200 miles of highway in poor condition. As a result, the state will be eligible for around $2 billion for road repair and construction and about $225 million for bridges The state is also slated to receive tens of millions to replace aging transit vehicles and to add electric charging stations. Around 33% of the state's public transit vehicles and trains are past their useful life. The White House says at least 53,000 Idaho residents currently lack high speed internet. A minimum of $100 million-dollars will be sent to address that gap, as well as low-income family internet access issues.
Post Register: Infrastructure deal expected to fund over $3 billion to Idaho essential services
[Jakob Thorington, 11/9/21]
The White House held a Tuesday press briefing to discuss some of the details of how the bill addresses clean energy production. Department of Energy Secretary Jennifer Granholm highlighted key aspects of the bill including investments into clean energy and affordable power, creating more jobs for Americans, and providing funding for new technologies that demonstrate clean energy production. She said it was fitting that the bill has been called "unprecedented and transformative."
Indiana
WTTV (CBS Indiana/Nexstar): What Biden's $1T infrastructure package aims to do
[Alexandra Limon, 11/12/21]
The infrastructure package will invest hundreds of billions of dollars to fight climate change. EPA Administrator Michael Regan said the investments are critical to help communities impacted by the effects of a warming climate. "These are historic steps to put this country on the right track," Regan said, adding they "are dedicated to clean energy, to our nation's grid, to our nation's infrastructure." […]
WTTV (CBS Indianapolis): Bipartisan infrastructure legislation to provide Indiana billions for roads, utilities
[Kristen Eskow, 11/8/21]
According to the White House, Indiana will receive $751 million to improve the state's water system and $100 million for broadband projects. Utility providers say these improvements are greatly needed in some rural areas.
Iowa
Des Moines Register: Iowa's getting $5 billion in new projects from the infrastructure bill. Here's a breakdown
[Nic Garcia, 11/10/21]
Iowa stands to gain about $5 billion in new roads and bridges, broadband and water infrastructure improvements after the U.S. House of Representatives approved a sweeping spending bill that is expected to be signed by President Joe Biden…The total cost of the bipartisan bill, which was supported by Iowa's U.S. Sen. Chuck Grassley and U.S. Rep. Cindy Axne, is nearly $2 trillion and delivers on one of Biden's marquee campaign promises.
Louisiana
The Daily Advertiser (Lafayette): What's Louisiana's share of the $1.2 trillion infrastructure bill? Billions
[Greg Hilburn, 11/9/21]
Louisiana is guaranteed more than $7 billion from the bipartisan $1.2 trillion infrastructure bill that won final passage during a weekend vote in the U.S. House and will be eligible for billions more in allocations from the legislation…Republican Louisiana U.S. Sen. Bill Cassidy, a lead author on the bill, called its passage "a major victory for Louisiana and our nation."…"This infrastructure package will rebuild our roads and bridges, increase access to high-speed internet, strengthen our electric grid, add levee protection and improve flood resiliency," he said.
Michigan
WDIV (NBC Detroit): What the massive infrastructure bill means for Michigan
[Rod Meloni and Kayla Clarke, 11/8/21]
LANSING, Mich. – Michigan is expecting a major influx of government funding in the coming days as part of the infrastructure bill passed over the weekend, which President Joe Biden is expected to sign soon…Road and bridge construction is certain to ramp up in Michigan as the infrastructure bill will pump more than $7 billion into the state. Another half a billion will be for Michigan bridges that need to be fixed….The Flint Water and Benton Harbor water crisis are gaining the most attention, but smaller cities around the state are also discovering high lead water line problems. We'll see more than $1 billion for that expense.
WZZM (ABC Grand Rapids): Bridging the digital divide: Infrastructure dollars to boost West MI internet accessibility
[Charlie Tinker, 11/10/21]
MICHIGAN, USA — Broadband access remains spotty at best across a number of West Michigan communities, which lack what's increasingly seen as a modern essential. A new bill that just passed may be the solution…
The state will receive more than $10 billion in total, according to Governor Gretchen Whitmer.
The largest portion — more than $7 billion — will be allocated to road repair, with a further $500-million for bridges.
Just over a billion will be put toward water infrastructure.
$100 million will help expand high speed internet access.
WXYZ (ABC Detroit): Here's what the $1.2 trillion infrastructure bill means for Michiganders
[Kim Russell, 11/10/21]
The $1.2 trillion Infrastructure Investment and Jobs Act is expected to provide Michigan with $7.3 billion to fix roads and $563 million to fix bridges…Nationwide, the bill provides the largest funding in U.S. history to address climate change, $47 billion for climate resilience and $65 billion for clean energy and the grid…[Gina] McCarthy tells 7 Action News it will benefiting our automakers, providing $110 million to Michigan for electric vehicle charging infrastructure….The bill provides $1 billion for public transportation, $1.3 billion for water infrastructure, such as replacing lead pipes, and $100 million to expand broadband internet, which the Detroit Regional Chamber says that will help businesses grow.
Minnesota
MinnPost: What Minnesota is getting from the new federal infrastructure bill
[Ashley Hackett, 11/9/21]
The bulk of that funding is for roads and bridges: Minnesota is set to receive $4.5 billion for federal-aid highway programs and $302 million for bridge replacement and repairs over a five-year period…Minnesota will also receive $818 million over five years to improve public transportation options across the state…Minnesota will receive $680 million over five years to "improve water infrastructure" and "ensure that clean, safe drinking water is a right in all communities," according to the White House.
Mississippi
The Daily Journal (Tupelo): Mississippi to address roads, bridges with infrastructure funding
[Kim Jarrett, 11/9/21]
Mississippi will receive $3.3 billion in federal funds from the Infrastructure Investment and Jobs Act, according to information from President Joe Biden's office…Mississippi will receive $225 million to improve the bridges, according to the White House…The bill allocates $429 million over the next five years to improve water infrastructure in the state…Another $223 million is coming to the state to improve public transportation. The White House estimated that 41% of Mississippi's transit vehicles are "past useful life."
Missouri
Missouri Times: Missouri poised to receive nearly $100M for EV charging network
[Kaitlyn Schallhorn, 11/10/21]
The White House estimated Missouri will receive $99 million over a five-year period to expand and support its EV charging network. About $2.5 billion in grant funding will also be up for grabs that the state could apply for, according to the White House.Department of Energy Secretary Jennifer Granholm said rural and lower-income areas "that have been overlooked by the private companies" will be a focus for the network as funds are distributed. Granholm said the federal government plans to enlist local governments and states' help in establishing the network.
Missouri Independent: Climate funds in infrastructure bill aimed at drought, wildfires, floods
[Jacob Fischler, 11/11/21]
The recently passed bipartisan infrastructure bill isn't just about roads and bridges — it also spends billions to address wildfire, drought, flooding and other effects from climate change, Interior Department officials said Wednesday…The $1.2 trillion measure, which is awaiting President Joe Biden's signature after the House cleared it last week, includes pay raises for wildland firefighters, funding for water storage and treatment facilities and resilience efforts for Native American tribes. The White House said Biden will sign the measure Monday.
EMissourian: Infrastructure bill to bring $8 billion to Missouri
[William Skipworth, 11/10/21]
The bill is expected to give Missouri $6.5 billion for roads, up to $99 million for electric vehicle charging stations, $100 million for broadband internet infrastructure and $674 million to improve public transportation…"I think it's an important bill, and I think it's important to our state," [said Senator Roy Blunt.] "While it's not perfect, it'll be good for Missouri."
Nevada
Nevada Independent: Infrastructure bill: More than $4 billion headed to Nevada for roads, bridges, airports and broadband
[Humberto Sanchez, 11/9/21]
Nevada is poised to receive more than $4 billion over five years for highways, transit, broadband, airports and drought mitigation under the $1.2 trillion bipartisan infrastructure package recently approved by the House and sent to President Joe Biden for his signature…The bill also provides $8.3 billion for Western water infrastructure and drought resilience and another $8 billion for wildfire prevention, risk reduction, detection and restoration, according to Sen. Catherine Cortez Masto's (D-NV) office…Among the $8.3 billion for water is $450 million for a new grant program to help fund large-scale water recycling projects in the Western U.S.
North Carolina
Wilmington Star-News: Will it transform NC? What's in Biden's massive infrastructure bill for the Tar Heel State
[Gareth McGrath, 11/12/21]
Altogether, the bill includes nearly $9 billion for a host of North Carolina infrastructure projects and access to competitive federal grant programs for billions more…Dave Simpson, president and CEO of Carolinas AGC (Associated General Contractors), believes the huge investment being made will draw labor to meet the demand."We are optimistic that the funding will help attract more people into great careers in the construction industry in North and South Carolina, whether it be highway-heavy building or utility work," he said, also noting the importance of the vote of confidence the bill's guaranteed revenue stream will give to contractors.
McClatchy: Biden administration's latest effort to ease supply chain congestion: pop-up ports
[Francesa Chambers, 11/9/21]
The Biden administration is working with shipping companies to launch pop-up ports to try and ease congestion at the nation's busiest seaports and get agricultural products to consumers faster…Five pop-up ports will open in Georgia and North Carolina that are served by trucks or rail, the Transportation Department said on Tuesday…The administration says it is hoping to open more pop-up sites in other areas soon. A pop-up site the administration says will be opening at the CSX Rocky Mount facility in North Carolina and four others opening in Georgia are intended to reduce the backlog at the Port of Savannah, one of the nation's busiest seaports.
Ohio
WKRC-TV (CBS Cincinnati): Local 12 talks with President Joe Biden one-on-one about infrastructure bill
[Kyle Inskeep, 11/8/21]
President Joe Biden sat down with Local 12's Kyle Inskeep Monday to talk one-on-one about the Bipartisan Infrastructure Deal.
WEWS (ABC Cleveland): New roads, bridges headed to Ohio once Infrastructure Investment and Job Act signed into law
[John Kosich, 11/9/21]
CLEVELAND — For decades Ohioans have paid the cost for bad infrastructure, according to the White House. On average, each driver pays $506 per year in costs due to driving on roads in need of repair and there are 1,377 bridges and over 4,925 miles of highway in poor condition, roads that the American Society of Civil Engineers gives a grade of C- and our bridges a D…Ohio can expect to see $9.2 billion for its highway work and another near half-billion for bridges in the just-passed infrastructure package but there's more…"I see that there's going to be a lot of benefit in the city of Cleveland for the people of Cleveland," said Nuria Fernandez, Administrator of the Federal Transit Administration.
Pennsylvania
WHP (CBS Harrisburg): What impact does Biden's infrastructure bill have on Pennsylvania?
[Samantha York, 11/10/21]
One key focus for residents is how the money will be used to fix bridges and roadways throughout the state. Within the legislation, $110 billion is allocated solely to these projects nationwide….. "Based on formula funding alone, Pennsylvania should expect to receive about $11.3 billon in federal aid highway apportion programs and another $1.6 billion for bridge replacement and repairs," Department of Transportation Administrator of the Federal Transit Administration Nuria Fernandez says in an interview with Samantha York. "That is significant and all of that is over a course of five years…." Administrator Fernandez says public transportation will also see an increase in $2.8 billion to help replace buses, rail cars, vans, utility vehicles and to transition to cleaner technology. She says making roadways safer keeps motorists moving, public transportation moving – and the economy moving.
Pittsburgh Post-Gazette: Infrastructure bill promises 'unprecedented' funding to clean up Pa.'s abandoned mine lands
[Laura Legere, 11/11/21]
The bill will send an estimated $3.8 billion to Pennsylvania over 15 years to clean up land polluted by coal mines that were abandoned before 1977…The expected funding would nearly triple what Pennsylvania has received in federal abandoned mine land cleanup grants in the past 40 years…Pennsylvania, which has more mine land problem areas than any other state, stands to be the largest beneficiary, followed by West Virginia.
The Philadelphia Inquirer: U.S. Energy Secretary visits Kensington energy nonprofit, outlines how infrastructure bill could help PA., N.J.
[Frank Kummer, 11/10/21]
U.S. Energy Secretary Jennifer Granholm said Wednesday in Philadelphia that she expects money from the recently passed $1.2 trillion bipartisan infrastructure deal to flow quickly to ready-to-go, clean energy projects such as those already underway at a training program for youth in Kensington…"In Build Back Better, there's going to be significant amount for electrification of homes, for rebates, for appliances that would electrify to be able to again reduce carbon emissions," Granholm said. "The elements of the infrastructure bill alone will put so many people to work," Granholm added.
WHYY: Energy Secretary Granholm, visiting Philly, touts infrastructure bill and expected job creation
[Susan Phillips, 11/10/21]
At the Energy Coordinating Agency in Kensington on Wednesday, Energy Secretary Jennifer Granholm told ECA's lead job trainer, Jackie Robinson, that the measure will mean new solar panels will be going up nationwide…"Just a ton in this to help position our economy for the future," said Granholm. "And all of this means jobs. The construction elements of the infrastructure bill alone will put so many people to work."
WGMD: US Energy Secretary Visits Del. To Highlight Energy Efficiency, Infrastructure
[11/11/21]
During a visit to Delaware Wednesday, U.S. Secretary of Energy Jennifer Granholm – recently under fire for laughing off a question about high prices during an interview – took part in an announcement that the U.S. Department of Energy has upgraded one-million homes with energy efficiency improvements through the Home performance with ENERGY STAR program… "With the President's Bipartisan Infrastructure Deal's historic investments in energy efficiency and weatherization, we will ensure more Americans can benefit from cleaner air, more resilient homes, and lower energy bills."
Texas
Texas Tribune: Federal infrastructure plan will set aside about $35 billion for Texas projects
[Reese Oxner, 11/9/21]
The White House estimates that Texas will receive about $35.44 billion over five years for roads, bridges, pipes, ports, broadband access, and other projects after federal lawmakers passed a long-anticipated national infrastructure bill on Friday…The influx of capital is set to advance existing transit plans, pay for much-needed repairs, and could lay the groundwork toward increasing transportation options for Texans…"The need for action in Texas is clear," a White House fact sheet read. "For decades, infrastructure in Texas has suffered from a systemic lack of investment."
Houston Chronicle: Houston Chronicle: Bustling Port of Houston will get a boost as Biden moves to address supply chain woes
[Benjamin Wermund, 11/10/21]
WASHINGTON — The Biden administration is taking steps to speed up infrastructure spending on ports across the country, even before the president has signed the $1.3 trillion bill into law — an effort aimed at easing supply chain problems while ports including Houston's wrestle with a crush of new cargo arriving as the pandemic eases and the holidays approach…The White House says the Port of Houston, one of the largest in the country, is a key part of its effort to quickly upgrade ports over the next 90 days, though it's unclear as of yet how much new federal funding the port may receive.
Vermont
WFFF (ABC Burlington): Infrastructure bill to bring $2.2B to Vermont for transportation, broadband
[Devin Bates, 11/9/21]
[…] Lawmakers set aside $1.4 billion for federal-aid highway programs in Vermont, $225 million for bridge replacement and repairs, $21 million to expand the state's electric vehicle charging network, and $86 million to improve and expand public transit. At least $100 million more will go toward deploying broadband across the state, $355 million will fund projects to improve water infrastructure, and $150 million will be used to upgrade Vermont's border crossings.
Washington
Seattle Times: Infrastructure plan makes historic investments in tribal coastal resiliency
[By Secretary Deb Haaland, 11/8/21]
President Joe Biden's Bipartisan Infrastructure Deal passed by Congress — a central pillar of the president's Build Back Better agenda — includes $216 million to support community-led transitions for the most vulnerable tribal communities, including relocation planning, design and implementation. With this crucial funding, the Interior Department would provide federal leadership to support collaborative and community-led planning, relocation expenses, infrastructure investments and other forms of assistance. The Framework's investments would also advance our equity and environmental justice goals by helping safeguard vulnerable tribal communities and making our economy more fair and equitable.
Spokesman-Review: Congress sending billions to fix roads and bridges in Washington, Idaho through infrastructure bill
[Orion Donovan Smith, 11/10/21]
In addition to the road and bridge funds that will be distributed to each state, Washington and Idaho will also be able to compete for part of an additional $12.5 billion program for major bridges and $16 billion for "megaprojects" that have been hard to fund… Many of those extra-large projects – including the I-5 bridge between Portland and Vancouver, Washington – straddle state lines and have been too costly to pay for through existing programs […]
Wisconsin
Milwaukee Journal Sentinel: Funding to eliminate lead hazards, from paint to pipes, is in Biden's Build Back Better bill. Here's what that could mean for Milwaukee
[Talis Shelbourne, 11/9/21]
The bill allocates $30 billion under capitalization grants for full lead service line replacement projects; capitalization grants typically go into a 'state revolving fund' that provides low-interest loans to municipalities for addressing clean water measures. Of that $30 billion, $20 billion will be designated for use in "disadvantaged communities" and potentially 100% forgivable.
Joseph R. Biden, What They Are Reading in the States: President Biden, Cabinet Members, and Senior Administration Officials Tout Nationwide Impact of the Bipartisan Infrastructure Deal Online by Gerhard Peters and John T. Woolley, The American Presidency Project https://www.presidency.ucsb.edu/node/353368